For some people, hotel restaurants and bars can be somewhat intimidating and you might think that they're only meant for tourists or locals with money. Don't let Bistro 400 in the Miraflores Marriott be that for you. It's just too good to pass over.
Often, people tend to prefer going to the recently opened restaurant or the trendiest bar, completely overlooking the perfectly worthwhile hotel dining and drinking options. And when that hotel restaurant or bar has an international brand behind it, such as the Marriott, rest assured, things will go the right way.
The Bistro 400 stands tall in a busy corner of downtown Miraflores inside the Marriott Courtyard Hotel. I had been to Bistro 400 one evening some time ago looking for a pleasant place to have a drink. I remember liking not only the drinks we had, but the sober, modern, and relaxing ambiance of the place. If you add to that the excellent service—which is generally expected in these kind of hotels—the outstanding quality of the food, and the relation between food and price, then you will surely enjoy it too.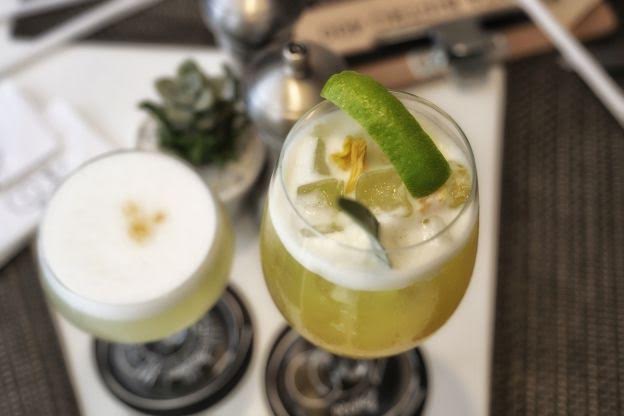 The Drinks
Bistro 400 has a good selection of cocktails, beers, and liqueurs. We were told that the Pisco Punch (S/. 28), a mix of pisco, pineapple, syrup, and lime, was the most popular drink, so we had one. I've had this cocktail many times in the past, but this one was definitely the best I have ever had. Perhaps it was because of the kombucha—a fermented beverage—that made all the difference. We then tried the Red Bramble (S/. 32), a beautiful and intense red-colored cocktail made of gin, Tahiti lemon, and berries, and a Cinnamon Chilcano (S/. 25); both were refreshing and wonderful. We also had a Pisco Sour (S/. 25) made with the pisco of the house. They do have another version served in a more stylish glass, but call me traditional, I stay with the classic version, which proved to be very pleasant. We skipped the beers, of which they have a variety, and ordered a Mint Lemonade (S/. 12) and a Chocolate Milkshake (S/. 18) instead; both were excellent.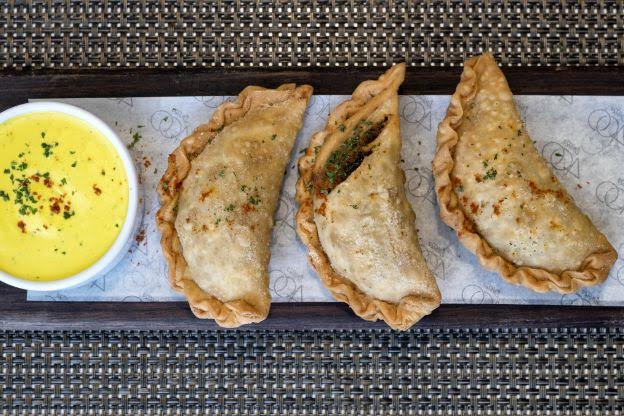 The Food
It was time for food. For starters, we ordered the Octopus Bruschettas (S/. 28). The bruschetta included six pieces, beautifully presented, of super fresh, creamy avocado on small toasted bread topped with octopus; it was quite nice. We also ordered the Beef Empanadas (S/. 25), all three of which were extremely delicious. They fried the empanadas perfectly, making them wonderfully crunchy, and the meat inside was as abundant as it was succulent. They served the empanadas with a yellow chili aioli on the side. We'd come back to Bistro 400 for this dish alone.
Then arrived the Octopus Causa (S/. 35), a uniquely presented causa—as this one came in a big jar—with mashed potatoes, chunks of avocado, crunchy onions, and a wonderfully creamy aioli sauce. Everything came mixed together and was topped with an amazing octopus bathed in an anticuchera sauce. We all loved this dish. The texture of the causa was perfect and the flavors were spectacular. The dish is served as a generous portion, so you can easily share this between two people as a starter.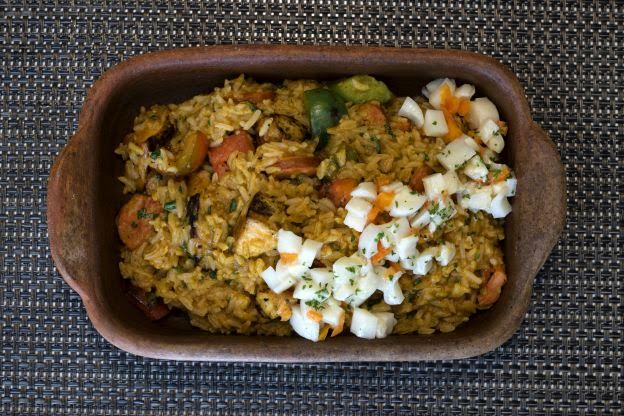 We then had the Amazonian Paella (S/. 48), rice mixed with chicken, Amazonian sausage, cecina (smoked pork), chonta salad, and mishquina—a mix of Amazonian flavors. The rice was beautifully moist, while the cecina and the sausage were lovely. I've found that cecina and sausage are often presented over-fried and hard to chew, however, here that was certainly not the case, and the result was a well-achieved dish.
Our last hot meal was a Lomo Saltado (S/. 45), one of the most asked for dishes on the menu, we were told. It comes on a big tray that can easily share between two people. The sautéed tenderloin meat was wonderful—Argentinian we were told. The potatoes were nice and, all together, it was a hit.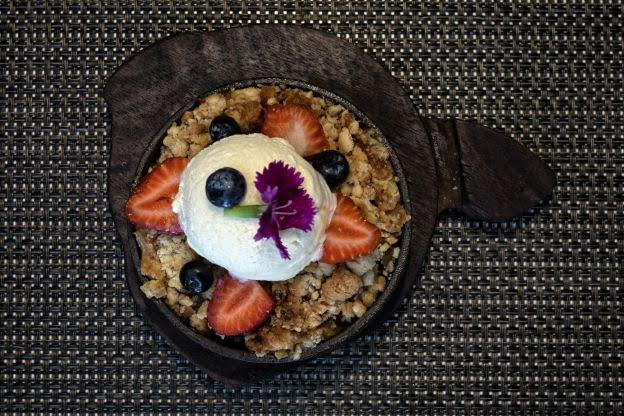 The Dessert
If all the starters and main dishes were excellent, the desserts were not the exception. The Apple Crumble with Vanilla Ice Cream (S/. 20) was spectacular, perhaps the best I ever had. It was served warm, which made all the difference and the mix of apple, cinnamon, and crunchy pecans were a treat. The vanilla ice cream that comes along with it only enhanced the flavors of this delicious dessert.
We also tried their Cheesecake (S/. 19). This came with a strawberry coulis and plenty of blueberries. I liked the dough and the texture of the dessert; it was yummy indeed.
What Else?
Overall, it was an excellent experience. I highly recommend a visit to Bistro 400 next time you are in Miraflores. Portions are big, the quality is remarkable, and, though the prices are on the more expensive end, the quality is worth it. They have a daily Breakfast Buffet (present our post on Facebook to get it for S/. 55). Also, if you arrive from 9:30 to 10:30 a.m., the price goes down to S/. 39.
From Monday through Friday, they have Lunch and Dinner Menus (S/. 27, or S/. 35 with a drink included), a Soup and Salad Bar Buffet (S/. 39) from 12 to 3 p.m., and a Happy Hour from 5 to 8 p.m. Their happy hour includes Chilcanos and Piscos, two for S/. 35. Their menu is à la carte on Saturdays and Sundays, however, we were advised that there will be a change in their menu and prices in the weeks to come.
Bistro 400 – Marriott Courtyard
Calle Schell 400 Miraflores
Tel. 625 3858
Hot and Cold Beverages: S/. 8-18
Beers: S/. 12-19.50
Wine by the Glass: S/. 22-30
Cocktails: S/. 24-32
Appetizers: S/. 22-33
Sandwiches: S/. 16-34
Salads: S/. 21-32
Main Dishes: S/. 38-72
Desserts: S/. 12-20
Comments
comments