Quinua Salad (Photo: Marco Simola/Living in Peru)
Less than a year ago, Café Rilke opened their charming bistro cafe in a renovated large house on this relatively quiet residential street in Miraflores.
Centrally located in Miraflores, the cafe has quickly become popular among tourists, expats and locals alike. We sat down for a couple hours with one of the owners of Café Rilke, German native (married to a Peruvian) and philosopher, Anke Chavez, who shared the details and inspiration behind this cafe.
Anke and the Peruvian sculptor and painter, Fernando de la Jara, created the concept of their cafe from the inspiration of the German poet, Rainer Maria Rilke. Roses were the source and object of many of Rilke's most brilliant poems. Anke also shared a story about Rilke on the streets of Paris accompanied by a friend who passed a woman begging on the same corner every day. The story goes that Rilke's lady friend would give the woman a few coins, but Rilke never did. Instead one day he placed a beautiful rose into the beggar woman's hand. The beggar stood up, kissed Rilke's hand and held the rose to her heart. For 8 days they walked past the corner of the beggar and she was not there. The 9th day she returned and Rilke's friend pondered how the woman was able to survive 8 days without any of the money she received from begging. Rilke remarked that people in need aren't always in the need of money, but of being treated with care and respect. This was the inspiration behind the owners of Cafe Rilke wanting to give their earnings to people in situations of need as Rilke gave the woman the rose, recognizing the richness and beauty that also lives in people in need.
Anke has been dedicated and involved for numerous years with the Encuentros SJS, a social service of the Jesuits and their projects here in Peru. Café Rilke is a private initiative to earn money for the Jesuit's social projects which help children, teenagers and elderly people in distress to improve their living conditions. Anke spends a great deal of time in the El Agustino area outside of Lima where the Jesuits help many of these people.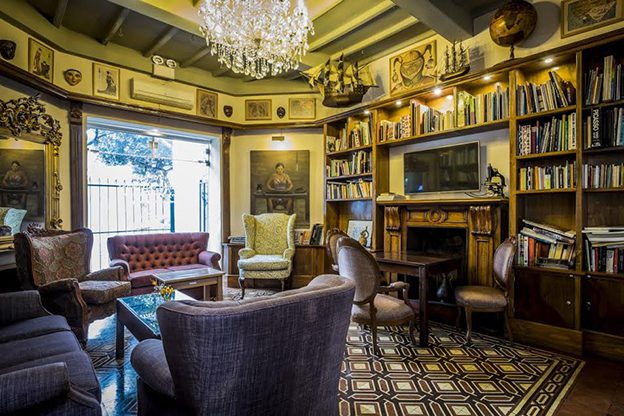 The spacious premises of Café Rilke were tastefully designed by Fernando de la Jara who resides half the year in Peru and the other half in Germany. His artwork is displayed in the library room of Café Rilke as well as a large collection of books that he donated to the library.
Café Rilke has a serene vibe and you can relax in several of their areas. Their library area with comfortable wing-backed chairs and sofas is an ideal place to relax and read. Their outdoor quaint serenity garden and room on the back patio is another lovely area which could be enjoyed on warmer days. There is also a larger dining area and a room with couches and tables and chairs for working on your laptop.
We began our culinary experience at Café Rilke with their delicious and nutritious Quinua Salad (S/. 25). This quinua salad was one of the best I have had. The mixture of different quinuas, mixed with sautéed mushrooms and choclo (corn) and topped off with watercress and sprouts and accompanied by an avocado cream was a delight. This was a very satisfying starter and perfect if you are looking for something both light and filing at the same time.
The Causa a la Reina (S/. 21), was also a big hit at our table. The yellow potatoes were mashed integrating rocoto pepper to give it its color and a slight kick of heat. The ultra-fresh and homemade chicken salad with crunchy celery and mayonnaise was a surprise. A light drizzle of huancaina sauce topped this off. A small side salad of grated beets, carrot and celery accompanied this dish as well as sliced avocado. Causa is one of my favorite Peruvian dishes and this version was excellent.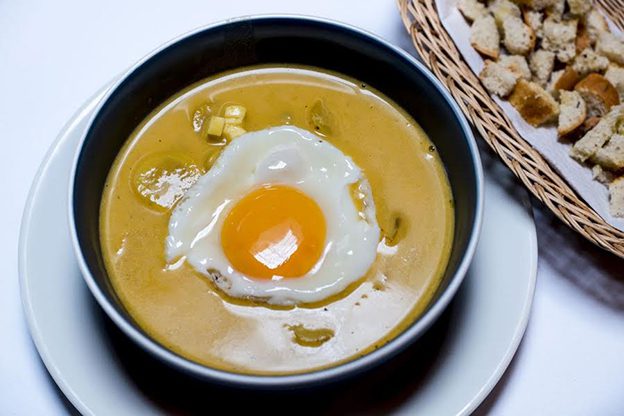 Typically I am not a fan of olluco, a Peruvian root vegetable in the tuber family. This oblong tuber has a rare flavor and texture for me…..a cross between a boiled potato and peanuts. I must admit I really enjoyed the olluco in their Chupe de Ollucos (S/. 20). The combination of olluco, squash, and cream, along with cubes of Serrano cheese was comforting and delicious on this chilly day. The chowder was served with a poached egg on top and accompanied by homemade breadcrumbs.
The first main dish we sampled was the Panceta de Cerdo (S/. 43), an ultra-tender piece of pork accompanied by black beans, an avocado cream and a black bean cream accented with thin crispy corn crackers and alfalfa sprouts. This was definitely my favorite main dish out of the three we shared.
The next main dish was Café Rilke's version of Lomo Saltado (S/. 42). This was a relatively decent version of this popular Peruvian dish. The national beef was tender, the onions and tomatoes were sliced generously, and the papas huamantanga (Andean potatoes) were cut into hearty chunks. This dish was properly prepared….. the beef was tender and flavorful and the vegetables were crunchy and did not lose any of their integrity by being overcooked. I find that many restaurants overcook this dish. Decent version.
Our last main dish, Cachete de Res (S/. 42) was our least favorite. We felt the wine sauce slightly overpowered the beef and was perhaps a bit too sweet, although the beef itself was good quality and tender. The texture of the puréed yuca seemed to be lacking something, perhaps it needed to be a bit thicker consistency and a tad more butter and cream could have been added. A shaved brussel sprout and carrot salad accompanied this dish.
We were pleasantly surprised by the high quality of the cocktails we sampled. The  Coca Sour and Chilcano de Pisco con kion were both prepared using Porton pisco. The coca sour was well made and a nice change of pace from the typical Pisco Sour. I am a big fan of chilcanos and their version with a generous amount of ginger was excellent.
Many (but not all) of the desserts on the menu at Café Rilke are derived from Anke's mother's beloved German recipes. These are some of their most popular desserts. Their version of carrot cake, Miguel de Lonneberga (S/. 12) had a soft and fluffy texture, instead of the typical overly dense texture I find quite often. I especially enjoyed the buttercream frosting which was a nice change of pace from the typical traditional frosting that incorporates cream cheese.
The Novela de Ajedrez (S/. 17) is a recipe of Anke's mother and one of the more popular dessert items. This cheesecake version with chocolate and vanilla and a crispy chocolate shortbread pastry crust was like eating grandma's dessert at the kitchen table.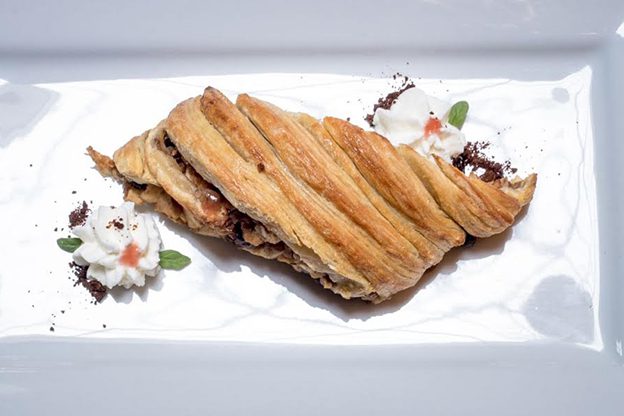 I especially enjoyed the apple strudel (S/. 15 in the cafe, S/. 7 in the bakery). Café Rilke's version was authentic and generously filled with chopped apples, cinnamon, and nuts. The dough is the main component of this dessert and it was prepared properly and with a lovely flavor. Well done!
Daily specials are available, as well as their regular a la carte menu. The special lunch "menu" is available daily from 12:00 p.m. to 3:00 p.m. and offers a starter, main dish, dessert and beverage for 25 soles.
Café Rilke also holds a variety of discreet cultural evening events every month…..wine tastings, live music, tango dancing, as well as various writers and poets reading and sharing their literary works.
Besides their cafe, Café Rilke also has a bakery where they offer a variety of fresh artisanal breads and desserts available "to go". The name of this bakery is La Bodeguita d'Anke. They are open from 7:00 a.m. to 1:00 p.m. and 3:00 p.m. to 7:00 p.m., Monday through Saturday. Access to their bakery is situated at their side entrance located at Calle Jose Gonzalez 412.
Calle Colon 501
Miraflores
Phone:  383-6003
Capacity:  50 people
Hours: Monday-Wednesday:  10:00 a.m.-10:00 p.m.
             Thursday-Saturday:  10:00 a.m.-11:00 p.m.
           Closed Sunday
Street parking
Parking lots located in vicinity:  Calle Colon 366, Calle Manco Capac 453, Calle Jose Gonzalez 535
Other nearby parking: Diego Ferre (block 3), Fanning (block 5), Colon (block 1), Larco (block 12)
Breakfast:  S/. 12-25 (available from 10:00 a.m. to 12:00 p.m)
Starters:  S/. 15-27
Soups:  S/. 19-20
Toasts:  S/. 16-20
Sandwiches:  S/. 18-21
Tablas:  S/. 27-29
Main dishes:  S/. 28-43
Desserts:  S/. 10-20
Juices/Smoothies:  S/. 8-15
Coffees/Teas/Infusions:  S/. 6-12
Water/Soda:  S/. 4.50-6
Beer/Wine/Cocktails available
Bakery:  70 céntimos to 8 soles
Entire desserts:  S/. 40-120
Comments
comments