Comista has a peculiar yet interesting history. Thanks to the fact that Eduardo Maraví, the owner, was a helicopter pilot in the air force, he's grown to know all of Peru through his travels. In each place he visited, he tasted the food and became familiar with traditional recipes, many of which he later brought to Comista.
Causa de pulpa de cangrejo

Ceviche de pato

Interior

Copista punch

Details

Interior

Details

Comista bags

Interior

Details

Picarones

Papa la

Interior
The restaurant
Eduardo studied to become a chef and with the help of his daughter they dedicated themselves towards preparing dishes using modern techniques to achieve softer meats, through special cooking for duck, pork and beef. The restaurant's name was inspired by Maravi's childhood nickname, and because of his love for cooking.
The restaurant is a picantería, known for traditional cuisine from regions across Peru, and is located in a house with a warm atmosphere and large tables. The space feels both rustic and homely, and you can find more than 30 dishes representing food from the north, south, coast, Andes, and jungle. And if you come for a visit, don't expect to stay hungry for long. Expect large portioned meals that you can share between two or three people.

The food
On the day of our visit, we tried the potato with huancaína and fried cheese (S / 28). The cream was made in the traditional way, grinding the ingredients in a typical mortar called batán. We also tried the rocoto relleno arequipeño (S / 44), with minced beef and pork, and potato cake with paria cheese, it was on perfectly on-point, and not too spicy.

One of the main dishes we tried was the cebiche de pato (S / 58). With 600 grams of meat, this generously portioned meal also comes with rice and salad. This is a rare find: a classic dish that you can't always find Peruvian restaurants, especially with the soft duck meat.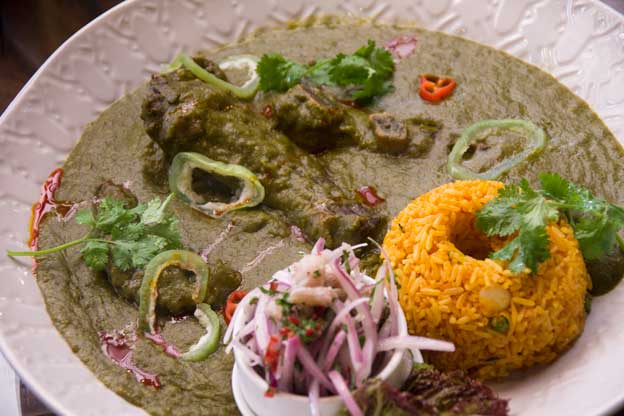 Among those unusual dishes is the Northern espesado (S / 58), a green cream made with peas, corn, and cilantro, which comes with roasted strip, red rice, and a small ceviche. The acidity is ideal for this contrast of flavors.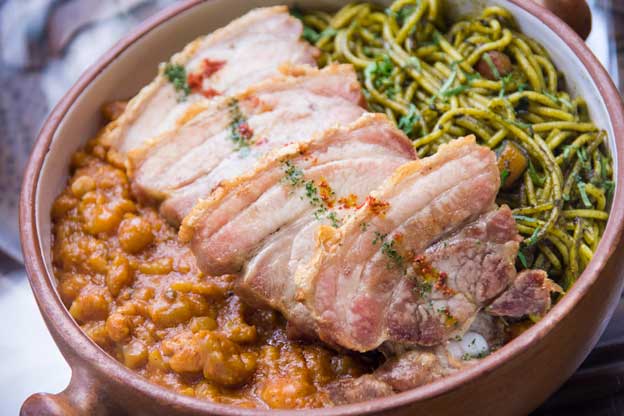 But the two dishes that impressed us the most were the cabrito with beans, which achieves a homemade flavor (perhaps because of the chicha de jora), and the mancha pecho (S / 44), with a carapulcra that represents the different ways that they serve it, and a great sopa seca, noodles that have absorbed a whole traditional dressing of the south of Lima. Wiithout a doubt, the best thing was the pork meat, which was very crispy and tasty.

The dessert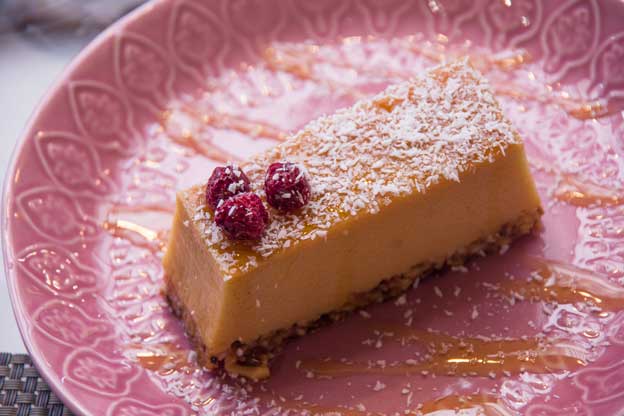 There is a lot to try in Comista, but you cannot leave without sampling at least one of the house cocktails, or trying some of their desserts. We recommend the classic picarones and tocino del cielo, but you can also ask for the queso helado, a dessert that is very popular in Arequipa.
Good service is guaranteed by your hosts, who also offer group bookings for which Eduardo prepares Spanish paella in the backyard.

Comista Picantería Fusión
Av. Angamos Este 2630, Surquillo
[email protected]
Tel. 4124037
Monday to Sunday, 9.00 – 17.00

Appetizers: S/ 14 – S/ 44
Cebiches: S/ 25 – S/ 46
Soups: S/ 32 – S/ 48
Main courses: S/ 38 – S/ 58 (special cuy chactado: S/ 100)
Desserts: S/ 18

Cover photo: Cabrito con frejoles/Maria Alejandra Baraybar