Located in the very busy and restaurant-minded Av. Mariscal La Mar, Huh Natural & Real Food is not your usual coffee shop. This little gem is your superfood, healthy, fast food joint.
Though just two months old, Huh Natural & Real Food is not the first venture of Christina Kisner and Sebastian Gracey. They are pretty involved in all that is healthy eating and gluten-free options. In fact, Christina just released a book about it: "Mi Cocina Saludable".
As Sebastian told us that day, their journey into healthy food began when they discovered that their second daughter was gluten intolerant. Ever since, Christina has worked hard trying to come up with ideas that can feed not only their daughter but the whole family.
Eventually, they began advising companies and introducing a few gluten-free products into the market that then led to the need for a place where people could go and enjoy healthy food on-the-go.
With almost 80% of their products being organic and plenty of gluten-free, vegan and vegetarian options on the menu (along with some animal protein, as well), their little cafe is a winner. They are so committed to offering you a full gluten-free option that their produce is sent to a lab to be tested to make sure there is not contamination in any of it.
The Food
Bagels, Bagels, and Bagels! At Huh Natural & Real Food you can have bagels—yummy, healthy bagels. They are made with quinoa and kiwicha and there are 3 options: the classic, the green one, and the purple one.
We started lunch with the Bagel Peruano (21.90 soles). The bagel is made with spinach, which makes it green. The bagel was filled with country ham, a cheese of three chilies (made with nuts so it is vegan and lactose-free), some tomatoes, pickled cucumbers, and sprout onions. It's their version of a butifarra, which is a popular sandwich in Peru. I really liked it. The flavors worked well together and the vegan cheese was delicious.
Next we had the Curry Bagel (21.90 soles). This bagel was made with purple corn, so it was a purple bagel. I am loving how purple corn is being featured in cooking in more ways than just chicha and mazamorra. The bagel was filled with a vegan and lactose-free curry cheese, chicken, coriander, spinach, rocket, mango and some sprouts. It was my favorite, as I adore coriander and rocket. The mango and the curry cheese give it a Thai flavor.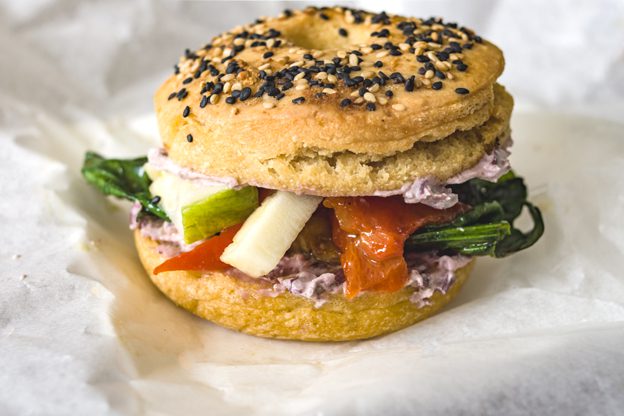 We followed this up with the Mediterranean Bagel (18.50 soles). It was a classic bagel filled with spinach, mushrooms, roasted capsicums, black olive cheese, and zucchini—another one of my favorite items on the menu. I love roasted capsicums and Mediterranean flavors. The black olive cheese was a winner, too.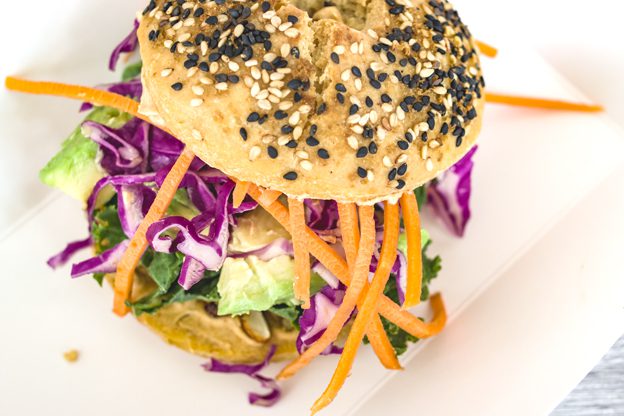 Last but not least, we had the Cajun Bagel (18.50 soles). Vegan and veggie, it was also a classic bagel. It was filled with spicy cashews, avocado, kale, purple cabbage, carrots and cajun cheese. This vegan cheese, with its base of cashews and a touch of paprika, was one of my favorites.
The Desserts
At Huh Natural & Real Food, you can indulge your sweet tooth, as all of their desserts are yummy and healthy. We tried 4 of them and it was hard to choose a winner, as all of them were delicious.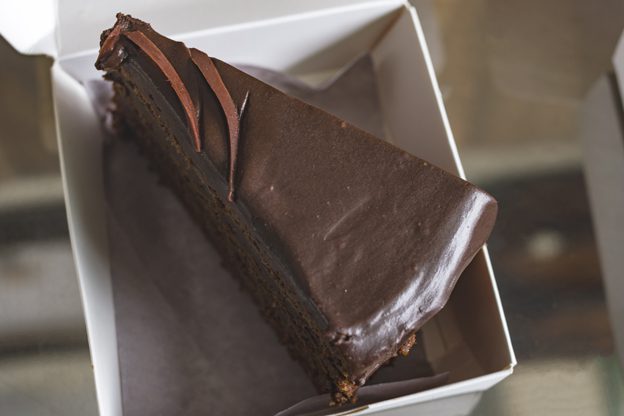 The first was a Brownie Cake (15 soles). It was my favorite, as I'm a chocolate lover, and gluten-free as well as lactose-free. They make it with quinoa flour, coconut oil, panela and a coconut milk ganache. I kept forgetting that the cake was actually healthy, as it tasted really yummy.
Next, we had a Pionono (14 soles ), a dessert with a chocolate base filled with a cream made from cashews and honey. You can have different flavors depending on the season. We enjoyed the lucuma one. It was really nice.
We followed with a Cheesecake (13 soles) that had a base of quinoa brownie topped with a cashew, spinach, and mint filling. I don't enjoy mint very much in dessert, so for that reason it wasn't my cup of tea. There is a vegan cheesecake with a base of dried fruits and passion fruit that is to die for.
Lastly, we had a brownie on a stick, which is the quinoa brownie in a different presentation covered with chocolate and roasted almonds.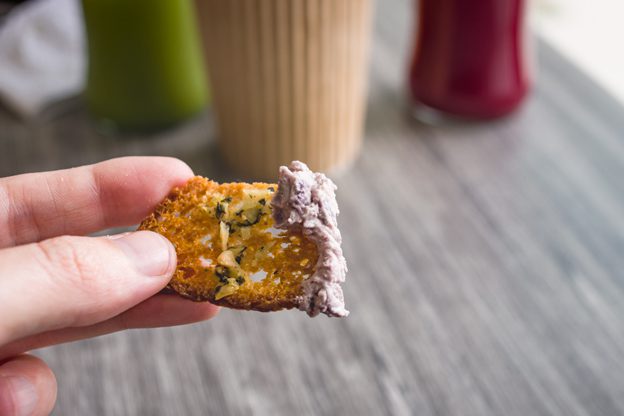 The Cheese
Along with the food, we had a taste of each of the cheeses that Huh Natural & Real Food offers on their bagels, sandwiches and to buy in take-away containers. You can have them as cheese or as dips. We tasted them with some of the delicious crackers they also sell in little tubs. You definitely have to try the garlic and oregano (12 soles) and the vegan (12 soles).
The Cheeses
Curry Cheese
Three Chilies Cheese
Four Peppers Cheese
Cajun Cheese
Fig, Rosemary and Honey Cheese
Black Olive Cheese
All of the cheeses have a base of cashews, which makes them vegan.
The Drinks
There is a variety of healthy choices from smoothies and superpower juices to delicious coffees and chai.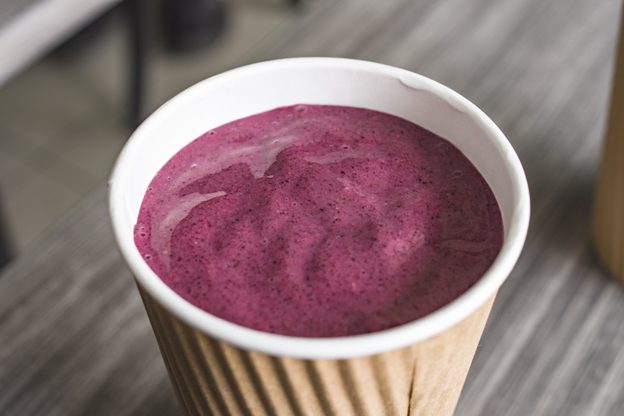 We tried the Berries Smoothie (17.90 soles) made with almond milk, raspberries, blueberries, dragon fruit, blackberries, and banana. It had lots of flavor and not one spoonful of sugar.
The Coco Banana Smoothie (13.90 soles), as its name implies, contains banana, coconut milk, gluten-free oats, cinnamon, and chia. Really yummy.
Huh Natural & Real Food offers you juice extracts that are sold to-go and come in little glass bottles for your convenience. We had the Rojo Power (12 soles) of carrots, beetroots, apple and purple cabbage. It helps you reinforce your immune system.
The Detox (12 soles) includes kale, spinach, parsley, apple, mint, and lemon to purify your blood.
The Anti-Inflammatory (12 soles) has apple, ginger, turmeric, carrots, and lemon.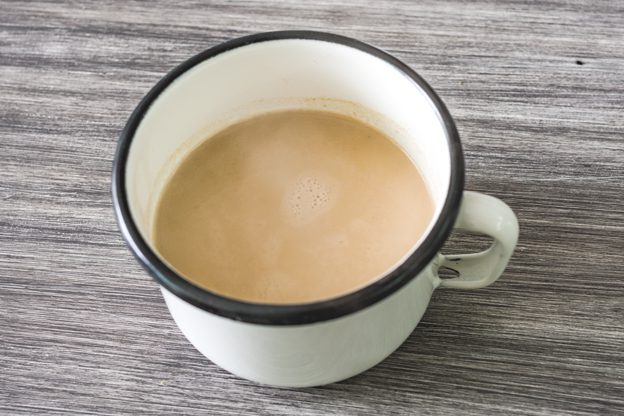 I also enjoyed their Chai (13 soles) made with almond milk or coconut milk. It was divine, especially when you dip an almond biscotti in it!
Final Thoughts
At the end of the meal, I was really satisfied. Although the bagels are not that big, they are made with complex carbohydrates and low GI products that help you feel full for longer. I didn't feel hungry until really late that day.
Overall, I really enjoyed lunch at Huh Natural & Real food not only because the flavors were there and the fresh, organic produce shined through, but because I knew I was having a healthy meal. I encourage you to try it. You won't be disappointed.
Huh Natural & Real Food
Av. Mariscal La Mar 760, Miraflores
Hours
Monday to Saturday from 9:00 a.m. to 7:30 p.m.
Prices
Bagels: 18.50 to 21.90 soles
Smoothies: 13.90 to 17.90 soles
Extracts: 12.00 to 14.00 soles
Desserts: 13.00 to 15.00 soles
Hot Drinks: 5.00 to 13.00 soles
Take-Away
Bag of 12 Bagels: 57.00 soles
Bag of 6 Bagels: 30.00 soles
Cheese (100 grams): 12.00 to 15.00 soles
Comments
comments