With its elegantly displayed dishes and flavorful food, Le Soleil will have you feeling like you are in the heart of France.
In this ever growing market of restaurant options and cuisines in Lima, there are very few places where one can find real authentic French cuisine. This is why Le Soleil Restaurant is an interesting option for those that long for the acclaimed European food.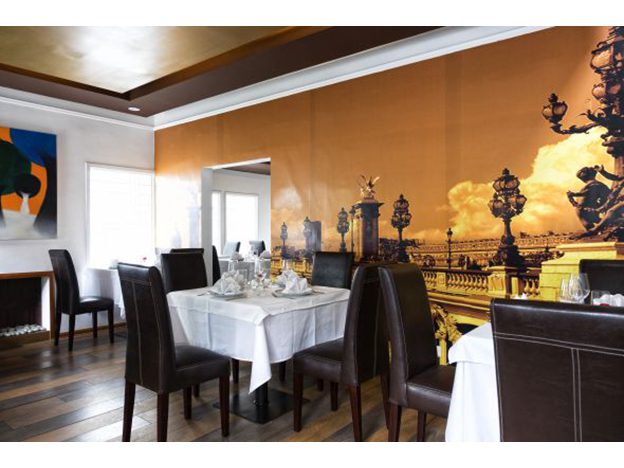 (Photo: Marco Simola/Living in Peru)
Le Soleil occupies a two-story house -one of those that still resist the changing landscape of the city- in a small street of Miraflores that during daytime can be conveniently very quiet, but as the night progresses, it becomes busy with late night party lovers. The restaurant, unpretentious in its decoration has three small salons with white linen cloth tables and a cute and small terrace that you can choose for a romantic dinner with your better half.
While we waited for the menu to arrive, we enjoyed the voice of Edith Piaf singing one of her classics. The menu arrived shortly and we notice it is available in three languages: Spanish, French, and English. The one-page menu fully evokes the flavors and classic dishes of the French cuisine. From the snails with garlic and butter to the St Jacques shells, the Canard a l'orange (duck), the rabbit with Dijon mustard, the beef tournedos with foie gras, the crème brulee, the mousse and the chocolate fondant, are just a few examples of the French cuisine that Le Soleil offers. Do not expect by any means to find anything other than French -and that includes wines, cocktails and spirits-, and certainly no room for fusion in this place. Le Soleil, in fact, intends to be a bastion of French cuisine by all means.
In this spirit and with the French National Day around the corner, we started with a couple of extremely French aperitifs: a classic Kir Cassis and a Strawberry Kir (s./ 40). Although their names immediately transported me to my years in Europe, I have to say their flavors did not. After a sip or two, I noticed the owner, a Polish man who lived half of his life in France and fell in love with Peru nearly a decade ago, is going around the tables making sure guests are well taken care of. He arrived at our table, and after a nice chat, we learn that a similar restaurant with the same name has been successfully operating in Cusco for the past six years receiving excellent reviews. The menus of Le Soleil in Cusco and Lima, we were told, are exactly the same and Arthur, the owner, travels back and forth to ensure things go as they should.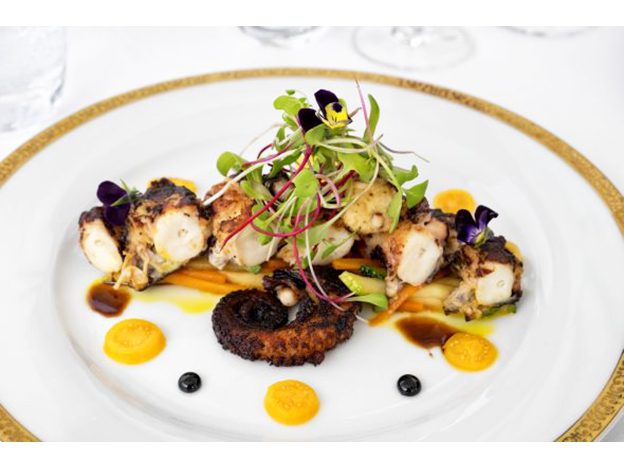 Warm Octopus Salad (Photo: Marco Simola/Living in Peru)
The starters arrived and it was time to focus. We had the "Warm octopus" salad with vegetables in a citrus vinaigrette (s./39). The dish had a good size and was nicely presented. The octopus was perfectly cooked: not too soft, not too hard and tasty. The vegetables were fresh and we loved the citrus sauce that they were bathed in.
We also had the " Shrimps with gnocchis", mousseline pea, bisque and truffle oil sauce (s./ 49). The shrimps had a good size, nice in flavor and the gnocchis were al dente as they should be. The delicate mousseline pea and the wonderful bisque made the dish worthwhile ordering.
For the main course, we tried a meat dish and a vegan one. The meat dish was the "Lamb shank" with lentil and pear puree (s./ 69). The lamb had been cooked for sixteen hours and no wonder its meat was tender and extremely savory. Although not a fan of lentils, I have to admit I liked both the lentil and the pear purees that came along with it; they were both delicate and very tasty.
The vegan dish was the "Ratatouille" (s./ 42) – a classic French stewed vegetable mix- nicely presented but rather blunt in taste, I am afraid.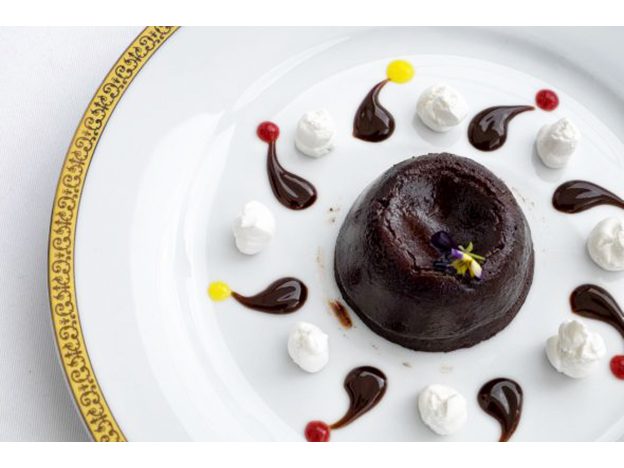 Chocolate Fondant Mousse (Photo: Marco Simola/Living in Peru)
For dessert, we had the classic "Crème Brulee" (s./37) which was creamy, tasty, and crunchy on top; one could even hear the sound of the spoon cracking the caramel, wonderful. We also had another classic, the "Chocolate Fondant Mousse" (s./40) which was warmly served with intense flavors and the chocolate melting in your mouth. After this, all I could say was 'oh-la-la' while my colleague sipped his Nespresso coffee.
Le Soleil
Calle Francisco de Paula Camino 285 Miraflores
Tel. 333 4580
Opening hours: Tuesday to Saturday 1 -4, 8-11 and Sunday 1-4
Parking: yes
Prices
Starters: s./ 29 -53
Main dishes: s./42 – 84
Desserts: s./ 30-41
Tasting menu (7-course menu) – s./199
Aperitif – s./20 – 70
Wines: s./ 120-415, glass s./30
Hot and cold beverages: s./ 9 -15
Comments
comments