Neira Café Lab is an ode to old fashion coffee lovers; those who appreciate the subtle sanctity of freshly brewed coffee and hands of an artisan who crafts your cup with the utmost integrity for its contents.
Neira Café Lab
Enrique Palacios 1074, Miraflores
Monday to Friday, 7.00 – 21.00
Saturday, 8.00 – 21.00
Pet-friendly!
It's not easy to start a new business or open a place with only one product.
But when you have faith in it, and when we talk about Peruvian coffee, selected by recognized barista Harryson Neira, we could feel optimistic. The result is called Neira Café Lab and in a few weeks, the fame of this place in Miraflores is reaching the quality of their coffee.
Neira Café Lab has coffee who's origin are from three regions of Peru: Cajamarca, from the north, Pasco (Villa Rica), from the center, and Cusco, from the south; each one with different profiles.
An entire life dedicated to coffee makes Harryson a specialist of this bean.
Ten years choosing the right coffee for the best restaurants in Lima gave him the experience to create his own space, where he is not only the owner but still making the drinks behind the bar.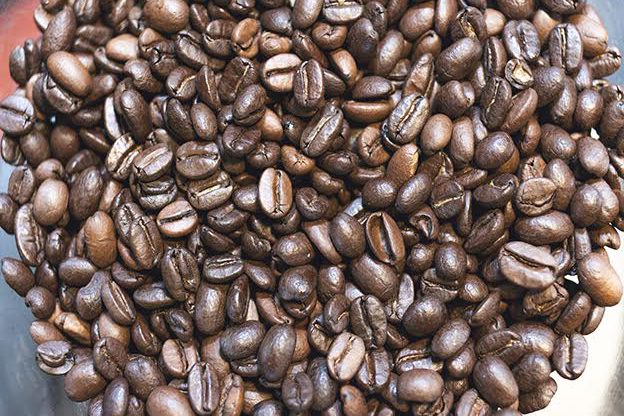 Coffee beans (Photo: Maria Alejandra Baraybar/Living in Peru)
This lab almost only serves coffee (with some little and remarkable exceptions) and doesn't need anything else.
In fact, the taste of drinks like the espresso explains why there is no sugar on the tables. You can ask for it but the recommendation of the baristas is to try it without it and to feel the real flavor of a good coffee in every sip: sweet with tropical notes and a particular aroma that depends on the region.
"I believe in Peruvian coffee", says Harryson who thinks that we have a lot to discover about this product. Here you would learn a little more, like the best way to brew coffee, the ideal level of the bean size for your favorite method and some tips to enjoy a cup of coffee even more.
Starting with the espresso (S/ 6), in Neira Café Lab you will be given a little glass of water to clean your palate and to wake up the flavors of your drink after a first sip.
This is very easy science to understand. When he explains the process of the V60 method (S/ 10), also known as pour over, you understand why everything in a coffee, from the water ( a special Peruvian mineral water brand, Socosani), to the temperature (if it's necessary, they preheat the cups or cool it to produce a different sensation on the lips) are all essentials in the process.
"The barista has a great responsibility because in his hands is the last step to offer a good coffee experience".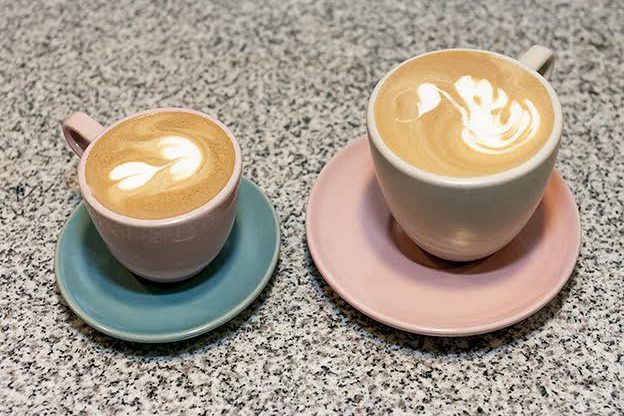 Macchiato and Cappuccino (Photo: Maria Alejandra Baraybar/Living in Peru)
In the case of the drinks with fresh milk, like the macchiato (S/ 7), the cappuccino (S/ 8.50) or the latte (S/ 10), they use another special product: Danlac. It helps to keep the characteristics of a good product. The details come up to the shape of the mug: in the case of the espresso, it helps to expand the fragrance, and in an Americano (S/ 7) it's made to keep the heat and also warm the hands.
Coffee lovers will be thankful for the vacuum sealed 250-gram bags you can purchase to go.
Harryson always asks you which method you use, to grind the coffee especially for it. For those that like surprises, here you can try a coffee prepared with honey from Pichanaqui, Junín, named by the barista that created it: Hitoshi. We can't avoid mentioning the chocolate beverage (S/ 10) and the cacaoccino (S/ 10), drinks made with cacao instead of coffee.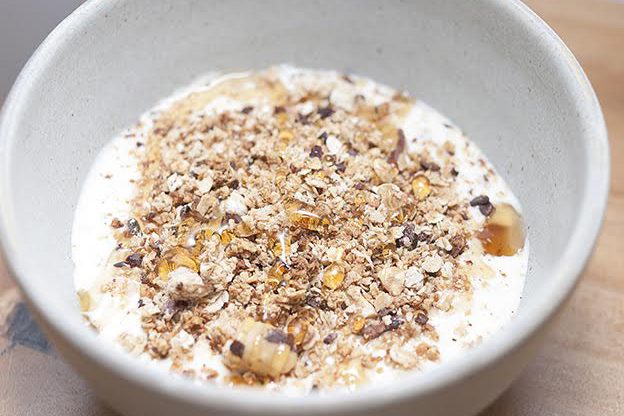 Yogurt with cereal and cacao shells (Photo: Maria Alejandra Baraybar/Living in Peru)
While you're there don't forget to eat something: the menu is short (they started only with an avocado sandwich) but they are improving with a good eye for products. Things that you can find include Danlac yogurt with cereal that includes cacao shells, homemade copoazu cookies and a couple of cakes (S/ 7, maracuyá, carrot and banana with figs).
If you visit this local in the morning, you will smell the freshly ground coffee, an incomparable experience that must be more frequent in Lima.
---
Interested to find more cafes like this in Lima? Just click here.
Now that you're here:
We're asking you, our reader, to make a contribution in support of our digital guide in order to keep informing, updating and inspiring people to visit Peru. Why now? In our near 20-year journey as the leading English-language source on travel in Peru, we've had our fair share of ups and downs-but nothing quite like the challenges brought forth in the first quarter of 2020.
By adapting to the changing face of the tourism and travel industry (on both local and international levels), we have no doubt we will come out stronger-especially with the support of our community. Because you will travel again, and we will be ready to show you the best of Peru.
Your financial support means we can keep sharing the best of Peru through high-quality stories, videos and insights provided by our dedicated team of contributors and editors based in Peru. And of course, We are here to answer your questions and help whenever you need us.
As well, it makes possible our commitment to support local and small businesses that make your visit an unforgettable one. Your support will help the people working in these industries get back on their feet once the world allows us to make our dream of enjoying everything Peru has to offer a reality again-from its mouthwatering gastronomy, thriving Amazon and archaeological wonders such as Machu Picchu.
Together, we will find a way through this. As a member of our community, your contribution, however big or small, is valuable.
Support Traveling & Living in Peru from as little as $1 - and it only takes a minute. Thank you!