At Uchu, short for uchucuta—the Quechua word for hot chili—the customer is in the driver's seat for the main course: we are the chefs. The interior of this cozy, vintage decorated steakhouse is usually filled with the sounds of soft chatter and cooking meat as tables of customers watch their meals be cooked to perfection.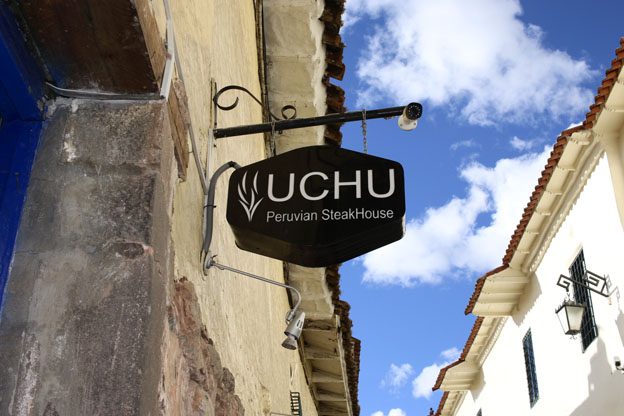 This Peruvian steakhouse, nestled near the historic Plaza de Armas in Cusco, has one of the most diverse menus in town. On our recent visit, I took advantage of this by ordering a wide range of dishes. Before having my entre, I enjoyed an appetizer, a causa (typical Peruvian layered caserol), and a bruschetta.
For the appetizer, I enjoyed a wonderful charbroiled Ceviche. This traditional Andean trout dish was marinaded with lime juice, chicha de jora (a fermented corn beverage), and yellow aji pepper. Since the meal was served on a Spanish roof tile, and the ceviche itself was placed o top of a cornhusk, it immediately stood out from other types of ceviche I've tried in Cusco. The presentation of this dish was true, not only to Peru but to the Cusco region, too. I found that a glass of refreshing mint lemonade, served with a paper straw, paired well with this plate.
After questioning about the straw, I learned that Uchu is environmentally cautious. In Peru, recycling is not a widespread practice. In Cusco, plastics are generally harder to recycle. Paper is much easier to reuse, and it is for this reason that all of the straws at Uchu are made of paper.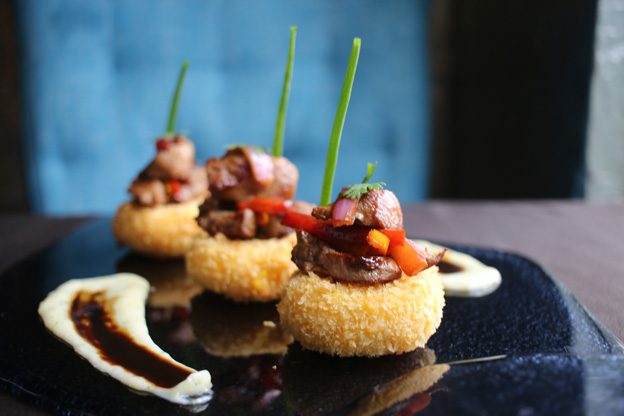 The next dish to arrive was the causa, an alpaca saltada crunch. Panko-coated yellow Peruvian potatoes were mixed with a yellow aji pepper cream, which was topped with a delicious Andean cheese and Alpaca saltada.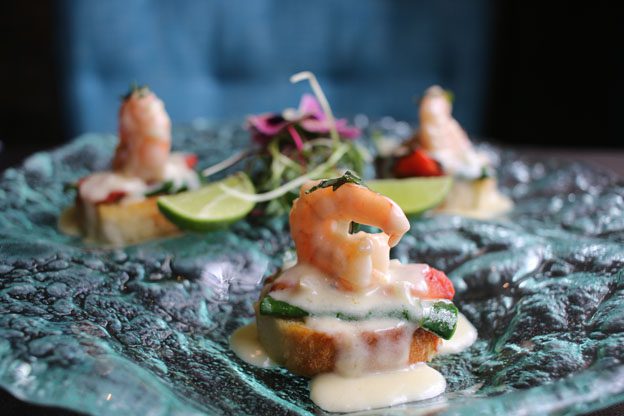 Next, I enjoyed a Parmesan and Lime Shrimp Bruschetta. Basil and spinach adorned the Flambéed shrimp. An Andean and Parmesan cheese sauce robed the edges of the shrimp while a dash of lime and caramelized tomatoes completed the ensemble.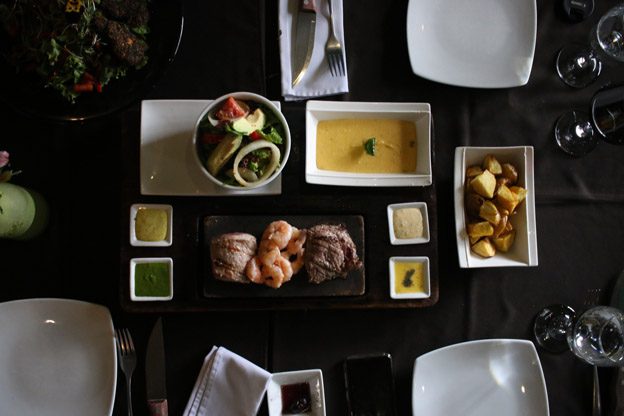 Then came the volcanic stone cooked steaks with alpaca, shrimp, and beef tenderloin sizzling on top. At 200 degrees Celsius, one must mind this stone. But not to worry, a beautiful wood tray surrounded by a selected side dish and salad surround the hot surface. A side salad was included with the main course, and there were six choices for a potato side dish: mashed potatoes with hot chili and peanut, mashed potatoes, native crispy fries, sweet potato fries, or French fries. My stomach approached its capacity as I sampled the now ready-to-eat meats.
I also ordered a glass of red wine to eat alongside the steaks. The wine list included a selection from Peru, Chile, and Argentina. Staying true to their commitment to "think green," the list even included a section of eco-friendly wines.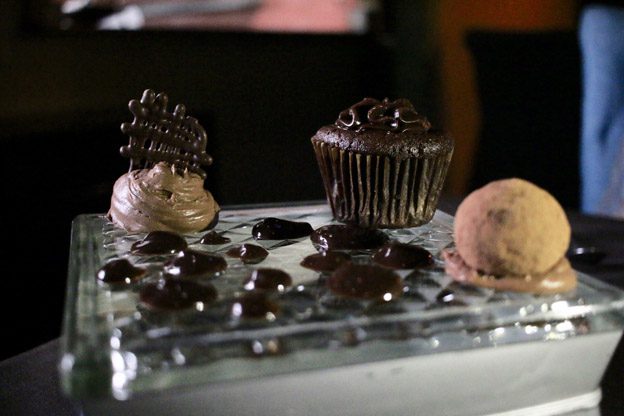 A dessert known as chocolate madness topped off the perfect meal. Three chocolate desserts: chocolate mousse prepared with ganache and chocolate bitters, a chocolate truffle covered in cacao powder, and a hot chocolate cupcake with a liquid center were beautifully arranged on a glass plate.
Views of and gardens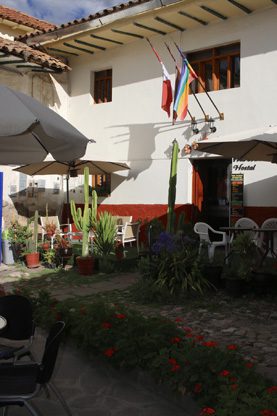 Uchu is connected to a very nice courtyard, and I enjoyed the views. There are also Kantu flowers, a sacred pre-Incan flower that is frequented by hummingbirds, growing outside the window. A small garden adorns the corners of the courtyard. Here, the chef grows several plants including huacatay, or black mint, to adorn the restaurant's dishes.
Vegetarian options
Though a steakhouse, Uchu offers a variety of vegetarian options. Besides the salads, the Mango Ceviche, and some of the causa options, there are plenty of other choices as well. Meats can also be substituted with zucchini, eggplant, and mushrooms to create a main course. There is also a Vegetable Anticucho, a Peruvian Kebab, available as a main course.
Last word: it's highly recommended that you make a visit
If you're in Cusco, and in need of some comfort food, Uchu is a place you must visit. Keep in mind that there are two locations for this restaurant. The owners plan to combine the restaurants, as the walls are adjoined, but are currently weighing their options, as the cost of such a project is expensive and time-consuming. You will, however, find the same menu and feel, but the hours are different.
All this means that there is more time for you to enjoy this fantastic restaurant.
Uchu Peruvian Steakhouse
Calle Palacio 135, Cusco
Hours
Monday to Sunday from 12:30 p.m. to 11 p.m. (the second location stays
open longer)
Menu
Appetizers: 29 to 33 soles
Causas: 30 to 33 soles
Bruschetta: 27 to 33 soles
Soups and Salads: 31 to 35 soles
Volcanic Cooked Steaks:
44 and 65 soles (8-ounce options)
73 and 77 soles (12-ounce combination options)
Comments
comments