As if we hadn't had enough hiking after the Inca Trail, we decided to add one last trek to our trip. The Colca Canyon is located in southern Peru and is the second deepest canyon in the world.
The depth at its deepest point is 13,650 feet (4,160 meters), making it more than twice as deep as the Grand Canyon.
Our first stop of the day was a condor viewpoint. Although it was packed with tourists, we were able to spot several of the gigantic birds circling above in the air.
I now have more pictures of condors than I know what to do with…
After a few more scenic stops, we started the hike into the canyon below. With stepped terraces and small villages in the distance, the scenery was breathtaking.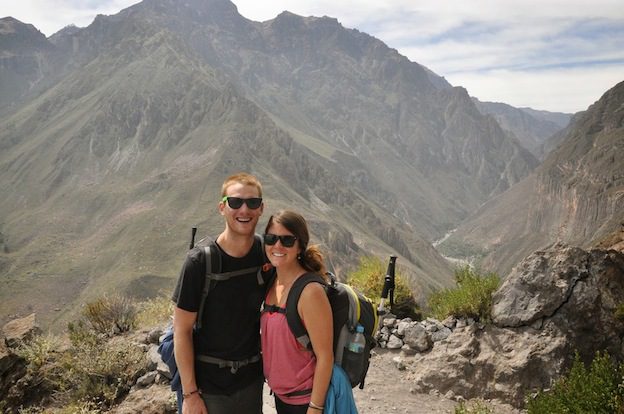 Our first day consisted of 5 hours of walking downhill. After so many steep stairs during the Inca Trail, I was thrilled not to be walking uphill. 
But let me tell you, downhill can be just as hard at times.
My hiking boots, which had never given me a problem until this point, started giving me blisters and my knees began to shake.
After walking downhill for five hours, we reached our destination – a beautiful oasis in the valley. 
The word oasis brings to my mind lush vegetation, waterfalls and brightly colored flowers in the midst of an otherwise barren setting. It was just as I had imagined – thatched roof bungalow and all.

There was even a volleyball net for those who hadn't had enough physical activity for the day… which turned out to be nobody.
After all, that downhill hiking the first day, I was wishing for some uphill – any uphill – and that is exactly what I got the next morning.
A steep, never-ending uphill back out of the canyon.
I guess the grass is always greener, right?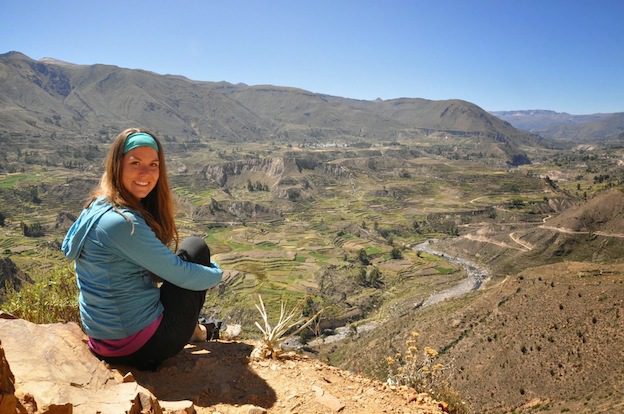 More photos of the Colca Canyon:
Love What You See?! So Do WE! Check Out The Two Wandering Soles Blog Where You Can Discover Even More Travel Stories And Tips!
Now that you're here:
We're asking you, our reader, to make a contribution in support of our digital guide in order to keep informing, updating and inspiring people to visit Peru. Why now? In our near 20-year journey as the leading English-language source on travel in Peru, we've had our fair share of ups and downs-but nothing quite like the challenges brought forth in the first quarter of 2020.
By adapting to the changing face of the tourism and travel industry (on both local and international levels), we have no doubt we will come out stronger-especially with the support of our community. Because you will travel again, and we will be ready to show you the best of Peru.
Your financial support means we can keep sharing the best of Peru through high-quality stories, videos and insights provided by our dedicated team of contributors and editors based in Peru. And of course, We are here to answer your questions and help whenever you need us.
As well, it makes possible our commitment to support local and small businesses that make your visit an unforgettable one. Your support will help the people working in these industries get back on their feet once the world allows us to make our dream of enjoying everything Peru has to offer a reality again-from its mouthwatering gastronomy, thriving Amazon and archaeological wonders such as Machu Picchu.
Together, we will find a way through this. As a member of our community, your contribution, however big or small, is valuable.
Support Traveling & Living in Peru from as little as $1 - and it only takes a minute. Thank you!