"Life is a carnival. You wait in long lines to enjoy a short ride but it's that moment that makes you feel alive".
Fortunately, no long line here as it was rather early, but we sure had a ride in Carnaval, the new trendy bar in Lima that dazzles visitors with its innovative and magical offer.
If you walk past it, you may even miss it, but once you are in, you will submerge yourself into a place
where every detail has been carefully thought through. Our host, Aaron Diaz, a well-traveled young
man, has put his entire life into this project which had been simmering in his head for the past seven
years. After traveling the world cooking and preparing cocktails here and there, he decided to come back to Lima, his hometown, and open up a bar that would bring to life some of his travels and
experiences, and share them with visitors.
The Decor & Vibe
Every object has a story, a place and reason to be, every cocktail has a special name and recipient where it will be poured in, and everything that will be used to prepare that one special drink, has its well-thought place. The impeccable order, hygiene, and neatness of the place were staggering.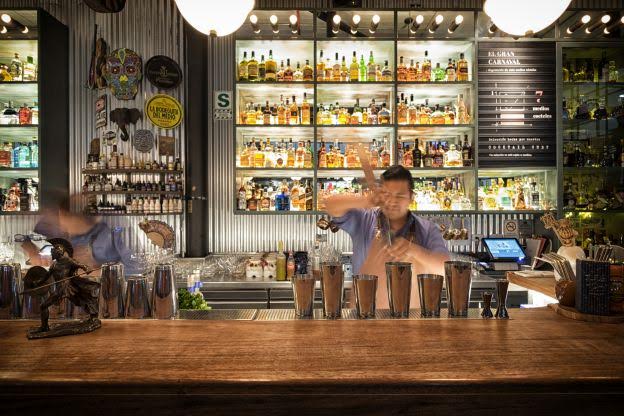 We sat in a corner and contemplated the innumerous objects brought from faraway lands, the hard-
cover books on bars and cocktails around the globe, and the collection of liqueurs and spirits nicely
displayed on the wall, some of them over fifty years old. We spotted some house bottles of gin, pisco,
cocktails ready made to go and even beer, should you want to take a souvenir back with you. We wandered around the bar and noticed the display of recipients of all shapes, sizes, colors, and designs waiting to be used for the next order. We also ventured into what turned out to be their ice lab were we met Ice Chef, Raul Arcayo, who takes this element and shapes it in all kinds of creative ways with the results seen both in the cocktails and food you order.
So after seeing all the sophistication, thought, and passion put into this place, we were more than ready to try the drinks.
The Drinks
We ordered the menu that lists twenty-five cocktails divided into five sections – the
complex beverages –in taste and aroma- the sours, the semi-dry, the semi-sweet, and the refreshing.
For those that want to try a bit of everything, you can order the Gran Carnaval (s./150) that allows you to taste seven cocktails recommended by the Cocktail Chef. There is another interesting option: the Chartreuse Experience (s./ 120) where you can have two different kinds of Chartreuse liqueur and three cocktails.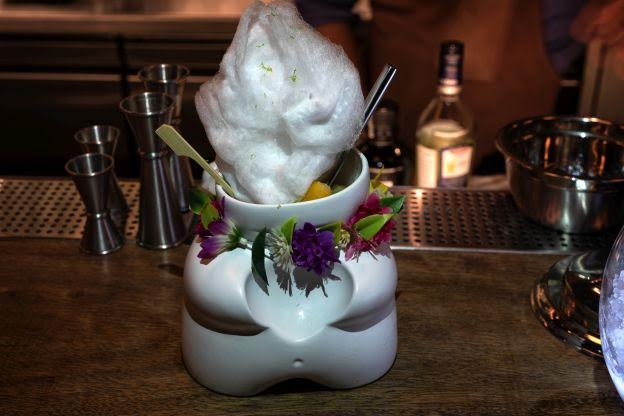 That evening we only had a few. We tried the Maui (s./48), that stands in the semi-sweet beverage
section, a drink made with Zacapa 23 rum, Luxardo –a cherry-based liqueur-, pineapple, plum, almond and cashew nut syrup, and served in the lovely iconic Marcelo Wong sculpture. The flavor of the drink was definitely on the fruity side, not too strong and pleasant to have.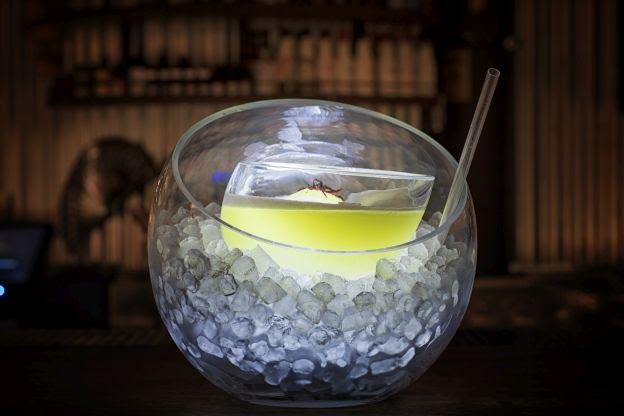 We then ordered the house cocktail, Carnaval (s./38) which had Gin Beefeater 24, Green Chartreuse –an old French liqueur dating back to the 18th century produced by monks and made out of 130 herbs, plants and flowers-, Sacha Birra pineapple, lemon, and some saffron on top. The drink comes served in a crystal fish beautifully lit bowl that is quite a sensation amongst customers. The drink was strong in flavor with the pineapple flavors predominating, not too sweet, but certainly quite pleasant.
We also tried the Black Truffle (s./ 48), that had Ron Havana Club Selección de Maestros, Campari,
Mezcal, Punt-a- Mes – a vermouth-based drink-, and an interesting addition: some Grana Padano cheese macerated in truffle oil. The intense layered colors of the drink were dazzling with its lit base giving it the final touch. The taste was a bit bitter, I would say, more of a 'man's drink' in my view.
Fearing all the effects these drinks may have on us, we ordered something to nibble on.
The Food
Carnaval has a few cold and warm appetizers and desserts. Mind you, in every single dish, a liqueur is used for its elaboration.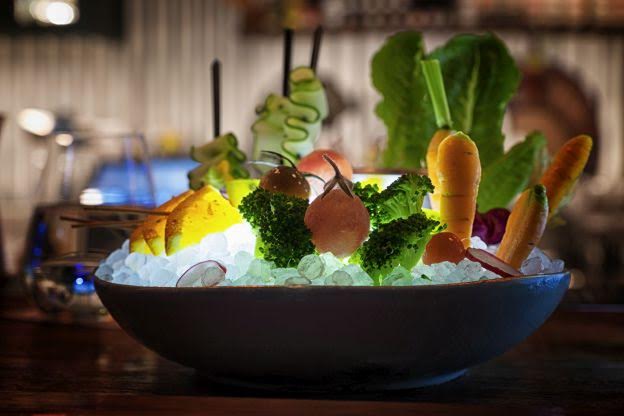 We tried the Crudité (s./38), a mix of raw vegetables lying in a bed of crushed ice ready to be dipped
into a sour creamy truffle sauce, a lovely and colorful presentation, no doubt, but it won't satisfy a
hungry customer. The alcohol used in this dish was gin.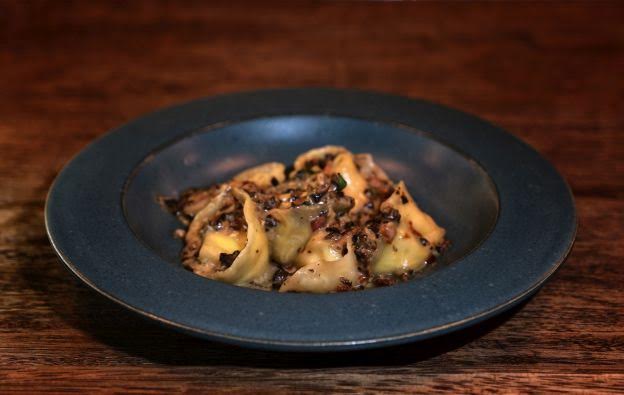 We then had the Capeletti Trufado (s./38) which consisted of a few pieces of Capeletti in a creamy
tarragon sauce with flavors of smoked bacon and truffle, some pisco, that were genuinely superb. For
once, the pasta was cooked perfectly al dente, and the flavors were simply awesome. My Italian
colleague and I remained more than happy.
One thing has to be clear though – you come to Carnaval to have a drink or two, admire the originality in the presentation of each drink, and maybe nibble some food.
Do make sure you come with a good credit card or a big thick wallet as prices somehow reflect the enormous investment and passion put into the newest trendy bar in Lima. Remember, life is a carnival and get ready to go for a ride!
Carnaval
Av. Pardo y Aliaga 662-A San Isidro
Parking – yes
Opening hours – Monday to Thursday 18-1, Fridays, 18-3 and Saturday 19-3
Cocktails – s./ 30-68
Mocktails – s./ 20-24
House bottled cocktails – s./ 160-200
Cold and warm appetizers –s./ 28-48
Desserts – s./22
Now that you're here:
We're asking you, our reader, to make a contribution in support of our digital guide in order to keep informing, updating and inspiring people to visit Peru. Why now? In our near 20-year journey as the leading English-language source on travel in Peru, we've had our fair share of ups and downs-but nothing quite like the challenges brought forth in the first quarter of 2020.
By adapting to the changing face of the tourism and travel industry (on both local and international levels), we have no doubt we will come out stronger-especially with the support of our community. Because you will travel again, and we will be ready to show you the best of Peru.
Your financial support means we can keep sharing the best of Peru through high-quality stories, videos and insights provided by our dedicated team of contributors and editors based in Peru. And of course, We are here to answer your questions and help whenever you need us.
As well, it makes possible our commitment to support local and small businesses that make your visit an unforgettable one. Your support will help the people working in these industries get back on their feet once the world allows us to make our dream of enjoying everything Peru has to offer a reality again-from its mouthwatering gastronomy, thriving Amazon and archaeological wonders such as Machu Picchu.
Together, we will find a way through this. As a member of our community, your contribution, however big or small, is valuable.
Support Traveling & Living in Peru from as little as $1 - and it only takes a minute. Thank you!