Have you ever woken up and thought about your life, wishing you could add some flair to your reality?
My mundane existence was seemingly void of out-of-country visits for the better part of my life except for a few family vacations; it was time to step it up a notch. When it came to location, it had to be something exotic, but somewhere that people normally wouldn't automatically think to go.
Peru, in my mind at least, is one of the most perfect destinations on the planet to venture to. It has so much culture, legends, mystery, and nearly every environment imaginable to explore. In a previous time when my young mind yearned for more information, I turned to ancient history texts or classic literature, and my personal studies brought me to the glorious Incan culture. The center of their empire culminated in what is now Cuzco, Peru, which is clearly visible in the facades of the numerous buildings jettisoning out from the ground. Perusing pages whisked me to the detailing of a feat meant for only the most serious of adventurers, a great hike, or mountain climb depending on who you ask. What did I do next? I put on my Indiana Jones hat, attached myself to a leather satchel, and elevated to several thousand feet in the air to find my inner archaeologist.

My Aunt made this trip entirely possible, and every bit of thanks goes to her. I discovered not only more about myself,
but I learned to always be myself, and not a person that someone else wanted me to be
. I also discovered perseverance, which was a necessity on the
Inca Trail
, the main point of our travels to Peru.
Several centuries ago, the
Incan empire
reigned supreme
throughout a large part of Western South America.
If you observe the map of their empire, you will notice how widespread it truly was.
From the southernmost point to the northernmost, you will notice how vast a distance it is.
How does one maintain an empire with no direct line of communication?
You walk. Weaving between majestic mountains, hopping over great heights, and plowing through dense jungles is
exactly what the Incan empire designed the trail to do.
The people that transmitted messages throughout the empire are still visible today in the form of guides and porters, just like the original trail itself.
The Inca Trail, or Camino Inka, is most commonly a four or five-day hike. Some guides are able to make it longer, but after that period of time, I was well invested in my surroundings.
These time limits are enough to disassociate yourself with the modern world and erase any traces of addiction toward your cell phone.
My hike included a guide, porters to carry heavy equipment, and a group of travelers from all walks of life.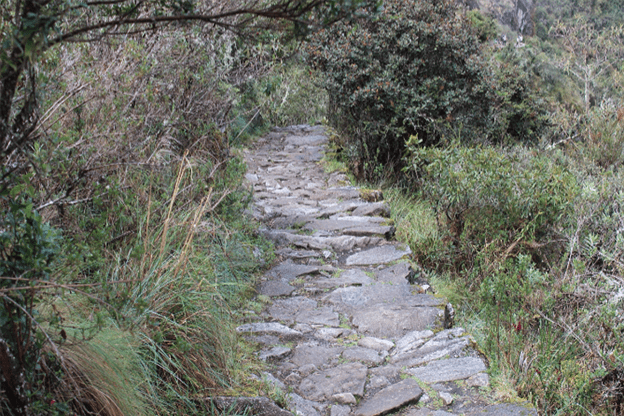 (Photo: Garrett Heng/Living in Peru)
My group was fortunate enough to develop a great bond that I haven't been able to replicate anywhere else.
If I were to perform one of the top-rated hikes in the world like the Inca Trail again, I wouldn't want to do it with anyone else. Keeping in line with my goal, I acclimated to the altitude by engulfing vast quantities of coca tea, and several days of exploration within the diverse confines of Cuzco.
Want to know more about the author's unique love for coca tea? Click here.
In the early hours of a December morning, with whimsical thoughts of the whirlwinds of snow most likely plaguing my home, my Aunt and I awoke to gather our things to be picked up outside of our hotel. Our guide, several porters, and a host of expectant journeyers awaited what was to come with fervent energy. All of us came from different walks of life, coming together to share in a mutually beneficial experience.
Traversing thin roads silently preluded the journey laid out before us, and as we arrived at the final destination where our vehicle was stationed, we exited to behold only the beginning of the beautiful sights. Crisp air, shooting spires of elegant rock, and a well-traveled trail loomed ahead of us. It was time to start our hike. One foot in front of the other led to premonitions of future leg strain, as inclines slowly increased, and large steps started dotting the surface of the trail. This was only the beginning though, and much more adventure was yet to come.

If you don't stop to take a look around you every once in a while, something special might be missed.
At several different points throughout my journey, when I stopped to observe my surroundings, I witnessed the Urubamba River, the Sacred Valley, and of course, the Andes mountains traveling with me wherever I went. The river thoughtfully helped you leave behind sorrows, the valleys thankfully let your imagination run wild, and the mountains heightened spirits during the entire trek. As opposed to other hikes which are just that,
you will come across ancient ruins periodically that are peacefully maintained by the enthusiastic Quechua speaking native
, or the hungry alpaca eating away the remains of any grass that grows too tall.
Thoughts begin to run wild as to who exactly lived there and what these people were really like. Plenty of documentation exists thanks to the conquistadors and monks that lived among the Incas as to who these people were, but the devastation that ensued when the empire was wiped out was irreparable.
Thankfully the pleasant reminders of the past persisted as the landscape unfolded before us.
Several popular sites such as Winaywayna, Llactapata, Sayacmarca, and of course, Machu Picchu, are visible on the way to that epic final destination.
If you are feeling lucky, or at least experiencing the absence of soreness, you can take a few more hours to hike up to the top of Huayna Picchu. I, unfortunately, was unable to access this site because of how dead tired we were,
but this site is even higher up than the classical Machu Picchu.
It was almost hard to believe that someone could build something so majestic like Machu Picchu, let alone Huayna Picchu.
Even though Machu Picchu was a grand attraction, that alone only encompassed a small percentage of our travels.
The grandness of the mountains that stretched out in all directions was one of my biggest enjoyments. Several shades of green hued with multicolored craggy rocks to create a palate of warmth and comfort.
Some mountains were capped off with snow, creating an unforgettable vision of loving solitude and everlasting infinity.
Hummingbirds loved to twinkle in and out of existence between the trees, and on one occasion, a terrified full grown horse almost plowed us clear off of the path.
There are a few dozen families that live within the confines of the Inca Trail, and at the end of a long day, an ice cold Cusquena beer was just what I needed to relax. These families offered refreshments, snacks, and plenty of warmth, as I'm entirely sure that they are used to people from all over the world traversing in their backyard. As the days grew old, we humbly awaited the lunches and dinners that were elegantly prepared for us, weary travelers. Local produce and livestock were used,
and a memorable tasting session of Pisco Sours encapsulated our taste buds to the point of no return
. If you didn't eat anything of significance before the hike, you will most certainly be privy to the tastes of Peru with your native chefs that work hard for your comfort. The porters are also in charge of setting up the campsites, which are constructed before you even reach the final steps of each day.
After you reach camp, you will find a relaxing place to speak to your group or catch up on some meditation
.
Machu Picchu
is certainly a destination to behold, and of course, it is one of the most popular tourist destinations.
The popularity of this site has only been rising in recent history, adding more to one of Peru's biggest imports, tourism
. You can either take the train ride in relative comfort or take the road less traveled, literally.
You won't be disappointed if you take the latter, and many come out of it a whole new person with a brand new perspective on life in general.
We don't need materialistic comforts, we don't need that morning cup of coffee every day,
all you need is yourself and the thoughts that hold you in place within this world
. Peace will surround and hold you together as you peer off into the distance, wondering if there are new ruins yet to be discovered on the other side of the next mountain.
Why don't you go and find out?
Now that you're here:
We're asking you, our reader, to make a contribution in support of our digital guide in order to keep informing, updating and inspiring people to visit Peru. Why now? In our near 20-year journey as the leading English-language source on travel in Peru, we've had our fair share of ups and downs-but nothing quite like the challenges brought forth in the first quarter of 2020.
By adapting to the changing face of the tourism and travel industry (on both local and international levels), we have no doubt we will come out stronger-especially with the support of our community. Because you will travel again, and we will be ready to show you the best of Peru.
Your financial support means we can keep sharing the best of Peru through high-quality stories, videos and insights provided by our dedicated team of contributors and editors based in Peru. And of course, We are here to answer your questions and help whenever you need us.
As well, it makes possible our commitment to support local and small businesses that make your visit an unforgettable one. Your support will help the people working in these industries get back on their feet once the world allows us to make our dream of enjoying everything Peru has to offer a reality again-from its mouthwatering gastronomy, thriving Amazon and archaeological wonders such as Machu Picchu.
Together, we will find a way through this. As a member of our community, your contribution, however big or small, is valuable.
Support Traveling & Living in Peru from as little as $1 - and it only takes a minute. Thank you!