Every timelessly delicious food needs at least one place where it's the soul of the menu. That's exactly what El Bigote Coffee & Waffles is for Belgian waffles, with vegetarian options and many surprising combinations.
Their eclectic décor of recycled tables—a pair of them are actually old sewing machines—and board games show the spirit of the place, one that every waffle lover in Lima must visit.
The Menu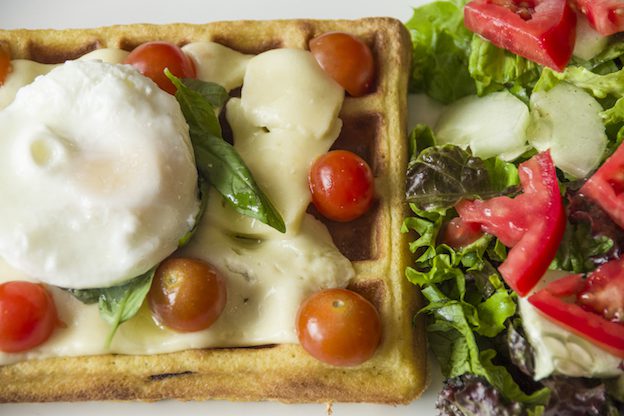 If you choose to stop by for breakfast, El Bigote has tasty options, you can have the traditional breakfast with a waffle accompanied by scrambled eggs and bacon, or try their Waffle Huachano, stuffed with the popular spicy sausage. They serve coffee from Villa Rica and natural juices. Additionally, their menu includes six different sandwich options.
For lunch, they have waffles with cabanossi, mushrooms, BBQ sauce (with different sausages) and three veggie options: Del Huerto (with Andean cheese, basil, cherry tomato and a poached egg), Al Olivo (with olives, Andean cheese and aioli) and Mediterraneo (with Andean cheese, zucchini, aubergine and pepper). The menu also includes four options of salad.
As explained by the owners Alessia de la Fuente and Diego Diaz, "We use the same recipe for sweet and salty waffles because we look for a neutral taste. All of them are made one by one, so it takes 12 minutes to prepare".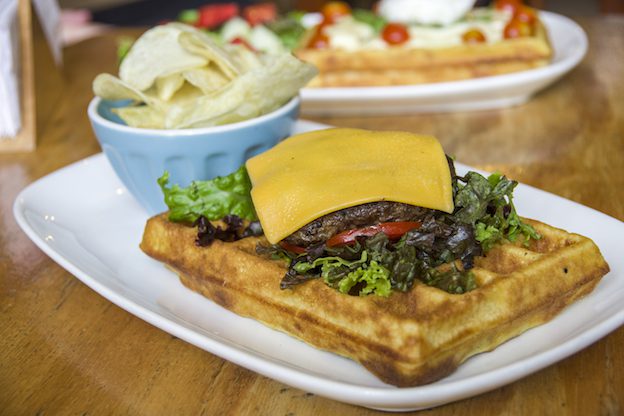 The waffles come with a salad and different complements. Our recommendation is the Waffleburger (S/19), a homemade burger with cheddar cheese. Although one is enough to satisfy you, the sweet waffles are too compelling to pass up.
The Waffles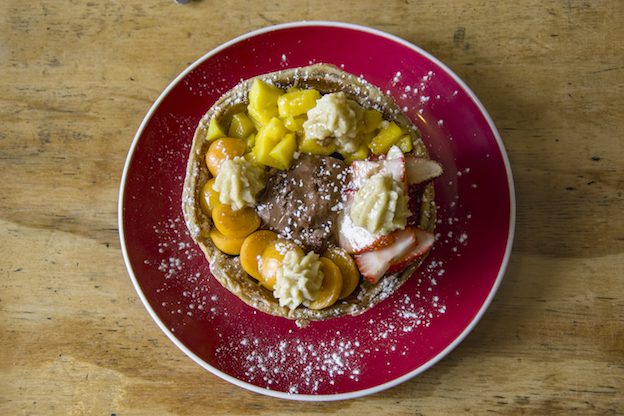 As the waffles are the most popular item on the menu, some feature fruits such as strawberry, banana, goldenberry, and blueberry while others include chocolate in different presentations. Some include artisanal ice creams, syrups (maple, honey, chocolate sauce or jam), whipped cream and hazelnut spread.
The waffles are slightly crunchy on the outside and soft and spongy on the inside. If you are having a hard time deciding which of these to try, there is an option to choose your own ingredients. There is also the Waffle Bowl. Taking the shape of a basket, it is a sweet waffle with a touch of cinnamon.
The Drinks
Due to the sheer number of delicious drinks on the menu, choosing just one will be a hard choice, especially if you want something hot.
The Coffee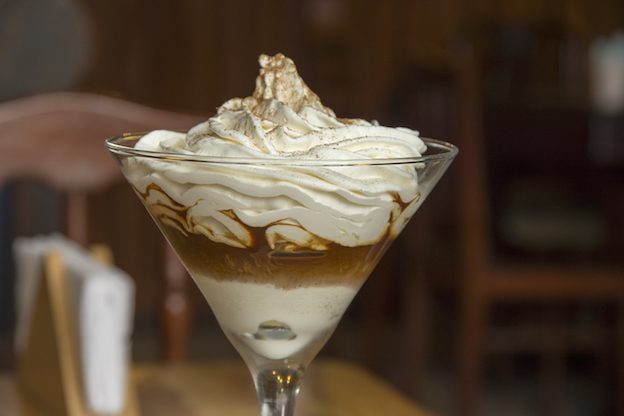 With such a wide selection of beverages, the coffee is a good option. We tried the Affogato (S/ 13), a shot of espresso with ice cream, which is a great option if you choose to have it before or after a salty waffle.
They have two coffee methods—French Press and Aeropress—but as much as we like coffee, the selection of infusions will make you want to try something new.
The Infusions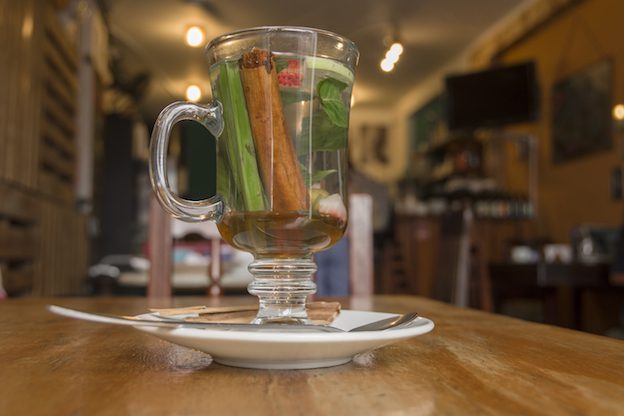 The homemade specialty is the Infusion Bigote (S/ 8), with many spices, herbs, and fruits.
Other infusions include Apple Strudel, Bora Bora, Sencha and Green Tea and can be served hot or cold in cups or teapots. Cocktails and Peruvian craft beer are also on the menu.
What Else?
El Bigote is pet-friendly and environmentally conscious. For delivery, they use organic containers made with sugarcane and cassava.
El Bigote Coffee & Waffles
Av. Grau 1460, Barranco
Sunday to Thursday: 10 a.m. to 10 p.m.
Friday to Saturday: 10 a.m. to 10:30 p.m.
Breakfast (from 10 a.m. to 1 p.m.): S 14 – S/ 22
Sandwiches: S/ 9 – S/ 14
Salty waffles: S/ 14 – S/ 19
Sweet waffles: S/ 10 – S/ 19
Coffees: S/ 5 – S/ 13
Infusions: S/ 8 – S/ 13
Refreshing beverages: S/ 8 – S/ 12
Comments
comments