In Peru, Chinese restaurants or chifas as they are known, are abundant and remain quite popular amongst locals and visitors alike. Shi-Nuá is not just another chifa in town, but rather it is the new high-end restaurant that offers gourmet Chinese cuisine taking it into another level.
Cherry blossom

Details

Truffled Duck Fried Rice

Details

Details

Exterior

Pork Chá Siu Bao Sliders

Seating

Private seating

Duck spring rolls

Interior
Decor
Located in the heart of a business compound in San Isidro, Shi-Nuá is the latest project of Diego León de Peralta, a businessman with much experience in running lounges, restaurants, and discotheques (Carnal, Asia de Cuba, Bambuda, Rock Bar) around Lima and beyond. Style and good taste are his signatures, and Shi-Nuá is no exception. The tall ceilings, velvet chairs and compartments, the dim lights throughout the two floors, and the overall minimalistic décor, give Shi-Nuá that elegant touch that is rarely seen in Chinese restaurants in Peru. The beautiful main salon with its colorful bar, brick walls, and tree at the center offers the perfect ambiance for a night out, a business lunch, or any special occasion.
The Food
At Shi-Nuá careful attention has been paid to the elaboration of their menu; no surprise there when you know experienced chefs like Coque Ossio and María Luisa Sosa are behind this project. At Shi-Nuá, only prime quality products are being used, and as a result, a refined and attractive menu that includes foie gras, lobster, fish roe, piglet, or Waygú beef among other top products, is put forward to please demanding foodies.

At this point, we were more than ready to start our experience and we started with the Duck Spring Rolls (s./28). These are four units of crunchy fried rolls beautifully presented, filled with duck meat, and served with two equally fantastic hoisin, and a sweet and sour sauce. The rolls were perfectly crunchy, amazingly delicate, and full of flavor; one of the best I've had. They also have a veggie version so don't miss out on this fantastic starter.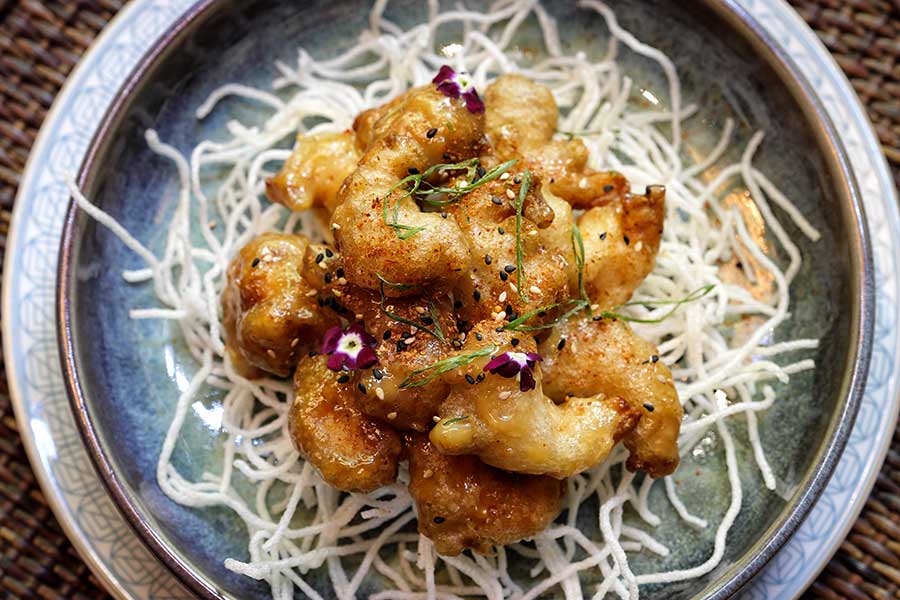 Another remarkable starter was the Tempura Pop Corn Shrimps (s./48), a dish with deep-fried tempura-style shrimps that were incredibly crispy, delicate, and mouth-watering. They were so good on their own that we completely forgot about the nice sweet and sour sauce that comes along with this must-try starter.

If you are a bao-lover like I am, you will find a few versions of these Chinese soft buns. On this occasion, we tried the Pork Chá Siu Bao Sliders (s./24) consisting of three units filled with slices of pork, lettuce, and crunchy onions, that come along with a sauce. The taste and presentation are similar to that of a butifarra china.
We also tried some Siu Mai, the traditional Chinese dumpling, of which they have a variety. We tried the Waygu and Foie Gras Siu Mai (s./38), filled with waygu (Japanese meat) and foi gras, and topped with caramelized ginger bites; the Shrimps, Scallops and Tobikko (flying fish roe) Siu Mai (s./24), and the Surf and Turf Siu Mai (s./29), made with Angus meat, blue cheese, and topped with shrimps. I enjoyed the texture of the Siu Mai more than anything.

It was time to try some of their main dishes and specials. We tried the Truffled Duck Fried Rice (s./28), a bowl of fried rice, generously served with plenty of slices of tender duck meat. This dish was delicate, full of flavor, and a non-stopper. I am already eager to try the other versions of fried rice they have with curry and vegetables, pork, chicken and shrimp, and their veggie version too.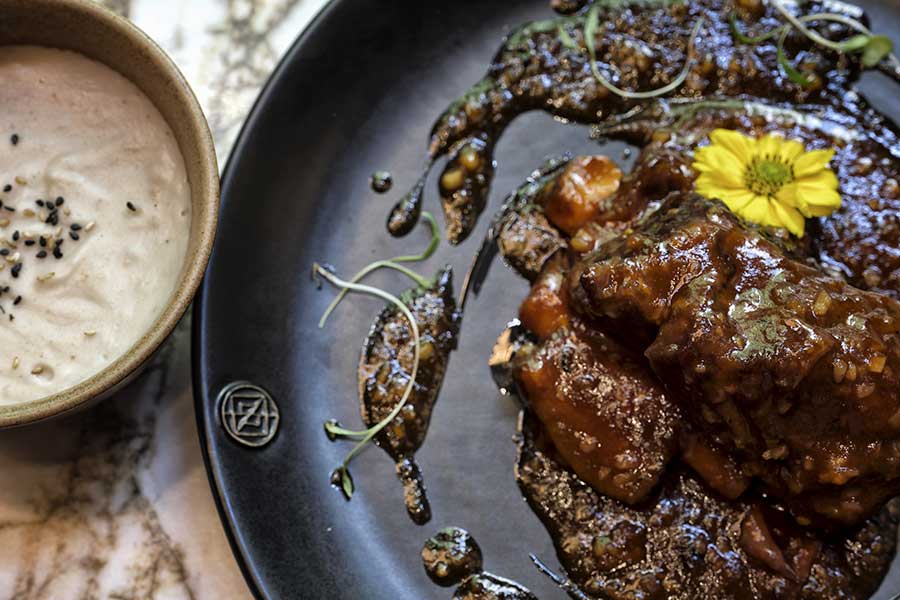 We tried one of the house specials, the Jasmine Braised Short Rib (s./72) cooked for over six hours that comes covered with a transparent lid which once opened, fumes come out giving it an attractive presentation. This dish consists of a well-portioned piece of strip steak smoked in jasmine, glazed and bathed in a slightly spicy and quite luscious sauce. The meat was tender as it could be, and the sauce was superb. This dish comes with a bowl of truffled taro (an Asian tuber) mashed potatoes sprinkled with sesame seeds that were wonderfully smooth and tasty. This well-accomplished dish is highly recommended.

Dessert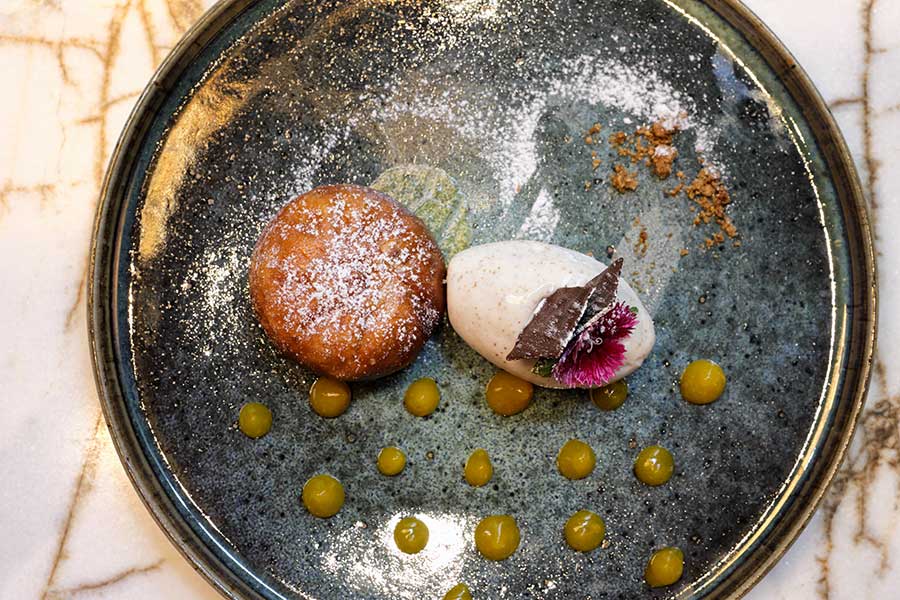 With an experienced chef like Rebeca Delgado, Shi-Nuá presents an appealing selection of dessert choices that go beyond the classic sweet lychees or oranges you usually find in chifas around Peru. At Shi-Nuá, you will find Baked pineapple with chili and tamarind, the Chocolate Textures, the Panacotta lychee with raspberries, and the Pear Min Pao with ice cream (s./ 29) which is the one we had. This dessert consists of a min pao with a pear filling, a scoop of wonderful butter almond ice cream, mango jelly, and dark chocolate sand. This dessert was refreshing and enjoyable.

Drinks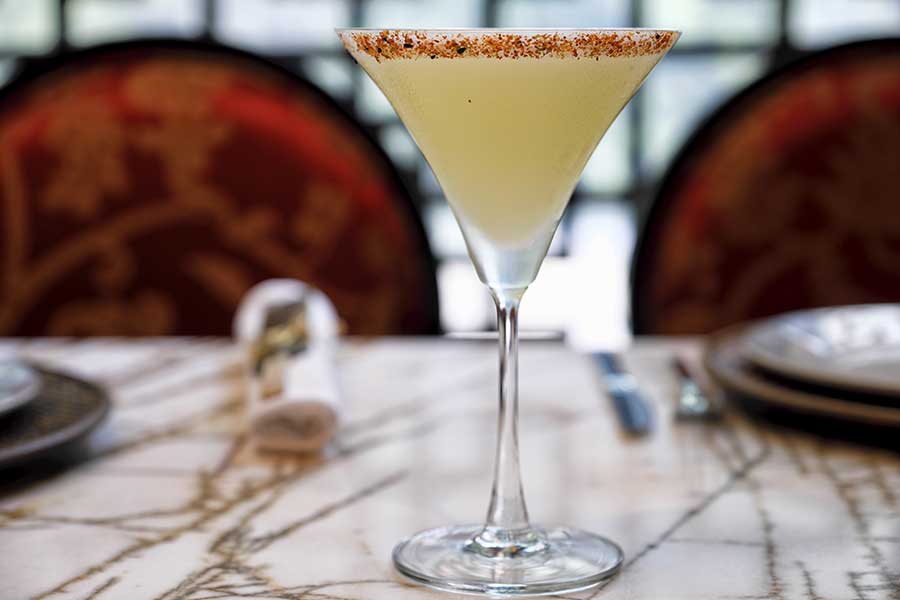 At Shi-Nuá there is a beautiful bar that is worth a visit on its own. Apparently, it is now an obligatory stop for those that enjoy the Lima night scene. The selection of drinks and cocktails appears extensive and you can accompany your drink with one of their appealing appetizers. Following our host´s advice, we had the Pisco Sour (s./36), the classic Peruvian drink but with some clever additions like Baijiu (Chinese distilled liqueur), ginger, and paprika sprinkled over half of the border's glass that gave it quite a special touch. At the first sip, we felt the ginger flavours digging in, and then that beautiful spicy note that enhanced the flavors of this Peruvian classic. The pisco sour was impeccable and it was a total success. We loved it!

Our second drink was the Cherry Blossom (s./38), a house favorite we were told, made with banana passion fruit and Prosecco. It was quite light with the fruit flavors predominating, but difficult to beat the Pisco Sour we just had. I still have to come and try the Chinese Mule that sounds quite interesting too.

Final remarks
Shi-Nuá is a sophisticated Chinese restaurant that will certainly please Chinese food lovers. Until this restaurant opened, a beautiful setting and top quality Chinese food were certainly missing from this ever blooming Lima restaurant scene.

Shi-Nuá
Av. Victor Andrés Belaúnde 147, San Isidro
Telf. 610 21 00
Parking and valet parking – yes
Opening hours – Monday to Saturday 1 -4, 7-30 -00, Sunday – 1 -4

Starters – s./ 24 – 48
Rice and noodles – s./ 24 – 42
Main dishes – s./39 – 120
Cocktails – s./35 – 42

Cover photo: Siu Mai/ Marco Simola
Now that you're here:
We're asking you, our reader, to make a contribution in support of our digital guide in order to keep informing, updating and inspiring people to visit Peru. Why now? In our near 20-year journey as the leading English-language source on travel in Peru, we've had our fair share of ups and downs-but nothing quite like the challenges brought forth in the first quarter of 2020.
By adapting to the changing face of the tourism and travel industry (on both local and international levels), we have no doubt we will come out stronger-especially with the support of our community. Because you will travel again, and we will be ready to show you the best of Peru.
Your financial support means we can keep sharing the best of Peru through high-quality stories, videos and insights provided by our dedicated team of contributors and editors based in Peru. And of course, We are here to answer your questions and help whenever you need us.
As well, it makes possible our commitment to support local and small businesses that make your visit an unforgettable one. Your support will help the people working in these industries get back on their feet once the world allows us to make our dream of enjoying everything Peru has to offer a reality again-from its mouthwatering gastronomy, thriving Amazon and archaeological wonders such as Machu Picchu.
Together, we will find a way through this. As a member of our community, your contribution, however big or small, is valuable.
Support Traveling & Living in Peru from as little as $1 - and it only takes a minute. Thank you!