The word Shizen, in Japanese, means nature; and is also the central tenant of a wonderful Peruvian restaurant.
[Best_Wordpress_Gallery id="444" gal_title="Shizen"]When founders Coco Tomita, Mayra Flores, and Renato Kanashiro first met in school on a thesis project, they did not expect it to blossom into the divining rod for their lives. After finishing school, the trio traversed Peru, exploring local produce and teaching nikkei workshops. The accumulation, Shizen, is the result of their contacts; basically, farm to table, but the farm is mostly the ocean. They have been open now for eight months and are quoted thanking "this rich and diverse country, (because) we can offer something different and unique." After many years Nikkei cuisine has its own unique identity.
The Food
Sashimi 4 cuts – S/.24
Nigiri 2 units – S/.16
[caption id="attachment_155275" align="alignnone" width="624"]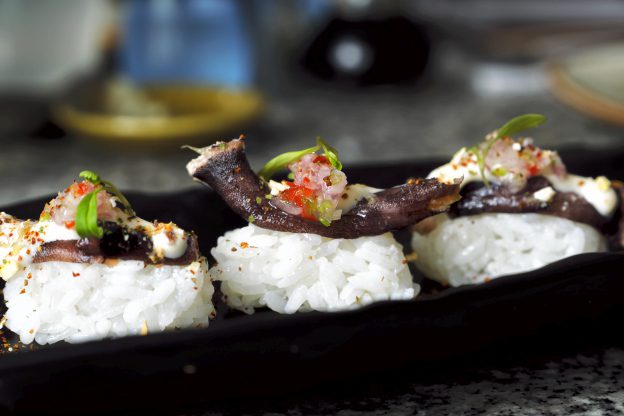 Percebes (Photo: Marco Simola/Traveling & Living in Peru)
[/caption]The various sashimi sampled were delicious and fresh and visually beautiful. We sampled four kinds of sashimi:
Tuna of the North (Atun de Norteno)
a delicious mackerel that comes flavored with huacatay, so you don't need to use soy sauce;
Carretillero
, featuring the catch of the day, with rocoto caretillero, gel de ponzu; the sweet
Conchita Andina
featuring shellfish from Paracas, smoked yellow aji cream, cushuro, corn, cilantro sprouts; the soft and salty
Trucha
; and
Percebes
(Pollicipes pollicipes)
, a previously unknown creature to us, that we were excited to try.
Pollicipes pollicipes
grows on hard to reach rocks in the North of Peru thus making it a rare item to feature on menus. It turned out to be delicious, a little sweet and the consistency of a soft licorice. Not all that different from the fish nigiri. If percebes are on the menu, and you want to try something exotic, we recommend having a go.
Maki
10 pieces - S/26.00
5 pieces – S/14.00
We had heard good things about the maki, so we were ready to dig in. We sampled four types of maki from the menu: The makis with fish feature the fish of the day, today was "Lisa".[caption id="attachment_155278" align="alignnone" width="624"]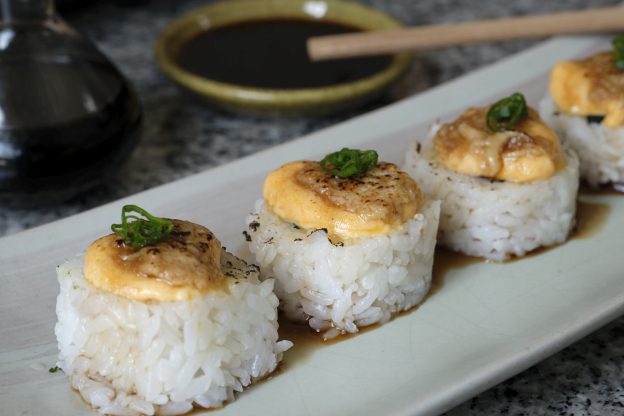 Thaiyaki (Photo: Marco Simola/Traveling & Living in Peru)
[/caption]First up, was the
Spicy maki
, featuring fried shrimp, onion tempura and cream cheese covered with the catch of the day and in-house smoked yellow chili (aji) and oyster sauce. It was good, but compared to the other makis, which were spicier, we were unsure why this was "the spicy maki". Next was the
Tusan
, an oriental maki featuring the catch of the day, oyster sauce and Nikkei Pachikay. It was a little spicy and oily. In our opinion oily is good with maki. The
Rocoto
was very Peruvian tasting with Leche de Tigre. Despite having fried shrimp and avocado, it reminded of us of ceviche. The last maki and our favorite was the Thaiyaki, a dish featuring fried shrimp and avocado covered in home-made sriracha cream, parmesan cheese, lemon juice, and spring onion. The
Thaiyaki
was enchanting. The smoked spice mixes with cream and transports your mind to a world a flavor. Living in the moment, you'll forget everything eating the Thaiyaki.
Cold Dishes
[caption id="attachment_155281" align="alignnone" width="624"]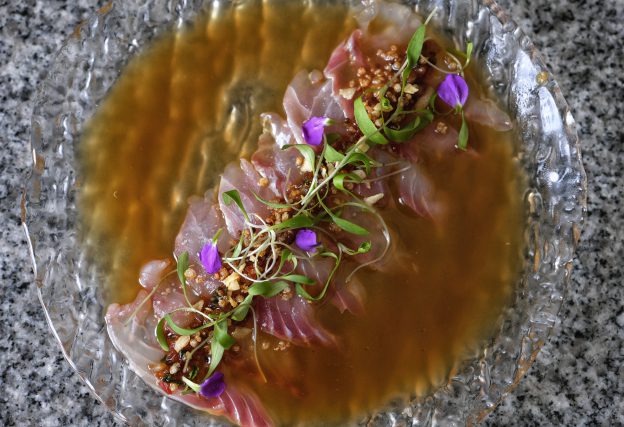 Tiradito Usuzukuri (Photo: Marco Simola/Traveling & Living in Peru)
[/caption]
Tiradito Usuzukuri estilo Nikkei S/.28
To start, we were served the "catch of the day" seasoned with ponzu and chicha de jora, crispy quinoa, chopped rocoto, and crispy garlic. Think sashimi, but more exciting. The fish was fresh, and the sauce was sweet. We really appreciated the crispy garlic crunch. This was an absolute joy of a starter and we couldn't wait for our next dish.
Tiradito de Concha y Rocoto S/.29
Next up, was a special dish that was hidden under sweet potato crackers. We were curious what we would find underneath, which turned out to be Paracas Scallops, onion, avocado and rocoto sauce with leche de tigre. We absolutely loved the sauce featuring smoked teracoto. On its own, the sauce taste is strong, but when mixed with the other ingredients it blends beautifully. We loved this second dish.[caption id="attachment_155280" align="alignnone" width="624"]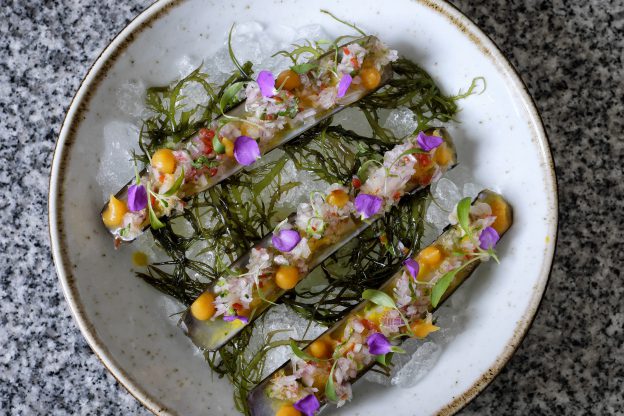 Razor Clams- Navajas Special (Photo: Marco Simola/Traveling & Living in Peru)
[/caption]
Razor Clams- Navajas Special
The Razor Clams were one of our favorites. It is unusual and difficult to get this style of clam in Lima, making this one of the special items on the menu. The taste was just as exceptional. The clams featured traditional Peruvian ingredients such as potato, onion, lime juice, aji, and Leche de Tigre. The long shells were juicy like a clam should be, the Leche de Tigre is the perfect combination. We were left wanting more… If you have the chance, order the razor clams.
Hot Dishes
[caption id="attachment_155285" align="alignnone" width="624"]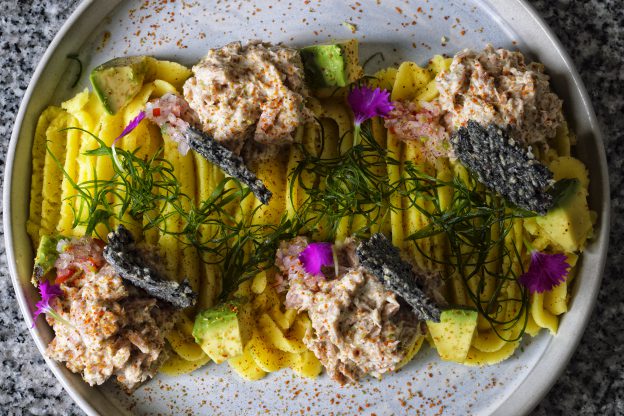 Causa Acevichada (Photo: Marco Simola/Traveling & Living in Peru)
[/caption]
Causa Acevichada S/.30
This dish featuring tuna with acevichado sauce, bamboo rice cracker, and yellow sweet potato is a great dish to share at a generous price. Eat it like a sandwich. This not so intrusive dish is crunchy and great as an appetizer.
Sudado Nikkei S/.29
The catch of the day in fish and seafood broth; this is a dish you eat while warm. It's like a soup and the homemade broth is savory. Being a soup, it was different in style from the other dishes, but it's good for a cold day.[caption id="attachment_155282" align="alignnone" width="624"]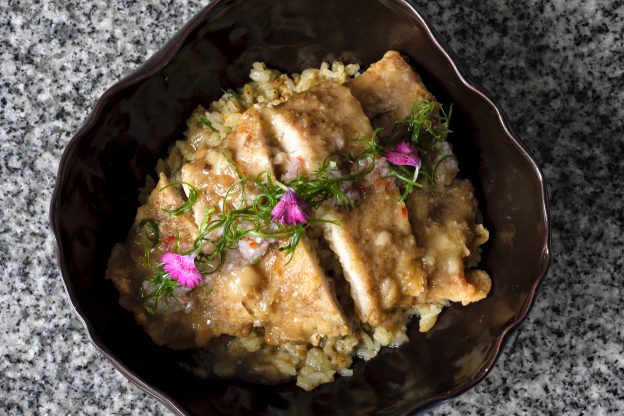 Yakimeshi Tusan (Photo: Marco Simola/Traveling & Living in Peru)
[/caption]
Yakimeshi Tusan S/.29
Japanese style sautéed rice with a deep-fried catch of the day. This is a creamy rice dish to fill you up. Generally, in Japanese meals, you end a meal with a rice dish, that way you have room for all the delicious and nutritious food and can then fill your belly with carbs. The Yakimeshi is good for that.
Torta de Chocolate (Homemade chocolate cake) S/.16
This homemade chocolate cake was delightful. If you're still hungry we recommend this cake. It's as good as any bakery and large enough to share.
The Verdict
By featuring the catch of the day as the main ingredient in its dishes, Shizen emphasizes freshness and quality. We particularly liked the uniqueness of the offerings, such as the razor clams and percebes, which were also some of the best-tasting items on the menu. The cold dishes were particularly outstanding. This is a place where we will return with our friends.
Shizen
Phone: 993 731 239
[email protected]
Calle General Borgoño 286, Miraflores
The Hours
Monday- ClosedTuesday- Saturday 12:30pm-4:00pm and 7:00-10:00pmSunday- 12:30pm – 4:00pm
The Prices
*Menus available in English*Executive MenuDuo Nikkei- S/.35.00Ceviche and riceCeviche and causaCausa and riceSet Sushi- S/39.002 cuts of sashimi2 Nigiris Nikkei style10 pieces of Maki*only from Monday to Friday from 12:30 to 4:00 p.m. Not valid for holidays.
Nighttime Sets
Noche Maki2 persons: S/1501. 4 Sashimis6 Nigiri2. 20 maki rolls3. Homemade Chocolate Cake w/ green tea(matcha) and ginger ice cream
Noche Causa
2 persons: S/1501. Ceviche and ½ Causa2. Choose a main3. Homemade Chocolate Cake w/ green tea(matcha) and ginger ice cream