The sight of Cusco from a bus window as you're winding down from mountain roads is incomparable.
I think the fact that it was a 16-hour, bumpy, sandy (read our post on Huacachina), overnight bus, makes this sight even more spectacular. Nevertheless, the large cluster of stucco-roofed buildings surrounded on all sides by mountains is a beautiful sight.
Where do I start with this city? It's bursting with life.
There's both a large presence of foreigners (mostly on their way to Machu Picchu) and locals going about their daily life. But it's a city with such rich history that is worth more time than just a stop before the Inca Trail.
Cusco is truly a fascinating place.
San Pedro Market
Take the San Pedro Market for example. You can buy a beautifully woven alpaca sweater and a whole pig head in the same place.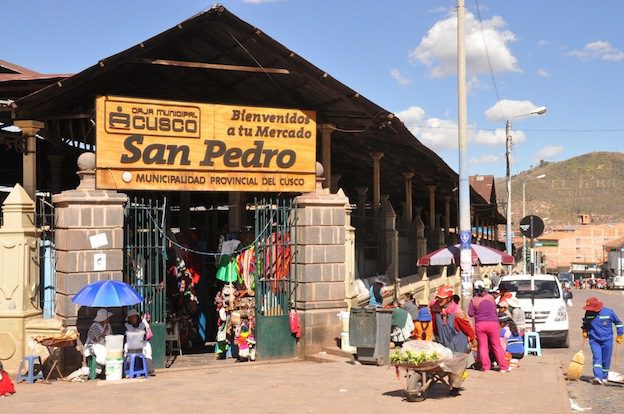 Want to mingle with the locals? Simple.
Just sit down at one of the many almuerzo stands and order a lunch for 5 soles (about $1.75 USD). You will be sure to make friends with the woman serving your food and the many locals packed on the bench beside you.

If you walk a bit further to the San Blas district, you can buy crafts directly from the artists themselves.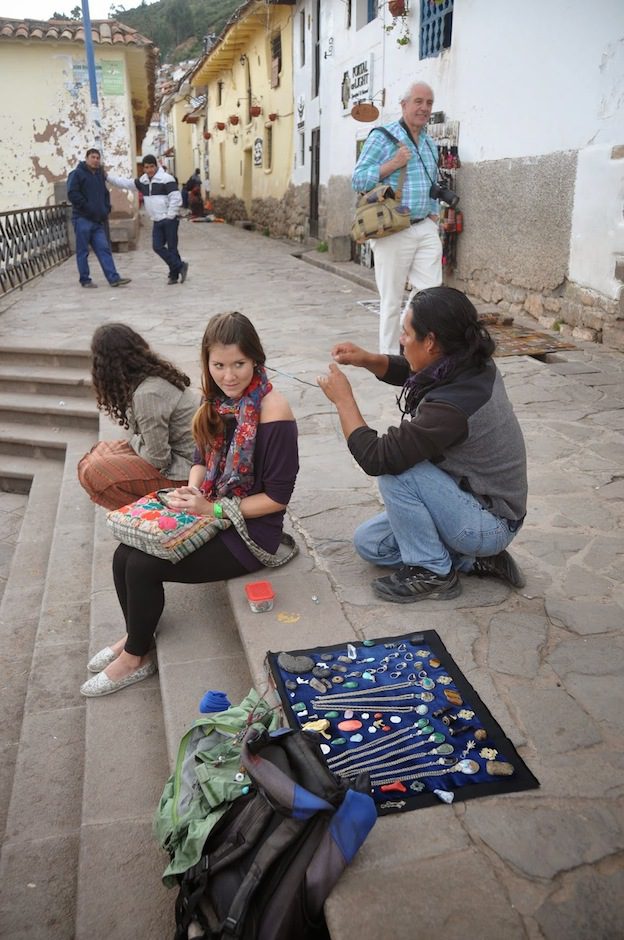 You can also have your hair wrapped by one of the street artists like I did!
Plaza de Armas in Cusco
It seems as if every city in South America has a "Plaza de Armas". But the one in Cusco is famous – ranking as one of the top plazas in the world, and for a good reason. It's stunning.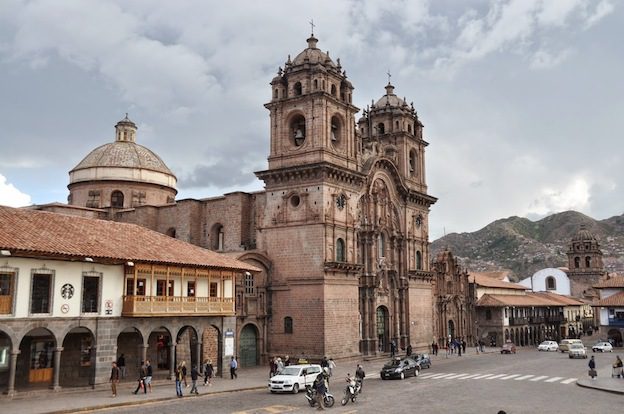 We were in Cusco the week before Easter, known as Semana Santa, or Saint's Week. During this time, the plazas were filled with carnival games and stands selling exotic looking sweets.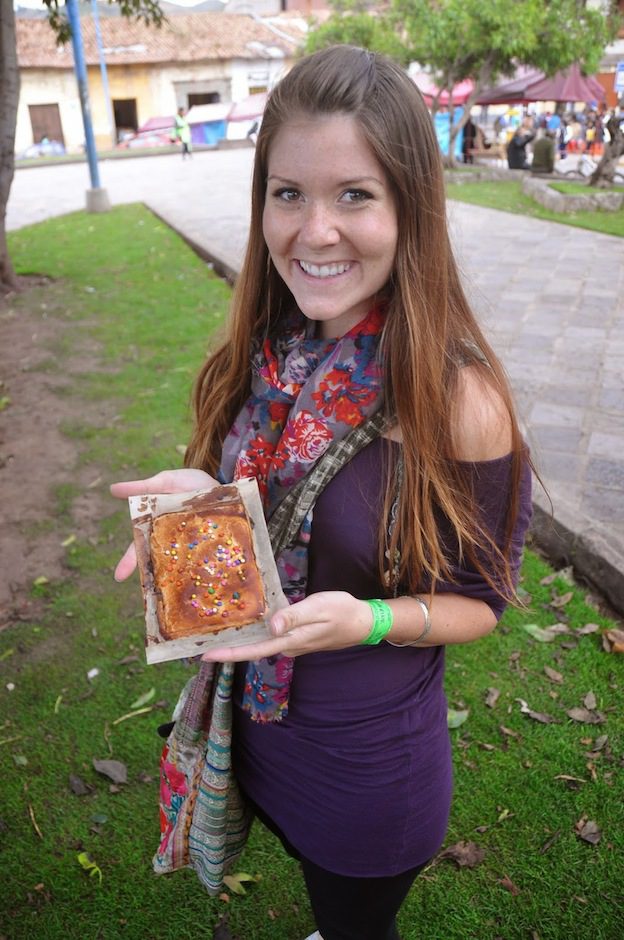 I forget the name of this pastry, but it was a bit like a shortbread cookie baked into parchment paper. Strange, but surprisingly good. Editor's note: that pastry is most likely Turrón.
Aside from being woken up nearly every night in the large dorms by other travelers, the hostel we stayed at was excellent. Pariwana Hostel always had something going on each night, whether it be a ping-pong tournament (which Ben almost won!), live music, or a toga party, we were never bored.
(We loved Pariwana Hostel so much that we actually listed it as the "Best All-Around Hostel" in all of our travels in South America. Read more here!) 

Day Hike Around Cusco
One of our most memorable days in Cusco was our last full day in the city. We didn't spend the day doing any of the activities listed in the guidebooks. No, instead we decided to abandon all maps and take a hike to some ruins we had heard about from a friend. We knew the ruins were in the hills above Cusco but didn't have much of an idea beyond that.
So, along with our friend Emma who we had met on the Inca Trail, we set off that afternoon in search of these enigmatic ruins.
At points during the day, we were on our hands and knees crawling up the side of the hill, hoping it would lead to a path.
And eventually, it did.
We finally did find our ruins – hours later – but the search for them was an adventure none of us will ever forget.
In total, we spent eight days in Cusco before and after our trek. We were able to explore the city, relax and meet other travelers, and when it came time to leave it was hard to say goodbye.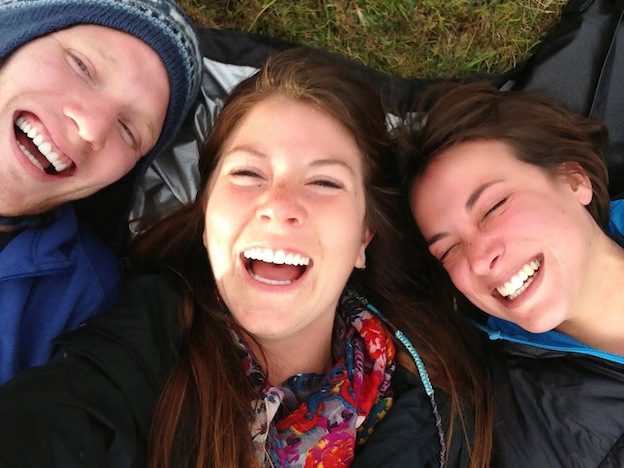 Read about our Inca Trail trek to Machu Picchu here!
More Pictures of Cusco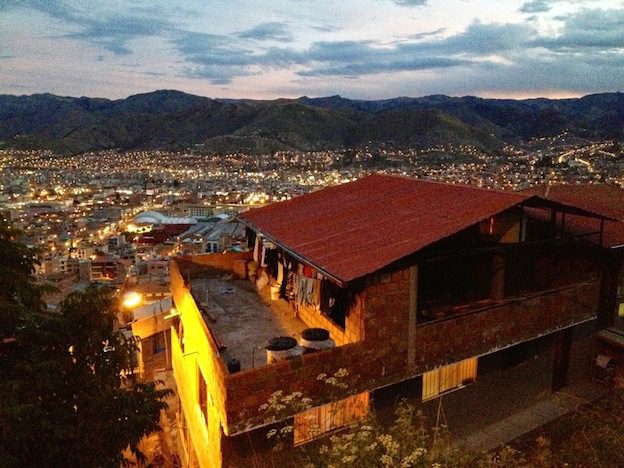 This article was originally published on Two Wondering Soles Blog!
You May Also Like:
TRAVEL BLOGGERS- TWO WANDERING SOLES IN LIMA
10 THINGS TO PACK WHEN TREKKING IN PERU
TWO WANDERING SOLES IN SANDY HUACACHINA PERU
Now that you're here:
We're asking you, our reader, to make a contribution in support of our digital guide in order to keep informing, updating and inspiring people to visit Peru. Why now? In our near 20-year journey as the leading English-language source on travel in Peru, we've had our fair share of ups and downs-but nothing quite like the challenges brought forth in the first quarter of 2020.
By adapting to the changing face of the tourism and travel industry (on both local and international levels), we have no doubt we will come out stronger-especially with the support of our community. Because you will travel again, and we will be ready to show you the best of Peru.
Your financial support means we can keep sharing the best of Peru through high-quality stories, videos and insights provided by our dedicated team of contributors and editors based in Peru. And of course, We are here to answer your questions and help whenever you need us.
As well, it makes possible our commitment to support local and small businesses that make your visit an unforgettable one. Your support will help the people working in these industries get back on their feet once the world allows us to make our dream of enjoying everything Peru has to offer a reality again-from its mouthwatering gastronomy, thriving Amazon and archaeological wonders such as Machu Picchu.
Together, we will find a way through this. As a member of our community, your contribution, however big or small, is valuable.
Support Traveling & Living in Peru from as little as $1 - and it only takes a minute. Thank you!