Trekking is one of the greatest ways to fulfill your need for adventure. It lets you challenge your physical stamina and also helps you connect with nature in a spectacular way.
Although a successful trek depends mostly on your physical fitness and mental strength, there are few things that are essential to make your trek comfortable.
Here we will talk about ten such things that you should not forget to carry while going on a trek in Peru.
1. Trekking shoes
The most important trekking gear is a trekking shoe. It is wise to get a pair of ankle length light shoes with a solid grip. They should also be durable and waterproof.
2. Appropriate clothes
You need to carry comfortable trekking pants and quick dry tops and enough warm clothes (in the mountains it gets chilly at night). Carrying a rain cover is also a must.
3. First aid kit
Don't forget your basic medical kit in your trekking trip. It should contain antiseptic cream, bandages, spray for muscle pain, common remedies for nausea, diarrhea, headache, fever, altitude sickness along with your personal medicines.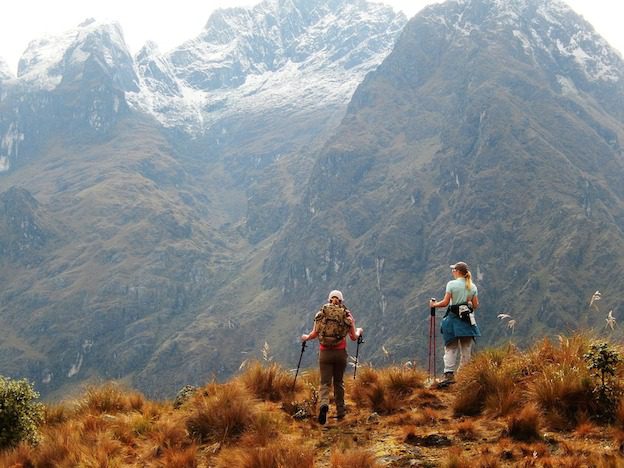 4. Water
It is necessary to hydrate your body while trekking so that you can keep up with the exhaustion. Drinking enough water does not only quench thirst but it also helps you to fight altitude sickness. Hence carrying a sturdy water bottle and refilling it whenever possible is important. It is even better if you can carry a portable purifier so that you do not have to worry about finding drinkable water.
5. Snacks
Like water, eating some snacks from time to time also helps your body not to lose energy. It is important to pack a combination of sweet and salty foods like dry fruits, nuts, and chocolates that can be carried easily.
6. Map and compass
It is advisable to carry a map of the route and a compass even if you are following a guide. It will help you to find your way in case you are lost and separated from your group.
7. Safety Gears Like Whistle and Torchlight
Blowing a whistle is an easier way to ask for help than shouting. And a torchlight can save your life if it gets dark before reaching your destination. You should also carry a few matchboxes or a lighter to light up a fire in case of an emergency.
8. Multiuse Knife
This one tool can come handy in solving many small and serious problems. The different tools of this device have unique benefits.
9. Sun-blockers
Shielding yourself from the sun while walking in the open should be a priority. Carrying a cap and appropriate sunscreen can prevent your skin from getting sunburnt. Sunglasses are also important, especially if you are trekking in the snow.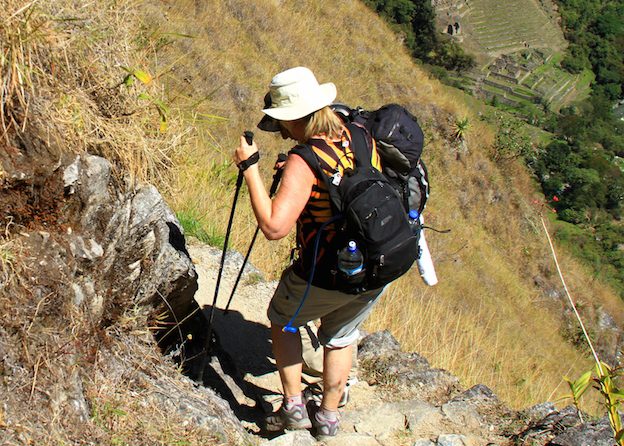 10. Backpack
The backpack in which you will carry the essential things while hiking should be lightweight and well balanced. It should also be comfortable to carry. It is necessary to have a rain cover for the backpack, which can be either built-in or added externally.
You May Also Like:
ULTIMATE PACKING LIST FOR TREKKING TO MACHU PICCHU IN 2018
7 REASONS WHY YOU SHOULD NOT HIKE THE CHOQUEQUIRAO TREK AND STAY HOME TO WATCH TV INSTEAD
TIPS FOR HIKING THE INCA TRAIL (VIDEO)

Now that you're here:
We're asking you, our reader, to make a contribution in support of our digital guide in order to keep informing, updating and inspiring people to visit Peru. Why now? In our near 20-year journey as the leading English-language source on travel in Peru, we've had our fair share of ups and downs-but nothing quite like the challenges brought forth in the first quarter of 2020.
By adapting to the changing face of the tourism and travel industry (on both local and international levels), we have no doubt we will come out stronger-especially with the support of our community. Because you will travel again, and we will be ready to show you the best of Peru.
Your financial support means we can keep sharing the best of Peru through high-quality stories, videos and insights provided by our dedicated team of contributors and editors based in Peru. And of course, We are here to answer your questions and help whenever you need us.
As well, it makes possible our commitment to support local and small businesses that make your visit an unforgettable one. Your support will help the people working in these industries get back on their feet once the world allows us to make our dream of enjoying everything Peru has to offer a reality again-from its mouthwatering gastronomy, thriving Amazon and archaeological wonders such as Machu Picchu.
Together, we will find a way through this. As a member of our community, your contribution, however big or small, is valuable.
Support Traveling & Living in Peru from as little as $1 - and it only takes a minute. Thank you!