To think outside the box is something I remember reading on a big poster years ago
—

a good piece of advice, I believe. And that is exactly what the team at Fuera del Mapa is doing. Fuera del Mapa is a newly created tourism company led by Ulysses Lichtle, a young and enthusiastic Frenchman who invites you to discover new and forgotten spaces that are worth experiencing.

They have created the first boat excursion where you have the chance to appreciate Lima's skyline while sipping a glass of wine and eating super fresh meals prepared by the chefs on board. https://youtu.be/jbc2NxSI9s4 The meeting point was on the

malecón

in Chorrillos, where cheerful staff from Fuera del Mapa were waiting for us.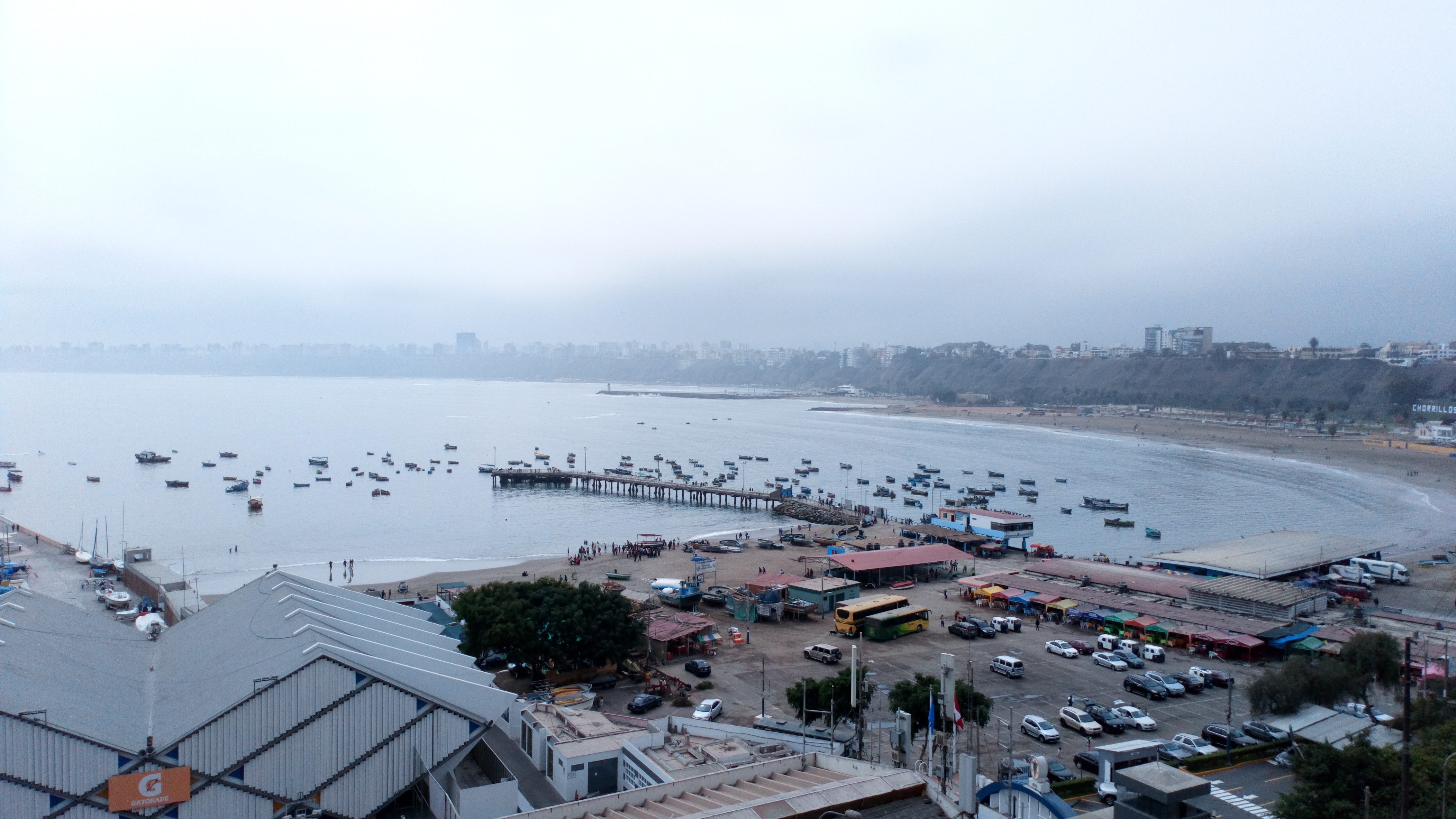 We were handed some snacks and a nice rolled map of the places we will be able to spot while navigating. An album of old photos of Chorrillos, La Herradura and the Costa Verde landed in our hands to further appreciate the tour. There was also some storytelling by the Fuera del Mapa staff who shared the story of the monk who jumped off the cliff and into the ocean as a sign of love. It was time to move on, so we descended the stairs and went straight to the fish market. The market was colorful and had an amazing display of different types of fish and seafood products brought in by the fishermen in their picturesque colorful boats that were located just a few meters away.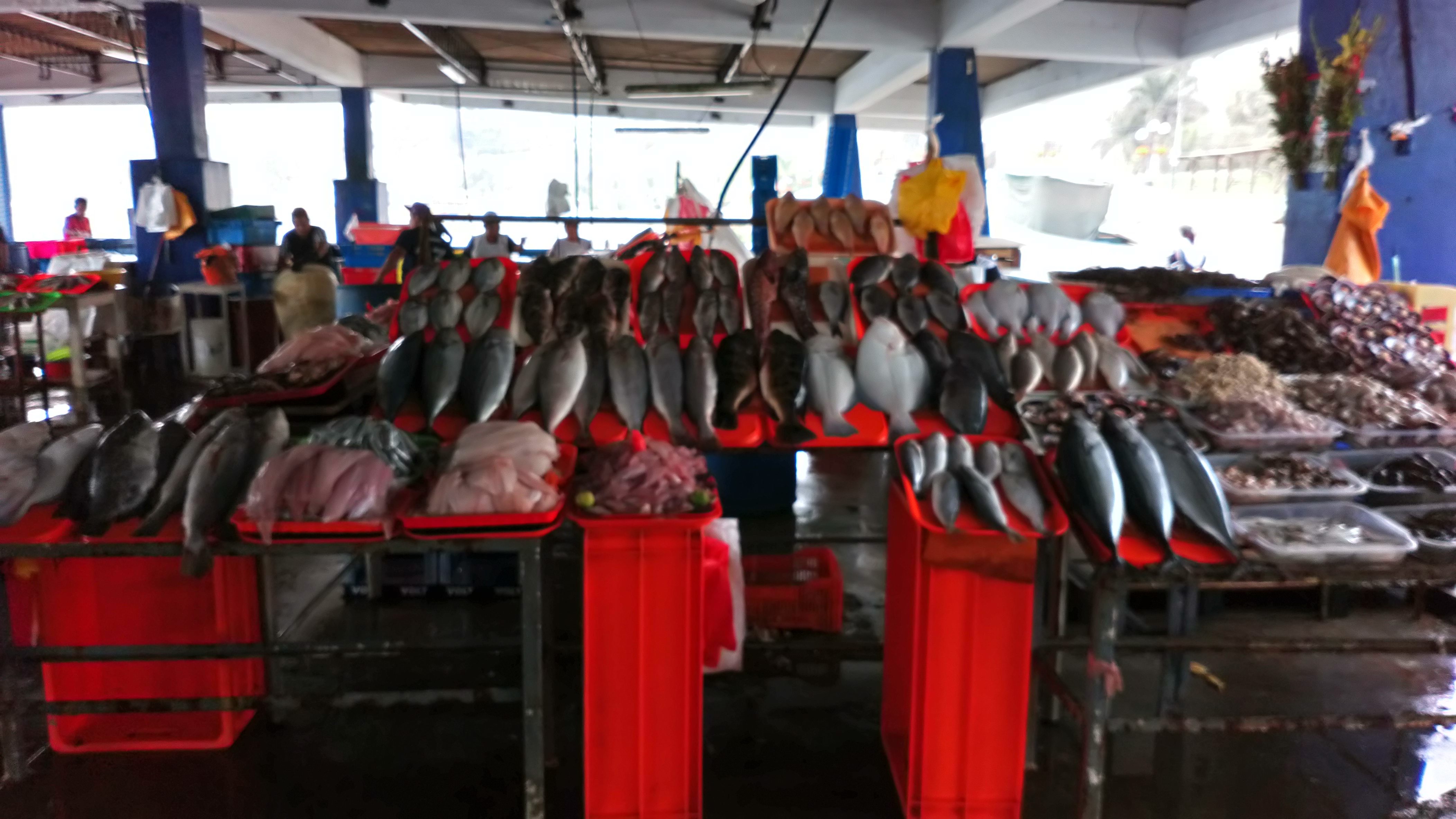 After wandering around the market, which is fairly small and not overwhelmingly smelly, the ten of us walked out onto the pier and jumped into the medium-sized boat that was going to take us to our final destination. We sailed for probably ten minutes, moving between fishermen boats and passing El Club de Regatas, until there it was: a lovely and colorful, medium-sized fisherman boat, standing still in this charming and somehow isolated bay with the skyline of the city in front of us.
What a beautiful spot they chose to live this experience, perfect for a marriage proposal or something of the kind, I thought.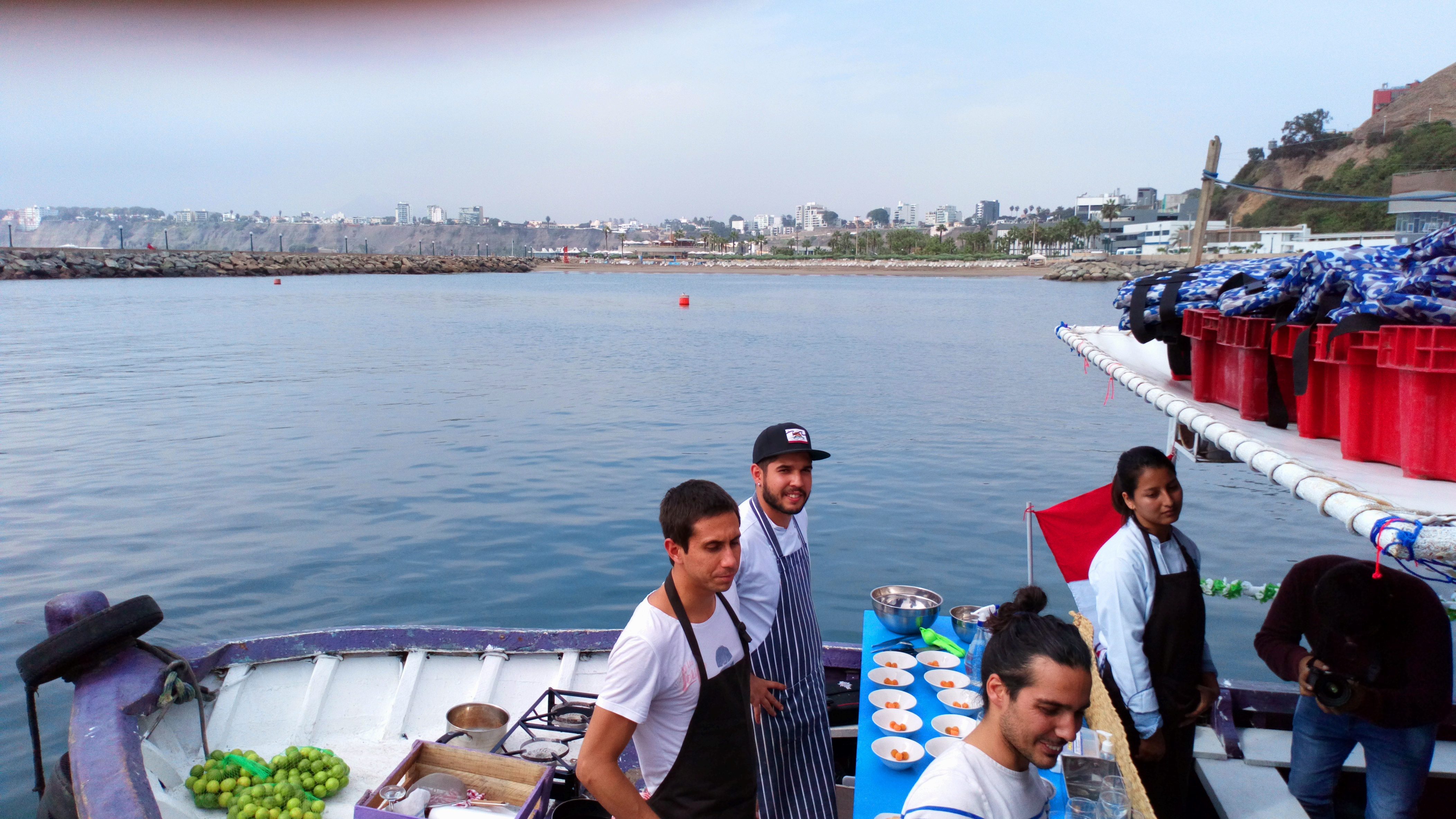 We were cheerfully greeted by the boat crew and its captain, and were asked to take our seats so that we can continue with the tour experience. The boat, being medium-sized, holds a table for ten people and an open kitchen where you have three cooks preparing the menu for the onboard guests. Colorful plastic garlands, old photos and portraits of the Peruvian hero Olaya and the Purple Christ decorate the boat while Peruvian songs play in the background.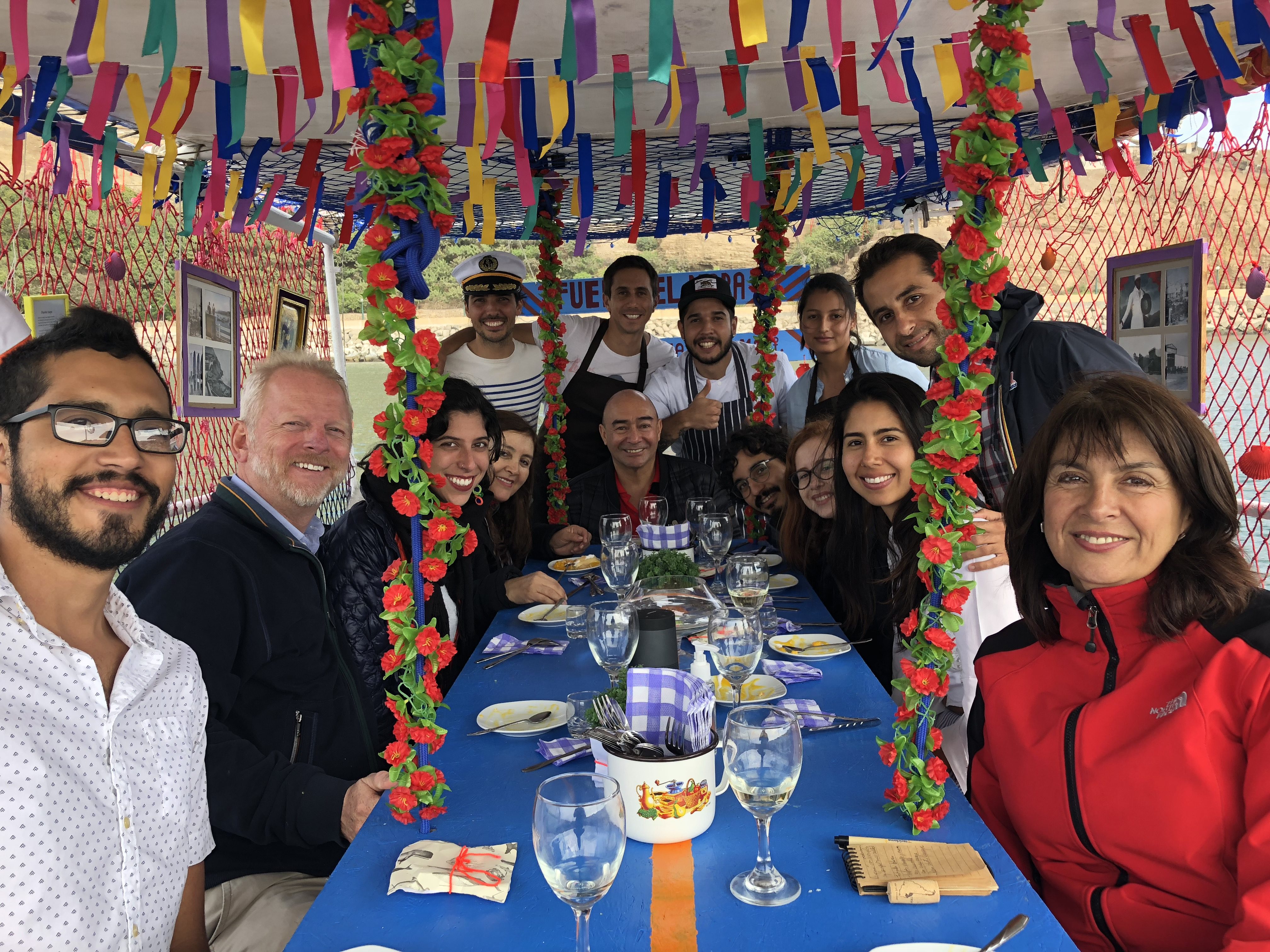 After a welcome speech by Captain Ulyses, the dishes and drinks started to pour in one by one. We were served some white Intipalka wine that we enjoyed while appreciating the scenery. Soon after, some lovely bread with salty butter and sage was placed on the table. We then got a small bowl of fresh flounder ceviche, some octopus with a lima bean puree, linguini with shrimp and clams, and as dessert, a nice crepe with mango and cream cheese.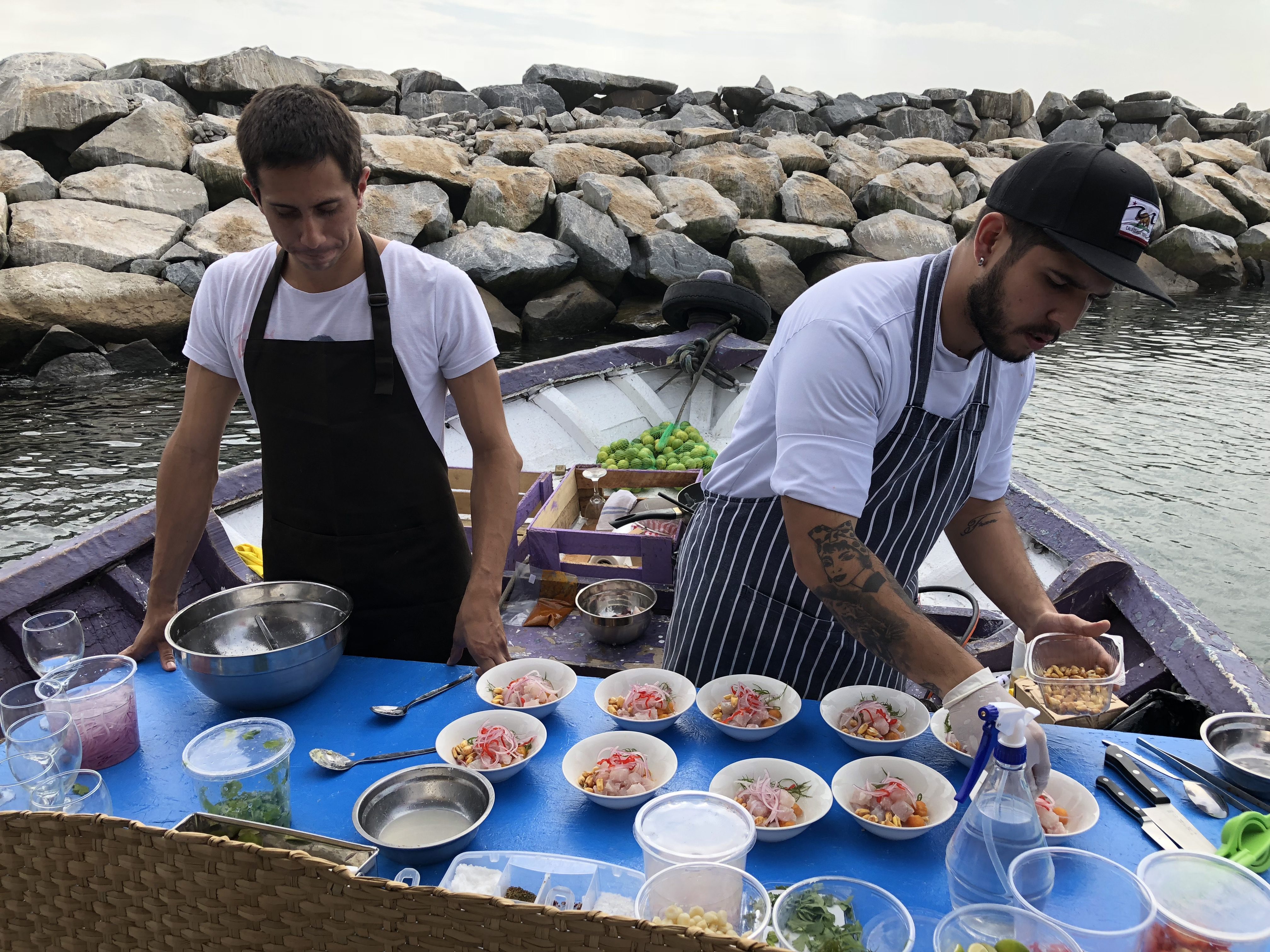 A shot of pisco and a few words by the captain put an end to our joyful experience. Before leaving the boat, we were handed a lovely surprise souvenir. No, I won't tell you what it was.
If you really want to know, I suggest and recommend you take this lovely trip with Fuera del Mapa and discover for yourself another side of Lima.
You can follow Fuera del Mapa on
Facebook
and
Instagram
.
Don't Miss
EATING AROUND LIMA - THE FOODIE CAPITAL OF LATIN AMERICA
5 BEST CEVICHERIAS IN LIMA
GO ON A FOODIE TOUR OF LIMA WITH THE VAGABROTHERS [VIDEO]