Four hours in an open boat up the Tambopata River takes you to the luxury Refugio Amazonas.
Puerto Maldonado is a one hour flight from Lima or Cusco. A snack of locally harvested "Peru" nuts ("everywhere else you'd call them Brazil nuts–but Hey! We are in Peru!") and locally dried salted plantain was served in small woven baskets, made by the members of the Infierno community, on the forty minute bus trip to where we boarded our open boat: the beginning of our Amazonian adventure. Our delicious lunch was then served wrapped in banana leaves.
The décor of Refugio Amazonas is everything you would imagine a rainforest lodge to look like. Lots of local woods and tropical touches. Walking into the relaxed open main lodge you are immediately filled with the feeling of total tranquility.

The openness of the accommodation, on the other hand, was a bit of a shock. Three walls that only went up as far as where the ceiling should be were towered over by a high-pitched, fishtail palm-covered, roof. The fourth side was totally open allowing an expansive view of the jungle outside.

Noticing my surprise at the lack of privacy, our assistant said with a cheeky grin "There's not a lot of noise privacy here at night"

Another feature in the room (which thankfully we did not have to use!) was a silver sports whistle hanging by a string on a nail. This, we were told, was strictly only to be used in an emergency; if a jaguar should happen to wander into your room! My eyes immediately flew back to the missing outside wall!

The walls were constructed of locally sourced bamboo. Most of the bamboo was lacquered, but some feature walls were made by splitting the bamboo lengthwise exposing the rough texture inside the poles.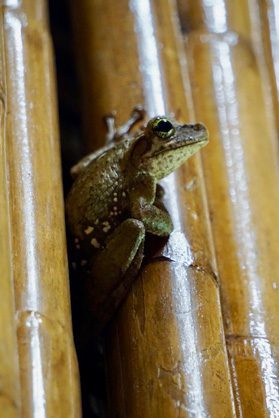 There are no muddy boots allowed in the lodge, so it's shoes off at the door. Not part of the main building, the rooms are connected by a polished wood walkway and a hall that runs the length of the accommodation block. So the recommended slippers or just socks are fine.

Showering was another shock. It was like climbing into an enormous plastic bag!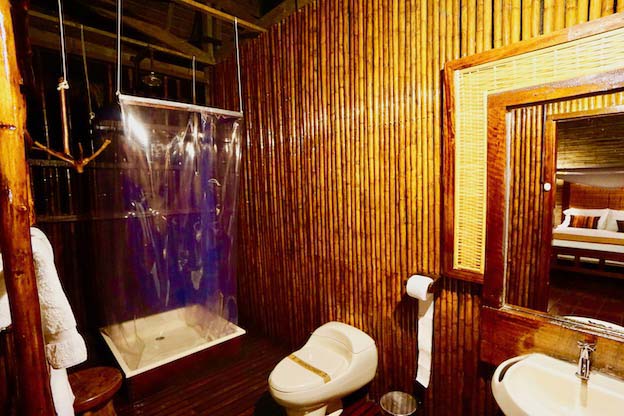 The lodge has a "no single-use plastic" policy. Although I applaud their recycling policy, I have to question the safety issue of glass bottles for the shower. My husband and I played valets for each other holding the refillable glass bottles of shower gel, shampoo, and conditioner as there was no shelf in our giant plastic bag.
Solar energy, supplemented by some generators is the only source of power. This meant that electricity and therefore lighting was limited. Schedule power outages included the afternoons and after ten o'clock at night. (Don't forget the torch!)

Luckily, we had chosen a room with two double beds. The heat at night, with no fans, was oppressive. However, cocooned in our individual mosquito nets, we slept like babies after our very active days.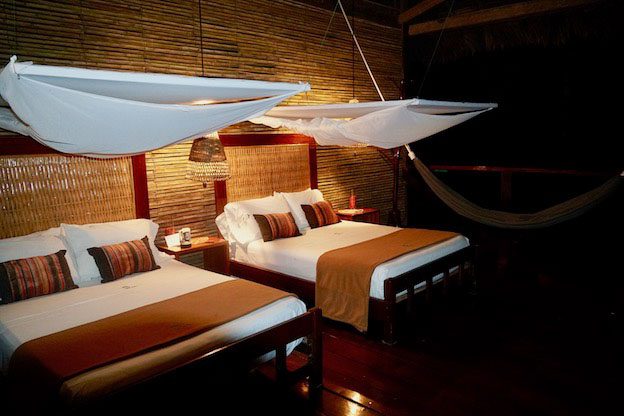 Since we were there at Easter, it was the end of the wet season, meaning that the weather was still quite hot, but we were lucky: it only rained once, a few minutes after we had returned from a guided night walk.

After the introduction talk when we arrived, we were offered the selection of activities. Then each night during the meals, the guides came around and individually explained what would be involved the next day.

If you had the energy in the heat, your days were divided between early morning walks, morning and afternoon excursions, an informative lecture each evening after dinner and a later night walk, all included in the tariff. There were 15 guides, all trained in every activity, who were enthusiastic and happy to share their expansive knowledge of the jungle. Languages available were Spanish, English, French, and German.

Having arrived very tired the night before, we were up at 4:00 am for a 4:45 a.m. start. Since it was too early for breakfast, we were treated to a surprisingly elaborate breakfast picnic on a beach about two hours up the river. Our quest to see macaws then continued to Chuncho Macaw Lick where they gather to consume small portions of clay to supplement their diet.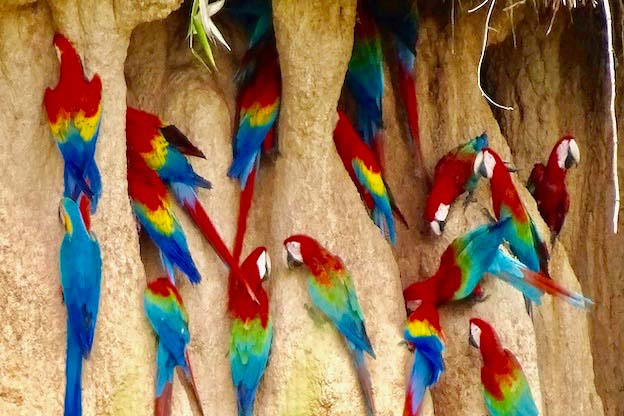 The next day, the grueling pace set by the early morning trek to the Oxbow Lake was exhausting. However, once we boarded the canoe and were being gently paddled by our guide, the tranquility was only disturbed by the occasional bird call or the scurry of a monkey. We felt obliged to whisper so as not to disturb the birds.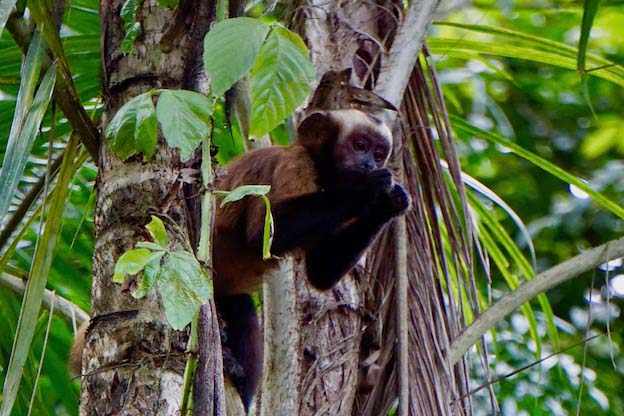 However, on the return paddle, this peace was shattered as seven adults squealed like children as we fed the ravenous piranhas with bread.
Taken at a gentler pace was the walk to the botanical gardens. Our guide regaled us with tales of how his grandfather traditionally used many of the named trees and bushes we passed. Without warning, we arrived at what he happily called the Jungle Bar.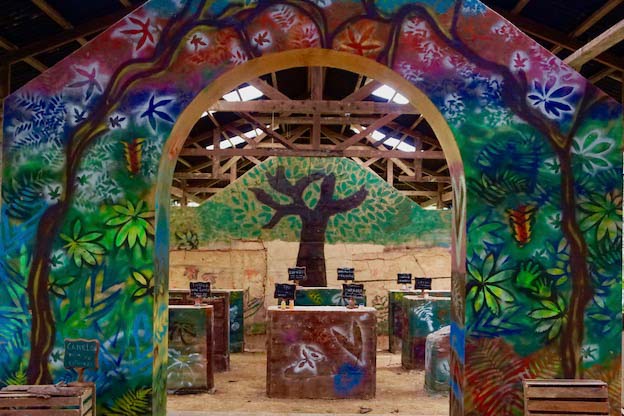 Built in the middle of the Botanical Gardens was a shelter that housed dozens of examples of medicinal products made using the plants around us. The sign at the entrance to the garden included a bottle of liquid produce from a plant called Para Para –which in Spanish means stop stop. In our naivety we had decided that it was probably a plant we were familiar with in Australia known as Wait Awhile that has thorns which tangle in your clothes. To our guides great delight we found a bottle of the alcohol called Para Para with a sign under it that read "Natural Viagra"! Of course, he then insisted we try some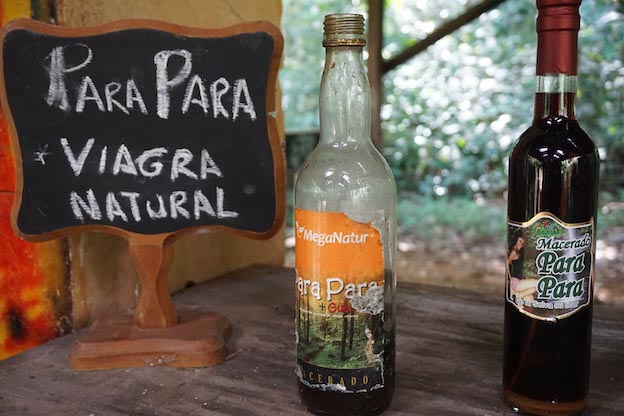 My only regret was that we were not there long enough. The minimum booking of two nights is definitely not long enough. We had booked four nights and still didn't do everything on our wish list. I found walking in the heat exhausting so two afternoons I rested while my husband did the activities that were definitely not on my wish list. Being a mad keen mountain biker, he loved the 10 km mountain bike ride through the jungle. This was not too taxing for him and was totally different to anywhere else he had ridden. The other activity that was not for me was climbing the 35 meter tower for a spectacular view of the rainforest canopy from above. (My husband loved it!)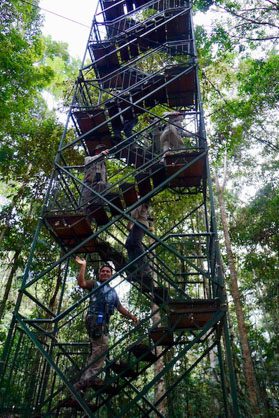 There were so many other activities we would have loved to do like the mammal lick, parrot lick, the monkey search, and several other walks. You can see a full list of activities on offer (all included in the price) https://www.perunature.com/jungle-activities

Refugio Amazonas was opened in 1996 and has been recently re-furbished. It is located in 50 hectares of the rainforest adjoining the National Reserve. It is one of four lodges owned by Rainforest Expeditions.
The Posada Amazonas Lodge, the closest lodge to Puerto Maldonado, is jointly owned with the indigenous Infierno community. It can be arranged that guests stay overnight at Refugio Amazonas and then continue on to The Tambopata Research Centre for the rest of their rainforest visit.

The Tambopata Research Centre is the only lodge in the National Reserve having already been established when the National Reserve was created in 1996. It is a significant centre for the conservation of the rainforest.

Manager of Refugio Amazonas, Bruno Vacchelli, explained" Our main purpose is the establishment of the Research Centre. This is for the study and preservation of the creatures in this rainforest. Only minimal funding is provided by the Peruvian government so our main source of funding is through accommodating tourists in the lodges."

So without knowing it, our quest for a great break at a rainforest lodge has actually contributed to its preservation.
Cover photo: Kerrie-Anne and Alan Riles
YOU MIGHT ALSO LIKE
Now that you're here:
We're asking you, our reader, to make a contribution in support of our digital guide in order to keep informing, updating and inspiring people to visit Peru. Why now? In our near 20-year journey as the leading English-language source on travel in Peru, we've had our fair share of ups and downs-but nothing quite like the challenges brought forth in the first quarter of 2020.
By adapting to the changing face of the tourism and travel industry (on both local and international levels), we have no doubt we will come out stronger-especially with the support of our community. Because you will travel again, and we will be ready to show you the best of Peru.
Your financial support means we can keep sharing the best of Peru through high-quality stories, videos and insights provided by our dedicated team of contributors and editors based in Peru. And of course, We are here to answer your questions and help whenever you need us.
As well, it makes possible our commitment to support local and small businesses that make your visit an unforgettable one. Your support will help the people working in these industries get back on their feet once the world allows us to make our dream of enjoying everything Peru has to offer a reality again-from its mouthwatering gastronomy, thriving Amazon and archaeological wonders such as Machu Picchu.
Together, we will find a way through this. As a member of our community, your contribution, however big or small, is valuable.
Support Traveling & Living in Peru from as little as $1 - and it only takes a minute. Thank you!