A couple who've dedicated their lives to traveling the world make a visit to Cusco while in the midst of a whirlwind tour through Peru.
Setting out for adventure into the Sacred Valley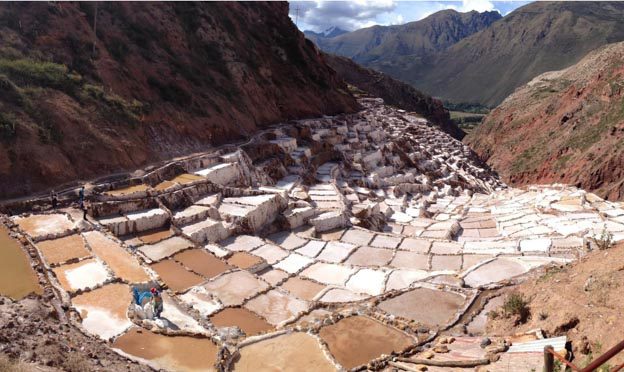 Over the years I have been back to Peru, and especially Cuzco, several times. During these visits I've been fortunate to have done the Inca Trail twice and Machu Picchu three times. On the contrary, I had never seen Maras and Moray, so in a bid to do something a little different, we visited them both.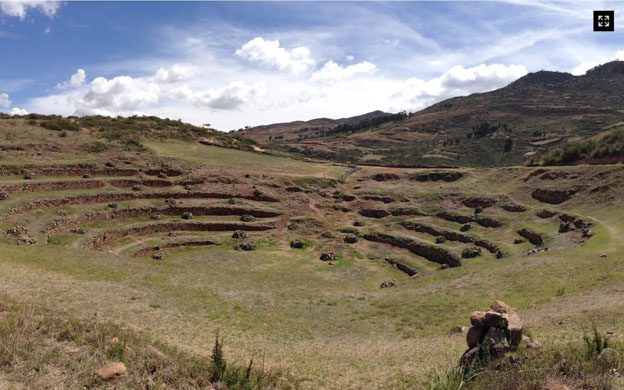 About 40 kilometres from Cuzco, the road passes through the infamous and breathtaking Sacred Valley, the heart of the Inca Empire. Maras is known for its salt ponds perched up on a hill. Used since Incan times, they are still being used by locals today. You can also buy the rock salt from them, which leaves most of the packaged stuff you buy today for dead!
Moray, on the other hand, is a set of concentric circles, or depressions, which were most probably used as an irrigation system in Inca times. Unfortunately, we only got to see the latter from the side of the road, as we were not allowed to purchase a ticket just for the one site, and the administrators were adamant that we should pay the USD$27.00 to see the site! The ticket was to enter four sites, but I had already seen the other three over the years.
Yes, I did strike up an argument! How unusual! Over the years the Peruvian government has become very greedy, and it would be fair to say that prices, especially around Cuzco, have jumped up exorbitantly! Even the locals were telling me that it was a rip off. Ah, the price you pay for tourism!
Visiting the town of Pisac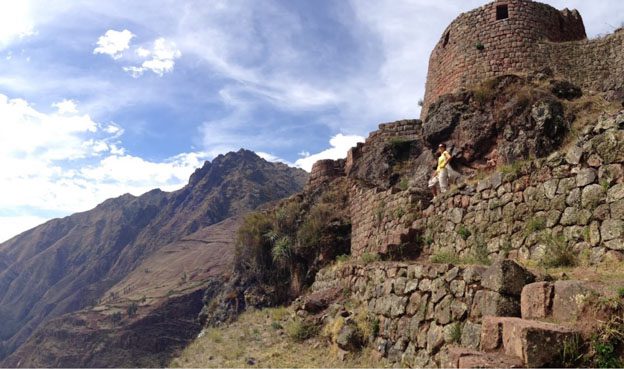 Pisac, about 33 kilometres from Cuzco and in the Sacred Valley, is also a spot that never disappoints. Sunny Pisac is a bit lower than Cuzco at an elevation of 2715 metres. It has traditionally been known for its market (which has become way too touristy for my liking!) but its real pull are the ruins and Inca Fortress perched up on the hill above the town. This Inca citadel lies high above the village on a plateau with a plunging gorge on either side. There's a steep path running to the top … we know, we did it! But if there was ever a worthwhile sweat it out walk, this had to be it! The views were nothing short of WOW! And so few tourists or travellers actually do it, unlike Machu Picchu, which I have been told is coated with tourists 24/7. We felt like we had the entire place to ourselves.
Returning to explore Cusco (we couldn't get enough)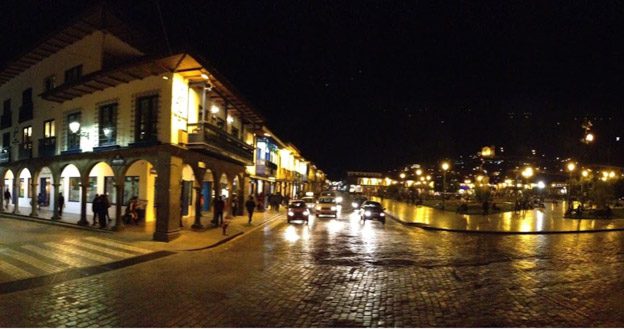 Around town, we visited the fascinating Coca Museum history. Where else would you find a one-stop-shop on the history, use and influence of the coca leaf? No visit to Cuzco would be complete without walking past the infamous 12-sided stone, probably the finest example of Inca masonry. Having said that, we could do without the dude dressed up as an Inca! He's there all the time, and I reckon he's making more money from photos than his Inca counterparts ever were!
Our first few nights were spent in a hostel whose owners really had no idea about, well, how to run a hostel!
We got pots with holes in the kitchen, and the rain almost flooded out our room one night! We did have spectacular views of the city from the rooftop though as well as meeting a gorgeous German family travelling with their two kids, whom we really hit it off with. Florence and ……. were about six months into a two year trip around the world with their kids. Travellers from way back they had decided even before they had children that they would 'invest' in the travel experience when they would have kids by travelling around with them.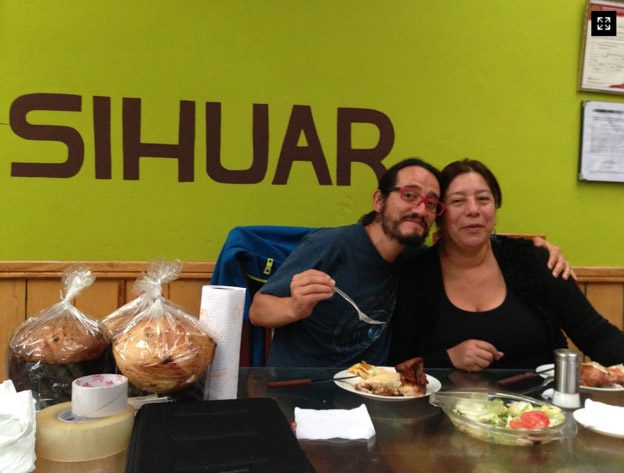 We ended up moving to Casa Sihuar, owned by our lovely friends Sonia and Luis and run by their family. The hostel is up the hill near San Blas, in a gorgeous neighbourhood. It had been years since we had seen Sonia and the gang. It was lovely to hang out with them and reminisce. As always, they treated us like family. We spent a few days there hanging out, cooking, chatting and drinking coffee. It was here that we met Antonio, an Italian who was starting up a pastry business with some of the gang at Sihuar …Ayni Pasticceria Fina is an Italian/ Peruvian fusion. Whilst we were there we tried their panettone (a traditional Italian sweet bread) … it was to die for.
Stay tuned for the last part of our story!
Stay tuned for the last and final part of this story about our whirlwind tour through Cusco. And if you missed part one, check the link below.
And if you want to find out more about what we're up to, and how you can travel with us, please check out our blog Very Itchy Feet.
Cover Photo: Very Itchy Feet
Don't Miss:
Insights from a Whirlwind Tour of Peru, Part I: Exploring the Layers of History in Cusco
Insights from a Whirlwind Tour of Peru, Part 3: Traveling the Northern Coasts