I often take my riders to this a well-kept Sacred Valley secret: Pichingoto. There are tons of secret sites here in the valley, but this one is so easy to access and so interesting that I have often wondered why it's one of the least known spots.
The site, near the bottom of the trail that leads to the very well-visited Maras salt mines is called Pichingoto, and this is the story that the locals have told me about it.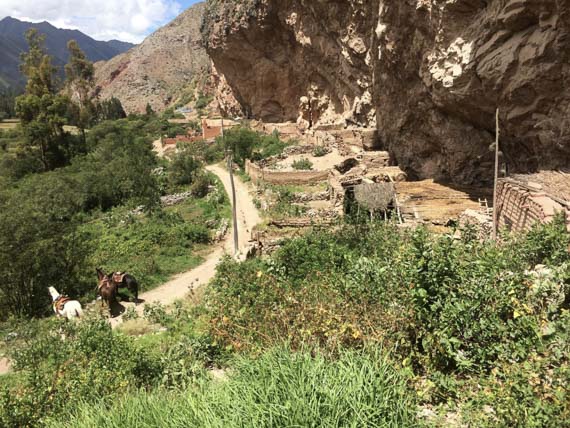 Apparently in the local Qechua language 'Pichingo' means bird and "toco' means holes or caves. The old name of the site was Pichintoco, 'the caves of the birds'. The village indeed includes a few different eras of hand made stone and earth housing attached to the rock sides of the large basalt rock cliffs and overhangs. The first era of housing, from the 12th-14th century pre-Incan 'Wari' people are indeed tiny caves with little square doorways, more like windos, to get in and perch inside. The legend goes that the first people of Pichintoco were highly spiritual and connected to nature and actually believed they were the decendants of birds. They twisted strong Andean grasses into ropes and made ladders to climb up to their caves. Back then it was a time of tribal wartime and they had discoverd the valuable salt spring up the ravine so they must have been in defense mode.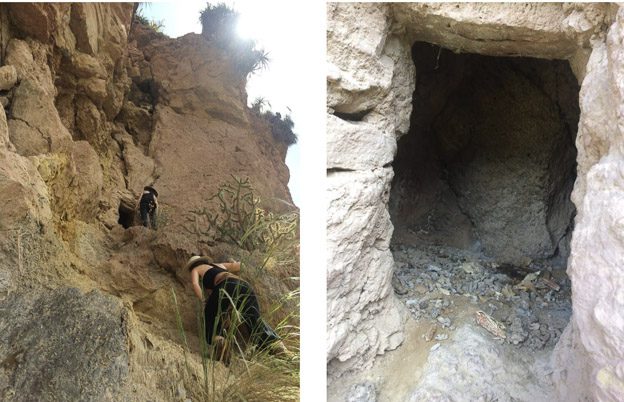 The second phase of Pichintoco are homes that are significantly large and more comfortable, starting down on the ground, alcoves attached to the rock. Some of the alcoves have a few connected rooms. The overhanging rock cliff leans over the houses, nearly like a cave and offered shelter and the houses had straw roofs. Now some of those houses can still be visited. These are from around the 15th century once the Incas had arrived and taken over the salt flats.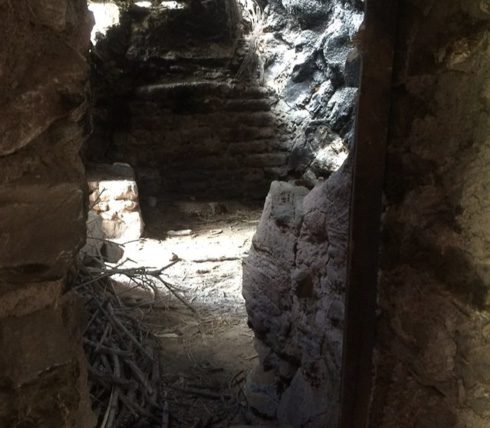 The newest phase of the Pichingoto includes a small Spanish church from the 17th century that has recently been renovated and some colonial and new stand alone adobe houses, three of which are still lived in. in 2010 there was a fire in the ancient village that drove out most of the families that were still living there and only two have moved back. Damage from the fire can still be seen buta lot of the very old structures are luckily still intact.
Now people store animal feed in this dry sheltered area and very few people visit the site. Whenever I go I get a feeling of ghosts and whispers and I wondered why nobody hangs out there and why they call it the Pichingoto 'ghetto', until someone told mre another story.

It's important to remember that the original people of Pichintoco were those that discovered the salt source, a stream of very salty water called the 'Qori puqio' or 'golden spring'. But they discovered it back in a time when the Andean diet was very limited. Developments in high altitude farming, such as the important work done at the Moray incan Agricultural Laboratory didn't happen until the 15th-17th century. The people living in Pichintoco thus are a simple diet and when they started to consume the salt, getting benefit from the minerals, they likely also generated imbalances in their bodies.
The site isn't called Pichintoco anymore, it's called Pichingoto now, which, I was told, roughly means 'the birds with gout', gout being an illness one can get when they are suffering from a mineral imbalance. Gout causes the growth of debilitating goiters around the throat area and also causes mental disturbances (which might have contributed to the augmented 'spirituality' and strange living style of the original inhabitants of Pichingoto. This area below the salt flats was a workers ghetto.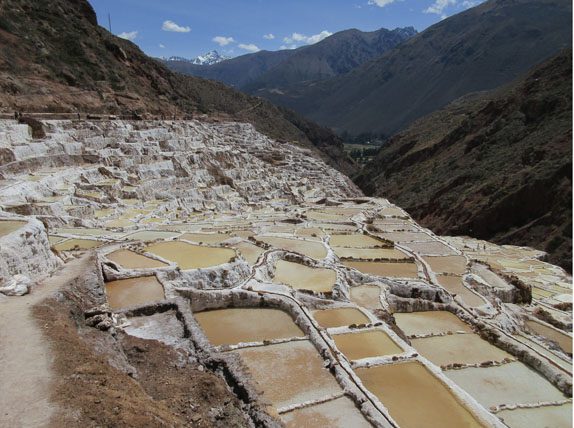 Nowadays the salt is iodized for human consumption, preventing gout and we have much better diets that make imbalances quite uncommon anyways. This history was told to me in pieces by various locas from the Sacred Valley and from the immediate area around Pichingoto. All I can say for sure is that it really feels like visiting a mysterious ghost town. Let me know when you want to come for a ride and explore the ancient village of Pichingoto and/or the Maras Salt Flats above. From our ranch we can visit Pichingoto in a 2 hour round trip or we can visit both sites in 4 hours.
Do you want to make this trek with me on horseback? At Frontier Lab, we are constantly organizing horseback adventures such as this one to Wakrapukara. To find out more about our upcoming adventures, check out our website Frontierlab.org and get in touch if you'd like to make this journey with us.
Editor's note: This article previously appeared on Frontierlab, and you can read it here.
Now that you're here:
We're asking you, our reader, to make a contribution in support of our digital guide in order to keep informing, updating and inspiring people to visit Peru. Why now? In our near 20-year journey as the leading English-language source on travel in Peru, we've had our fair share of ups and downs-but nothing quite like the challenges brought forth in the first quarter of 2020.
By adapting to the changing face of the tourism and travel industry (on both local and international levels), we have no doubt we will come out stronger-especially with the support of our community. Because you will travel again, and we will be ready to show you the best of Peru.
Your financial support means we can keep sharing the best of Peru through high-quality stories, videos and insights provided by our dedicated team of contributors and editors based in Peru. And of course, We are here to answer your questions and help whenever you need us.
As well, it makes possible our commitment to support local and small businesses that make your visit an unforgettable one. Your support will help the people working in these industries get back on their feet once the world allows us to make our dream of enjoying everything Peru has to offer a reality again-from its mouthwatering gastronomy, thriving Amazon and archaeological wonders such as Machu Picchu.
Together, we will find a way through this. As a member of our community, your contribution, however big or small, is valuable.
Support Traveling & Living in Peru from as little as $1 - and it only takes a minute. Thank you!