One of the best ways to get to know somebody in Lima is to share a cup of coffee at one of the city's many establishments. Coffee shops are great because the food is fast yet healthy, the presentation and ingredients are simple yet high-quality, and there is usually wi-fi available for study or for work. At Clemente Café, which opened a year ago, you'll find all of these things, and other surprises as well, which is why customers always seem to keep coming back.
The cafe's name is a reference to Pope Clemente VIII, who famously allowed coffee to be drunk in Europe at a time when it was under prohibition. All the menu have saint references, and some plates are as good as godsends. Starting with the breakfast (available since 8.00 to 11.00), you will find different options such as crepes with blueberries and maple syrup (with coffee and orange juice for S/ 18) or new classics like multigrain peasant bread with grilled avocado, olive oil and alfalfa sprouts (S/ 14).

Wraps and other sandwiches
Clemente also offers several new menu items, such as wraps, which are a very interesting twist on what one might expect. The options to choose from include hummus, chicken, roast beef and panko chicken. We tried one with spicy roast beef, lettuce, homemade mayonnaise, avocado, corn, and white onion, which was also accompanied by a salad side (S/ 20).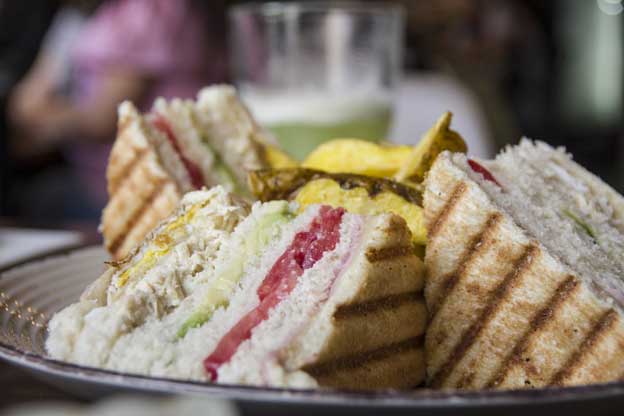 The main menu offers various types of sandwiches, along with various veggie options. El Vegano (S/ 12), for example, is made with hummus, tomato, cucumber, avocado, and sprouts, and is served on multigrain peasant bread and flavored with a special balsamic reduction sauce. They offer burgers made from lentils, roast beef, and Club Sandwiches (S/ 24), all of which are enough for two people. The club sandwich comes with fries and the six layers of bread (bacon, egg, chicken, ham, and cheese) and has a special mayonnaise that makes it moist but crispy enough. This could be one of the best Club Sandwich in Lima.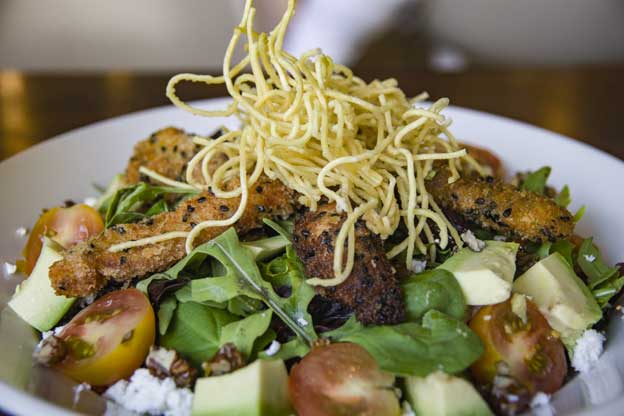 If you want something lighter, the salads are healthy and well-portioned. We tried the Clemente VIII (S/ 24), which we ordered with panko chicken, lettuce, spinach, arugula, avocado, ricotta cheese, caramelized pecans, cherry tomato, and fried noodles with a soy vinaigrette. You can also order this with chicken prepared in various ways, quinoa, or roast beef.

The drinks and desserts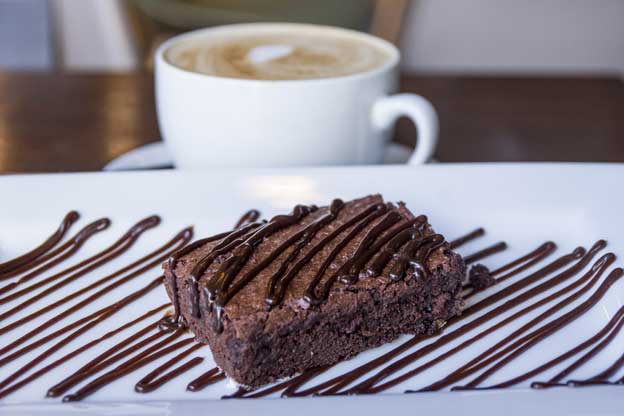 The menu includes cold drinks (coffees, lemonades, juices, and frozen blends), Amazonian coffee (very well-done, I may add) and other kinds of infusions. The desserts are also top-notch. They change every day, but several popular options, such as the brownie or the chocolate cake (with 68% Belgian chocolate) are frequently available and have the correct point of sugar and size (the chocolate cake is particulary soft and creamy). Their carrot cake is also very good (rustic and not cloying) and they have different kinds of caramel sandwich cookies (known in Peru as alfajores) with chia, quinoa, or chocolate.

If you are here for work, don't forget that they have a projector screen for presentations. Many people come here for meetings or learning groups (like Poliglota for languages). It's also worth noting that they will soon open a terrace where you'll be able to sip beer and cocktails (most of them with pisco or rum) for an after office visit.

Clemente Café
José Gálvez 692, Miraflores
Tel. 940 534 340

Monday to Friday, 8.00 – 22.00
Saturday, 9.00 – 21.00
Menu
Breakfast: S/ 14 – S/ 20
Sandwiches: S/ 12 – S/ 24
Salads: S/ 20 – S/ 24
Coffees: S/ 5 – S/ 13
Desserts: S/ 5 – S/ 12

Now that you're here:
We're asking you, our reader, to make a contribution in support of our digital guide in order to keep informing, updating and inspiring people to visit Peru. Why now? In our near 20-year journey as the leading English-language source on travel in Peru, we've had our fair share of ups and downs-but nothing quite like the challenges brought forth in the first quarter of 2020.
By adapting to the changing face of the tourism and travel industry (on both local and international levels), we have no doubt we will come out stronger-especially with the support of our community. Because you will travel again, and we will be ready to show you the best of Peru.
Your financial support means we can keep sharing the best of Peru through high-quality stories, videos and insights provided by our dedicated team of contributors and editors based in Peru. And of course, We are here to answer your questions and help whenever you need us.
As well, it makes possible our commitment to support local and small businesses that make your visit an unforgettable one. Your support will help the people working in these industries get back on their feet once the world allows us to make our dream of enjoying everything Peru has to offer a reality again-from its mouthwatering gastronomy, thriving Amazon and archaeological wonders such as Machu Picchu.
Together, we will find a way through this. As a member of our community, your contribution, however big or small, is valuable.
Support Traveling & Living in Peru from as little as $1 - and it only takes a minute. Thank you!