I love going to Mercado 28 as there will always be something that will satisfy your appetite. This time the Traveling & Living in Peru team visited Massamabile, a small Italian food stand.
Here, the pasta is fresh and handmade as it's prepared fresh every morning. The sauces, breads and pizzas are all handmade.
At lunchtime, they have the Dish of the Day (s./18) that changes on daily basis, that includes a main dish
and a refreshment. The day we visited, it was a Caprese Salad and a glass of mineral water. The salad
consisted of several thin slices of tomatoes piled up, and in between the slices, a tasty and creamy pesto
that we rejoiced, some mozzarella cheese, arugula, and olive oil. Along with it some focaccia bread slices.
I enjoyed not only the novel presentation but enjoyed every bit of it. Not only the salad was very
refreshing, but the elements used created a wonderful balance of delicious flavors.
At Massabile they have different types of pasta, all handmade. They have the Pasta of the Day (s./18)
that can be anything from tagliatelle, fettucini, pappardelle, and gnocchi. The ravioli (s./23) can have
different fillings such as ricotta and spinach, artichoke, beet, banana maduros, squash, ossobuco and
pesto. On Sundays, homemade lasagnas with pesto and dried tomatoes, and another one with a
vegetarian ragu, join the list of choices.
On this visit, we tried the Tagliolini with Pomodoro (s./18), very thin long pasta with fresh tomato
sauce, a classic in the Italian cuisine. Not so classic and a novelty for us, was the Ravioli with beet, citric
butter and thyme (s./23). The small ravioli were al dente which I appreciated, and the citric notes largely
predominated giving it a particular flavor.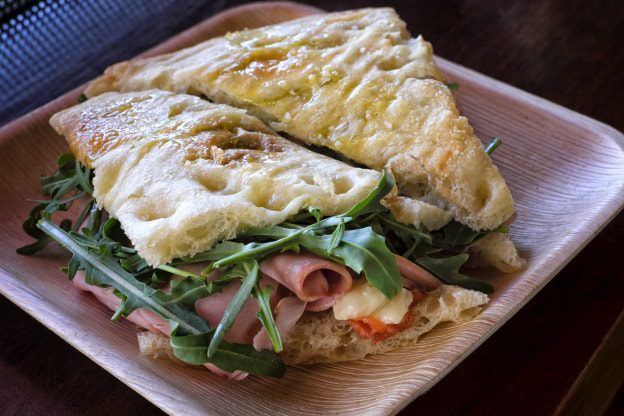 A house-specialty are the focaccias and breads which are all handmade in their own workshop. They
have the Classic Focaccia (s./10) and Focaccias with toppings (s./ 16). If you are quite hungry, you can
opt for the Farcita (s./ 21.50), a fairly large sandwich made with focaccia bread and fillings of your choice such as mozzarella, caprese, prosciutto and salame. We tried the Farcita with mortadella, Burgos cheese, arugula, and quince marmalade. It was big in size and had abundant mortadella and arugula. As a big fan of arugula, I enjoyed the sandwich and appreciated the sweetness of the marmalade that mixed very well with the other ingredients.
If you like the evening vibe at Mercado 28, I recommend you stop at Massamabile to have a drink or two, along with some handmade pizza available only in the evenings. In terms of drinks, there are a few Italian wine options and some classic liqueurs like the Campari Tonic, Cinzano, or the Limoncello. I recommend the Aperol Spritz (s./ 18) which is quite popular amongst Mercado 28 visitors, slightly bitter
but highly enjoyable.
Massamabile
Mercado 28
Opening hours – Monday to Saturday 10 – 11 pm, Sunday 8 – 7 pm
Menu
Dish of the day – s./ 18
Focaccia – s./ 10 – 16
Farcita – s./ 21.50
Wine – s./ 18 – 24
Cocktails – s./ 10 -24
Refreshments – s./5- 7
Coffee – s./ 5
Comments
comments