New to the Miraflores district, Tokio Ramen will bring its authentic flavors and generous portions to a sophisticated (and tourist friendly) area of Lima.
The renowned Tokio Ramen just recently opened up their second location with the same ownership, same delicious authentic food, and the same moderate prices. The new location can be found in a brand new building in Miraflores, a sophisticated and urban setting. Tokio Ramen has a huge following and is an ideal locale to enjoy authentic ramen and generous portions.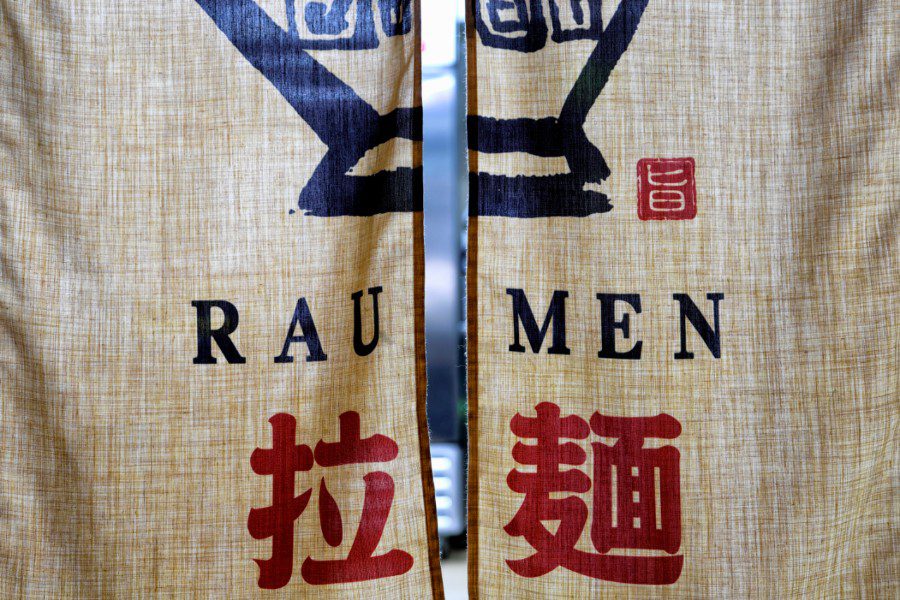 After eight years of popularity and success at the original Tokio Ramen location in Jesus Maria, Juan Carlos Tanaka (chef and owner), Jorge Tsukayama (manager and Juan Carlos' lifelong friend) and partners decided to branch out and open another restaurant in the Miraflores area at the requests of their fans and customers. Tokio Ramen was the first ramen restaurant in Peru coming from Japan eight years ago, so they thought it was time to have more Tokio Ramen locations for the people who want to eat ramen.
A little background
Juan Carlos Tanaka is the grandson of Japanese immigrants. He was born and raised in the same Jesus Maria neighborhood that the original Tokio Ramen is currently located. Two years ago the team of Traveling and Living in Peru visited the original Tokio Ramen and I interviewed Juan Carlos. He remains as passionate about ramen as ever and is still a walking encyclopedia of all things ramen. Juan Carlos' energy, modesty, charm and hard-working drive is still intact as well.
Juan Carlos moved to Japan at age 23 and spent 15 years there. He worked at a variety of Japanese restaurants during his time in Japan. His last four years he spent working in ramen-ya (ramen restaurants). Juan Carlos earned the designation of "sensei del ramen" since he achieved a certain mastery level.
Ramen in Japan
Ramen is everywhere in Japan. It's a beloved Japanese food. There are well over 100,000 ramen restaurants throughout Japan, which can be found at street carts, stands, dives or at the ramen-ya restaurants where the best quality ramen are sold. Regional styles and ramen specialties vary according to local ingredients, tastes, and cultures.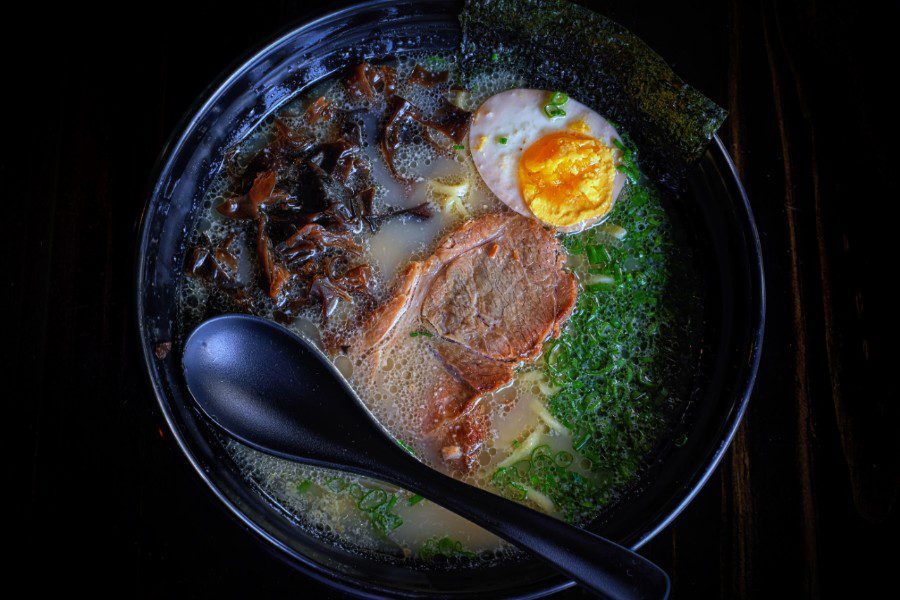 What is ramen?
Two of the main ingredients in authentic ramen are the hand-pulled noodles and slow-cooked broth. Tokio Ramen typically prepares their noodles by using wheat flour, egg, salt and hot water. The select noodles are based on their bounciness, their ability to cling to the broth and their texture in the mouth. The noodles should interact harmoniously with the other ingredients in the bowl.
Tokio Ramen's preparation of their broth is labor-intensive and takes approximately 12 hours or more from start to finish. Some of the stock is based on chicken or pork combined with a variety of ingredients. There are four categories for the broth base: soy sauce (Shoyu), salt (Shio), miso (fermented bean paste) and pork (Tonkatsu). The noodles cook separately from all the other ingredients. The noodles are added to the broth and toppings are the last step.
Toppings are another component of ramen and are typically a variety of proteins (roasted pork, chicken, shrimp, eggs) and vegetables (corn, bean sprouts, spinach, scallions, seaweed). The final touch to the ramen are the various condiments set at the tables that guests can add themselves; togarashi (Japanese chili powder), as well as rayu (a spicy oil), just to name a couple. At Tokio Ramen you can request the amount or level of spice and salt you desire.
Chef Tanaka has adapted the Japanese traditional flavors for the Peruvian tastes. Classic Japanese ramen dishes exist at Tokio Ramen as well as several fusion plates. Peruvian ingredients are used as well as imported Japanese ingredients.
Decor
The decor at the new Miraflores location is both sophisticated and comfortable. From the black glossy tables, rich earth tones, sophisticated grey chairs and booths, to the muted lighting. The restaurant has distinct seating areas: intimate tables for two on the left side with strands of ropes suspended from the ceiling, tables for four in the middle and seating for larger groups on the right. There is also a bar to sit at to watch the action. A couple video screens flash scenes of Japan as well as the preparation of the dishes served at Tokio Ramen.
The menu
The menu at Tokio Ramen has accompanying photos of each dish that is offered. This makes it much easier to make a decision when ordering. The advice when eating ramen is to eat the solid ingredients first and drink the broth last so you don't fill up on the broth.
Menu options from Monday-Friday (until 4pm) offer a choice of a main dish with a small ramen (S/ 27-42).
Starters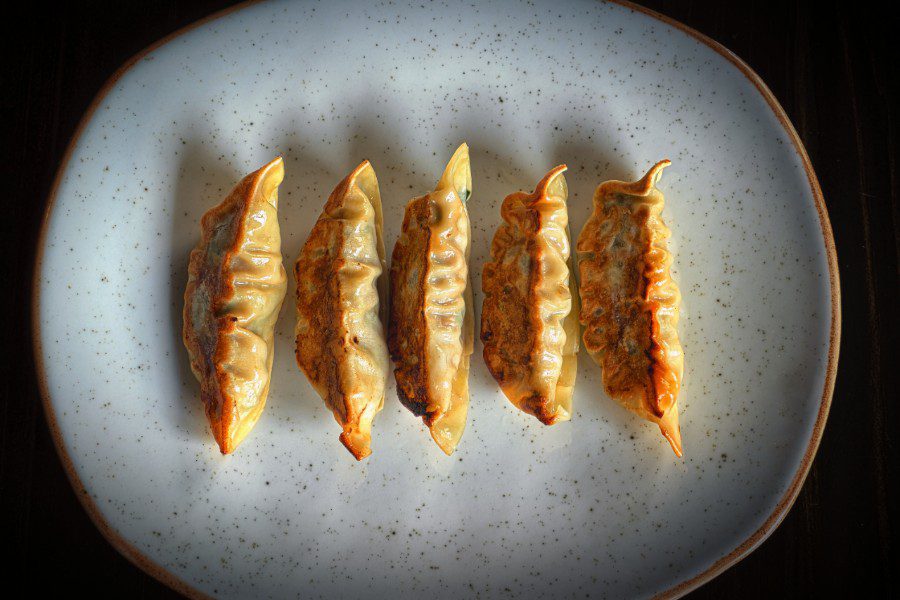 We opted for the Gyoza Frita (S/ 17) instead of their steamed version. These five dumplings are filled with pork, green onion and cabbage then fried. They are served with a special soy sauce with a few drops of a spicy oil (rayu). This is definitely one of the most popular starters at Tokio Ramen.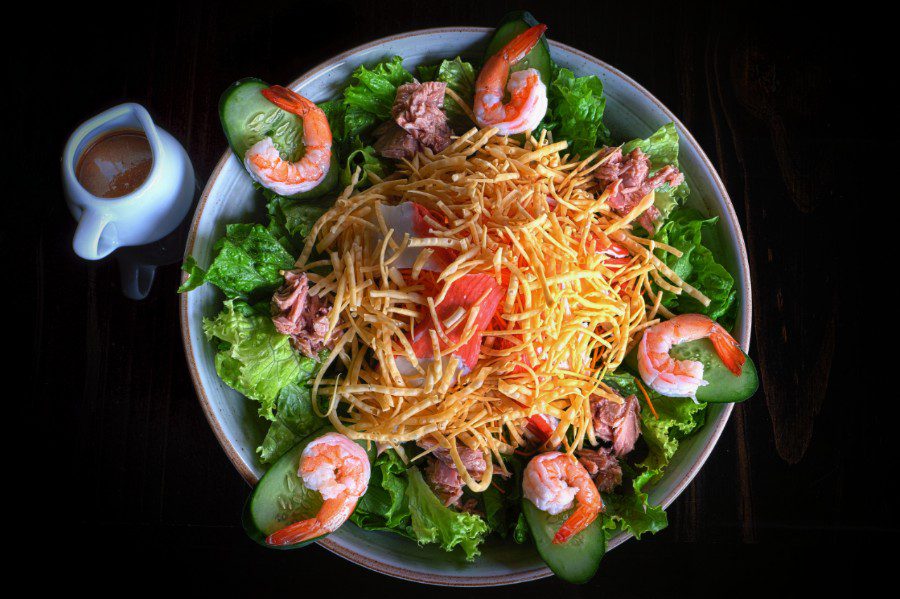 The Kaisen Salad (S/ 29) is a new addition to the menu at Tokio Ramen. We thoroughly enjoyed the combination of lettuce, grated carrot, shrimp, tuna, cucumber slices, and surimi (imitation crab) all topped off with fried wonton strips which adds another texture. The dressing that is served with this salad is an addictive mixture of sesame oil, sesame seeds, sugar and a touch of soy sauce.
Ramens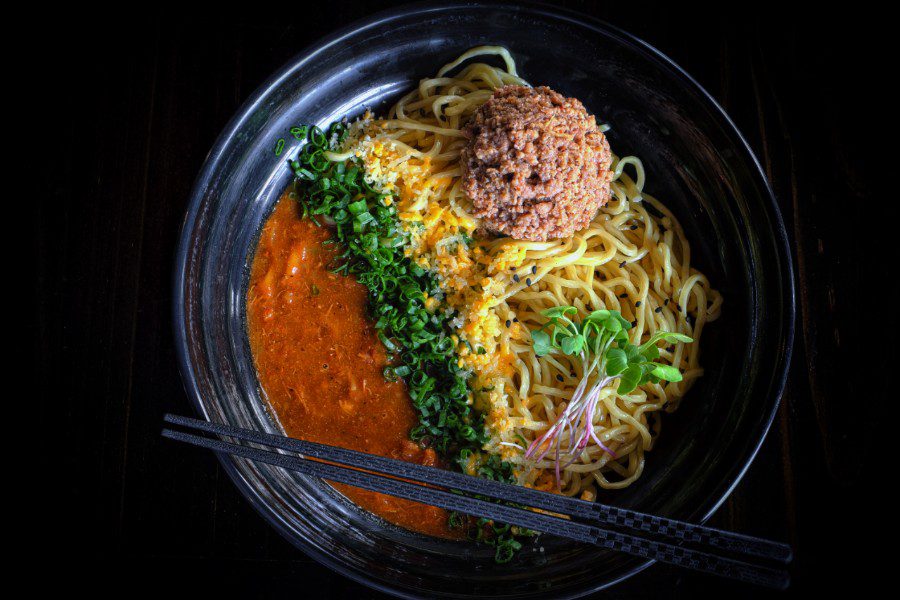 Our hands-down favorites of the four ramen dishes we sampled are actually recent additions to the Tokio Ramen menu. The Dry Tomato Ramen (Sopa Seca Japonesa), S/ 35 is quite unique because this ramen has no broth. What it does offer is an abundance of flavor once you thoroughly mix together the ramen noodles, ground pork, aromatic curry, grated cheddar and mozzarella cheese, chopped green onions, sprouts and seaweed. The key to enjoying this dish is to mix all of the ingredients together. Do not eat them separately. This is a standout dish and we devoured it at our table.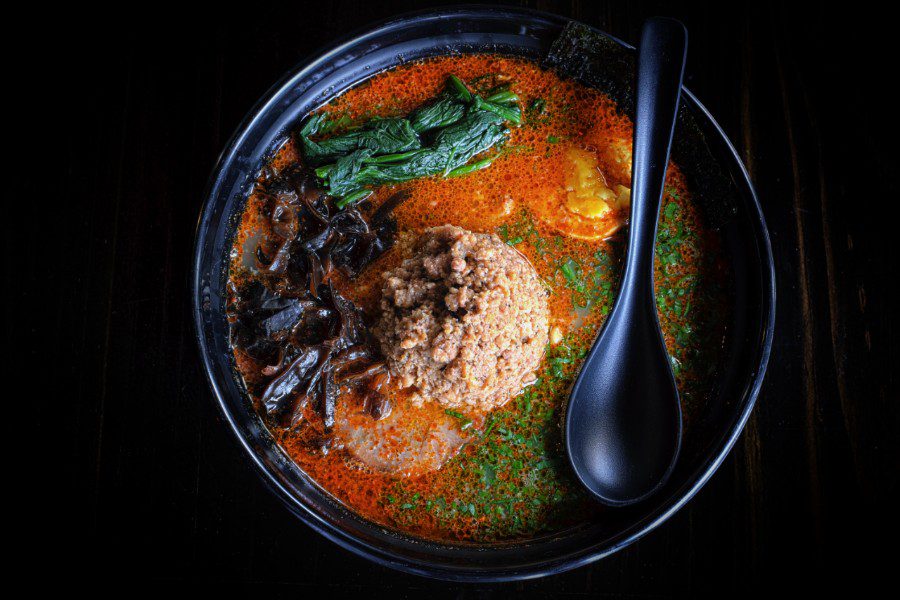 Another new favorite is the Red Hot Chili Tokio (S/ 35 medium size, S/ 45 large). This ramen has a spicy kick to it. This chicken and pork broth with a salt base along with ramen noodles, both ground pork and roasted pork (Chasiu), egg, Japanese mushrooms (kikurage), spinach, green onions and seaweed is a wonderful ramen delight. This is probably my personal favorite.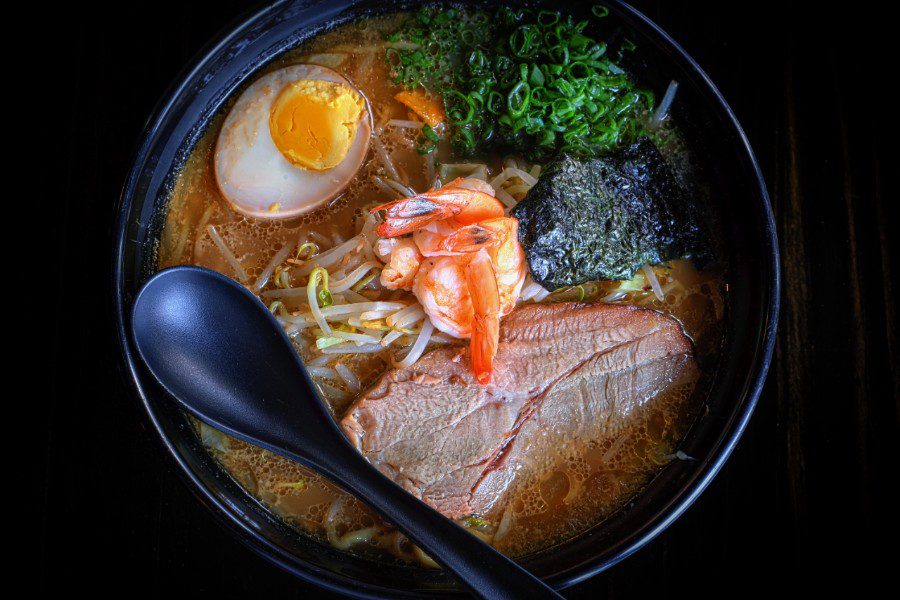 The last two ramen dishes mentioned here are also delicious, but more typical and classic styles compared to the first two I mentioned above. The Tokio Original (S/ 28 medium size, S/ 36 large) is a recommendation if you are new to ramen. This version has a pork and chicken broth with a salt base, noodles, roasted pork, egg, Japanese mushrooms, green onions and seaweed. I find the pork that Tokio Ramen uses to be excellent. The Langostino Fusion (S/ 28 medium size, S/ 39 large) is a lovely option if you are a shrimp lover. This ramen has a pork and chicken broth with a soy base, noodles, shrimp, sautéed vegetables, roasted pork, egg, bean sprouts, green onions and dried seaweed.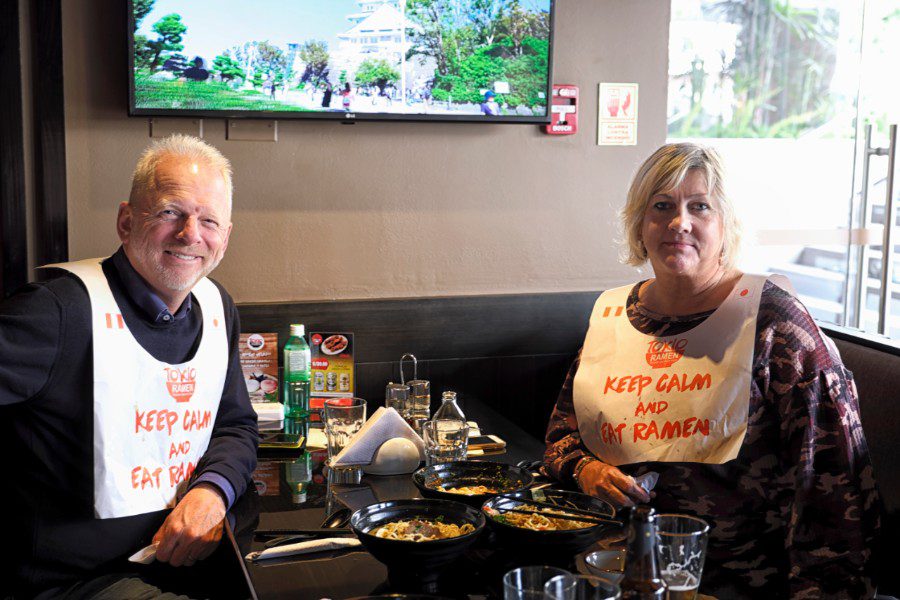 Enthusiastic diners should make sure to wear the bibs that Tokio Ramen offers when eating ramen. I find ramen to be soul-warming, but also wonderfully messy.
Main dishes
There are seven main dishes on the menu and they either contain chicken or pork. We sampled two of the chicken dishes. The Chicken Teriyaki (S/ 31) is one of the top sellers at Tokio Ramen. The chicken breast is first fried then brushed with Tokio Ramen's special teriyaki sauce. It is then topped with a generous amount of sesame seeds and served on top of a bed of rice. A generous salad and a hard-boiled egg accompany this dish.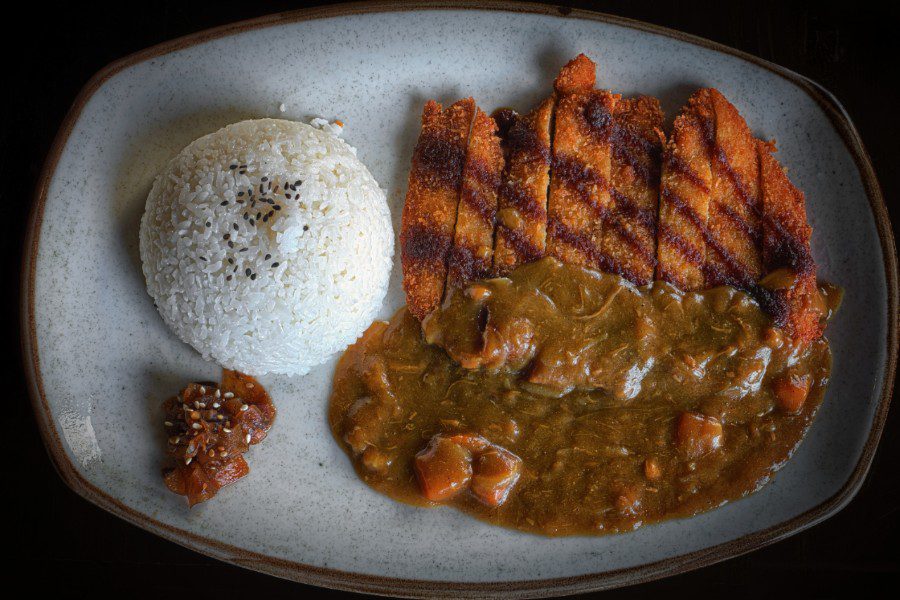 The Chicken Katsu Kare (S/ 36) is a chicken breast cutlet covered in panko breadcrumbs, fried and then bathed with a generous amount of the katsu (sweet and sour Japanese curry sauce) and accompanied by rice and a salad.
Refreshing Desserts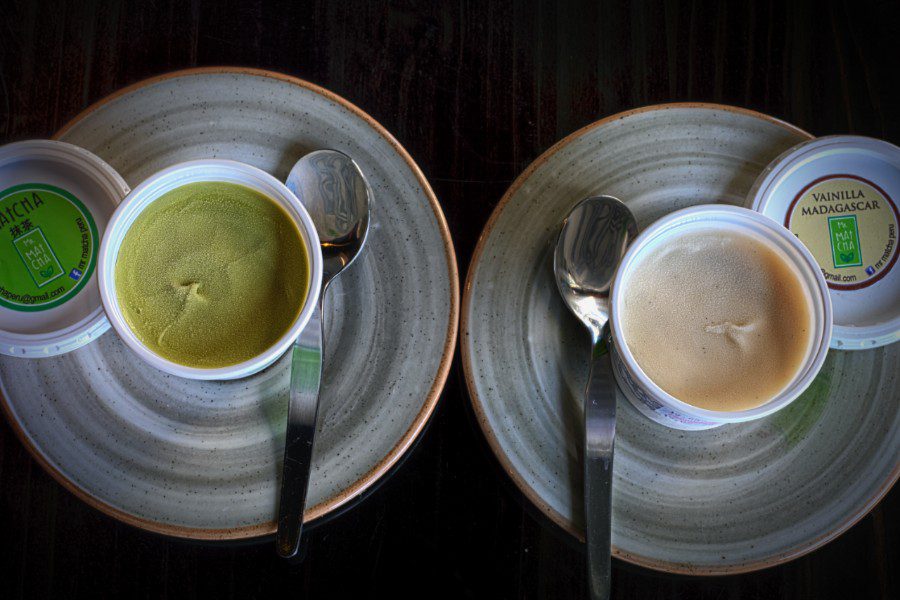 For something both refreshing and quite unique, you should not miss the Mochi ice cream (S/ 15). Mochi ice cream is a small, round confection consisting of a soft, pounded sticky rice dumpling (mochi) formed around an ice cream filling. We shared the matcha (green tea) as well as the lucuma flavor. It's hard to resist this dessert especially due to its texture.
We also enjoyed the Mr. MatCha brand ice creams. The Madagascar Vanilla flavor is rich and pure vanilla pleasure. The green tea flavor was underwhelming compared to that fabulous vanilla. If they have the ginger or black sesame flavors available, do not pass those up. They are incredible.
Keep calm and eat ramen!
Tokio Ramen
Calle Coronel Inclán 235 (Local 3), Miraflores
Phone: 644-9546
Parking available inside garage
Hours: Monday-Saturday 12:30pm-3:30pm and 6:30 pm-10:30 pm; Sunday 1pm-4pm and 6:30pm-10:30pm
Capacity: Approximately 50
Starters: S/ 17-22
Salads: S/ 22-29
Ramen: S/ 21-36 (medium portion); S/ 34-48 (large portion)
Main dishes: S/ 25-37
Additional Ingredients: S/ 2-8
Non-alcoholic beverages: S/ 5-8
Japanese beer: S/ 16
Sake: S/ 25

All photos: Marco Simola
Now that you're here:
We're asking you, our reader, to make a contribution in support of our digital guide in order to keep informing, updating and inspiring people to visit Peru. Why now? In our near 20-year journey as the leading English-language source on travel in Peru, we've had our fair share of ups and downs-but nothing quite like the challenges brought forth in the first quarter of 2020.
By adapting to the changing face of the tourism and travel industry (on both local and international levels), we have no doubt we will come out stronger-especially with the support of our community. Because you will travel again, and we will be ready to show you the best of Peru.
Your financial support means we can keep sharing the best of Peru through high-quality stories, videos and insights provided by our dedicated team of contributors and editors based in Peru. And of course, We are here to answer your questions and help whenever you need us.
As well, it makes possible our commitment to support local and small businesses that make your visit an unforgettable one. Your support will help the people working in these industries get back on their feet once the world allows us to make our dream of enjoying everything Peru has to offer a reality again-from its mouthwatering gastronomy, thriving Amazon and archaeological wonders such as Machu Picchu.
Together, we will find a way through this. As a member of our community, your contribution, however big or small, is valuable.
Support Traveling & Living in Peru from as little as $1 - and it only takes a minute. Thank you!