Sakura Sushi has celebrated its first year, and for the sake of all of us foodies and customers, I truly wish them many but many more years to come.
The lovely Sakura cherry trees blossom in springtime in Japan. They heavily adorn its streets and bring joy for people who gather around them to celebrate the occasion. Here in Peru, Sakura trees show their beautiful pink flowers right in the middle of winter, bringing color and beauty to Lima's grey skies. The spirit of these blossoming trees can also be felt outside of Sakura Sushi, the Nikkei restaurant under the hands of Verónica and Andrea Baca.
On the occasion of its first year anniversary, Sakura Sushi threw the house through the windows and pampered friends, foodies, and customers alike with a large variety of amazing makis, appetizers, and delicious cocktails that were all top-notch.
During the event, they presented some of their new maki creations, including the Jaguar Maki with shrimp, avocado, black quinoa, and tuna that leaves you with a wonderful spicy taste behind; the Chimichurri Maki with tare, breaded shrimp, avocado and cheese cream that was quite nice too; the Teri Maki with salmon and lime peels, quite refreshing; and the Crunch Maki with trout tartare, avocado, creamy cheese, kiuri and covered with a breaded cereal layer that gave the maki a very special crunchy texture, it was surely delicious.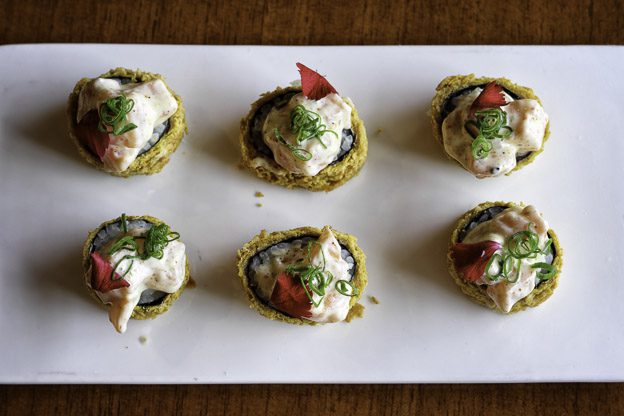 We also had some classics like the Maki Acevichado, wonderfully refreshing and spicy, the Veggie Gyozas that were super crispy and spectacular, the Salmon Tartare Wontons, crispy and flavorful, and the Ebi furai, breaded shrimp that were beautifully crispy and exceptional, and come with an amazing and addictive oyster sauce. Everything was mouth-watering and I was glad to confirm that the food remains just as good as when they opened their doors exactly one year ago.
"Having a restaurant is no easy task. It involves enormous challenges as the market is highly competitive," Verónica tells us. She continued to explain that "In spite of the multiple challenges we have faced throughout the year and will continue to face, there is no way we will ever risk compromising the use of high-quality ingredients and well-trained service to lower costs. Every product that is offered at Sakura Sushi is carefully tested many times by the itamae Juan Carlos Durante and his team as well as by Andrea and myself until perfection is obtained and everybody is pleased with the end result."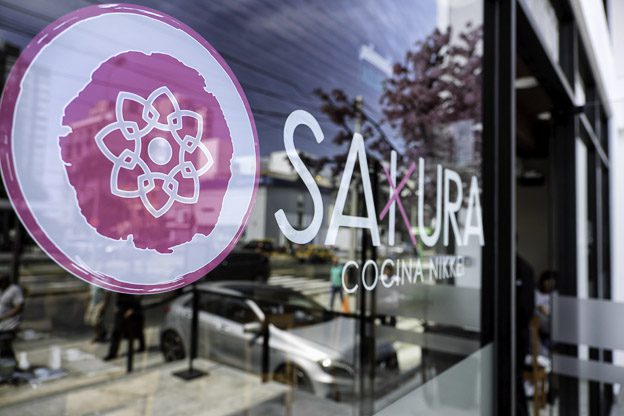 Sometimes dishes may take months before they make it to the menu. This is because they want to make sure clients enjoy the best food and service they can get and do come back. Not only do clients come back, and I am one of them, but they make of Sakura Sushi a place for special occasions, including marriage proposals, as we found out.

Sakura Sushi
Avenida del Ejército 820, Miraflores
Telf. 483 6357, WhatsApp: 915935530
Parking – yes
Opening hours – Tuesday to Saturday – 12.30 – 3, 30, 7 – 10.30, Sunday 1 -10 pm
Delivery apps: Rappi, Glovo, Uber Eats

Cover photo: Marco Simola
Now that you're here:
We're asking you, our reader, to make a contribution in support of our digital guide in order to keep informing, updating and inspiring people to visit Peru. Why now? In our near 20-year journey as the leading English-language source on travel in Peru, we've had our fair share of ups and downs-but nothing quite like the challenges brought forth in the first quarter of 2020.
By adapting to the changing face of the tourism and travel industry (on both local and international levels), we have no doubt we will come out stronger-especially with the support of our community. Because you will travel again, and we will be ready to show you the best of Peru.
Your financial support means we can keep sharing the best of Peru through high-quality stories, videos and insights provided by our dedicated team of contributors and editors based in Peru. And of course, We are here to answer your questions and help whenever you need us.
As well, it makes possible our commitment to support local and small businesses that make your visit an unforgettable one. Your support will help the people working in these industries get back on their feet once the world allows us to make our dream of enjoying everything Peru has to offer a reality again-from its mouthwatering gastronomy, thriving Amazon and archaeological wonders such as Machu Picchu.
Together, we will find a way through this. As a member of our community, your contribution, however big or small, is valuable.
Support Traveling & Living in Peru from as little as $1 - and it only takes a minute. Thank you!