I recently had the opportunity to ride with 3 incredible women for two days through the valley and high plains of this Andean landscape. The group consisted of myself and 3 solo travelers, an epic team.
Every day I feel deeply grateful to do this work of leading journeys, and this time it was especially amazing to travel with 3 powerful women from 3 different walks of life. What began as a group of clients quickly turned into a lasting sisterhood.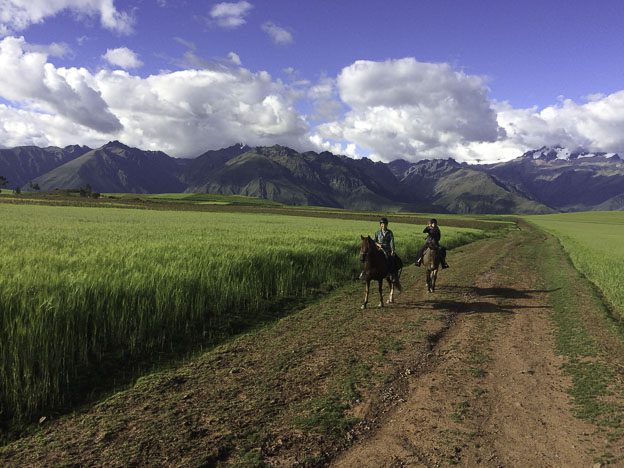 This journey started at the Frontierlab Ranch in Urubamba, climbing up to the Pre-Incan salt pans at Maras, up over the great plains of the Sacred Valley's largest agricultural area and up to the community of Misminay where we spent the night. On the second day, we rode above the iconic Moray Incan Agricultural Laboratory and enjoyed a picnic facing the great glaciers and sacred mountains from a high point before dropping pack down to the Willkamayu river and passing ancient sites and new villages until we reach the ranch again. It's a two-day journey of riding in vast open space, surrounded by the monumental Andean landscape and a cozy night spent full of culture, textiles and Andean flavours.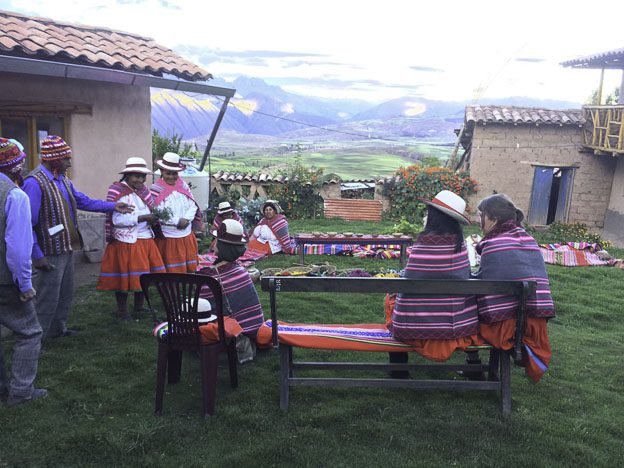 On the journey, we enjoyed amazing views across the plains and out to the other side of the valley where we could see the Chicon glacier and other 'Apus' (Sacred mountains) eye to eye. At the beginning of the ride everyone was excited to get to know each other and full of questions, talking a lot upon the way but as soon as we came up from the Salt Flats and the landscape opened up everyone fell silent for quite a while, in awe of the panorama. I've been running these trips and exploring on my own in the valley for a long time and I still take photos and even sneak the occasional selfie! It never gets boring. The long straight clouds that hung below the glacier and along the valley, as seen in the picture below, are referred to as 'serpents' in the Andean culture and are believed to be a sign of blessing for a journey forwards.

One of the things I always take great care about is in matching each rider with their horse. Each one of our horses has its own distinct personality and style and the journey always flows more beautifully then each big animal fits well with their human counterpart.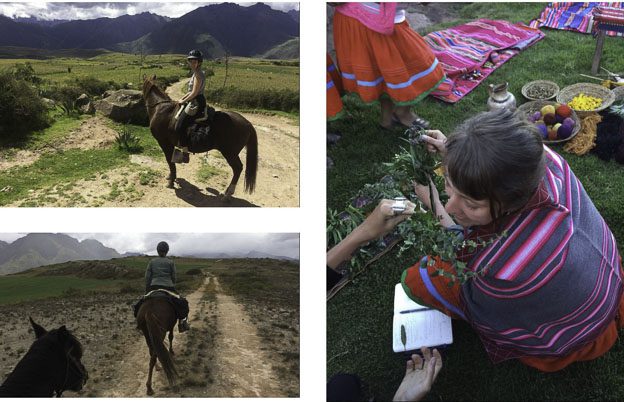 The night before our departure I received a mail from a client asking for a ride but I had to say I was already heading out on a 2-day journey. She was a first-time rider but wrote me back and convinced me that she wanted to do the trip and was going to be able to handle it. Was she ever right! She rode our big fancy Peruvian Paso champion Abakur and did fabulously the entire way! She is undoubtedly the most confident and capable first-time rider I have had the opportunity to ride with. She learned quickly and sat solidly. A herbalist, she provided rich knowledge about the medicinal plants we passed along the way and shared info with the women in Misminay community.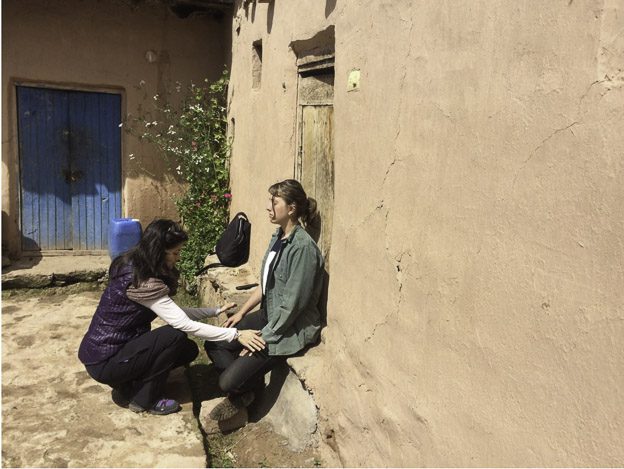 Our smallest rider took on our biggest horse… well our mule Josias actually! And she greatly enjoyed the solid stride and confidence, often hanging back and blissing out. Since she was a more experienced rider looking for a more intimate connecting with the landscape, Josias the 'cadillac' was the perfect partner. She was a healer and shared some of her magic with another rider. I truly believe that everyone is led to this region for some type of personal process and it actually occurs more frequently than one might expect for healing events to happen spontaneously on our journeys.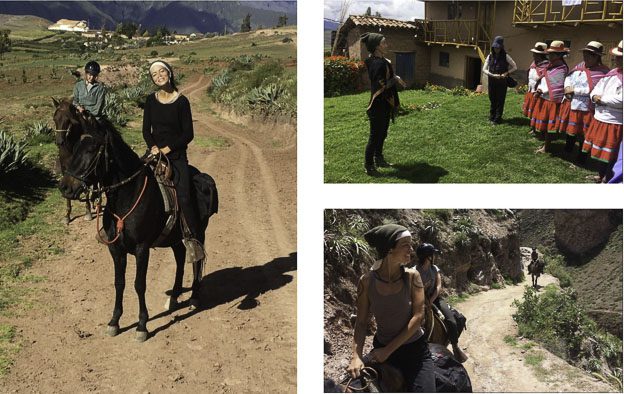 Our third rider, a musician who had ridden with us a few times before on her visit to Peru, specially requested her favorite horse, our young guy Ninja. He's a small Peruvian Paso workhorse from Arequipa's Colca Canyon. She said that she always enjoyed riding him and was really looking to develop a deeper relationship with her horse on the journey. When we arrived to spend the night in Misminay she took care of Ninja, unsaddling and brushing him and making sure he had a great pile of green hay for dinner. We always encourage our riders to spend as much time with their horse as they wish to, before, during and after the ride. Members of the Misminay community sang us a welcome and later a farewell song and our guest also sang a song for them. The connections that we make with community members in Misminay and the warm hospitality always makes it feel like arriving home.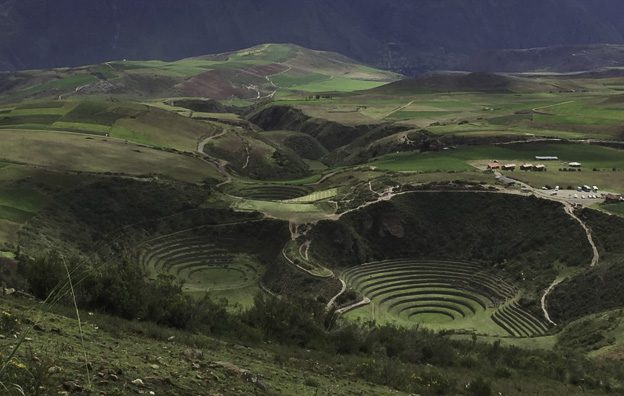 Each day we rode for about 5 hours, with lots of interesting stops. We enjoyed food at a great restaurant in Maras and event tried some guinea pig and other Andean delights in Misminay. We love working with and supporting this community. When we stay in Misminay we're hosted by a collective of 8 families, we stay in one of their homes and they all share workshops about their medicinal plant and textile traditions with us. Some older community members only speak Quechua and the younger ones translate for us into Spanish. There is no cultural barrier, whenever we visit we become part of the family. This time tears were shed by all the women as we departed and everyone said they'd be back.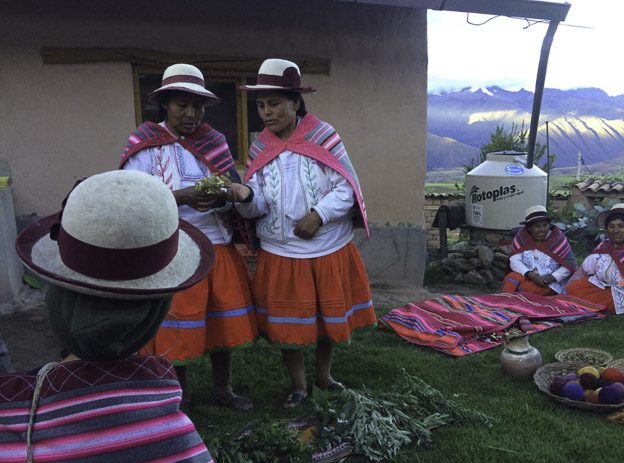 This journey allows us to get out of the regular tourist circuits and become part of the landscape. Let us know if you'd like to join us for a two day journey sometime!
Do you want to make this trek with me on horseback?
At Frontier Lab, we are constantly organizing horseback adventures such as this one to Wakrapukara. To find out more about our upcoming adventures, check out our website Frontierlab.org and get in touch if you'd like to make this journey with us.
Editor's note: This article previously appeared on Frontierlab, and you can read it here.
Now that you're here:
We're asking you, our reader, to make a contribution in support of our digital guide in order to keep informing, updating and inspiring people to visit Peru. Why now? In our near 20-year journey as the leading English-language source on travel in Peru, we've had our fair share of ups and downs-but nothing quite like the challenges brought forth in the first quarter of 2020.
By adapting to the changing face of the tourism and travel industry (on both local and international levels), we have no doubt we will come out stronger-especially with the support of our community. Because you will travel again, and we will be ready to show you the best of Peru.
Your financial support means we can keep sharing the best of Peru through high-quality stories, videos and insights provided by our dedicated team of contributors and editors based in Peru. And of course, We are here to answer your questions and help whenever you need us.
As well, it makes possible our commitment to support local and small businesses that make your visit an unforgettable one. Your support will help the people working in these industries get back on their feet once the world allows us to make our dream of enjoying everything Peru has to offer a reality again-from its mouthwatering gastronomy, thriving Amazon and archaeological wonders such as Machu Picchu.
Together, we will find a way through this. As a member of our community, your contribution, however big or small, is valuable.
Support Traveling & Living in Peru from as little as $1 - and it only takes a minute. Thank you!