Imagine celebrating your love surrounded on a bed of flower petals, with the Vilcanota River in the background as you receive blessings from the Apus and Pachamama (Mother Earth). For those looking for a one-of-a-kind experience, the Arac Masin, or Inca wedding, is it.
Anyone who has made the trip to Cusco can attest to its wonderful, particular energy, and the mystical vibe that permeates throughout the city. Some attribute these things to the surrounding Apus, or mountains, others to the Inca legacy and spirit, which can still be felt as you walk down streets; or perhaps it is the city's location, specifically designed in accordance to the constellations. Whatever it is, the Imperial City is inarguably a magical place. It is this very magic that makes Cusco one of the preferred wedding locations for couples from near and far looking to have an unforgettable ceremony. Both the city itself and its outskirts provide wonderful settings for weddings, complemented by the peaceful, natural scenery and good vibes. With options ranging from baroque chapels to Inca-inspired ceremonies, all lovebirds will find a ritual that fits with their wedding day fantasy.
A wedding with Andean traditions
When walking through Cusco's Historic City Centre, it is easy to understand why it is considered to be so special. There are stunning old churches with beautiful facades and gold leaf altars, and a few meters down the street, impressive Inca walls with impeccably fitted stones, that have stood the test of time and remain intact 500 years after their construction. "Cusco is primarily indigenous-Baroque in style, with important monuments and catholic churches built upon what were once Inca palaces. It is magical and impressive, each place is so unique and full of history – perfect for celebrating a wedding," explains Desiree Tejada, Belmond Hotels' public relations coordinator. The Belmond Hotel chain's two Cusco properties, the Belmond Monasterio and the Belmond Palacio Nazarenas, provide couples with wonderfully unique wedding spaces. Featuring paintings from the Cusco School of Art, fountains from the former San Antonio Abad Seminary, and incredible stonewalls from the Amaru Qhala Inca Palace, both hotels incorporate important and stunning details from the past. The colonial San Antonio Abad Chapel is an architectural gem, boasting 24-karat gold-leaf altars, and original paintings. Thus, couples looking for a traditional, religious wedding ceremony have a gorgeous alternative, complimented by an intimate reception in one of the hotel's lovely terraces.
Connection with nature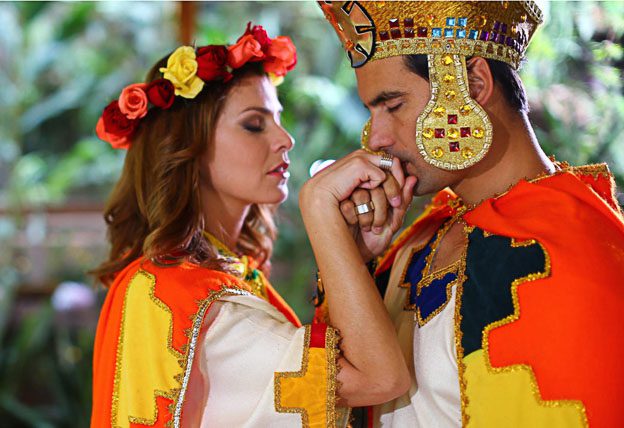 Fifteen minutes outside Cusco's Plaza de Armas lies Llaulipata, an area thought to have belonged to Francisco Pizzaro's daughter with the Inca Princess Quispe Sisa. It is here where one can find the Casona Princesita, a space that boasts a privileged view of the stunning surrounding nature, and specializes in hosting events and weddings. "Cusco is already generally considered a dream destination. So, many people who walk the city's streets, visit its historic areas, and see the impressive mountainous scenery are captivated by the fantasy of living here. It is that magic that makes it such a great romantic destination and setting for a couples' most important day," comments Erika Hurtado, La Princesita's corporate manager.
The Casona Princesita is the perfect place to indulge in an open-air, country-style wedding without having to travel far from the city. Its proximity to Cusco is ideal for international or bi-national couples who are only in the country for a short amount of time. The space's ample gardens are the perfect place to share your vows under the soft afternoon sunlight, while the main house's rustic style – with its wooden detail and traditional Cusco-style rooftop – is great for a festive reception.
"One must be versatile in this business. Although the process is generally personal, we provide the setting and expert advice," explains Hurtado. In offering four different options – from traditional Andean ceremonies to boutique-style weddings – we focus on being flexible and adapting to the couple's requirements, with the option of coordinating in English or in Spanish."
The spirit of the Inca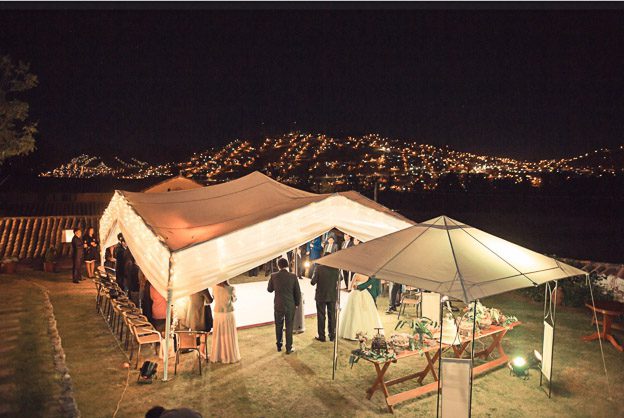 Imagine celebrating your love surrounded on a bed of flower petals, with the Vilcanota River in the background as you receive blessings from the Apus and Pachamama (Mother Earth). For those looking for a one-of-a-kind experience, the Arac Masin, or Inca wedding, is it. "The ceremony of love, or Arac Masin, looks to celebrate the spiritual duality of the couple, arriving at a mental, physical, and spiritual balance, and reaching absolute love whilst in harmony with ones self and with nature," comments Lizeth Giurfa of the Sumaq Machu Picchu Hotel.
The Arac Masin transports couples into one of the most important local ancestral rituals, which is still practiced in some Andean communities. During the ritual, the couple undergoes a series of offerings as guided by a shaman who shares songs and prayers in Quechua. Because this ceremony is not legally recognized, it is often chosen by couples who – previously married or not – wish to renew and strengthen their bond.
The bride and groom dress in traditional garb – she wears a lliclla, and he wears a chumpi – and make their entrance on a carpet of roses, with four areas separated by maize grains of different colours. Each colour represents an important aspect of the union: red symbolizes power, white, purity, yellow, love, and purple, balance. The shaman then uses the sacred quintu – a symbol composed of three coca leaves – to purify the couple before giving them the chance to share their vows with each other. The ritual ends with a binding of the couples hands, using a chain of flowers.
The Sumaq Machu Picchu Hotel in the town of Aguas Calientes offers a special area designed to conduct these types of ceremonies. The service includes the shaman, the bride and grooms traditional garments, and a private interpreter. The hotel's modern installations come together with Andean details, creating a warm experience with a mystical touch, right in the shadow of the stunning Machu Picchu Mountain.
Do you want to find out more about how you can participate in oe of these lovely ceremonies? Check out Ultimate Journeys Peru in order to find out more about how you can take part.
Editor's note: this article was previously published in Ultimate Journeys Peru, and you can read it here.
Cover photo: Ultimate Journeys Peru
Now that you're here:
We're asking you, our reader, to make a contribution in support of our digital guide in order to keep informing, updating and inspiring people to visit Peru. Why now? In our near 20-year journey as the leading English-language source on travel in Peru, we've had our fair share of ups and downs-but nothing quite like the challenges brought forth in the first quarter of 2020.
By adapting to the changing face of the tourism and travel industry (on both local and international levels), we have no doubt we will come out stronger-especially with the support of our community. Because you will travel again, and we will be ready to show you the best of Peru.
Your financial support means we can keep sharing the best of Peru through high-quality stories, videos and insights provided by our dedicated team of contributors and editors based in Peru. And of course, We are here to answer your questions and help whenever you need us.
As well, it makes possible our commitment to support local and small businesses that make your visit an unforgettable one. Your support will help the people working in these industries get back on their feet once the world allows us to make our dream of enjoying everything Peru has to offer a reality again-from its mouthwatering gastronomy, thriving Amazon and archaeological wonders such as Machu Picchu.
Together, we will find a way through this. As a member of our community, your contribution, however big or small, is valuable.
Support Traveling & Living in Peru from as little as $1 - and it only takes a minute. Thank you!