Looking for something new to do this weekend? How about taking some cooking classes in Lima at the new La Cocina de Urban Ktichen?
A new spot offering cooking classes in Lima has opened inside Jockey Plaza, a partnership between Tina Noriega, Rubén Glasky and chef Ignacio Barrios. A visit to La Cocina includes a little bit of learning, hands-on cooking and eating. Think of it as going to a restaurant but getting to learn about the preparation and ingredients in your food before sitting down to eat.
The classes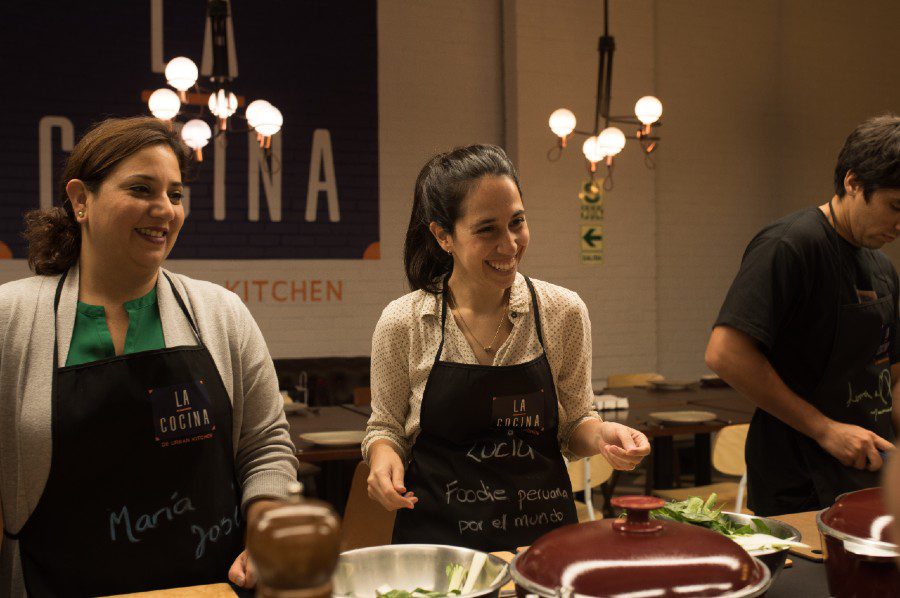 La Cocina de Urban Kitchen has a schedule of classes that you can check out on their website. For December, classes are available for several types of cuisines including fresh pasta, Nikkei, Peruvian, and much more. There are also some special classes led by local chefs. Most recently chef José del Castillo of the popular Isolina restaurant led a course on preparing a Navidad criolla (typical Christmas) feast on December 3. You can participate in one of these classes buy signing up and paying online.
Most of the classes conducted are in Spanish, but it is possible to book a private event led in English with a minimum of ten participants.
Many of the classes are two and a half hours long where the group cooks four to five dishes. If you don't have that much time, Express Classes are only one and a half hours and the class prepares and eats two to three dishes. Prices for the express courses start at S/80 while the longer classes and Masterclasses begin around S/150 but vary depending on the chef and type of food prepared.
The space
La Cocina de Urban Kitchen is located inside Jockey Plaza. The modern, comfortable space is large enough to accommodate up to 50 people. Classes take place around two large kitchen islands. When you arrive, the kitchen space is setup with cutting boards, utensils and ingredients to prep, giving guests the opportunity to choose a task they feel comfortable working on. Don't sweat if you aren't sure where to start—the chefs give you plenty of assistance along the way or assign you a task.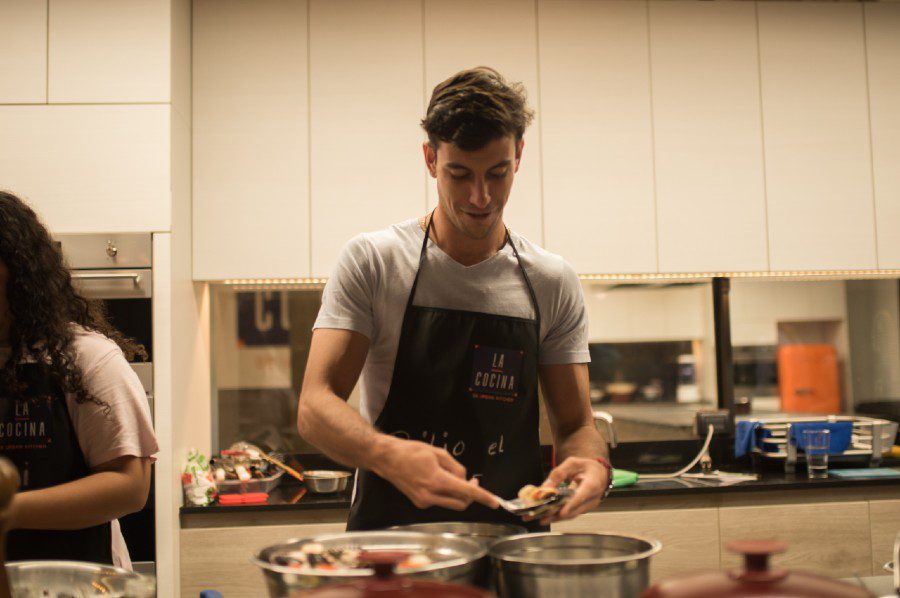 After a short introduction about the menu for the day from the chef, everyone works on preparing the various dishes. Following the preparation of the dishes, you get to sit down and enjoy your delicious creations family-style with everyone who has attended the class.
The experience
I had the opportunity to attend a special workshop to learn more about La Cocina de Urban Kitchen and experience a sampling of their courses. Upon arrival to the location in Jockey Plaza, the other participants and I gathered around one of their large kitchen islands to listen to Chef Barrios explain the different dishes we were cooking. There were no more than 20 of us eager to start the class.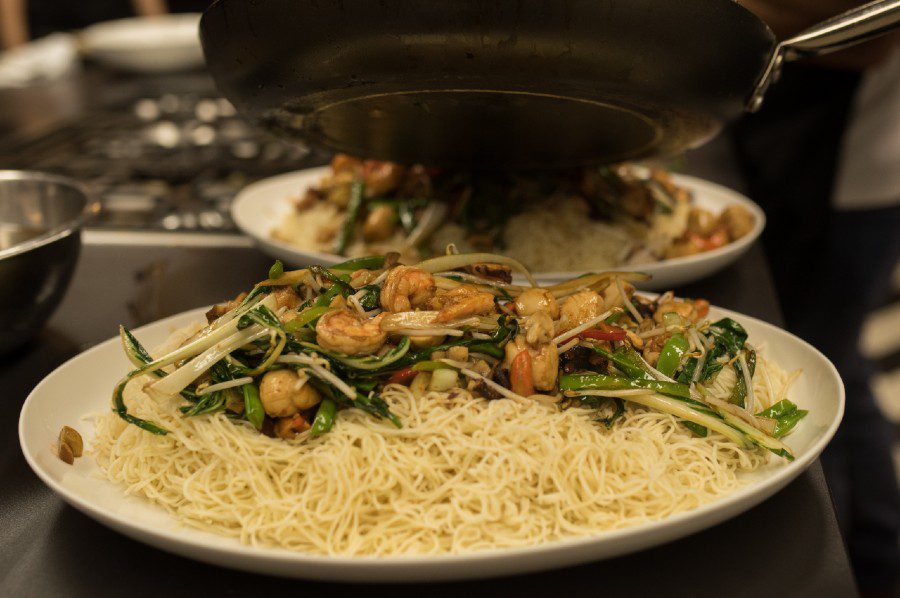 We began preparing a Saltado de mariscos orientales (Oriental seafood stir-fry) for which I cut mushrooms, peeled and deveined shrimp and cut pulpo.
When it came time to cook, everyone had the chance to cook a part of the dish if they wanted. One of the chefs is on hand to give you instructions on cooking and even show you how to make fire flame up on the sauté pan which is really exciting and always gets a wow from everyone else.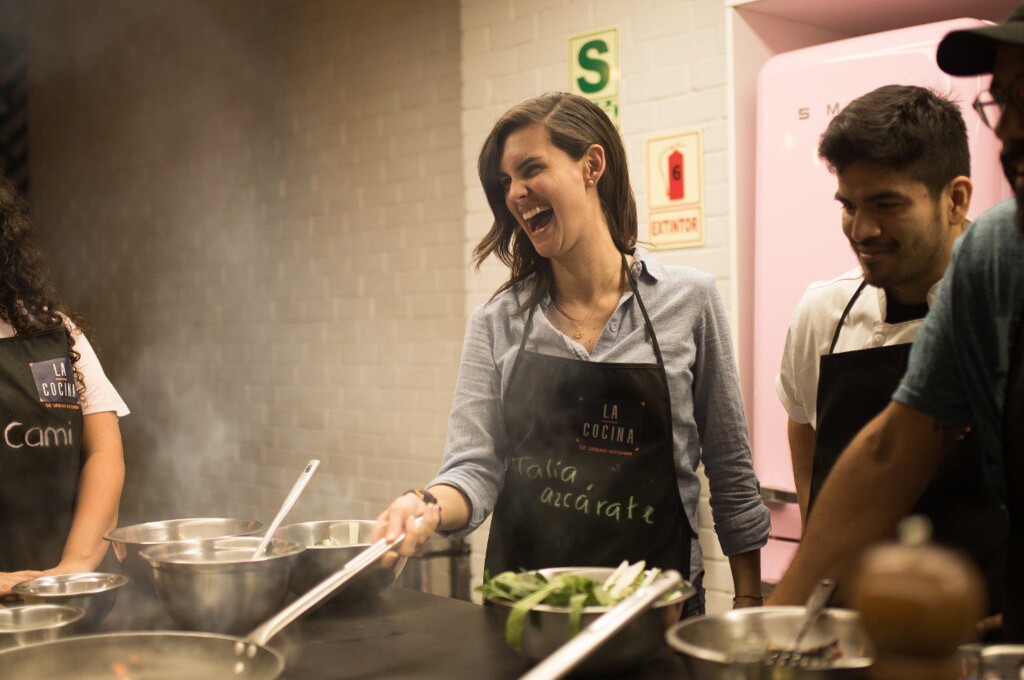 Another group prepared a Tartar de bonito Nikkei which we snacked on while the other dishes were cooking. Fresh cut bonito quickly tossed with oyster sauce, ginger, garlic and limón which is finished off with a soy marinated egg yolk. It was then piled on a piece of toasted bread before eating.
The final two dishes for our class were Arroz Yakimeshi, a Japanese style fried rice with chicken and cashews and Curry amarillo de pollo, with a homemade curry sauce made with aji amarillo, coconut milk and curry spices.
Once our dishes were ready, we all sat down around a large table and ate family style, with a glass of wine, beer or non-alcoholic beverage. This gave us the opportunity to taste the food we all had a hand in preparing as well as to chat with our cooking and dinner partners. All the food was amazing but my two favorites for the day were the bonito tartar with its fresh and bright flavors and varying textures, and the Curry amarillo. Lightly spicy from the aji amarillo and sweet from the coconut milk, It may be the best Thai curry I've ever eaten.
The recipes we prepared that day had been sent to us previously by email; luckily, as there was little time or even space to jot down ingredients or steps.
Signing up for cooking classes in Lima with friends or a group of strangers is so much fun, even for the non-cook. The chefs offer plenty of help and encouragement for cooking of all levels, and if you decide you don't want to cook, it's a great time to simply stand back, drink beer and watch all the fun!
La Cocina de Urban Kitchen
C.C. Jockey Plaza – Barrio Jockey, Local 115
Phone: 954 716 155
Email:  [email protected]
All photos: La Cocina de Urban Kitchen
Now that you're here:
We're asking you, our reader, to make a contribution in support of our digital guide in order to keep informing, updating and inspiring people to visit Peru. Why now? In our near 20-year journey as the leading English-language source on travel in Peru, we've had our fair share of ups and downs-but nothing quite like the challenges brought forth in the first quarter of 2020.
By adapting to the changing face of the tourism and travel industry (on both local and international levels), we have no doubt we will come out stronger-especially with the support of our community. Because you will travel again, and we will be ready to show you the best of Peru.
Your financial support means we can keep sharing the best of Peru through high-quality stories, videos and insights provided by our dedicated team of contributors and editors based in Peru. And of course, We are here to answer your questions and help whenever you need us.
As well, it makes possible our commitment to support local and small businesses that make your visit an unforgettable one. Your support will help the people working in these industries get back on their feet once the world allows us to make our dream of enjoying everything Peru has to offer a reality again-from its mouthwatering gastronomy, thriving Amazon and archaeological wonders such as Machu Picchu.
Together, we will find a way through this. As a member of our community, your contribution, however big or small, is valuable.
Support Traveling & Living in Peru from as little as $1 - and it only takes a minute. Thank you!