The highest-quality craft beers balance their flavors to please the palate. The experience is more than just having a beer. Here in Peru, drinking good beer is about celebrating ingredients, landscapes, and communities.
For many years, a stylish drink has been considered to be wine, a whisky or a cocktail. Beer drinking was seen as something less refined, a readily available product you can buy any day, nothing special. Nevertheless, the view has changed, and this daughter of hops and barley has made room for itself on the tables of the most refined restaurants.
The history of beer dates from the sixteenth century in Europe, coming to the Americas with the colonial English when they reached the north of the continent. Although there were prohibitions on the consumption of alcohol for many years, the art of brewing beer at home continued in secret. We call it an art because, behind every barrel, there are skills that have been perfected over time, through a process of trial and error.
At one stage, industrially brewed beers threatened to take over the market with their low cost and standardised flavours. However, lovers of the traditional ale, seeking for a taste than mass-production could not provide, began to develop their own craft beers in the 1960s and started a boom which has taken over the world. This trend began in Peru in 2010 and had been hotting up ever since in bars throughout the country.
A MASTER'S TOUCH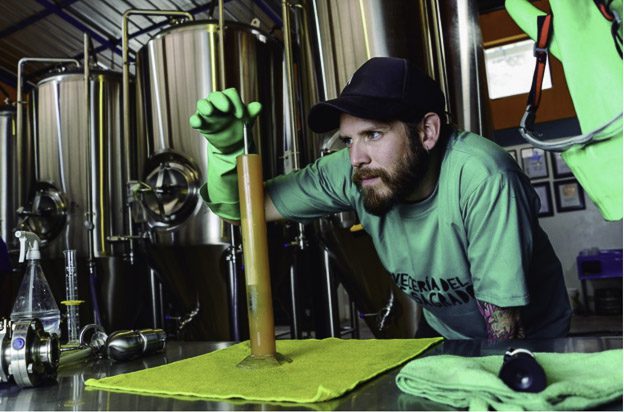 All beers in the world have the same four ingredients: water, hops – which give it the bitterness and aroma; malt or a malted grain – which could be barley, wheat or rye; and yeast – which aids the fermentation process. With these, the master brewer works his magic, creating a beautifully balanced end product. The exact process differs according to the type of beer. For example, ales are fermented at a higher temperature for short periods, lagers at a lower temperature, but for longer, and lambic beers are self-fermenting.
Within this variety of standard types, each brewery develops their own recipes to find a way to shine. Beyond the skills of the master brewer, there is something more to add. "What we have in Peru is a wide variety of high quality ingredients which can add complexity and flavour, such as coffee, cocoa, and fruits. Other countries are not so lucky, or have to pay a high price for them," explains Juan Mayorga, founder of the Sacred Valley Brewing in Cusco. Here is where the magic lies, in the process of experimentation that takes place in every brewery to develop a high-quality product, full of taste and aroma, which stands out from the rest. These efforts are reflected in the prizes that Peruvian breweries have won in competitions abroad.
It is the science behind micro-breweries that have brought them greater prestige than the industrial giants, so that drinking a craft beer is an experience similar to tasting a fine wine. Nowadays we can talk about the pairing of food and beers, or specialised tastings, and a complete artisan beer movement that has built a strong following over the last few years. "A good beer is not just something to sell. It should have a good flavour, colour, aroma and head or froth, but it also needs a memorable name, an image and a story behind it. For us, it is a complete experience: a quality product which complements the food that the drinker can enjoy", says Ted Alexander, founder of the Sierra Andina brewery in Huaraz.
PERUVIAN BREWING
In Peru, beer is the most popular alcoholic drink and is available in almost all bars and restaurants. Since 2010, when craft beer production began to establish itself, a new public has learned to appreciate it. They are knowledgeable and demanding customers, who can recognise the various styles and enjoy the different flavours of each type. It is these people, inevitably, who are leading the call for improved quality to which the artisan brewers must respond.
"When we began, there were fifteen or twenty national brewers. Now there are almost fifteen in the Cusco region alone", comments Mayorga. "It continues to grow, with a more knowledgeable public and greater quality products, which means we have to continue improving." Nevertheless, Alexander concludes that passion is not enough in this business. "You have to understand the process from the inside, the science and chemistry of the product. The customer used to drink whatever was on sale, but they are growing more demanding. Without skill and knowledge, a new producer is not going to last long", he insisted.
Craft beer has not only taken beer drinking to new levels, but it has also opened up new business possibilities. Its decentralising tendencies are undeniable, with the appearance of well-known breweries outside Lima. "Part of our mission with Sierra Andina is to open up the market to people in small towns such as Huaraz. We want to create economic and gastronomic opportunities in the provinces. We aim to be a business with social values, that looks after its workforce and helps them to be better professionals", comments Alexander.
The same story is happening in Cusco, where Sacred Valley Brewing works sustainably to support communities and protect the environment. "We have designed a water treatment plant for our factory so that we can use water resources better. We avoid bottling our beers to reduce waste, too", explains Mayorga. As well as buying their ingredients from the local suppliers to help improve their economy, the brewery holds an event once a month to support various Cusco organisations dedicated to social welfare.
The craft beer industry is growing strongly in Peru. So, don't miss the chance to enjoy a tasty product, made with local ingredients and a unique touch of freshness and flavour, perfect for lunch with friends or dinner with your partner. Close your eyes and feel on your tongue the spirit of Peru sealed in every bottle.
Credit: Ultimate Journeys Peru
Cover photo: Ultimate Journeys