The Ukukus, a group of traditional Andean dancers, embark on a yearly pilgrimage between sacred mountains. Read this firsthand account.
Will I gather the strength to embark on this adventure with the Ukukus, the man-bears who embody the spirit of the Andean speckled bear in dress, dance and action?
After a whole day running around Qoyllur Rit'i festival grounds, getting high from the lack of oxygen at high elevation, when the cold night comes, I hardly have the strength to follow the Ukukus up the mountain. It's supposed to be the most important night when they climb the to the glacier to do their rituals and then descend with a 24 hours pilgrimage.
I chew coca all evening while getting more anxious. Laziness and perseverance struggle with each other in my brain and I stand below and watch the groups leaving on their climb. Finally, I gather the strength to leave.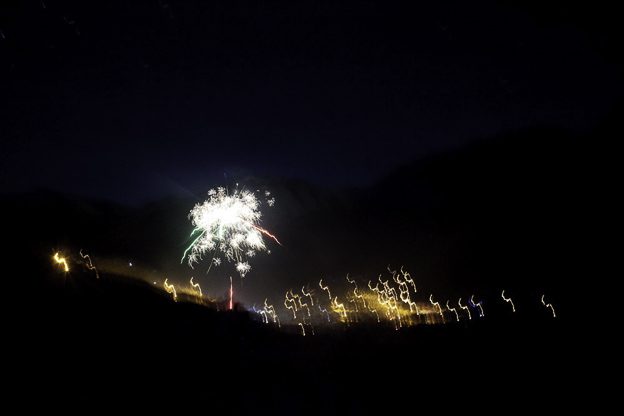 After a hot drink, I feel the coca I have been chewing all evening finally hit me and dictates my next move. Plagued for years with difficulty in making decisions I went through those type of pathetic inside thought wars, and now I am more than happy to give away a lot of responsibility to the plants I use.
They make me often who I am, at each particular moment. A kind of process in the stream of reality that can be called Światosław, whether agitated, relaxed, aroused, focused: all those states and decisions that follow are less mine now and more of the medicine I have inside me.
So as the photos from the previous day and night spent descending from the edge of a sacred glacier with man-bears in a crazy, exhausting run, which needs to be credited to mamita coca I had in my cheek.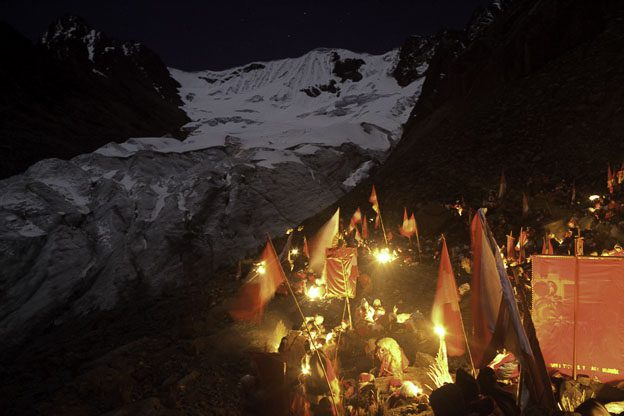 The sacred pilgrimage begins
In the morning the Ukukus come down from the mountain, and the first timers have their initiation ceremony. I photograph the event and skip most of the Catholic part of the fiesta, I need to rest a bit before we start the pilgrimage across the mountains, towards Apu Ocongate, the sacred mountain. We leave in the midday sun.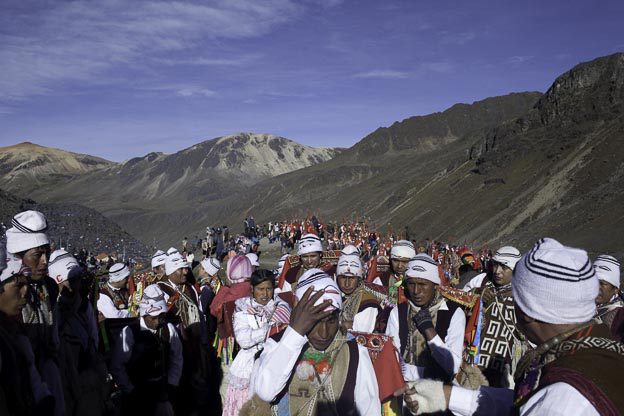 We reach a large meadow and take some rest. The Ukukus are very tired but it doesn't slow them down. I go on the side, anxious as always when afternoon light means that the day's action is only half-way through. I carry a heavy backpack with all my things including a tent, sleeping bag, warm clothes.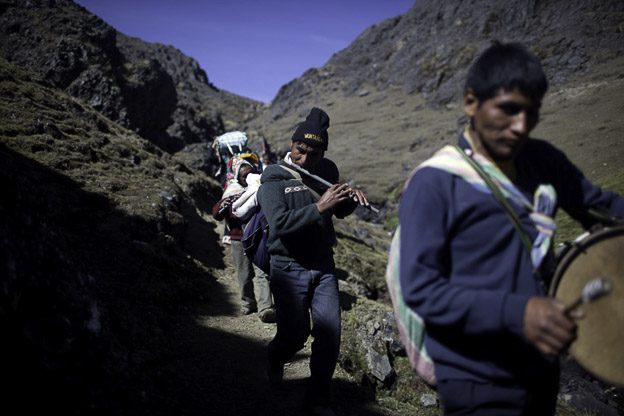 The armies are getting ready for their final descent while representing their nations, Indians from various parts of Andes, with flags, feathers, a celebration of ancestral heritage; this mountain dance is what they practiced all year.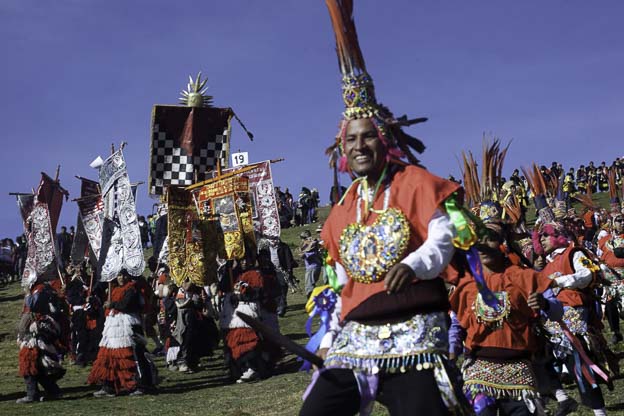 I don't know how long it lasts: half an hour, one hour, no idea. I am in a trance, running down the slope, looking for best position with the sun, trying to avoid collision with rows of Ukukus running down, dancing at the same time, like human snakes, alternating, interwoven, up and down, showing no fatigue from all an day-long march, with drums, flutes, singing, shouts. This is true majesty, awe, the intensity of the moment. I am high, in any sense of the word.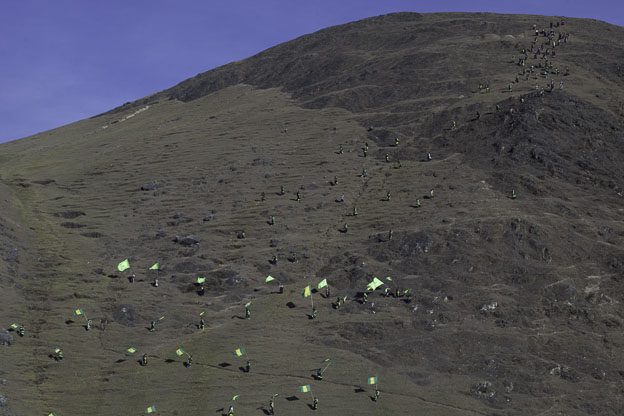 Click, click, click, I satisfy my greed, until the sun hides behind the mountain I have my visual feast and then eat crisp grilled alpaca, and then catch an hour of sleep. We leave before the moon rises to continue marching all night until exhaustion delivers hallucinations under the full moonlight. And when this crazy descent ends, we will pay homage to Father Sun.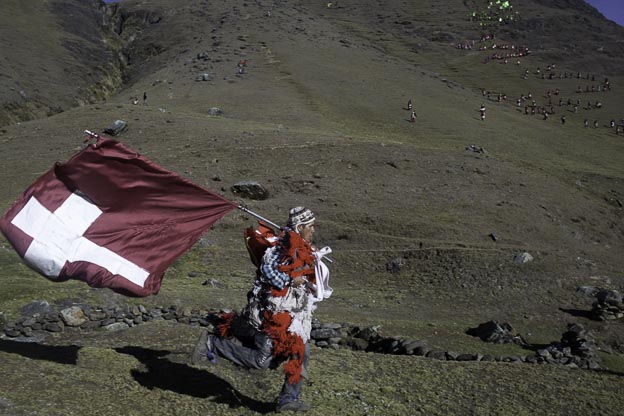 Psychonauta Foundation regularly organizes diets and retreats with Matilda and other shamans of the Amazon. Please visit our Facebook page to get in touch, and to find out more about what we're up to.
Editor's note: This article previously appeared on the Blog of Tata Mundo
Cover photo: Marco Simola
YOU MIGHT ALSO LIKE
Now that you're here:
We're asking you, our reader, to make a contribution in support of our digital guide in order to keep informing, updating and inspiring people to visit Peru. Why now? In our near 20-year journey as the leading English-language source on travel in Peru, we've had our fair share of ups and downs-but nothing quite like the challenges brought forth in the first quarter of 2020.
By adapting to the changing face of the tourism and travel industry (on both local and international levels), we have no doubt we will come out stronger-especially with the support of our community. Because you will travel again, and we will be ready to show you the best of Peru.
Your financial support means we can keep sharing the best of Peru through high-quality stories, videos and insights provided by our dedicated team of contributors and editors based in Peru. And of course, We are here to answer your questions and help whenever you need us.
As well, it makes possible our commitment to support local and small businesses that make your visit an unforgettable one. Your support will help the people working in these industries get back on their feet once the world allows us to make our dream of enjoying everything Peru has to offer a reality again-from its mouthwatering gastronomy, thriving Amazon and archaeological wonders such as Machu Picchu.
Together, we will find a way through this. As a member of our community, your contribution, however big or small, is valuable.
Support Traveling & Living in Peru from as little as $1 - and it only takes a minute. Thank you!