Looking to dine gluten free in Lima? Matria, located in Miraflores, offers a fresh and modern menu with plenty of options for those with celiac disease.
What do you do when you have so many choices that you can't decide? Order lots of half plates!
At Matria in Lima, half plates of many dishes can be ordered, even the starters. Chef Arlette Eulert explained: "Some people just want a small portion, but mostly they choose half plates so that they can sample plenty of dishes."
Though there are three huge murals painted on the wall, Matria is rustic in décor with exposed mortared brickwork and unpainted cement; somehow it still has a warm, relaxed and friendly feeling.
Matria is owned by Chef Arlette Eulert. Having graduated from Le Cordon Bleu she worked in London and Barcelona then in some of the top restaurants in Lima before opening Matria six years ago. In 2018 she received the Summum award for the best female chef in Peru.
Arlettte describes her style of cooking as "product cuisine" because she is strongly influenced by the Peruvian ingredients available seasonally that she sources from small producers in many different regions of Peru. The seasonal menu that we enjoyed was the Primavera (Spring) menu, available until December 12, 2019.
The menu at Matria is clearly marked for food allergies and dietary preferences. Spoilt for choice we chose three starters to share from the six gluten free starters on the menu.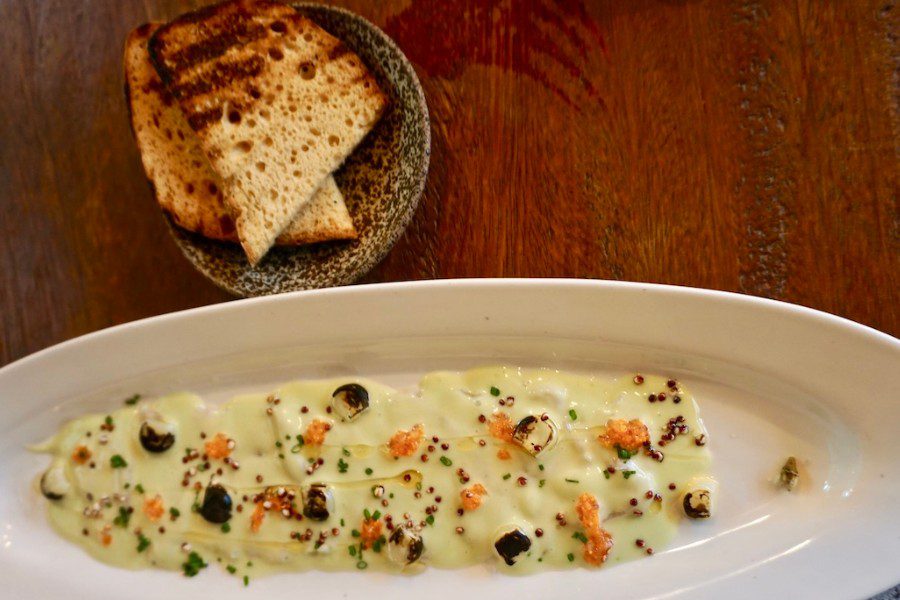 The Estiradito de Lenguado palteado (S/ 43) was the only cold dish we chose. Tiradito, our preference over the better-known ceviche, is also uncooked fish. However the fish is finely sliced instead of cubes and is therefore more delicate than ceviche. The lenguado was bathed in a delicious cream of avocado sauce and garnished with toasted quinoa.
The scallops we enjoyed were not on the menu. The scallops on the menu are not gluten free, but on request you can have a special gluten free scallop dish, served in their shells with a sauce of slow caramelized black garlic, squid ink, dehydrated yucca and black chili. This special order took no longer than the other dishes and was one of our favorites.
In Peru it is almost compulsory to start a meal with pisco. But at Matria we found a new way to enjoy pisco: cooking mussels in it! Mejillones salteado en aromas de pisco (S/ 33) was so good that once we had eaten the mussels from the shell we used an empty half shell to scoop out the rest of the broth.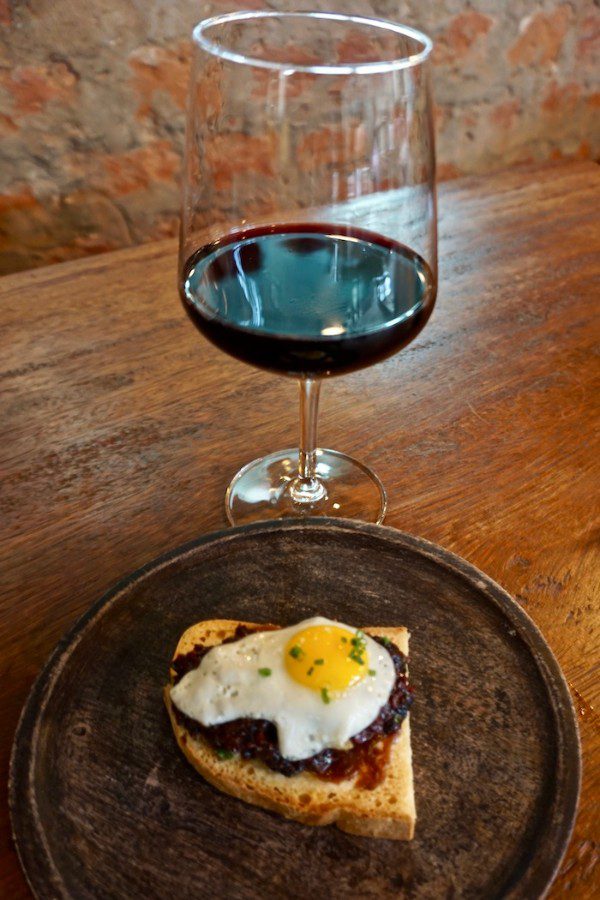 The mild flavored Tosta de Morcilla (blood sausage) (S/ 22) was served warm on gluten free toast with a fried quail's egg on top. One slice of toast was not enough to share the generous serving of morcilla so we finished it with rice crackers. The quail's egg added visual appeal to the dish but was more of a novelty (and yes we did eat half a quail's egg each!).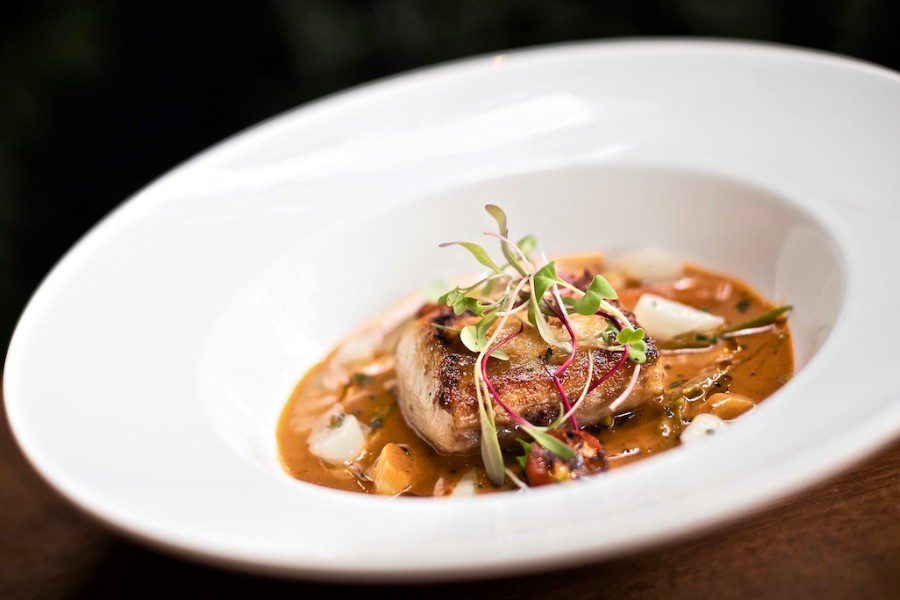 Moving on to mains, the menu had 8 gluten free choices. We chose Paiche al estilo "Malai Masala" (S/ 65). Paiche is an enormous fish found in the Amazon. It is the second largest fish in the world and can grow up to three meters long and weigh over 250 kg. It yields 60 kg of edible meat and is highly valued in Peru. It has a mild taste and flakes somewhat similar to cod. It was served with a spicy red curry sauce, seasonal vegetables and rice cooked in coconut milk.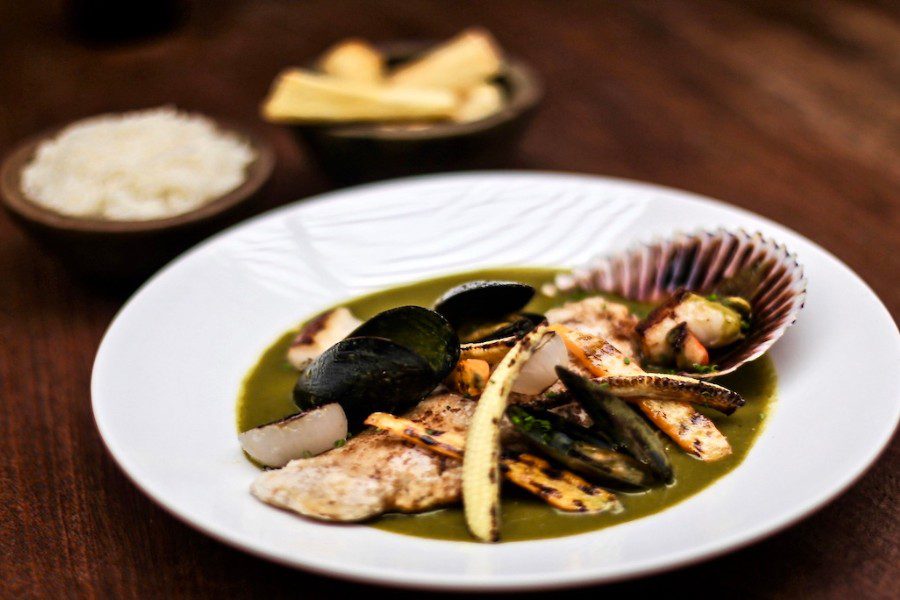 Our second choice was Seco Criollo de Cabrilla (S/ 59). Treated like seafood, this was an unusual way to serve baby goat with mussels, clams and a scallop accompanied by yucca chips and rice with choclo.
Both mains had overly generous sauce. Serving with rice enabled us to enjoy more of the sauces. Sharing the two half plate mains after the four starters was plenty.
Desert was Amor de Chocolate. Flavored with cacao from the Amazon, the delicate chocolate pudding was served hot in a mini Le Creuset pot. Think lava cake without the lava. A ball of rich chocolate ice cream compensated for the lack of 'lava.'
It is a rare find to have so many exciting choices when eating gluten free in Lima. My husband, who does not need to eat gluten free, definitely also enjoyed our choices. We would strongly recommend Matria for anyone looking for a special gluten free menu.
General Manuel Mendiburu 823, Miraflores
Lunch: Monday to Saturday from 12:30pm to 4:00pm; Sunday 12:30pm to 5:00pm
Dinner: Monday to Thursday from 7:30pm to 11:00pm; Friday and Saturday 7:30pm to 11:30pm
Starters: S/ 22–43
Mains: S/ 40–68
All photos: Alan Riles