Hop onboard the Macho Train and discover the forgotten, the culturally enriching and absolutely breath-taking Central Mountain Range of the Andes.
Traveling by train is not very popular in Peru. Among the most important trains we have the Central Railway (Lima-Central Sierra), the Southern Railway (Cusco-Puno-Arequipa) and the famous Train Macho, named this way because it was said that "it left when it wanted and it arrived when it could".
The Tren Macho has a lot of history. It was inaugurated in 1926, and since then it has traveled the 128 kilometers that separate Huancayo from Huancavelica, crossing 38 tunnels and 15 bridges, which allow you to know the heart of the Andes through its passengers and its endless landscapes, adorned with an almost always blue sky.
Starting the adventure
To start the trip it's necessary to know that you can only buy tickets in the same station Chilca de Huancayo. The train leaves from there every Monday, Wednesday and Friday at 6:30 A.M. Prices are S/13 for gourmet service and S/9 for express service. And to return, the train departs from Huancavelica on Tuesdays, Thursdays, and Saturdays, keeping the same prices and schedules. Therefore it is advisable to buy it one day in advance.
To read more about trains in Peru: Click here!
On each trip, the Tren Macho transports approximately 400 passengers. It doesn't have heating, so it is advisable to bring a coat. Perhaps the most striking thing is to observe how the train crosses a rough geography and furrows the mountains showcasing all the wealth of the Andes.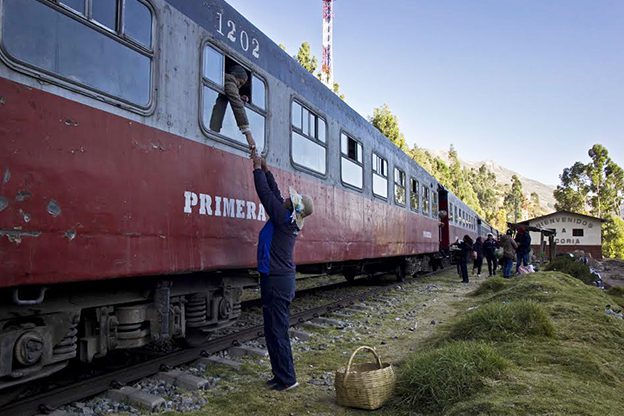 Living Culture
Definitely, the most interesting thing is to travel in the express service. During the five hours of journey, the train stops at the following stations: Tellería, Izcuchaca, La Mejorada, Acoria, and Yauli, to pick up passengers. At each stop, the wagons are invaded by vendors offering various things like corn with cheese, chicharrones, bread, biscuits and more.
For those who are traveling for the first time, this is a gastronomic experience.
The journey allows you to meet various characters who become fellow travelers; who come from afar, such as Anthony Garrison (Canada), whose purpose is to travel in all the trains of the continent, or like Rosalía's family, who along with their children use the train as usual means of transport. Here we have a very rich cultural and social experience that should not be missed.
During the trip, it's possible to learn more about the central highlands and reach one of the regions often forgotten but with a lot of cultural wealth yet to be discovered: Huancavelica. Finally, the train arrives at its last station and the blue huancavelicano sky welcomes us.
It's time for farewells and to finish one of the most enriching adventures in one of the most emblematic trains of the Andes and Latin America.
Comments
comments