Casa Camacho, located in the Sacred Valley, is one of those rare places to stay in Peru that you are likely to never forget about.
Many of those who come here to stay end up returning sometime later to make it a longer-term home. The house attracts artists and creatives, adventurous travelers, spiritual seekers, and those seeking a deep and authentic connection with Andean life.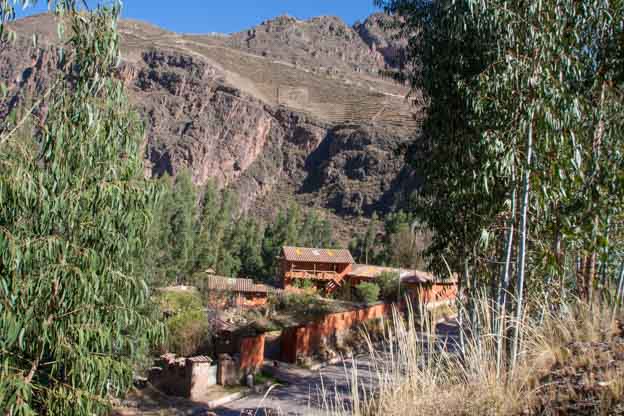 I came here five years ago, and never left
I found my way to Casa Camacho back in 2013, while I was out exploring the hillsides surrounding Pisac. Through an open doorway, I spotted a garden of colorful flowers in full bloom, and like many others who find their way to this special place, I felt the urge to come in and take a look.
I was greeted by the owners, Ynez and Juan, who offered me a gigantic hug and invited me to come and sit inside and have a cup of tea. I quickly learned from Ynez that she and her family, year by year, had built the property with their own hands. Years ago, they used to live in a shack. Travelers would occasionally trickle-in to visit them, looking for a quiet place to stay beside the ruins of Inti Huatana. With the money that they earned these visitors, they slowly began to build a space that is now designed to hold up to 15 guests at once.
Since this day, I've continued to call Casa Camacho my home.
Indigenous owners who treat their guests like family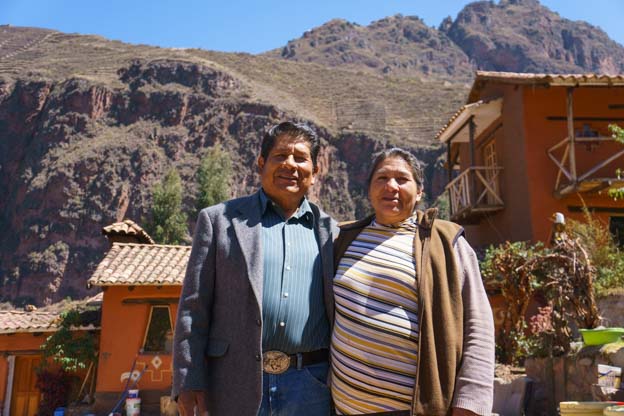 One of the reasons that I've decided to stay here for so long is because of the genuine care that I've sensed from the Camacho family. When we visit hotels while traveling, we're often told by owners that we are welcome, just like family. But oftentimes despite the words they express, it doesn't actually feel this way. It feels more like a business, and we're often treated as clients who are coming and going. It's not that there is anything wrong with this; most of us grow to expect that the relationship between clients and business owners contains within it the implication of distance.
But at Casa Camacho, this is clearly not the case.
When you come to stay here, you are likely to feel yourself immediately included in a close community, which has been forged through the genuine care of the owners. This can be important for travelers who are seeking a way to connect deeply with the community, and place.
Adventures from all over the world who come for a place to connect and to call home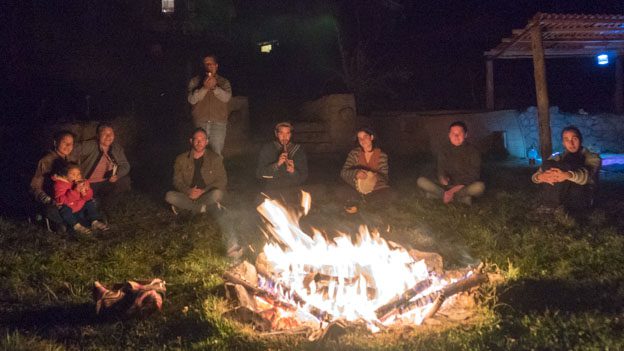 The house has always attracted the types of people who are independent-minded and have wishes to forge a relationship through community. If you come to stay here, you're likely to meet musicians, artists, and travelers with ambitions to go on their own.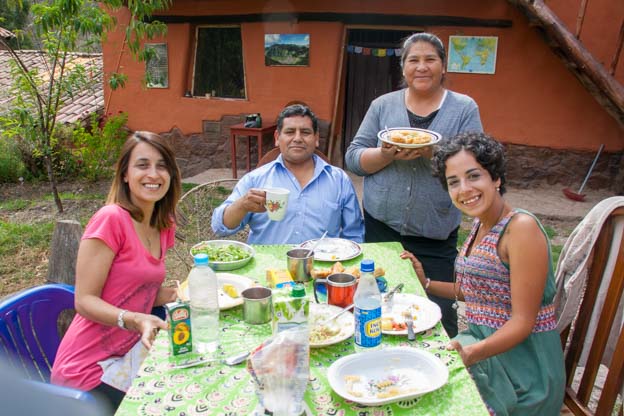 Residents of the house often come together after sun-down for potlucks, and to share music and stories around the fire. At the same time, it's not a place for partiers; rarely do people come here to drink. More often than not, people come to stay here and to integrate themselves back into society after retreats, working with plant medicines, and other kinds of transformational experiences.
Gardens, flowers, traditional and authentic Andean life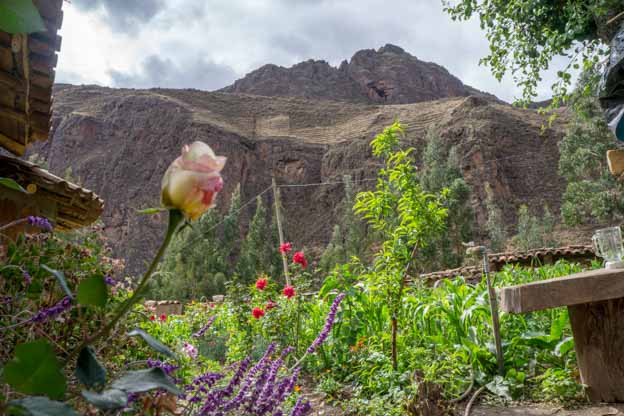 The owners Juan and Ynez continue to embrace their ancestral ways of living. A central part of this is by connecting with the Pachamama, mother earth.
The family continues to tend to organic gardens, which produce vegetables that they often share with guests. Juan makes weekly trips into the mountains with his dilapidated truck in order to collect spring water from a secret spot which he claims offers the highest quality and most nutrient-rich water in all of the Andes.
Connection to indigenous communities in the mountains above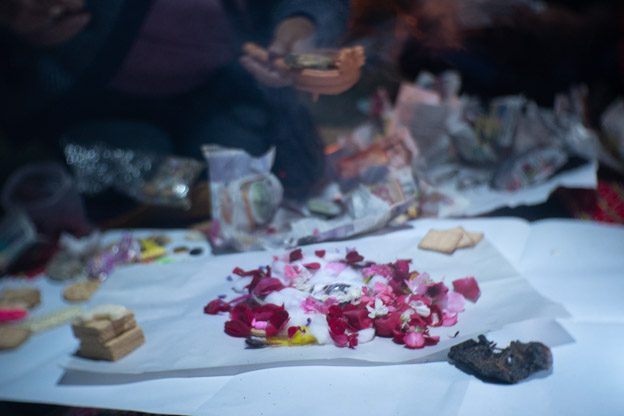 The house is located on a hillside, about a 20-minute walk to the town of Pisac. But you can also grab a cab, or jump into a shared van in order to get there faster, in less than five minutes. In the other direction, the road winds into mystifying heights above the Sacred Valley to a place known as The Potato Park, where more than a dozen indigenous communities live traditionally by cultivating potatoes, grazing llamas, and weaving textiles. As both Ynez and Juan grew up in these communities, Casa Camacho is a great place to base yourself in order to establish a deeper connection with the indigenous communities located in the mountains above.
In the backyard of Inti Huatana, Pisac's great ruins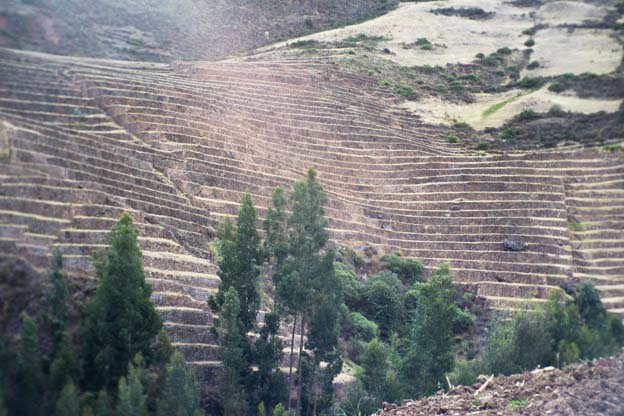 Casa Camacho is located a 10-minute walk from the ruins of Apu Inti Huatana, which are some of the most impressive ruins in all of the Sacred Valley. Those who stay here can wander along the base of this mountain, and probably do so without seeing anybody else along the way.
Visit Casa Camacho
Are you interested in coming to stay at Camacho? Reach out on their facebook page. If you speak Spanish, give the owners a call at 54 984 435 093. For English, you are welcome to reach out to me at [email protected], and I'm happy to help you out.
Cover photo: Scott Montgomery
YOU MIGHT ALSO LIKE
Now that you're here:
We're asking you, our reader, to make a contribution in support of our digital guide in order to keep informing, updating and inspiring people to visit Peru. Why now? In our near 20-year journey as the leading English-language source on travel in Peru, we've had our fair share of ups and downs-but nothing quite like the challenges brought forth in the first quarter of 2020.
By adapting to the changing face of the tourism and travel industry (on both local and international levels), we have no doubt we will come out stronger-especially with the support of our community. Because you will travel again, and we will be ready to show you the best of Peru.
Your financial support means we can keep sharing the best of Peru through high-quality stories, videos and insights provided by our dedicated team of contributors and editors based in Peru. And of course, We are here to answer your questions and help whenever you need us.
As well, it makes possible our commitment to support local and small businesses that make your visit an unforgettable one. Your support will help the people working in these industries get back on their feet once the world allows us to make our dream of enjoying everything Peru has to offer a reality again-from its mouthwatering gastronomy, thriving Amazon and archaeological wonders such as Machu Picchu.
Together, we will find a way through this. As a member of our community, your contribution, however big or small, is valuable.
Support Traveling & Living in Peru from as little as $1 - and it only takes a minute. Thank you!