A story about love and a celebration of Barranco and its marvelous old church, the iglesia La Ermita.
The Limenos call it la garua, the penetrating blanket of grey fog that envelopes the city during the winter months. Though divided by wealth, education, even colour, Limenos all agree upon one thing: its too cold, it's too damp, and it's too much.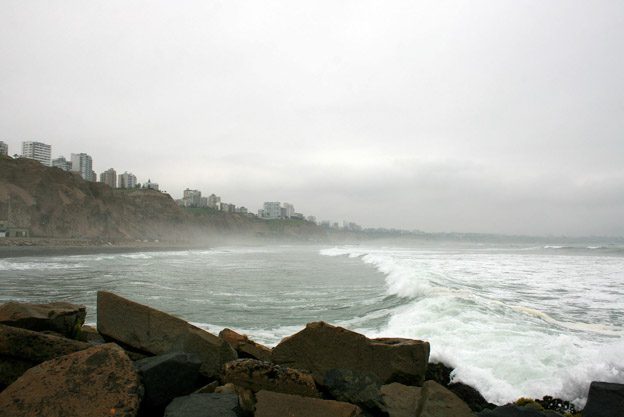 But Wilson was English, and was therefore accustomed to long country walks in the never-ending drizzle and even longer conversations about how dreadful the weather was. On this particular June evening, however, even he was taken aback by the grey covering of mist that had rolled in from the sea, blurring and distorting the once familiar buildings that surrounded the charming suburb of Barranco. It was here that he was to meet – or rather meet again – the love of his life. This they had agreed twelve months to the day, at six in the evening, she'd be waiting for him by the church.
He checked his watch and lit another cigarette. There was no-one around, even the street dogs were finding shelter somewhere warmer. He was standing on the picturesque Puente de los Suspiros or 'Bridge of Sighs', looking down towards the old iglesia La Ermita, a once charming place of worship that had fallen into disrepair, home only to a squadron of vultures that taken up residence upon the decaying roof.
He looked for a moment beyond the church to the bajada de los banos – the cobbled path that wound its way between restaurants and craft shops to the beach beyond. For a moment the mist cleared revealing an inky black sky and nothing more. Two vultures swooped in low and settled themselves upon the roof of the old church. Originally built of adobe in the eighteenth century, it had once been the spiritual heart of the community until a century later had been pillaged and burnt by marauding soldiers from the South. A still impressive wooden front door was flanked by two sturdy bell towers normally lit but now in complete darkness. His taxi driver had shrugged his shoulders muttering something about a sub-station somewhere and that it would probably be fixed in a day or two.
Wilson looked at his watch. It had gone six. She wasn't coming. He sighed but couldn't resist a quiet laugh to himself. The 'Bridge of Sighs' – how appropriate – and left in the dark too. No, she wouldn't show and he'd been foolish to think that she would. He'd made a stupid mistake in coming, and an even greater one in agreeing to wait for a year during which time he'd untangle the mess that passed for a marriage whilst she completed her degree.
'Then we can meet properly and plan our future together' she'd said, noticing his forlorn expression, and adding, 'a year of waiting's worth it, David, when we can then spend a lifetime together'. He'd nodded and had said something about the time going quickly and it being all for the best, as they'd made their way up from the beach towards the ruined church.
But he'd been wrong to agree. With a heavy heart he turned to go, casting a last look towards the belfry at the top of the left tower. La Garua cleared for a moment and it was then that he saw a light, its bright orange glow shining down towards him and the bridge. It was clearly some sort of lamp held aloft, a powerful torch perhaps. He moved quickly towards the church door, the light picking out the damp cobblestones ahead of him. To his left he could hear the sound of the sea crashing upon the beach.
It was walking up from the beach towards the church when she'd told him a little of its origins.
'They were fishermen, lost and adrift far beyond the shore, all hope gone. Then in the inky blackness of the night they'd seen a light shining out from the cliffs, a sign, a beacon guiding them to safety. Once safely upon land they'd given thanks for being saved and had determined to build a small church – Iglesia La Ermita – in gratitude for the light, and in thanks for their loved ones who had waited, praying for a miracle that would bring their menfolk home'.
She'd kissed him lightly on the lips, holding him close. 'Like us David, ready to wait for each other until we can come home'.
He'd been persuaded then, and had even laughed at her story, certain that it was just a myth retold and embellished over the years.
'I'll come, I promise', she'd said as they'd sat on a bench in the main square.

'But you must wait as their loved ones did', she'd added seriously her hands grasping his.
He was closer to the church now, the orange light gradually beginning to fade. He stood for a moment unsure of what to do. A hopeful photographer had taken up his postion in the middle of the bridge. From the other end he could hear the piano player in a popular restuarant warming up.
He turned and walked back along the bridge towards the sound of the music. The main square was just beyond with its grand Biblioteca and large Cathedral-like church. He'd grab a taxi back to his hotel on the cheaper side of town, perhaps take a beer in one of the bars on the other side of the plaza.
It was then that he saw her standing alone in the porch of the large church. She seemed unaware of him, her gaze not in his direction, but out towards the sea. She waited until he drew close before she smiled.
'You remembered David, you remembered! I'd almost given up on you…'
'But you are here? You said by the church…'
She threaded her arm within his and guided him towards the bench they had sat upon twelve months before.
'By my church David, San Francisco – this one silly', she said laughing and pointing to the place where she'd been waiting.
' Iglesia La Ermita is a church no more, an empty shell, no light within, whereas here…'
She continued to laugh, clutching his hand, her voice mocking him gently.
'It's the people not the buildings that make them what they are. It's the people, David, who come to worship and give thanks. It's what a building becomes when filled with light and hope. It's what it becomes…'
'Becomes…?'
'Yes, bricks and mortar transformed into something special, magical even. Maybe one day the old church of Barranco can become that again, but till then…'
He gently took her hand and they left the main square and walked back towards the bridge where he had been waiting for her.
La garua was clearing now and from the nearest tower of the Iglesia La Ermita he saw once again a glimmer of light illuminating the path they would surely follow.
***
David Stephens debut novel 'Purely Academic' is available now: http://amzn.to/2FjIG2L.
YOU MIGHT ALSO LIKE
Now that you're here:
We're asking you, our reader, to make a contribution in support of our digital guide in order to keep informing, updating and inspiring people to visit Peru. Why now? In our near 20-year journey as the leading English-language source on travel in Peru, we've had our fair share of ups and downs-but nothing quite like the challenges brought forth in the first quarter of 2020.
By adapting to the changing face of the tourism and travel industry (on both local and international levels), we have no doubt we will come out stronger-especially with the support of our community. Because you will travel again, and we will be ready to show you the best of Peru.
Your financial support means we can keep sharing the best of Peru through high-quality stories, videos and insights provided by our dedicated team of contributors and editors based in Peru. And of course, We are here to answer your questions and help whenever you need us.
As well, it makes possible our commitment to support local and small businesses that make your visit an unforgettable one. Your support will help the people working in these industries get back on their feet once the world allows us to make our dream of enjoying everything Peru has to offer a reality again-from its mouthwatering gastronomy, thriving Amazon and archaeological wonders such as Machu Picchu.
Together, we will find a way through this. As a member of our community, your contribution, however big or small, is valuable.
Support Traveling & Living in Peru from as little as $1 - and it only takes a minute. Thank you!