Julio Cusurichi, a Shipibo-Conibo leader, has been working to protect the peoples and forests of his native Madre de Dios region in southeastern Peru. In this interview, he shares about his work as an activist and what is at stake in the Peruvian Amazon.

LIMA, Peru — In February, Peruvian authorities evicted thousands of illegal gold miners from Amazon lands they were deforesting and poisoning with mercury. The government announced plans to set up military bases in an area called La Pampa that is a focal point for the illegal activity in Madre de Dios, the Amazon region known as the country's biodiversity capital. Julio Cusurichi, the prize-winning leader of the Indigenous Federation of the Madre de Dios River and Tributaries (FENAMAD), broadly welcomed the move. However, he expressed concern that the miners' eviction from La Pampa could push them to further invade the indigenous lands he has been defending for more than two decades.
Cusurichi, a member of one of Peru's largest indigenous nations, the Shipibo-Conibo, was working to protect the peoples and forests of his native Madre de Dios in southeastern Peru long before he was elected FENAMAD's president. In 2007 he won a Goldman Environmental Prize, one of the world's most prestigious awards for environmental activism, for leading a successful campaign to create a legally recognized indigenous territory in Madre de Dios. At 8,300 square kilometers (3,200 square miles), the Madre De Dios Indigenous Reserve is home to indigenous Mashco Piro and other unidentified groups living in voluntary isolation.
Now aged 48, Cusurichi continues to fight for indigenous rights in Madre de Dios. The region has become Peru's epicenter of illegal gold mining, a practice that is wreaking ecological havoc in six Amazon countries. Since 1985, uncontrolled gold mining has destroyed nearly 960 square kilometers (370 square miles) of rainforest in Madre de Dios, more than two-thirds of it between 2009 and 2017, according to the Center for Amazonian Science and Innovation (CINCIA) in Madre de Dios.
Increasingly, illegal miners as well as illegal loggers and drug traffickers are proving to be an existential threat for the region's indigenous people, even those living in the most remote areas. Cusurichi has faced death threats for his opposition to these groups, which invade indigenous territories and national parks and destroy or disrupt the resources local people rely on. He has documented illegal logging, particularly of the prized big-leaf mahogany (Swietenia macrophylla) found in Alto Purús National Park near the border with Brazil.
He has also pushed the police and military to enforce the law. He helped the government establish monitoring posts in the remotest areas of Madre de Dios to curb the movements of loggers and miners. When the state abandoned the posts he trained local indigenous residents to take over, and convinced the government to pay them as inspectors.
Cusurichi has worked closely with local and national authorities in Peru to ensure that the protection of isolated indigenous peoples and the rainforest go hand in hand. He has also taken his message of indigenous self-determination to the international stage, hosting a visit by Pope Francis in the regional capital Puerto Maldonado in January 2018, participating in United Nations climate change summits, and engaging international courts.
As the staggering demand for commodities such as timber and gold reaches the furthest corners of the Amazon rainforest and its most vulnerable residents, Cusurichi is doing battle politically and through legal means to protect them.
Interviewer: What is the biggest threat facing the indigenous peoples of Madre de Dios?
Julio Cusurichi: Illegal mining and illegal logging are affecting not just indigenous peoples but the Amazon as a whole because it means there's disorder in the forest. The authorities have lost control, and that means the loggers and illegal miners can enter wherever they want and destroy, even in territory belonging to the authorities. That's very worrying for us.
We are working with some communities to see how to we can set up territorial regulation in the region. But it's not easy for the community representatives to keep watch and monitor an area because they inevitably collide with big mining interests, who enter their land without even asking permission. When the communities tell them to leave, the miners act with arrogance and often it's the community member who gets reported to the authorities, rather than the other way around.
But in recent months, the authorities and environmental police have been taking action because the communities and the indigenous federation [FENAMAD] are making complaints.
It seems strange that people carrying out an illegal activity can enter a territory that officially belongs to indigenous people without the authorities responding. How is that possible?
Under Peruvian law, miners can ask for plots of land to mine even within community lands. That's why our federation, FENAMAD, is constantly having to block these mining concessions from being granted. In some communities, 100 percent of their land is covered with mining concessions and the miner can legally enter the land because he has a concession there.
Isn't that illegal?
There are requirements that many miners aren't complying with. For example, the law states that they have to ask the property owner — in this case the community — and many miners are not complying with that obligation and should not be allowed to operate.
In other cases, they just barge in without having any concession, causing confrontations and destruction in native territories. There are even cases where it's the authorities who are pushing the miners into the native communities.
Roads, illegal or otherwise, have long been a threat due to the lack of control over the destruction they bring in their wake. What's the current situation in Madre de Dios?
After the Pope's visit to Madre de Dios we had a chance to make our concerns known. Our concern is that our lawmakers are approving laws that endanger the rights of indigenous peoples in voluntary isolation and also try to push roads through their territories, including in Alto Purús National Park. They tried to push this through without the culture ministry [the Peruvian government agency responsible for indigenous rights]being duly informed, without the national parks service's approval nor that of the Indigenous and Amazonian People's Committee.
For our indigenous federation, FENAMAD, if this road was approved it would mean genocide, which is why we spoke out when the Pope visited, warning that this road would bring with it death for our isolated indigenous peoples as it would pass right through the middle of their territory. [The Peruvian parliament rejected a bill proposing the road, but further bills could be proposed.]
When you say such roads would mean death for isolated indigenous people, some say that's an exaggeration and isolated populations need roads in order to move forward. How do you respond to those critics?
I believe we have to make Peru and humanity understand that these indigenous people are not the same as we who live in the city. They are highly vulnerable to any contact. The road is not simply a mode of transport, it would bring with it many things. When there's a road there are invasions of people; when there's a road there's drug trafficking. And what would happen to the biodiversity and natural resources in Alto Purús National Park?
We are not against roads between communities; we want roads. But in this case it would pass through territory where the people are highly vulnerable. Now, [the district of] Purús is isolated and the government must have policies and programs to support such districts, rather than a road. We are willing to work with the government towards this. [Purús's main town of Esperanza is connected to Pucallpa, the capital of Ucayali region, by government-funded air transport; river travel is the only other option.]
How do you see the future for indigenous people in voluntary isolation?
I believe important steps have been made in defense of our brothers. Initially, in 2000 and 2001, the government simply said this was an invention. They said there were no isolated indigenous people in Peru and it was a myth created by the indigenous organizations to get funds.
Now it's been shown to be true. In 2005 the government itself, through the national parks service, identified these people. Now it's not a myth, it's a reality that these people exist, not just in Madre de Dios but also in other parts of the Amazon region.
Now, what FENAMAD is doing to help these people is creating posts for control and surveillance in the territorial reserves and it's the indigenous people themselves who are the protection agents. We are implementing a plan, with help from the culture ministry, to increase control and surveillance in the posts.
There's a difference and this is why. FENAMAD has legally filed a precautionary measure to the Inter-American Commission on Human Rights to protect the lives of these peoples. This obliges the Peruvian government to work with its ministries to figure out policies in the service of these people, and this is really helping. I believe FENAMAD will continue with this international case because the isolated indigenous tribes are people just like us and have the right to continue living the way they want to live.
Do you believe that indigenous people are truly protected by the state?
Our situation is very complicated, which is why many leaders don't go public about these issues. Because to confront illegal mining and illegal logging is to confront politicians and businesspeople with a lot of economic power. And that means our lives are at risk.
But it's our job is to confront them because it's the only way to solve the problems. For example, in the case of the Masenawa community confronting miners in Barranco Chico in Madre de Dios. The indigenous community asked the authorities to take action and the miners responded with attacks on their lives.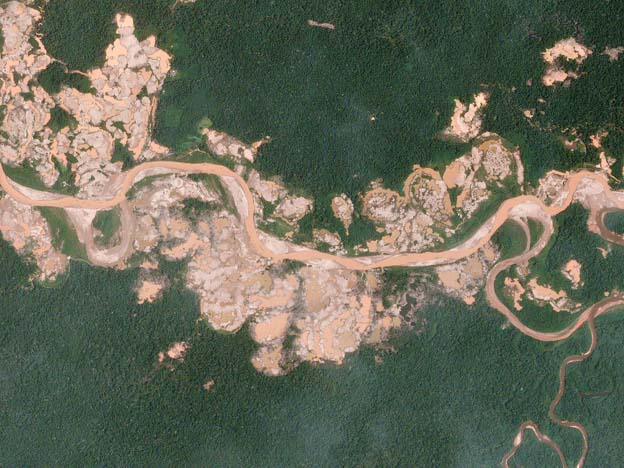 We don't understand how, when a community defends its territory, the lives of its people should be put at risk. In these cases the authorities have to act swiftly so that when illegal invaders threaten their lives, legal action can be taken against those people. Those who defend their territories put their lives in danger.
Multiple studies show indigenous people are the best defenders of the forest, which in turns helps to fight climate change. Is the Peruvian government taking notice of the international consensus?
I don't believe Peru is really taking notice. We feel that the government is not committed to the international agreements. Rather it is us, the indigenous people, who are proposing that the government conserve out territories, and use our human resources as forest inspectors.
We indigenous federations, such as FENAMAD and AIDESEP [the umbrella group of Peruvian Amazon indigenous federations] took part in the COP24 in Warsaw, Poland, and there we got to know about the strategies for indigenous people [to become engaged in combating climate change]. We are the people on the front line who are taking care of the forest; it's the indigenous brothers who are looking after the forest and helping to make governance of it more sustainable.
Looking to the future, what are the main challenges indigenous people face in Madre de Dios and in the country as a whole?
The challenge is for us to have a greater role in governing our territories. For example, there are many natural areas that are ancestral indigenous territories, but they are administered by the state and it is having problems. So the challenge for us is to ensure that the protected natural areas are jointly administered between indigenous people and the authorities. When it's the authorities by themselves it hasn't worked and it's not going to work. What works is what we are proposing.
The goal is for indigenous people to be the protagonists. We have to administer the Amazon regions that are our ancestral territories and not just leave it to the government.
Editor's note: This article was previously published by Mongabay
Editor's note: This interview has been translated from Spanish and edited for clarity and length.
Editor's note: Cover photo by Dan Collyns
YOU MIGHT ALSO LIKE
Now that you're here:
We're asking you, our reader, to make a contribution in support of our digital guide in order to keep informing, updating and inspiring people to visit Peru. Why now? In our near 20-year journey as the leading English-language source on travel in Peru, we've had our fair share of ups and downs-but nothing quite like the challenges brought forth in the first quarter of 2020.
By adapting to the changing face of the tourism and travel industry (on both local and international levels), we have no doubt we will come out stronger-especially with the support of our community. Because you will travel again, and we will be ready to show you the best of Peru.
Your financial support means we can keep sharing the best of Peru through high-quality stories, videos and insights provided by our dedicated team of contributors and editors based in Peru. And of course, We are here to answer your questions and help whenever you need us.
As well, it makes possible our commitment to support local and small businesses that make your visit an unforgettable one. Your support will help the people working in these industries get back on their feet once the world allows us to make our dream of enjoying everything Peru has to offer a reality again-from its mouthwatering gastronomy, thriving Amazon and archaeological wonders such as Machu Picchu.
Together, we will find a way through this. As a member of our community, your contribution, however big or small, is valuable.
Support Traveling & Living in Peru from as little as $1 - and it only takes a minute. Thank you!