If you are looking for a special dining experience, look no further. At Baco y Vaca you will find excellent food, incredible wines and cocktails, professional and attentive spot-on service. Baco y Vaca is owned by David Sakihama and has been open for 12 years.
One of the highlights of our experience at Baco y Vaca was José Bracamonte, their charming, knowledgeable and entertaining wine sommelier with 20 years of experience. The team of Traveling and Living in Peru had the pleasure of touring Baco y Vaca's intimate and exquisite, private underground wine cave with José and viewed more than 1,000 bottles and over 70 wine labels. The wine cave may be reserved for up to 8 people to enjoy a unique wine experience. José is instrumental in the well-chosen variety of wines available at Baco y Vaca.

We proceeded to the cozy and modern rooftop terrace on the 2nd floor to begin our culinary experience. We began with a mason jar filled with artisanal pickled vegetables and peppers (encurtidos verduras y ajies) and an amazing breadbasket.

We sampled one of the newer cocktails at Baco y Vaca created by bartender, John Juarez. The Chilcano Nikkei was a refreshing concoction prepared with Cuatro Gallos Mosto Verde Torontel Pisco, aloe vera, rice wine (mirin), Sumó juice de kiuri (Japanese cucumber) and lime oil.

The food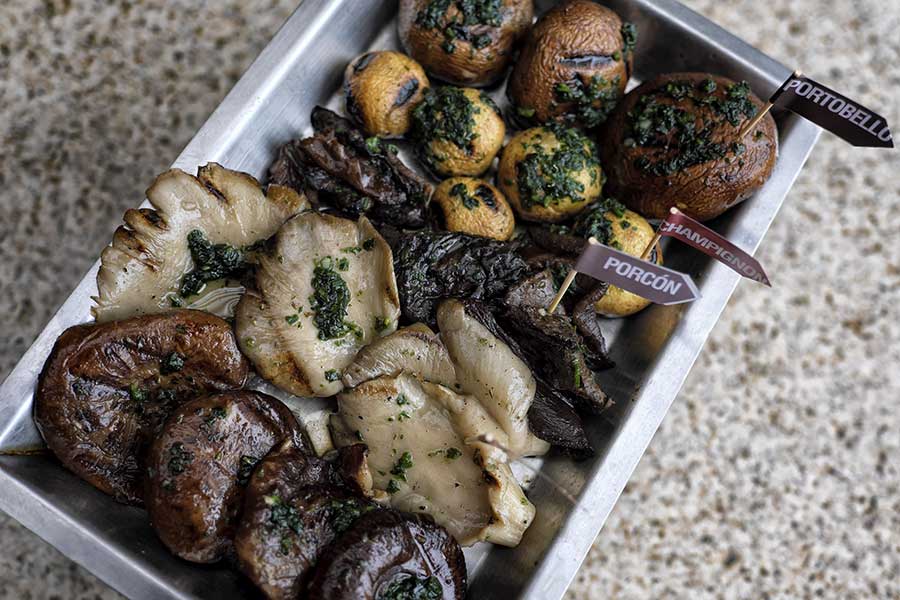 The Degustación de Hongos a la Parrilla (S/. 55) was a table pleaser. Five varieties of mushrooms: Oyster, Porcon, Shitake, Portobello, and button mushrooms were served on a mini charcoal grill at our table. This is definitely for the truest of mushroom lovers, unrelentingly mushroomy heaven. This is an ideal vegetarian option as well.
The first wine we sampled was the superb, award-winning Peruvian wine from the Ica Valley, Tacama Seleccion Especial Alicante Bouschet. José informed us that this grape was "rescued" and no one else prepares this wine. It is a cross of Petit Bouschet and Grenache. It spends six months in a French oak barrel. It was the ideal wine to accompany the first few dishes.
Baco y Vaca is well known for its specialization in high-quality beef and grilled dishes. The big surprise the day of our visit was their preparations of the classic Peruvian dishes that we sampled. Hats off to head chef, José Siguas, and his culinary team, including César Sequeiros. These dishes were extraordinary and deeply flavorful.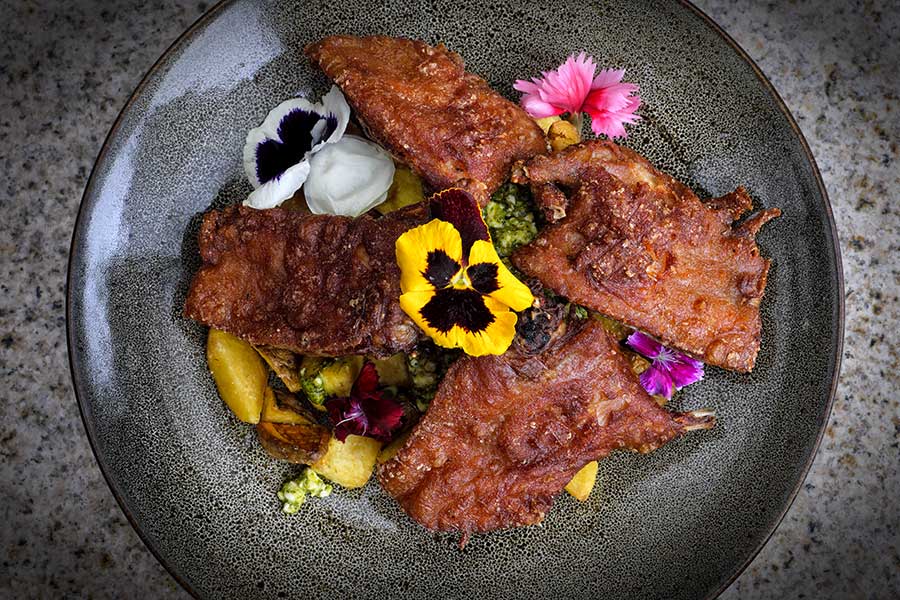 For the adventurous diner, the Cuy Crocante Cocido a Baja Temperatura con Papita Nativa y Capchi (S/. 99) was definitely a winner. The guinea pig was crunchy on the outside and the meat inside was tender. It was fried twice in aromatic oil and lard (clarified pork fat) to improve the texture and slow-cooked for 45 minutes. The crunchy cuy was presented resting on top of a generous portion of "corazon rojo" cubed Andean potatoes from Tumbay and the marvelous fresh cheese "capchi" mixed with huacatay and other Andean herbs. This was definitely one of the most eye-pleasing and delicious renditions of this dish that I have had the pleasure to eat. Baco y Vaca's version elevated this dish from respectable to memorable.
Another wine we thoroughly enjoyed was also from the Ica Valley vineyard, Tacama Don Manuel Petit Verdot. This wine was a bit more robust than the first wine we sampled. Petit Verdot is a variety of red wine grape, principally used in classic Bordeaux blends.

Next up was the Rocoto Relleno con Pastel de Papa Nativa (S/. 65), an absolutely amazing rendition of this popular dish from Arequipa. Baco y Vaca's version incorporated tender Angus beef, mozzarella, Characata cheese (from Arequipa), hard-boiled egg and black olives and a homemade pomodoro sauce which generously filled the rocoto pepper (actually a fruit). This dish was accompanied by a pastel de papa. The components were traditional for a rocoto relleno, but the quality of the ingredients and presentation took it to a new level.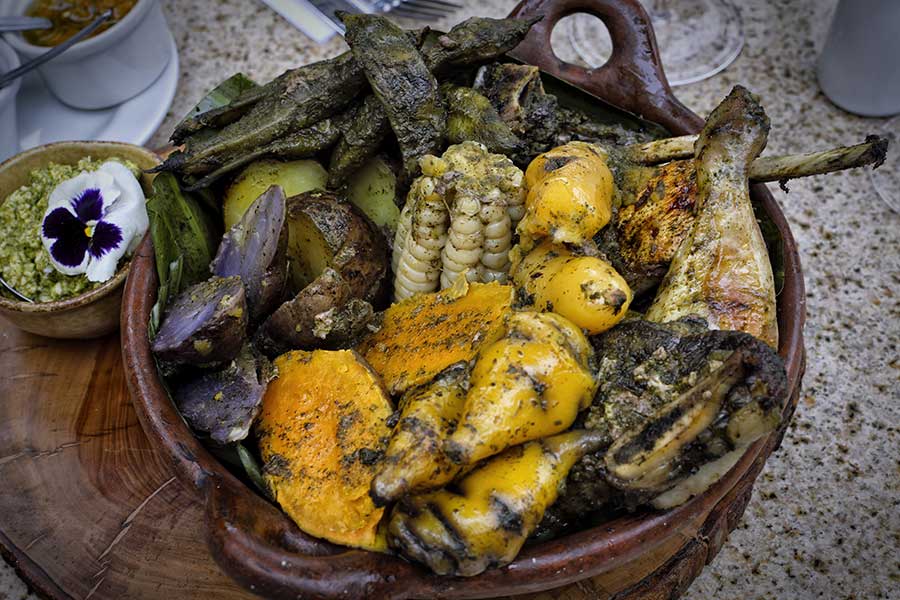 The Pachamanca Angus al Kamado (S/. 150), was a bountiful presentation of Asado de Tira Angus, lamb, baby chicken, and panceta, served with native Andean potatoes, oca and mashua (tubers), habas (Peruvian fave beans), choclo (corn), and sweet potato, all seasoned liberally with Andean herbs served in a large clay pot. The addictive sauce of salsa capchi de la casa accompanied this dish. This dish was cooked for 2 ½ hours in a Kamado oven. The kamado is a Japanese, slightly egg-shaped ceramic oven which allows slow cooking and also allows you to grill, smoke, and bake at high temperatures. This was one of the best preparations of Pachamanca that I have enjoyed since I moved to Peru over 12 years ago. Everything was cooked perfectly and full of flavor. Many times it is dry and overcooked. A perfect dish for the current chilly Lima weather and generous enough to share between several people. The Pachamanca version at Baco y Vaca was a joy unto itself.
Desserts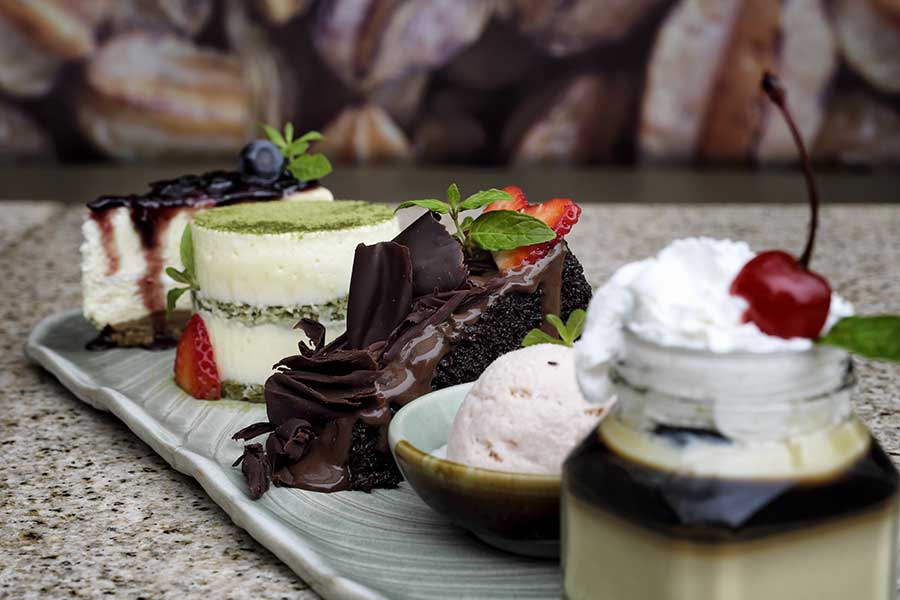 The desserts did not disappoint. We shared the Carousel (S/. 38), the chef's selection of 5 different desserts (Cheesecake de Uva, Tiramisu de Matcha, Chocolate Cake, Helado de Sal de Maras, and Crema Volteada). All of these desserts are also available by themselves on the dessert menu. They were all delicious, but our personal favorites were the Tiramisu de Matcha. It was incredibly creamy and unique. And the slightly salty ice cream prepared with Sal de Maras was a wonderful surprise. The chocolate cake was a table favorite as well with the 70% cacao from Cusco and a touch of sal de maras, a decadent and balanced cake.

We ended with a wonderfully refreshing cordial, Uva Borgoña Frappe. The combination of Italia Pisco and grape juice combined with crushed ice served in an official Reidel Pisco glass was a perfect finale to our dining experience at Baco y Vaca.

Overall impressions
We found Baco y Vaca's menu, wines, and cocktail list to be ambitious and widely varied. I hope to return in the near future for one of their monthly wine pairings.

Overall we walked away from Baco y Vaca feeling highly satisfied and pampered. Exactly how a premier dining experience should feel like.

Baco y Vaca
Dos de Mayo 798, San Isidro
Phone: 222-2622
Hours: Monday-Thursday: 12:00 p.m.-11:00 p.m.
Friday/Saturday: 12:00 p.m.-12:00 a.m.
Sunday: 12:00 p.m.-5:00 p.m.
www.bacoyvaca.pe
[email protected]
Capacity: 172 people
Instagram
Limited parking & Valet parking
Private rooms available

Starters: S/. 19-69
Piqueos: S/. 33-55
Soups: S/. 35-85
Salads: S/. 19-39
Main dishes: S/. 38-150
Pastas: S/. 40-49
Grill (chorizos, mushrooms, innards): S/. 13-46
Angus Beef: S/. 105-345
Other cuts/meats: S/. 45-139
Parrilla for Sharing: S/. 189-290
Robata Nikkei: S/. 28-75
Side dishes: S/. 13-29
Desserts: S/. 15-38
Kids Menu: S/. 35 (4 options)
Natural non-alcoholic beverages: S/. 10
Coffee: S/. 7-15
Infusions/Teas: S/. 10
Water: S/. 8-25

Full Bar available
Beer: S/. 10-20
House Cocktails: S/. 25-45
Classic cocktails: S/. 25-29
Wines: S/. 77-660 (bottle)
S/. 20-40 (per glass)
Cover photo: Rocoto relleno con pastel de papa nativa/ Marco Simola
Now that you're here:
We're asking you, our reader, to make a contribution in support of our digital guide in order to keep informing, updating and inspiring people to visit Peru. Why now? In our near 20-year journey as the leading English-language source on travel in Peru, we've had our fair share of ups and downs-but nothing quite like the challenges brought forth in the first quarter of 2020.
By adapting to the changing face of the tourism and travel industry (on both local and international levels), we have no doubt we will come out stronger-especially with the support of our community. Because you will travel again, and we will be ready to show you the best of Peru.
Your financial support means we can keep sharing the best of Peru through high-quality stories, videos and insights provided by our dedicated team of contributors and editors based in Peru. And of course, We are here to answer your questions and help whenever you need us.
As well, it makes possible our commitment to support local and small businesses that make your visit an unforgettable one. Your support will help the people working in these industries get back on their feet once the world allows us to make our dream of enjoying everything Peru has to offer a reality again-from its mouthwatering gastronomy, thriving Amazon and archaeological wonders such as Machu Picchu.
Together, we will find a way through this. As a member of our community, your contribution, however big or small, is valuable.
Support Traveling & Living in Peru from as little as $1 - and it only takes a minute. Thank you!