Eating a good steak, or a 'bife', like Argentineans, like to call it, is also a Peruvian tradition.
Av. República de Panamá 6562, Barranco. Tel. 444-1581
Tuesday to Sunday, 12.30 – 23.00
In Costumbres Argentinas people could find, like twenty years before when this restaurant was called Las Pipas and was located in Surco, a classic Argentine grill. This Argentinean grill is run by an Argentine from Cordoba and serves typical plates that are very common in that country (and also a couple that are very difficult to find).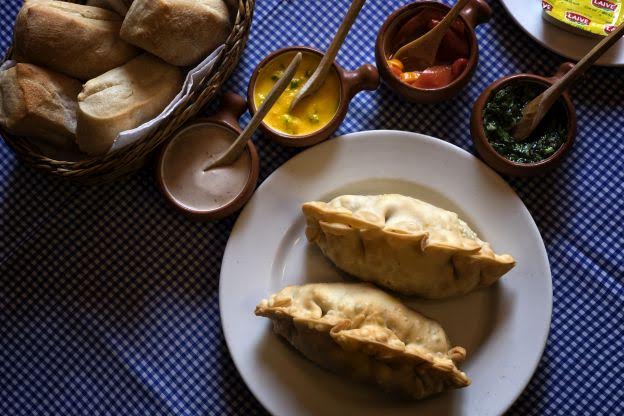 Let's start first with the appetizers: Empanadas, sausages (you can order one or two units), provolone or pariah cheese, many kinds of wings and veggie options (grilled mushrooms and vegetables). Then, the menu has a section called 'Minutas' where you can find the classics like milanesas (breaded meat or chicken) and for the meat, Costumbres Argentinas works with an Argentinean trade meat called Ciudad Lago.
The sides are your typical accompaniment for a grill: french fries, baked
potatoes, fried yellow potatoes (this is an interesting bonus for a Peruvian),
mashed potatoes and white rice.
The best part, as you can imagine, is the meat.
Pork ribs, BBQ ribs, the classic matambre (here matambrito) of lemon pork or Neapolitan brings more surprises. Also the fish: grilled tuna or asparagus with a sauce.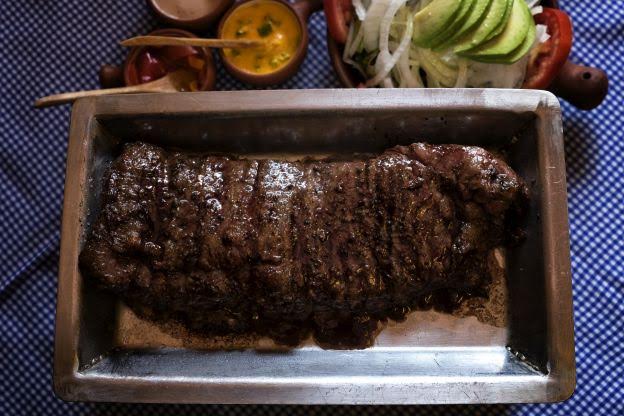 During our visit, we tried the American Angus skirt steak (500 grams), very soft, juicy and in the exact medium term (S/ 109), with a classic salad (lettuce, tomato, white onion and avocado). This and other three cuts are the premium option in Costumbres Argentinas. If you try the Argentinean meat, you will find more options, from the chorizo steak and the beef steak to loin with sauces, including one with Roquefort cheese (S/ 69). The house recommends the steak in a classic way.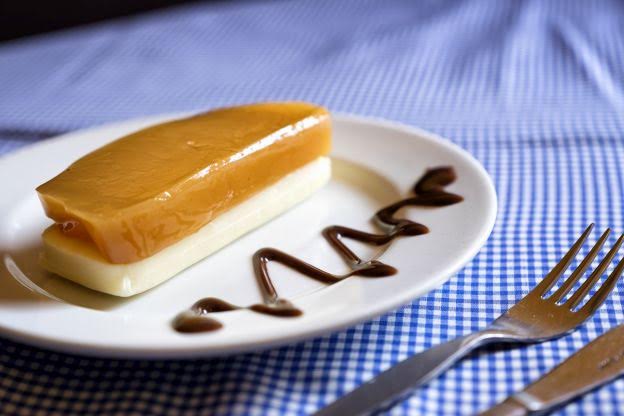 Other Argentinean experiences that you can enjoy in this restaurant are the traditional fernet with coca, a cocktail that can help you with the digestion, and desserts.
There are two desserts that you won't find easily in Argentina: the Vigilante and the Sargento (S/ 25 each one). These consists of a slice of quartirolo cheese under sweet potato or quince jelly. For the consistency and the mixture of tastes, it is a very interesting option.
If you came with a partner or friend, you can order a grill for two (or maybe three) that comes
with salad or potato fries. The wine cellar has Argentinean, Chilean and Spanish labels. The three options of Pinot Noir could be good news for wine lovers.
A final recommendation: do not fill up with the homemade bread.
Sausages (S/ 19 – S/ 24 for two units)
Salads (S/ 12 – S/ 25)
Complements (S/ 10 – S/ 21)
American Angus (S/ 85 – S/ 129 for 500 grams)
Argentinean meat (S/ 72 – S/ 88 for 500 grams)
Grill for two (S/ 135 – S/ 149)
For more restaurant reviews like this, click here!
(Main photo: Marco Simola/Living in Peru)
Comments
comments