Downtown Arequipa has a lot to offer, and Crepísimo has something for everyone. It's perfect for date night or just a tranquilo (relaxed) afternoon.
Serving up a French staple since 2004, Crepísimo delivers an impressively diverse menu to accentuate the best of Franco-Peruvian fusion. Located in the heart of Arequipa's historic district, Crepísimo shares a sun-soaked courtyard with la Alianza Francesa, a nonprofit dedicated to the sharing of French language and culture. As the restaurant builds a reputation among the top tier in Arequipa, their focus remains on building local partnerships to ensure quality, fresh ingredients, as well as offering a comfortable and professional setting for visitors from near and far.
The Atmosphere
The setting and atmosphere
Crepísimo is located on the busy Calle Santa Catalina near the Monastery. The restaurant has seamlessly mixed the traditional white volcanic building with a warm, trendy décor. This crêpería has an inviting atmosphere day or night. The tables in the lower, inside seating area have built-in chess boards, and the upstairs, inside seating area is a cozy nook that looks perfect for sipping coffee and reading a book. Crepísimo's beautiful courtyard is full of plants that add to the ambiance, and there's an awning overhead to keep the harsh rays of the sun away. A huge bonus for travelers is that Crepísimo has a selection of both board games and books for guests to use while they're in the restaurant!
The Food
Crepísimo has a truly extensive menu with many options. Their unofficial slogan is "Más de 100 deliciosos crêpes salados y dulces", which translates to "More than 100 delicious savory and sweet crêpes", and they definitely deliver on this claim. They have also done an amazing job adapting their menu as customers' diets change. They have an array of not only vegetarian options, but they've also created vegan crêpes for everyone to enjoy. It's worth mentioning that any crêpe on the menu can be made with almond flour to accommodate your diet.
True to form, Crepísimo offers an Arequipeño favorite in their signature crêpe style. The Rocoto Relleno Crêpe (S/24) they brought to our table was like a microcosm of what makes Peruvian cuisine so special. The crêpe pastry itself was made from coca flour (optional), giving it its unique green/brown coloration and boasting a rich, earthy taste. This, coupled with tender chunks of beef, spicy rocoto pepper and a satisfying savory sauce, rounded out a one-of-a-kind twist to a local favorite.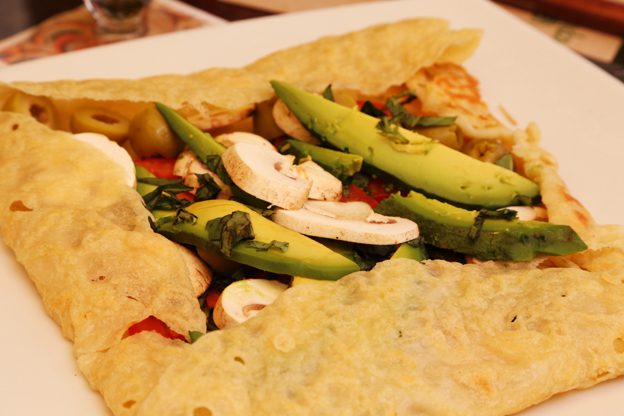 The Crudivegano Crêpe (S/24) is a vegan option in which the pastry is made of almond flour, and it includes avocado, tomato, mushrooms, olives, and basil. While this crêpe is, obviously, a little different due to its vegan nature, it is so fresh and satisfying. The quality of the fresh vegetables is apparent in the taste of this dish.
The Desserts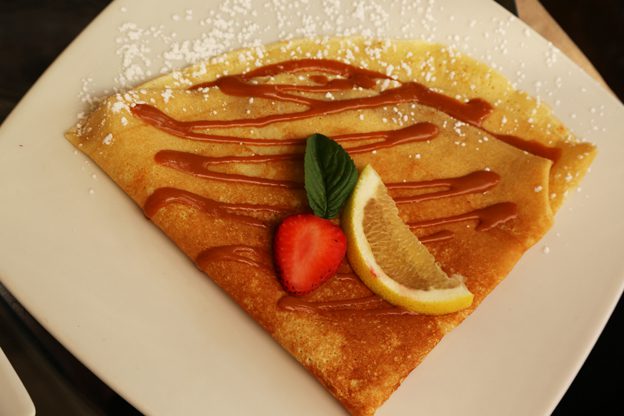 Manjar Blanco, which is a bit like caramel, is a popular ingredient in Peruvian desserts, and the Monteblanco Crêpe (S/12) has it all. Filled with just the right amount of Manjar Blanco and topped with a slice of lemon and strawberry, a sprig of mint, and sprinkled with powdered sugar, this dessert has the perfect balance of sweetness.
The Del Bosque Crêpe (S/22) is a luscious dessert filled with blueberries and sweet cream. Topped with a lemon and strawberry slice and a mint leaf, this is a pastry lover's dream.
The Drinks
As we mentioned before, the menu at Crepísimo is large, and the drinks are no exception. They have what everyone could want from tea and coffee to fresh juice, to a large variety of beer, cocktails, and wine.
Chicha Morada de la Casa (S/7) is a homemade purple corn drink popular in Peru. While some versions of chica morada can be too sweet, Crepísimo makes theirs without sugar so that you can add in just the right amount for you.
Crepísimo also has a wide array of fresh, made to order juices, and the Jugo de Papaya Arequepeño (S/8) was as refreshing as ever.
If you find yourself in Arequipa, Crepísimo is definitely a place to visit. With their vast menu, amazing location, and laid-back atmosphere, this is a good place to visit for breakfast, lunch, or dinner.
Crepísimo
Santa Catalina 208, Cercado de Arequipa
Phone: (51) 54 206 620
Facebook
Hours
Monday – Sunday: 8:00 a.m. – 11:00 p.m.
Menu
Menús del Día: S/34 – S/39
Savory Crêpes: S/14 – S/36
Sweet Crêpes: S/8 – S/26
French Breakfasts: S/8 – S/20
Extras: S/2 – S/12
Snacks & Tapas: S/36 – S/40
Salads: S/20 – S/26
Sandwiches: S/12 – S/26
Waffles: S/12
Desserts: S/3 – S/44
Drinks: S/2 – S/80
Alpandina Products: S/6 – S/120
Comments
comments