Doce is a contemporary and slightly avant-garde Peruvian restaurant which opened its doors in August of 2018. Though they used to be open only in the evenings, their doors are now open for both lunch and dinner.
Doce's surprising location is on the 22nd floor of the Bloom Tower corporate building in Magdalena. It is the highest dining terrace/rooftop in Lima. It is spacious, with approximately 500 square meters of space which includes their elegant main dining room, large outdoor terrace, and an outdoor lounge, all with spectacular views of the city. There is not a bad seat in the house. The view on the terrace offers a panoramic 280-degree view of the city and coast. I can only imagine during the evening that the view is incredible as well with the city lights. There are plenty of portable heaters for the upcoming cooler weather. The decor on the large terrace area includes a fresh, urban and eclectic mix of natural elements such as marble tables, wicker chairs, stone flooring, wood, recycled and funky functional yellow and green rubber chairs, botanical throw pillows, comfy couches, and plants. It's conversation-friendly and has a comfy vibe.

The large dining room is elegant, chic and has several areas to enjoy your meal or cocktail. Seating runs the gamut. You can seat yourself at an intimate table for two, at a table for 10, or at the long marble bar. All of the seating provides guests with plenty of privacy as well. I really enjoyed the swank decor, the vibrant, rich teal green velvet chairs, and caramel-toned leather chairs. The kitchen is open and full of energy. The spacious premises are ideal for small or large private parties and corporate events.
We were very impressed by the passionate and motivated chef, Vincenzo Lulli. This is his first foray into flexing his creative and culinary muscles as a head chef. Even though only 25 years old, he has clear ideas and vision of the cuisine he wants to offer at Doce. His youth brings energy. Vincenzo graduated from Le Cordon Bleu Lima with honors in 2014 and then worked for 1 ½ years at Cala in Lima. From there he went to Barcelona in order to complete a 5-month internship at the 1-Michelin star Pakta. He then spent a year working at Poke Maoli. Vincenzo helped open Gaston Acurio's restaurant Yakumanka in Barcelona and worked there 3 months before he ended up preparing Catalan food at La Cuina d'Garriga.
The food

Doce's current menu is impressive. Though their new autumn menu (just launched on April 25th) still offers modern Peruvian dishes with Mediterranean influences, some of their past dishes have been reinvented with new flavors, twists, etc. Every season Doce renews their menu. The dishes we sampled were from their summer menu and were delicious and innovative. They also incorporated unique and native ingredients to Peru. Many of the herbs, greens, cherry tomatoes, and edible flowers used in our dishes came from their flourishing rooftop garden as well.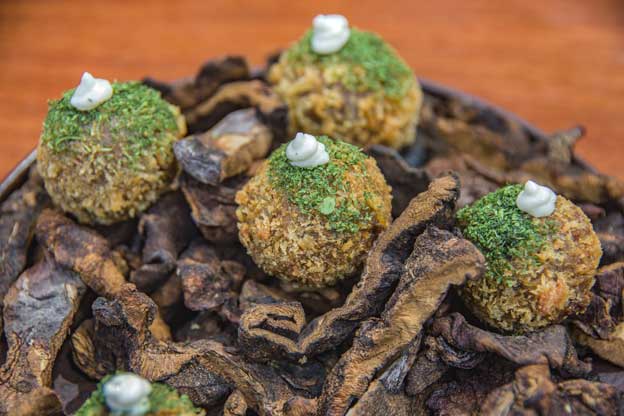 We began our culinary experience at Doce with the earthy Croqueta de Hongos de Porcon (S/. 28). These four croquettes were the real deal. The croquettes were generously filled with a mixture of mushrooms from Cajamarca and then rolled in panko breadcrumbs which made these nice and crispy. The croquettes were then topped off with parsley "dust" and a dollop of white truffle mayonnaise. Every bite was a pleasure to eat. These are the ideal starter for mushroom lovers. An absolute homage to Porcon mushrooms. This was definitely a promising start to our culinary adventure at Doce.

The Pizza Crocante (S/. 36) was our second starter. A combination of goat cheese, mozzarella, prosciutto, arugula, and honey with a touch of blueberry and slivered almonds. The cheese used for this pizza was excellent and came from third generation cheese producers from the Chillón Valley (40 kilometers outside Lima).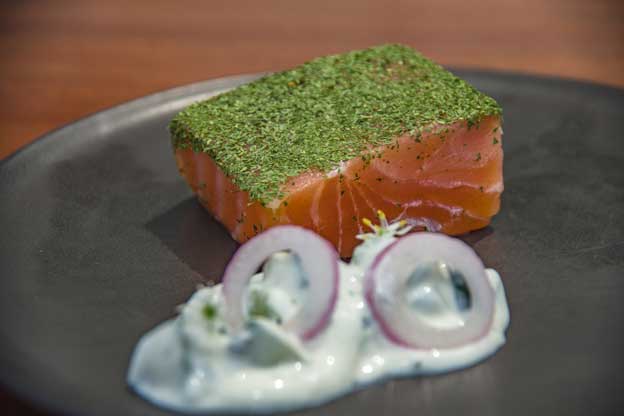 We moved on to the Salmon Ahumado al Cilindro (S/. 48) from the Crudo/Semi Crudo section of the menu. This dish was divine. The salmon was cured with salt and sugar and then smoked in the cylinder along with herbs from Doce's garden for 30 minutes. The salmon had a generous coating of parsley "dust" on top. The salmon was rich and luxurious and I felt the tzatziki sauce balanced the dish with a bit of acidity and freshness. The sauce was prepared with a mixture of Greek yogurt, garlic, muña (Andean mint), and kiuri (Japanese cucumber). The sauce was topped off with shallots, dill and a touch of mezcal. I would definitely return for this dish because I'm a salmon lover. Chef Vincenzo told us this dish most likely will be "reinvented" and replace the salmon with native Peruvian trout.

The Carpaccio de Lomo Curado (S/. 43) was another winner. The beef tenderloin was cured in salt and sugar for 4 hours, sliced thin and then topped off with an elegant composition that included dill, cherry tomatoes, pickled carrots, pickled shallots, and small dollops of Greek yogurt with maca. This was an excellent carpaccio rendition and ideal for sharing.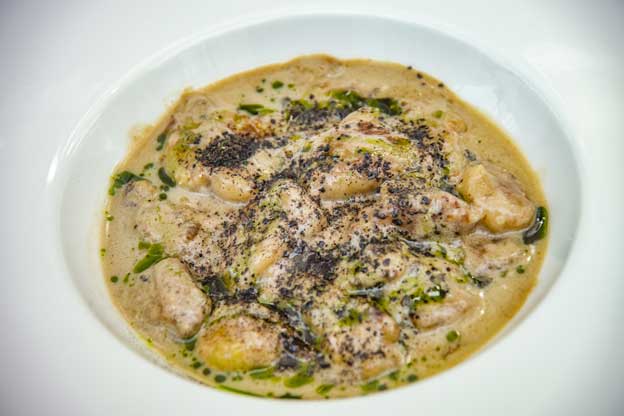 The Gnoccis de Arracacha (S/. 42) was a bit of a "comfort food" dish for us. This version of gnocchis was prepared with squash (zapallo) and arracacha (a versatile root vegetable native to the Andean region of South America, similar to a sweet potato in flavor). The sauce included assertive ingredients such as castañas (Brazil nut milk), truffle oil, mushroom dust, and parsley oil. This dish was slightly sweet, salty, earthy and bold.

The Paiche Marinado en Miso (S/. 68) incorporated the native river fish from the Amazon, paiche, and served it with a creamy purée made with pituca (a tuber from the jungle) and accompanied by shiitake mushrooms hydrated in dashi, and bok choy. This dish was good but did not impress me like the others.

THE DESSERTS

The desserts were a revelation and highly enjoyable. Our first dessert, Picarones de Maiz Morado (S/. 31), was an innovative version of the popular traditional Peruvian "doughnuts" which are typically prepared with squash or sweet potato. This version incorporated chicha morada (purple corn beverage) into the picaron dough. The six picarones were darker in color because of the purple corn and I found the flavor a bit richer and more interesting than the traditional version. The picarones were generously drizzled with a syrup made with chancaca (molasses) and accompanied by a wonderfully delicious cinnamon ice cream resting on top of a bed of crushed pecans. The presentation of this dessert was both rustic and refined.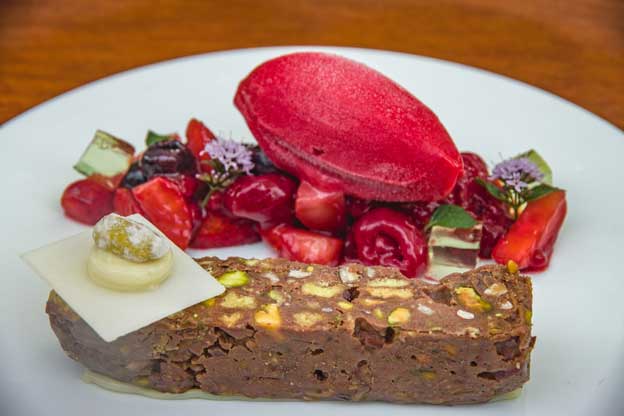 The Turrón de Chocolate y Pistachio (S/. 34) was a perfectly balanced dessert between the richness of the chocolate and freshness/acidity of the sorbet. The turron was prepared with 70% cacao and a liberal amount of pistachios and accented with a white chocolate decoration and a touch of sal de maras (salt). The sorbet was prepared with fresh raspberries and rested on top of a mixed berry (strawberry, raspberry, blueberry) coulis, along with refreshing gelatin cubes filled with apple liqueur, and delicate violet flowers as a decorative finishing accent.

The drinks

Besides the fabulous food, Doce also has a varied and creative cocktail menu. We sampled two brand new cocktails that will be on their new menu. The Tres Amores (S/. 35) was a tart and refreshing combination of Pisco Italia, juices of aguaymanto, passionfruit juice, golden pineapple syrup, and coconut. This elixir was served in a martini glass and accented with angostura bitters and a sprig of dill.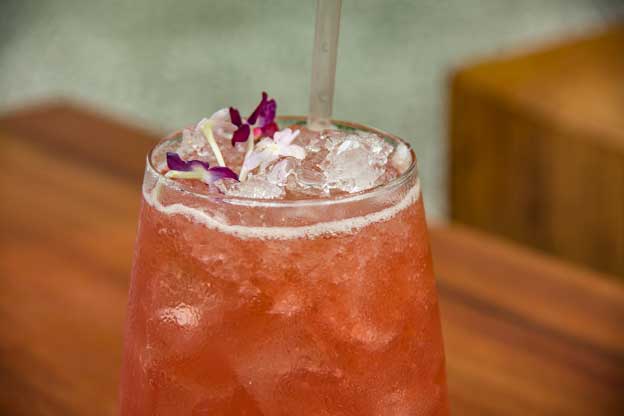 The Cloris (S/. 36) was a wonderfully unique concoction of Tito's Vodka, Violeta liqueur, a splash of Flor de Jamaica (hibiscus) juice and syrup, Tahiti lime juice, and Fever Tree elderflower, and decorated with tiny violet flowers. This was my personal favorite. I enjoyed the unique floral sweetness with the combination of vodka.
Doce offers live music on Thursday, Friday, and Saturday as well as a DJ. Doce tends to be busier during the evening hours.
The prices at Doce are not for those on a tight budget, although I feel the relation between price and quality is fair. Doce = amazing food and views, a dedicated and creative chef, and enthusiastic staff and owners. I look forward to returning soon to taste the new dishes.
Doce
Jr. Flora Tristán 310 (22nd floor, Bloom Tower), Magdalena Del Mar
Phone: 510-2222
Hours: Monday-Wednesday: 12:00 p.m.-1:00 a.m.
Thursday-Saturday: 12:00 p.m.-3:00 a.m.
Closed Sunday
Valet parking
Reservations accepted
www.azoteadoce.com
Instagram
Capacity: 227 people
Starters/Piqueos: S/. 28-42
Crudos/Semi Crudos: S/. 43-64
Vegetable dishes: S/. 32-46
Rices/Pastas: S/. 42-70
Mains (Fish/Meat/Poultry): S/. 55-120
Desserts: S/. 34-42
Non-alcoholic house beverages: S/. 22
Water/Soda: S/. 8-42
House Cocktails: S/. 35-42
Chilcanos: S/. 26
Tonics: S/. 35-80
Classic Cocktails: S/. 25-49
Beer: S/. 14-18
Wine list available

Now that you're here:
We're asking you, our reader, to make a contribution in support of our digital guide in order to keep informing, updating and inspiring people to visit Peru. Why now? In our near 20-year journey as the leading English-language source on travel in Peru, we've had our fair share of ups and downs-but nothing quite like the challenges brought forth in the first quarter of 2020.
By adapting to the changing face of the tourism and travel industry (on both local and international levels), we have no doubt we will come out stronger-especially with the support of our community. Because you will travel again, and we will be ready to show you the best of Peru.
Your financial support means we can keep sharing the best of Peru through high-quality stories, videos and insights provided by our dedicated team of contributors and editors based in Peru. And of course, We are here to answer your questions and help whenever you need us.
As well, it makes possible our commitment to support local and small businesses that make your visit an unforgettable one. Your support will help the people working in these industries get back on their feet once the world allows us to make our dream of enjoying everything Peru has to offer a reality again-from its mouthwatering gastronomy, thriving Amazon and archaeological wonders such as Machu Picchu.
Together, we will find a way through this. As a member of our community, your contribution, however big or small, is valuable.
Support Traveling & Living in Peru from as little as $1 - and it only takes a minute. Thank you!