Playa las Pocitas, Máncora is the base for one of Peru's culinary gems: Donde Teresa. The gourmet beachfront restaurant is inspired by and named after Peru's first TV Chef, Teresa Ocampo.
This gourmet restaurant, right at the beach, is run by Javier. He learned from his mom, the TV Chef and legend Teresa Ocampo who was the first female chef to have a TV Show (What Will I Cook?) for over 30 years. Teresa taught many home chefs the basic ingredients that must be in every dish: 'Love! Cook with Love'.
Her son Javier certainly continues the family's culinary tradition; he surely loves to cook with love! The refined menu of traditional and modern Peruvian dishes is his tribute to the legacy of his mom.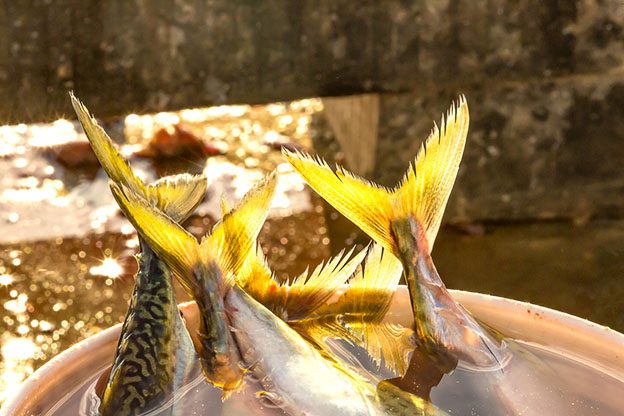 He lives the dream of many, living at the beach, going to the sea for the catch of the day, and creating maritime culinary art in his kitchen while listening to the sound of the waves.
It's a special ambience—utterly relaxed and sunny with superb food to be enjoyed, and a welcoming host to drink your first Pisco Sour with!
The Food
THE FOOD
Advice: Allow yourself some time to take in the menu card. You will surely find that you would like to order more than can be eaten.
I had a hard time choosing one thing. Every dish seems to come in different variations. There are four ceviches and the tuna comes in a variety of ways: carpaccio, tartar, sashimi, steak, or have it as a hamburger. Wow!
Having trouble choosing which causa to order?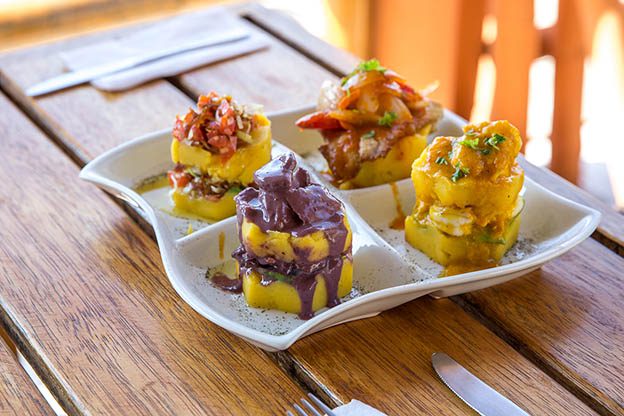 There is a perfect solution for that: have the Cuarteto de Causas Marinas (S/50) as a starter. You will get the hang of the seafood right away—one with a signature black olive sauce, one chiclayana (fish), one with tuna, and the fourth with langostinos (prawns) made with an exotic curry twist. It surprised me how well the curry combined with the potatoes.
Such a starter has just one "problem"; the portions are big and there was still the main and the dessert to come! Thankfully, I am blessed with always having a huge appetite for food.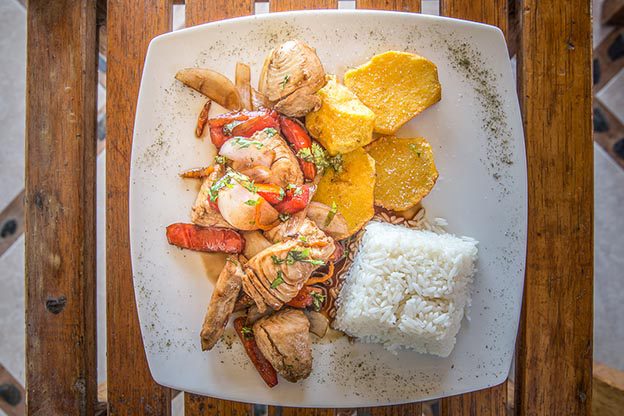 On a hot and sunny afternoon, my favorite Peruvian plate is the ceviche. The Classic Ceviche (S/27) at Donde Teresa is still one of the best I have tasted. When at a restaurant, I am always curious to sample the signature dish. Lomo Saltado is another classic dish, which at Donde Teresa is translated to its maritime variant, Saltado de Atun-Teresa (S/34).
In this plate, the culinary talent of the mom and son blend together—Teresa is famous for her Peruvian recipes and Javier adds a secret twist of his own to it, resulting in a particularly refined and refreshing take on the saltado dish.
The Carpaccio de Atun – Oriental Style (S/27) is another impressive dish on the extensive menu. If you are not in an exotic oriental mood, there is an Italian-Parmesana Version (S/27) of the Atun Carpaccio as well. In both cases, I am always intrigued by how chefs can slice it so thin and still have all ten fingers, but that's probably just me.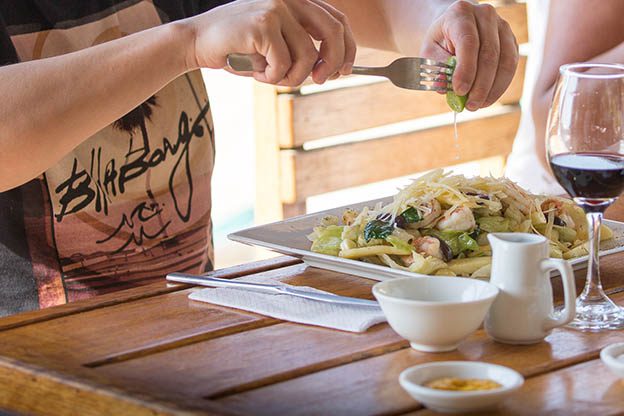 There is only so much one can eat, so I did eye over the plates at the other tables and ended up having a nice chat with a couple. The gentlemen thought his Ensalada de Teresa (S/25) was 'muy rico', especially after he squeezed some extra lemon onto it.
If you are at Donde Teresa on a Saturday, you can have a Chancho al Palo (S/35) that is slowly roasted on-site for hours. Also, consult with Chef Javier on the chef's specialty of the day, or let him surprise you with what he's creatively cooking up.
The Desserts
A day at the beach is not complete without ice cream, and at Donde Teresa they serve big scoops of artisanal ice cream. Have your pick of two flavors for S/12, including classic vanilla or exotics like algarrobina and lúcuma chips ice cream.
Personally, I got addicted to the divine Mousse de Chocolate (S/15). It's for the best that the recipe is a family secret so I can't try and make it at home every day. The special twist is the combination of orange zest, pisco, and fine quality chocolate (from the cacao region of Peru, of course). Irresistible!
The Drinks
The cocktails and the good wine selection are good reasons on their own to stay at the affiliated hotel, Hotelier Arte & Cocina. Enjoy the food and the booze at Donde Teresa and have no need to drive or be in a moto-taxi afterwards.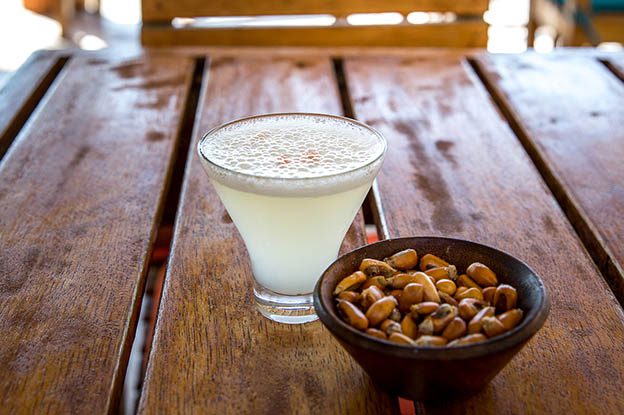 Of course, there is Pisco Sour (S/14) and a good selection of wine to choose from. The bartender also knows how to mix some fine cocktails (S/14 – S/18).
Cocktail Drinking Tip: Stay at the hotel. Apart from the hotel being lovely and comfortable, as a guest you get two cocktails for the price of one!
Do you want to improve your skills to shake a divine cocktail? Sign up for the cocktail shaking workshop.
What else?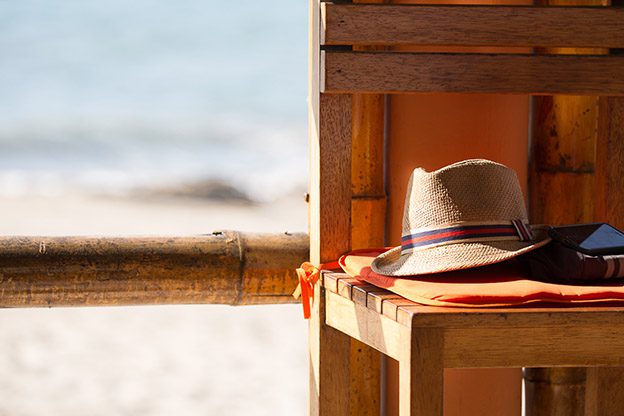 One can deviate from the regular menu and go for one of the specialties that Javier offers tailor-made.
For example, back to nature: Fish your Dish! Spend an enjoyable time out on the boat, and hopefully, you catch something so spot on that you will indulge in the freshest fish dish ever!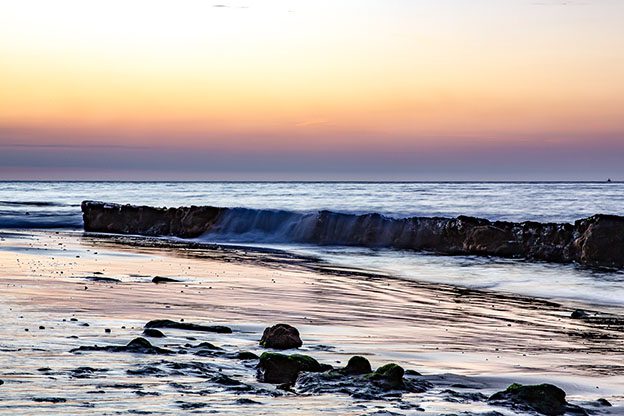 More into the romantic mood? Have your special table for two set up at the beach for some fine wine and dining. Worried about being distracted by having kids around? Get them to roast their own marshmallows at the beach campfire.
Donde Teresa / Hotelier ARTE & COCINA
KM 1214.4 Panamericana Norte antigua
Las Pocitas Acceso Mancora, Peru
Hours
11:00 a.m. – 10:00 p.m.
Every day, including holidays
Prices
Appetizers/Starters: S/25 – S/30
Salads: S/25 – S/30
Ceviche/Tiraditos: S/27 – S/29
Fish/Shellfish: S/22 – S/34
Langosta a la Plancha (pre-order day before): S/70
Desserts: S/12 – S/15
For Children: S/15 – S/20
Soda: S/4.50
Beer: S/6 – S/8
Wine: S/40 – S/100 per bottle
Cocktails: from S/14 – S/18 (2×1 for S/15 if you are a guest at the hotel)
Juice: S/8
Coffee/Tea: S/5 – S/4
Comments
comments