Dig in to large portions of chaufas, aeropuertos and lomo saltados at Doomo Saltado, a popular restaurant in Lince with a big heart for social responsibility.
Kitchen/Marco Simola

Interior/Marco Simola
Doomo Saltado, now a highly popular restaurant in Lince, opened its doors in 2012. The name is a play on the Japanese phrase doomo arigato (thank you very much) and the Spanish term for sauteed (saltado). The sautéed dishes are prepared one by one in the kitchen for the sake of quality. Doomo has a wide variety of chaufas, aeropuertos and lomo saltados, all to be topped with your favorite ingredients and accompaniments. They also offer Japanese dishes which should come as no surprise as the owner and manager, Edinho Hayashida, comes from a Japanese family that settled in Peru decades ago.
Edinho, a third generation Japanese-Peruvian, has definitely made of Doomo a successful restaurant that cares about its customers, the environment and social well-being. Doomo's high dose of social responsibility has found an alliance with Enseña Peru, an NGO that promotes quality education, and Sinba, an NGO that collects leftovers from restaurants and processes them; two strategic partners that benefit many Peruvians.
Exterior

Aeropuerto nikkei
Located on a corner of a busy street in Lince, Doomo Saltado has a fairly large and spacious locale. Edinho mentioned that he wants to make sure customers feel comfortable moving around and talking without the neighbors listening to their conversation. He adds he wants to make sure the property is inclusive and that people with disabilities, for example, are able to move around.
The decoration is modern and minimalistic with black and brown tones largely predominating. A bar stands at the entrance along with a small shop with merchandise, origami frames and Japanese snacks and drinks. Fifteen percent of what is sold is donated to Enseña Peru.
Lomo saltado con papas amarillas

Mía iced tea
Starters and Main Dishes
The menu at Doomo is large and so are their portions. One of the most popular dishes is the Papas maestras (S/ 18). This is a huge portion of crispy fried yellow potatoes mixed with fried pancetta, covered in an abundant amount of cheddar and Chinese sauce, and topped with a fried egg. This dish was luscious, decadent and quite rich; perhaps not my kind of food, but my colleagues devoured it and loved it. This dish easily feeds two or more hungry people, and by ordering it, you contribute towards a child's education.
After this heavy start, we tried a lighter option: one of their salads. We had the Salad Doomo (S/ 23), a large bowl filled with lettuce, carrots, red peppers, avocado, fried wontons and sautéed shrimp. While the salad is nothing innovative, the flavor of the shrimp was excellent.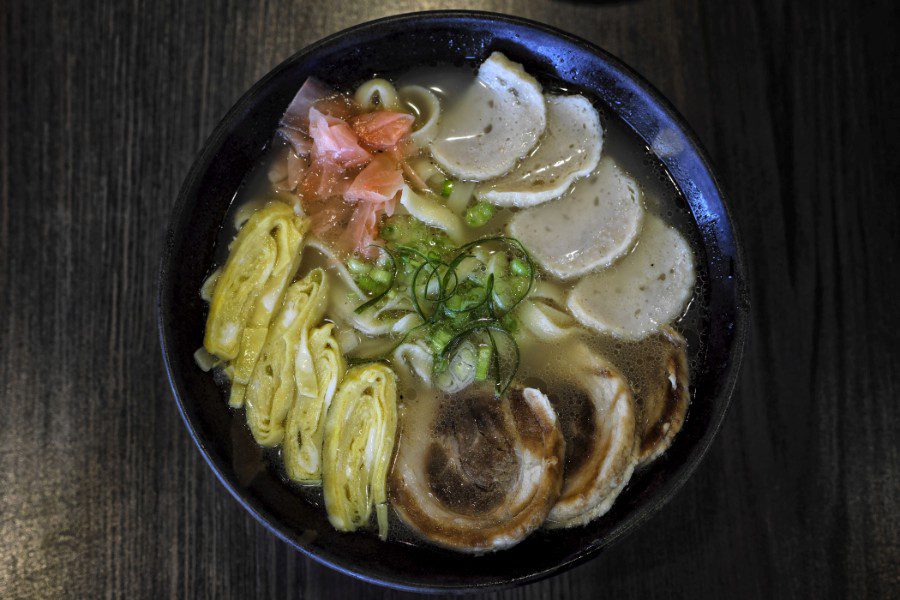 Several types of soups are available, including ramen, however we opted for the house favorite: the Okinawa soup (S/ 30). This was another big bowl filled with a wonderful concoction of hen, pork and dashi (Japanese soup stock) broth, plenty of delicious homemade soba noodles, veggies, ginger, egg, kamaboko (fish cake) and pancetta. The soup was full of flavor with pleasant notes of ginger. I also enjoyed the soba noodles very much as they were fresh and al dente while the pancetta was tasty as could be. You can order half a portion which is very convenient in case you want to try other dishes.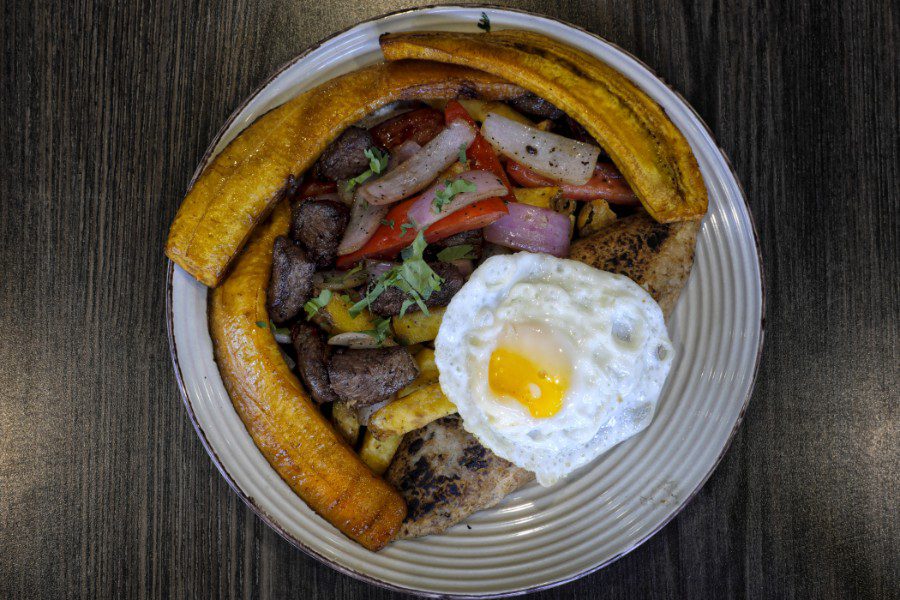 The chaufas and aeropuertos are quite popular at Doomo, with chicken, meat, pork, shrimp and vegetarian options. We had the Aeropuerto Nikkei (S/ 30), a large dish of fried rice mixed with pancetta, chicken, meat, moyashi (Japanese bean), veggies, fried tortilla and fried ramen noodles; it was pretty good. However, the star at Doomo is certainly the Lomo saltado. Once again, customers may choose their ingredients and accompaniments, such as risotto, ají de gallina, spaghetti and causa among others. We tried the classic Lomo saltado (S/ 27 with cuadril, and up to S/ 37 if lomo fino, or tenderloin, is used) and the Tacu tacu con Lomo saltado a lo pobre (S/ 36), the classic rolled bean and rice mix, and fried plantains. I enjoyed the tacu tacu more than the Lomo saltado as I found the meat to be dry and overcooked. I recommend you specify to the waiter how you like your meat being cooked.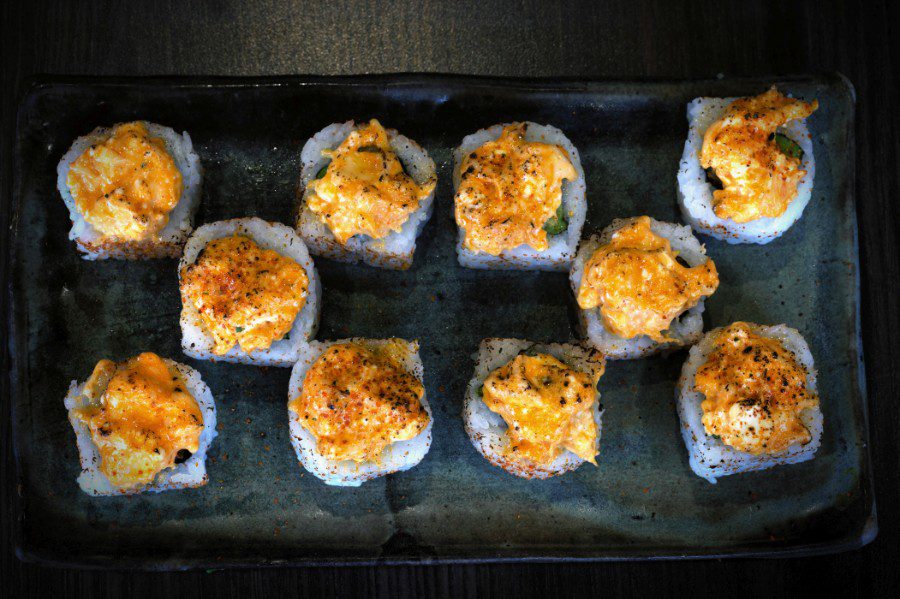 If you like Japanese food, Doomo has all that you could want: nigiris, sashimi, makis and more. We tried two types of makis: the Acevichado and the Kai maki (S/ 18 for 5 pieces, S/ 28 for 10 pieces). Both were quite good, but I definitely liked the latter with crab meat and parmiggiano that gave you a spicy kick at the end.
Desserts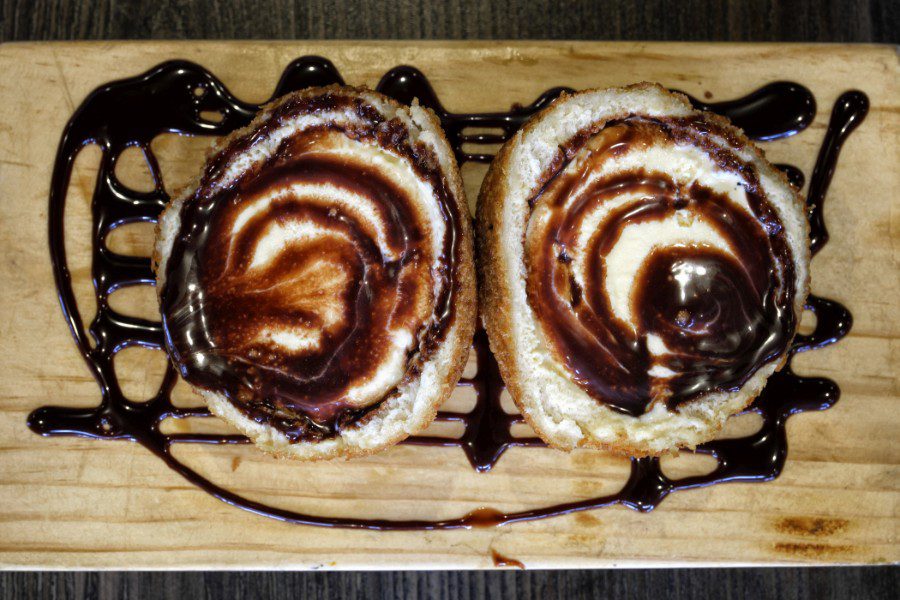 There are a few desserts at Doomo for those with a sweet-tooth. We had the Tempura ice cream (S/ 18), two spheres of crunchy dough filled with a wonderful vanilla ice cream, sprinkled with chocolate fudge that was fantastic; difficult to let your spoon down. We also had the Chocolate cake with ice cream (S/ 16) that was nice as the cake was moist and the fudge was not overly sweet. Portions are big so consider sharing your dessert.
Drinks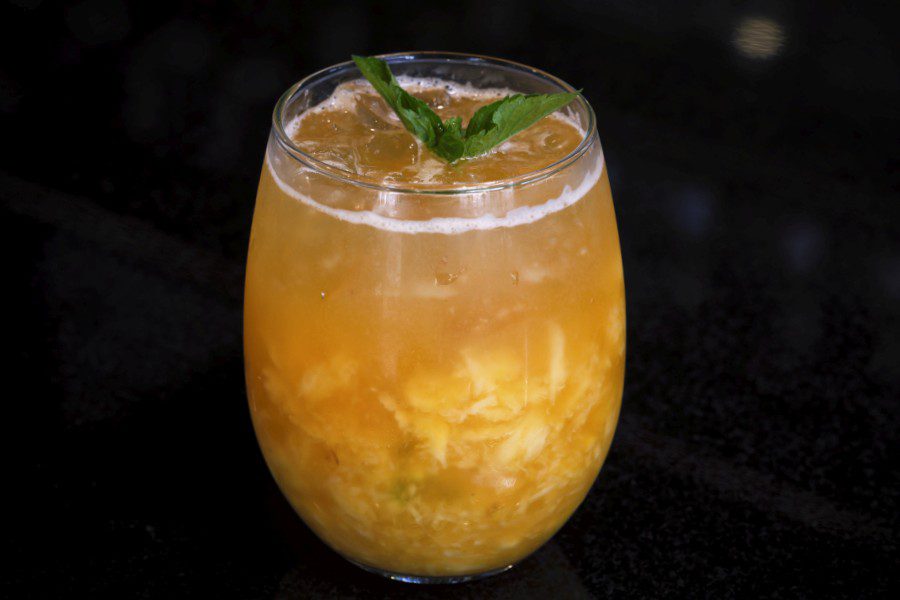 There is a nice selection of beverages, both alcoholic and non-alcoholic, as well as iced teas (classic, red fruits, mango and lemongrass). We tried the Mía iced tea (S/ 9) made with goldenberry fruit, mandarine and pineapple that was highly enjoyable. For those that want some alcohol, you will find Japanese beers and all kinds of cocktails with whiskey, rum, gin and pisco. We tried their Pineapple and passion fruit (S/ 21), a cocktail made with Zacapa rum and plenty of pineapple bits that was refreshing and amazing; a not to be missed cocktail as you will enjoy it till the end. The Red fruit chilcano (S/ 18) with pisco, and the Johnny ginger red (S/ 18) were also quite pleasant, but difficult to surpass the Pineapple and passion fruit cocktail.
Acevichado

Chocolate cake with ice cream
Final remarks
Doomo was quite an experience. Not only was the food quite good, but the service was reasonably fast, and the portions are certainly good value for money. We were deeply impressed by the commitment and passion shown by the owner and manager to create an enjoyable customer experience while contributing to making this world a better place. Kudos to Doomo, and we look forward to their future location in Surco!
Doomo Saltado
Av. Ignacio Merino 2501, Lince
Opening hours: Monday to Saturday, 12pm-10:30pm; Sunday, 12pm-6pm
Delivery: Glovoo, Doomo Saltado
Menu
Starters: S/ 14 -21
Salads: S/ 15 – 23
Soups: S/ 15 (medium), S/.18 (large)
Makis: S/ 18 (5 pcs), S/ 28 (10 pcs)
Nigiris and sashimis: S/ 10 – 28
Poke Bowls: S/ 28 – 30
Lomo saltados: S/ 27 – 39
Chaufas and Aeropuertos: S/. 26 – 32
Desserts: S/ 16 – 18
Cocktails: S/ 16 – 30
Beers: S/ 8 – 22
Refreshments and hot beverages: S/ 5 – 10
Cover photo: Kai makis/Marco Simola
All photos: Marco Simola