La Catrina offers a selection of Mexican street food that leans towards authenticity but also attempts to encourage more Peruvians to familiarize themselves with Latin America's other favorite cuisine.
[Best_Wordpress_Gallery id="175" gal_title="La Catrina"]
If you're looking for groundbreaking dishes, this is not the place to go. It's not to say I wouldn't recommend it. But it's more for you to keep expectations in check.
Lima is not a city that is favorable to embracing foreign flavors, especially from other Latin American countries, so the fact that
La Catrina
is here and offering a menu of not just tacos, but also tostadas, and alambres, that are well cooked and honors many traditions is a breakthrough in its own right.
La Catrina is owned by two Peruvians
, one of whom has experience cooking in Mexico. Opened earlier this year in Barranco, they are betting on the hope that they can get Peruvians to warm up to Mexican food, and judging by the quality of the food,
they have a decent shot at it.
[caption id="attachment_137369" align="alignnone" width="624"]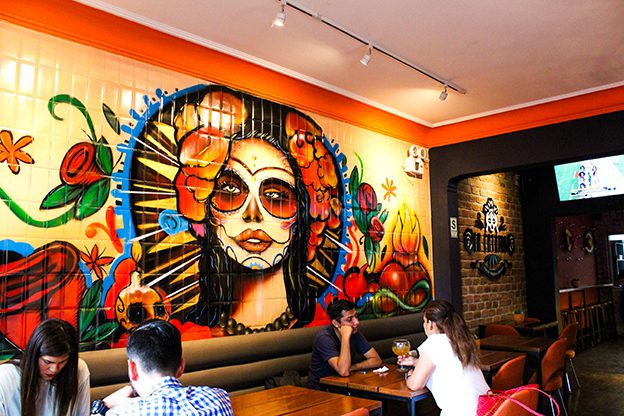 (Photo: Monique Loayza/Living in Peru)
[/caption] Unfortunately, the surroundings are a little lackluster. The entrance, featuring motifs of La Catrina, a figure from Mexican folk art, is inviting. However, the space, once a former sports bar, still can't seem to shed its former life - TV screens, large dark leather couches, and neon lights by the bar are out of sync with the charming wall art by the front entrance.
But let's move on to the food.
We started off with a plate of queso fundido
. It's the type of dish that will appeal to anyone who considers Mexican American cuisine a guilty pleasure.
So it may surprise some that this is a dish Mexicans actually like to eat.
The mild cheese, melted down to perfection in a cast iron pan, was served with a bowl full of tortilla chips, the best utensils for scraping up every stringy bite. [caption id="attachment_137371" align="alignnone" width="624"]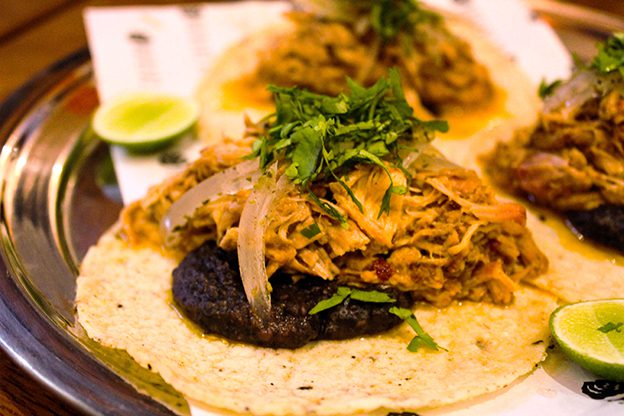 Cochinita Pibil (Photo: Monique Loayza/Living in Peru)[/caption] I enjoyed eating my way through the taco menu and would recommend you do the same. Among the options,
there are 3 different types of pork tacos
- carnitas, cochinita pibil, and pastor as you might guess - but all are worth trying and were easily my favorites. Each is cooked in its own distinct way, allowing you to sample the various textures - the crunchiness of the carnitas, the soft pulled pork in the cochinita pibil and the kebab-like tenderness of the pastor.
The flavors of the meat in some of the tacos were better seasoned than others, but mostly pleasing, crossing from sweet to smoky to fatty.
However, using Mexican ingredients easily available and substituting others with those found locally, they've made the smart move of offering their own
homemade sour cream, Tabasco sauce, and rocoto-based chili sauces
should you feel the need to add a kick to your tacos (I did).
Are the tortillas house-made?
No, but I wouldn't hold that against them. Many reliable Mexican restaurants don't go to the great lengths of making their own tortillas, and the ones they have selected are suitable – delicate, fresh, and
a good bed for the rich meats.
Everything is designed for sharing.
Tacos come three in a pair and you might need help getting through a bowlful of tortilla chips. However, while prices could be shaved a bit
(all tacos are S/ 25)
they might be justified by the quality of the ingredients. [caption id="attachment_137366" align="alignnone" width="624"]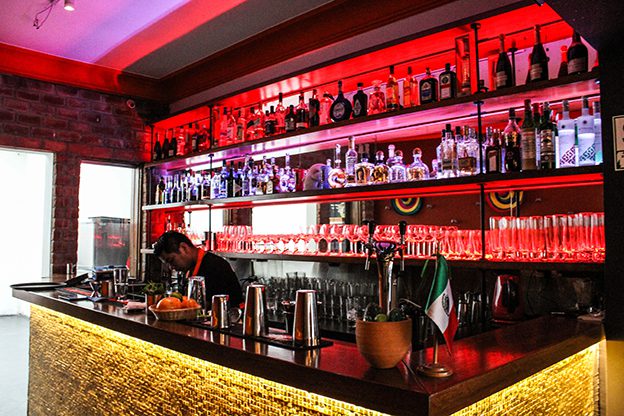 Bar (Photo: Monique Loayza/Living in Peru)[/caption]
The drinks menu as you would guess features a respectable selection of tequilas and mezcals, as well as beers.
I was recommended a
gin and tequila mix
, which was refreshing, not too sweet, and had a pleasant degree of bitterness from the contrasting alcohols and orange peel. While I normally prefer bitter drinks, it was missing a sweet component or additional citric element that could brighten it up a bit.
If alcohol is not your bag there are also juices and everyone's favorite Mexican drink, horchata.
The
flor de Jamaica
was a bit too sweet for me but I tried my friend's horchata, and surprisingly enjoyed it. While I hesitated to order the same, fearing something too heavy and creamy, it was light and very refreshing.
La Catrina does a lot right
. Go with friends if you're looking for a relaxed meal and craving Mexican food that's ok with embracing Peruvian touches. If you're too picky, better off saving your soles for a flight to DF.
La Catrina
Av. Pedro de Osma 119, Barranco Phone: (01) 2842556 Tue - Thur 6pm - 12am Fri 6pm - 1am Sat & Sun 12pm - 1am Entradas - S/ 15-25 Tacos, Alambres, Quesadillas - S/ 25 Tortas - S/ 23 Cocktails – S/ 33 and up Tequilas & Mezcals – S/ 23 and up Juices – S/ 9-13