Though not a real person as many people think, Marcelo Batata is a fantastic restaurant. With great food and stellar views, the owners founded the perfect spot in Cusco, and they have turned it into a must-stop location when you're visiting this historic city.
Everything about Marcelo Batata is fusion, including its name, which is a blending of two things that are near and dear to co-owner Erick Paz Gallegos: his nephew, Marcelo, who was born a few months before the opening of the restaurant, and his dog, who he loves him like a son. It's a relaxed name, and so is the environment.
The balcony is the primary attraction, but my wife and I chose to sit at a rooftop table, which was very nice as well. Though I've lived in Cusco for three months now, but the view from Paz's restaurant is one of the best I've yet encountered in the city. As I turned in my seat, I saw Qorikancha—one of the most important temples in the Inca Empire, as well as the city's main cathedral, and immense mountains.
The Food
Every meal at Marcelo Batata begins with a complimentary bowl of homemade chips accompanied by a portion of uchucuta sauce. Traditional to Peruvian cuisine, the sauce was cooked with hot chilies, but the result was mild at best—yet still delicious.
The renown of the restaurant is appropriate. The flavors and ingredients of Andean cuisine are paired with foreign ingredients and maximized with cooking techniques used in different parts of the world.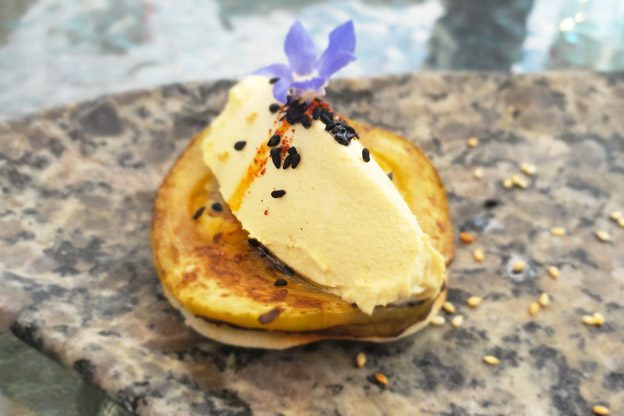 We could feel the fusion of Tarwi Hummus, an appetizer that comes with pita bread, grilled eggplant, hummus, which is topped with a striking, edible flower. Just like the restaurant's other dishes, this one is made from locally sourced ingredients.
The grounded tarwi seed gave the hummus a one-of-a-kind taste. Oil made from a native Peruvian nut called Sacha Inchi trickled down the hummus and onto the plate. This oil resembles olive oil, but you cannot cook with it the same way. Its popularity is growing due to its health component. It contains Omega 3, 6, and 9.
The service at the restaurant is impeccable. We never seemed to wait: servers constantly refilled our glasses, and promptly served our meals. Everyone—tables filled with family and friends—had smiles on their faces. No group waited long before their order was served.
Our next dish to arrive, the shrimp cocktail arrived, stole the show. I felt a bit of guilt destroying the incredible display of mango, avocado, pineapple, pomegranate, and shrimp topped with tamarind. That feeling soon subsided as the mix of flavors came to life. Everything meshed perfectly.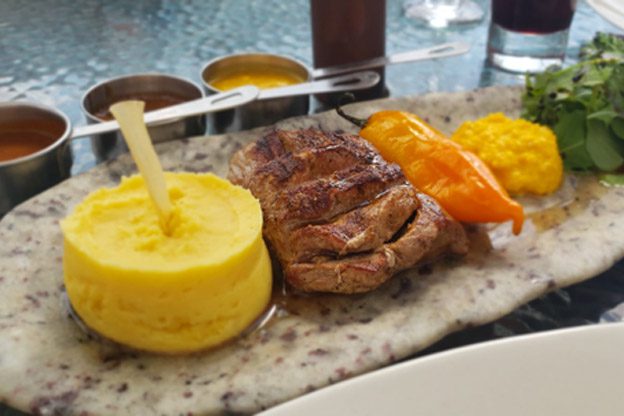 From the cocktail to the warm, afternoon rays shining down, not a detail was missed. We dined on five-star worthy dishes in a casual environment. We lounged in the comfy chairs and chatted as the main course was ushered up the stairs.
There it was. The pride of Marcelo Batata, la especilidad del Chef: Alpaca. The renown of the restaurant is credited to this plate. It was easy to see why. The presentation? Fantastic. The gorgeous, granite-like plate captured the look and feel of our majestic surroundings. And the meat was superb.
I've tried alpaca in other places throughout the city, but none came close to the 8 ounces of perfection I experienced at Marcelo Batata. It is all thanks to the Gallegoses. Most restaurants buy their meat in bulk to save money. Refrigerated, the meat loses its fat and flavor. Not at Marcelo Batata. They buy fresh meat daily from a local supplier.
The Alpaca was perfectly cooked. The texture was superb. Five fantastic sauces could potentially adorn each bite. There was a honey and garlic sauce, a mango-lemon and hot chili sauce, and an antichura (hot chili) sauce. Our table's favorite by far was the honey and garlic—the hint of soy sauce made each blended bite traditional, unique, and most definitely memorable. I don't want my alpaca any other way from now on.
The dish was accompanied with mashed potatoes topped with leek, a small side of greens, a yellow chili pepper, and a unique fusion food known as "quinotto." Substitute the rice in risotto with Peruvian quinoa, and the result is splendid.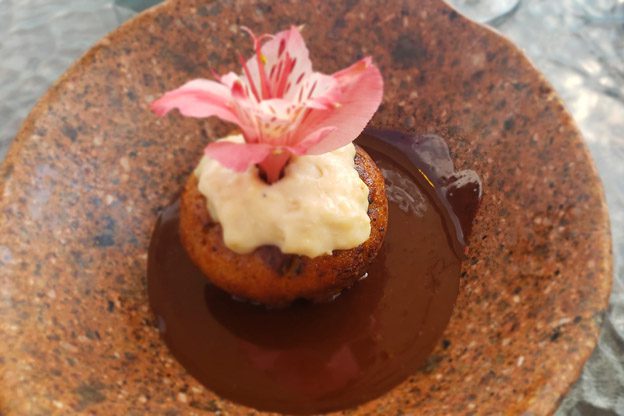 Then we tried a beautiful brownie called bananas for chocolate, which comes crowned with white chocolate and is topped with banana sauce. I know we will be stopping by to have it again.
The Drinks
We enjoyed Marcelo Batata's signature drinks with our food. My wife sipped on a refreshing classic Pisco Sour, while I marveled in the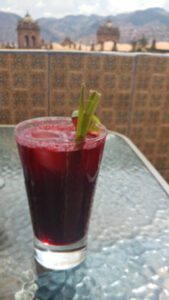 Chilcano de Pisco. Both of the drinks were made with premium Pisco.
The restaurant offers a complimentary Pisco-making demo when you order a Pisco Sour in which an expert bartender  explained how to make a perfect Pisco. Then, he shook the glass and blew our minds with the freshness of his concoction.
The restaurant also offers a full-service bar filled with wine, rum, and any drink you might like to enjoy at this lovely restaurant. For two amazing appetizers, a main dish, a dessert, and two drinks, you should expect to pay 54 USD.
Marcelo Batata
Calle Palacio 121, Cusco
Opens Monday to Sunday from 12:30 p.m. to 11 p.m.
Menu
Salads, Soups, and Creams: 35 to 37 soles
Main Courses: 46 to 55 soles
House Specialties: 44 to 53 soles
Desserts: 22 and 23 soles
DO YOU WANT TO FIND OUT MORE ABOUT THIS FANTASTIC RESTAURANT? CHECK OUT THEIR WEB PAGE
Comments
comments