Pan Sal Aire has become a local gem in Barranco since opening last June. Now almost a year old, they continue to enjoy steady business and popularity.
This was my second time here and the others with me had been as well on several occasions.
The owner, Jeronimo de Aliaga, is no novice to the restaurant scene.
[Best_Wordpress_Gallery id="369"]
Besides Pan Sal Aire, which he owns, operates and manages along with family members, he also owns the popular Barra 55, a nearby Barranco bar (known for its gin cocktails and tapas) open in the evenings five days per week.
Jeronimo is a graduate of the Lima Cordon Bleu and has previously worked at and gained experience in restaurants such as Casino de Madrid, Agata e Romeo in Rome, Italy, and the famous Celler de Can Roca in Girona, Catalonia, Spain, just to name a few. He previously commanded the kitchen at local San Isidro restaurant, Symposium, as well.
Jeronimo's family owns the Casa De Aliaga, which is the oldest colonial mansion in Lima (from the 1500's) located in the historic center of Lima. You can read about that in our colonial mansions feature. The Casa de Aliaga hosts events in which Jeronimo and his family are largely responsible for the catering.
The Fruition of Pan Sal Aire
At Pan Sal Aire it took the owners more than a year to complete the renovations and decor of the restaurant, mostly due to strict permit restrictions because of the building's historic nature. With the assistance of the architects from Roman Bauer, they managed to stay true to the original structure of the historic building, and the architects assisted with some of the wonderful design and decor details inside the restaurant.
[caption id="attachment_144538" align="aligncenter" width="624"]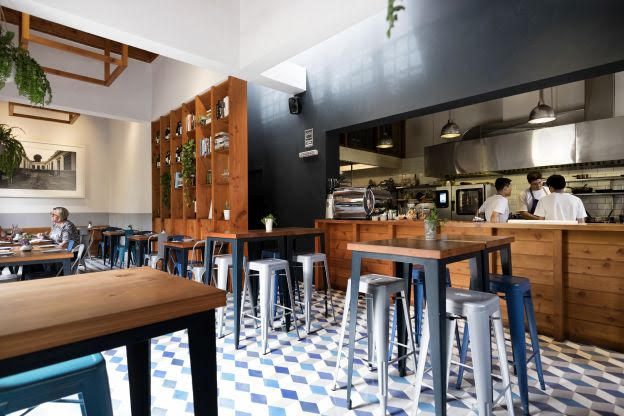 Interior (Photo: Marco Simola/Traveling & Living in Peru)[/caption]
The Decor and Vibe
The decor is an appealing mix of refined, modern, natural, and industrial materials. The color blue is predominant throughout, with multiple hues showing up in the gorgeous and eye-catching 3-D prism tile floors, the earthenware plates that most of the food is served on, and in the restaurant's metallic industrial-style chairs. There is plenty of natural and bright light in the restaurant, thanks to the large wooden-shuttered windows and the spacious and elongated door. The high ceilings, with visible exposed beams, and the open kitchen concept also help to open up and brighten the space. Overall, Pan Sal Aire has a laid-back and peaceful vibe about it.
The Food
The food served at Pan Sal Aire is a cross between refined cuisine and comfort food. Many of the organic and artisanal food products used at the restaurant are purchased at one of Lima's local Bioferia Organic Markets (read more about one of Lima's popular organic market here). The majority of the food prepared at Pan Sal Aire is made from scratch and includes homemade items such as mustard, bacon, chorizo, tomato sauce, and much more. Their sourdough bread is also made on the premises and is
an integral component in a large variety of their dishes. The desserts are also made on the premises.
We thoroughly enjoyed the nine dishes we sampled on the day of our visit.
I don't have enough space to dedicate a description to all of the dishes we sampled, but I will start with our five favorites.
Our Five Favorite Dishes
[caption id="attachment_144529" align="aligncenter" width="624"]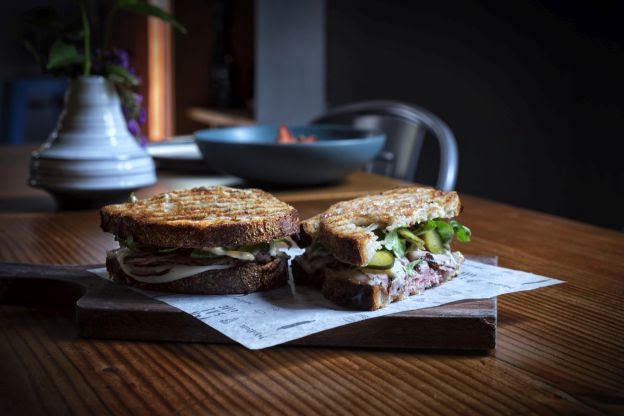 Roast Beef Sandwich (Photo: Marco Simola/Traveling & Living in Peru)
[/caption]
1. Roast Beef Sandwich
The consensus at our table was that the
Roast Beef Sandwich
(S/. 20) was excellent and one of the better versions you can find in Lima (probably now in my Top 3 in Lima). The roast beef was intense and delicious, piled high, along with watercress, tomatoes, and provolone in between thick, toasted slices of sourdough bread. The house-made pickles and artisanal mustard/mayo sauce (similar to dijonnaise) elevated this sandwich a few notches. The roast beef is prepared on the premises using
cuadril
(also known as rump roast, tri-tip, or sirloin bottom). I'm still dreaming of this sandwich.
[caption id="attachment_144535" align="aligncenter" width="624"]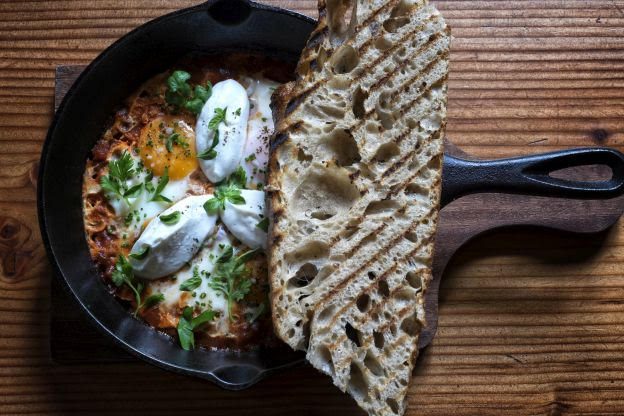 Shakshuka (Photo:
Marco Simola
/Traveling & Living in Peru)[/caption]
2. Shakshuka
The
Shakshuka
(S/. 22), was the surprise hit for the egg lovers at our table. Shakshuka is North African in origin, popular throughout the Middle East, and is gaining popularity pretty much everywhere these days. Honestly, this was the first time I had eaten this dish, but it will not be my last. This hearty dish consisted of three free-range poached eggs in a sauce of tomatoes, bell peppers, onions, generous dollops of Greek yogurt, cumin, paprika, and cilantro, served in a black cast iron pan and accompanied by toasted slices of their sourdough. You will probably want to ask for extra toast to make sure you get every last bit of this robust breakfast stew of aggressive flavors. This can easily be shared between 2 or 3 people.
[caption id="attachment_144536" align="aligncenter" width="624"]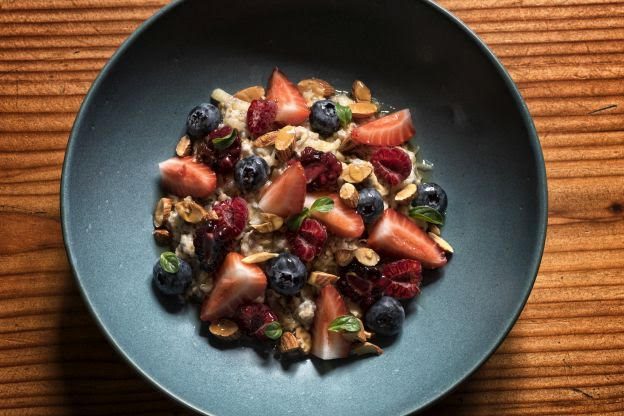 Avena "overnight" with Frutos Rojos (Photo: Marco Simola/Traveling & Living in Peru)
[/caption]
3. Avena "Overnight" con Frutos Rojos
Another breakfast/brunch dish that I was not keen on sampling was the
Avena "Overnight" con Frutos Rojos
(S/. 16). Why? Because I typically do not like oatmeal for breakfast (except when it is in a cookie or incorporated in a dessert). This oatmeal may have converted me. The oatmeal is soaked overnight in almond milk, which absorbs into the oatmeal and flavors it. A generous assortment of sliced strawberries, raspberries, blueberries with sliced almonds and mint is served on top of the oatmeal mixture. It was a really interesting and delicious version of oatmeal and a beautiful presentation.
4. Tostadas Francesas con Frutos Rojos
Typically I do not order french toast in restaurants because I prepare an excellent version in my own home. Of course, there are exceptions. The
Tostadas Francesas con Frutos Rojos
(S/. 18) is one of them. Pan Sal Aire uses their house sourdough bread for their version, which is sliced very thick (similar to Texas Toast). Then it's dipped into a mixture of milk, eggs, vanilla, and cinnamon and grilled until it is perfectly caramelized and slightly crispy. There's nothing worse than a soggy French toast. They got this perfect. Fresh, sliced strawberries and blueberries are incorporated into the sauce that is drizzled on top of the french toast. Delicious and decadent.
The coffee we sampled with the breakfast/brunch items was delicious and
Pan Sal Aire has their own coffee profile roasted exclusively for them by Curva Tostaduria.
[caption id="attachment_144556" align="aligncenter" width="624"]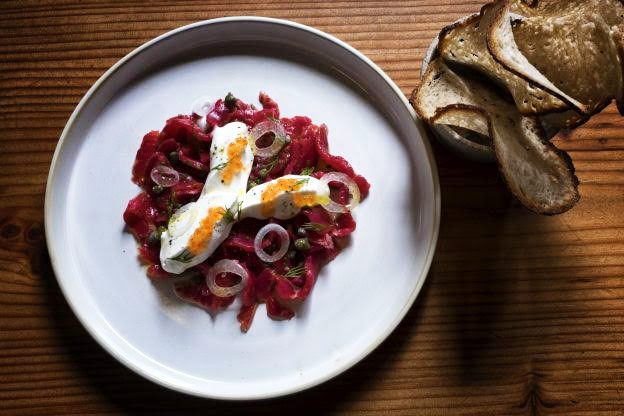 Gravlax (Photo: Marco Simola/Traveling & Living in Peru)
[/caption]
5. Gravlax
The Danish side of me enjoys anything gravlax and it always makes me swoon when it's offered on menus. Pan Sal Aire's
Gravlax
(S/. 28) is a delight. I have actually eaten this here before, so I was hoping it was as good as the first time. It was! Here's a dish in which every component exists for a reason, works in concert, and is executed flawlessly. The Peruvian trout was cured with salt, sugar, herbs, and spices, and then sliced. The trout was infused with beet, which gave it an extra vibrant deep color. Capers, fresh dill, and razor-thin slices of white onion were interspersed within the trout. The gravlax mixture was adorned with three small peaks of homemade artisanal sour cream and topped off with salmon roe. The gravlax was accompanied by thin, crispy sourdough toast.
Besides the five dishes mentioned above, we also sampled the
Palta, Yema Curada y Tomates
from the toast section, the
Benedictos
from the eggs section, the
Cappelletti
from
the pasta section, and the
Chorizo Casero 
from the pizza section, which were all fairly decent. I've had pasta here before and it's all homemade with a nice range of flavors.
6. The Pizza
[caption id="attachment_144541" align="aligncenter" width="624"]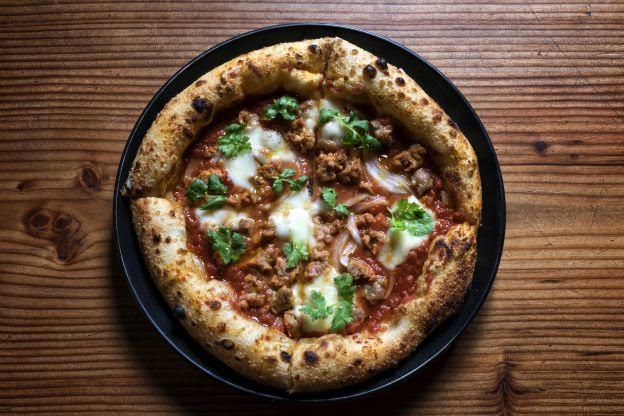 Chorizo Casero Pizza (Photo: Marco Simola/Traveling & Living in Peru)
[/caption]
There are four pizzas offered at Pan Sal Aire and I have had a couple before this visit. Their pizzas are typically very good. This time we sampled the
Chorizo Casero
(S/. 30) which was prepared using homemade sausage along with tomato, fresh mozzarella, and cilantro. The pizza was decent, but we were not that enthralled with the cilantro on this particular pizza. Their pizza dough is thin and, when cooked, has a wonderfully airy, plumped-up crust with crunchy edges. Consistently good pizza always begins with a crust with great texture, decent crunch, and flavor. Pizzas are one of their most popular items for good reason. The pizzas are typically available after 7:30 p.m, but they have prepared a couple of pizzas for us during the afternoon hours before.
Pan Sal Aire is trending towards carrying more natural and organic wines and well as serving more wines that originate from Peru and South America, at a modest and comfortable price range. There are currently close to 30 wines available by the glass.
What Else?
The menu at Pan Sal Aire changes seasonally. There is a lunch menu and their dinner menu begins at 7:30 p.m. The evening menu offers around twice as many options than the daytime menu. Specials are available on the weekends. Twice a month, they host smaller scale tasting menus as well. The evening crowd is much busier than during the daytime.
Pan Sal Aire continues to be a great locale, quality is good all around and consistent, ingredients are fresh, and the execution is precise. A positive sign of a good restaurant is the motivation of return customers. I definitely will be back to explore other dishes that I still have not sampled yet. On a side note, for the dog lovers, Pan Sal Aire is a dog-friendly establishment and well-behaved dogs (25 kilos maximum) are welcome with their owners.
Pan Sal Aire
Av. Miguel Grau 320, 
Barranco
[email protected]
Hours:
Monday:  8:00 a.m. - 3:00 p.m.
 Tuesday-Saturday:  8:00 a.m. - 11:00 p.m.
 Sunday:  9:00 a.m. - 3:00 p.m.
Sandwiches:  S/. 18-20
Toasts:  S/. 8-22
Egg dishes:  S/. 8-27
Pizzas:  S/. 25-30
Desserts/Sweets:  S/. 4-18
Non-alcoholic beverages:  S/. 5-10
Domestic & Artisanal Beer:  S/. 10-18
Cocktails:  S/. 21-24
White wine (bottle):  S/. 70-277
White wine (glass):  S/. 12-49
Red wine (bottle):  S/. 84-213
Red wine (glass):  S/. 15-34
Coffees:  S/. 6-8
Lunch Menu:
Starters:  S/. 8-32
Main dishes:  S/. 30-38
Dinner Menu:
Starters:  S/. 7-40
Main dishes:  S/. 30-38