These are not spotless white potatoes bought off a grocery store shelf, full of empty calories. These potatoes are full of love. I can feel it.
I am sitting at the dining table in my apartment in Cusco, eating my breakfast and thinking about Peru and how I feel about it.
I love Peru. I love the tiny potatoes that I am eating for breakfast, that were grown in the quartz crystal mountains of Q'eros by my compadre, Juan. This feels like a sacred act to me.
I hate that I have to peel them. They are covered with spots and warts, so I have to peel off much of the skin. I miss just indulging in eating any old potato as it comes.
I love these potatoes! Why does this feel like such a blessing – these tiny brown potatoes of several different varieties? Some are shot through with purple veins, some are yellow, some are white. This feels like a gift from my mother, our Mother Earth/Pachamama. These are not spotless white potatoes bought off some grocery store shelf, full of empty calories. These potatoes are full of love. I can feel it.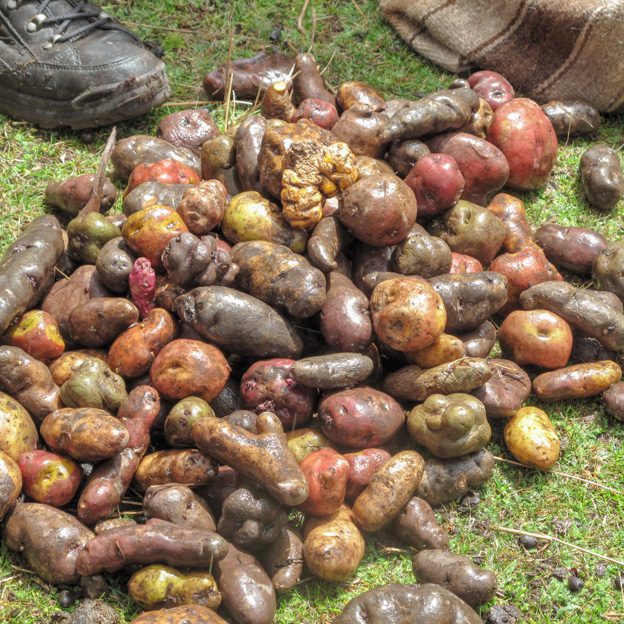 I hate that I feel so responsible for them. I hate that when they sit in my cupboard I worry that they need to be eaten soon. I hate that once I cook them and they are in my refrigerator, I worry that they will go bad. After all that work to get to me, I owe it to them to honor them by eating them.
I love that these little potatoes have come from seed potatoes selected by hand from generations of my Q'ero family in Peru. They were put in the ground with absolute respect for their life-giving energy, in an act of love. A man and a woman were both present when they were put into the body of Pachamama, out of respect for yanantin/masintin – the sacred complements that men and women represent in the Andean tradition.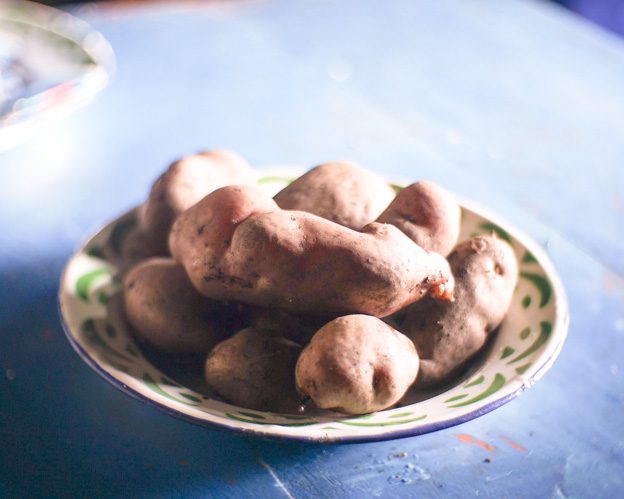 I love that it matters so much that I am responsible for eating them. I love that such a simple act as eating a potato matters so much to me in a world where it is very easy to lose sight of the beauty and sacredness of what could be seen as a mundane act. Things matter here. It is not so easy to take things for granted in a place where the water could be cut off at any moment and the difficulties of life can be seen in the gnarled bodies of the people you pass on the street, bent and twisted with the burdens of their lives.
Last night one of my neighbors had erected a lean-to tent in their tiny front garden for a party they were having. When I went out, I could hear them all in the tent barbecuing, drinking and laughing. By the time I was making my way home and passed the tent again, a woman in a very drunken state was wailing all the woes of her world from within the tent. Someone else in the tent was trying to reason with her, but there really was no point.
When they drink too much here, this is frequently the case. It makes me feel sad. Many of the people in this place carry a heavy burden of social expectations. It isn't normally apparent to the superficial appearances of a tourist passing through. But once you get to know the society better, you can feel it. It makes me really happy that I am a foreigner here, and therefore exempt from the social expectations.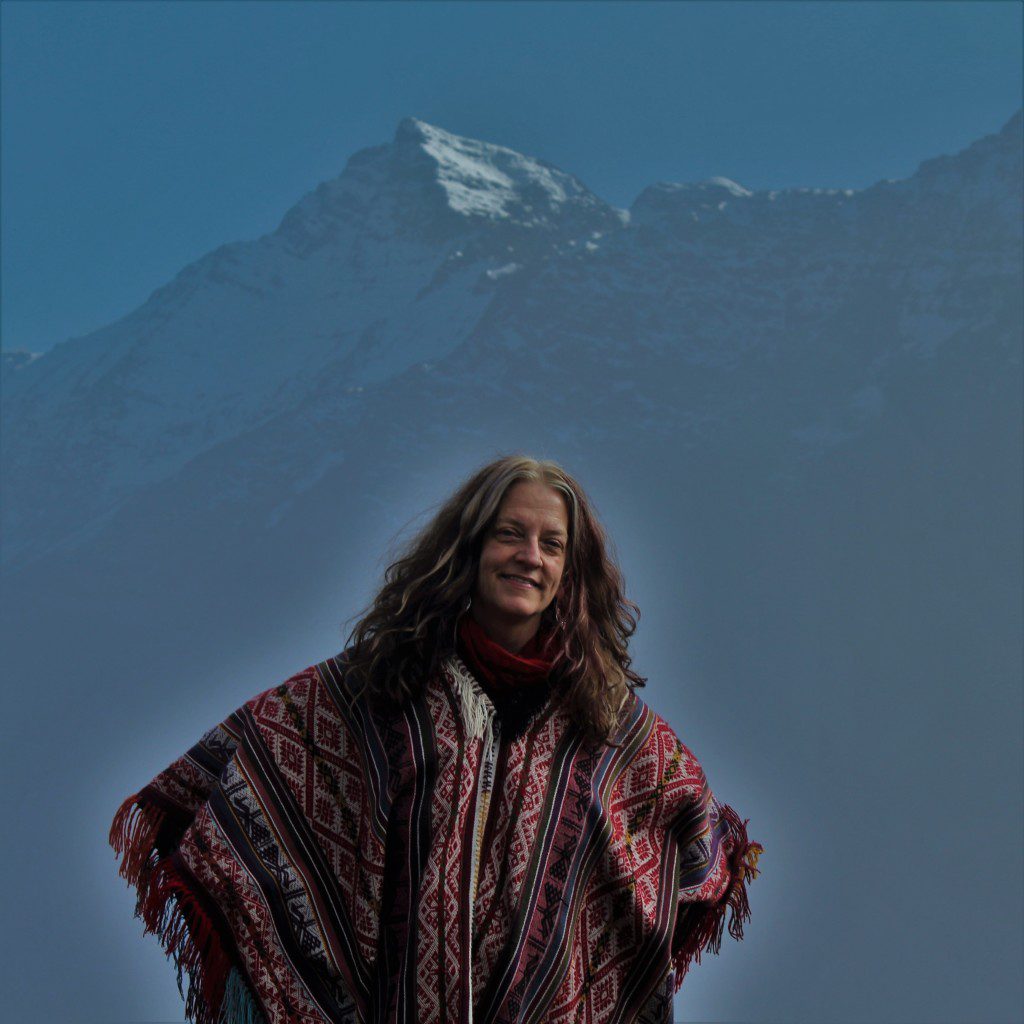 Well, she is a gringa – what do you expect?
I really like being exempt.
What a society of contrasts! There are celebrations going on just about every day of the week. They dance and parade in the streets and set off firecrackers almost every day. Then they drink themselves into oblivion and wail about their pain and suffering. It is raw and real.
I always imagine that a Peruvian would be bored out of their minds living in the USA. Life seems so predictable and sterile there compared to Peru. Life in Peru seems so real – full of suffering and celebration, so full of life!
No, it is not a cakewalk, living in Peru. But it is real. It is raw. It is life.
Main Cover: Depositphotos.com
YOU MIGHT ALSO LIKE
ADVENTURE IN THE POTATO PARK: MEANINGFUL CONNECTION ABOVE THE SACRED VALLEY
PERU INNOVATES WITH POTATOES
10 FASCINATING THINGS THAT YOU MIGHT NOT KNOW ABOUT POTATOES
Now that you're here:
We're asking you, our reader, to make a contribution in support of our digital guide in order to keep informing, updating and inspiring people to visit Peru. Why now? In our near 20-year journey as the leading English-language source on travel in Peru, we've had our fair share of ups and downs-but nothing quite like the challenges brought forth in the first quarter of 2020.
By adapting to the changing face of the tourism and travel industry (on both local and international levels), we have no doubt we will come out stronger-especially with the support of our community. Because you will travel again, and we will be ready to show you the best of Peru.
Your financial support means we can keep sharing the best of Peru through high-quality stories, videos and insights provided by our dedicated team of contributors and editors based in Peru. And of course, We are here to answer your questions and help whenever you need us.
As well, it makes possible our commitment to support local and small businesses that make your visit an unforgettable one. Your support will help the people working in these industries get back on their feet once the world allows us to make our dream of enjoying everything Peru has to offer a reality again-from its mouthwatering gastronomy, thriving Amazon and archaeological wonders such as Machu Picchu.
Together, we will find a way through this. As a member of our community, your contribution, however big or small, is valuable.
Support Traveling & Living in Peru from as little as $1 - and it only takes a minute. Thank you!