If you don't mind long and adventurous trips, traveling by bus in Peru is a great option to save money. On top of that, you're bound to see magnificent sights and meet interesting people.
Why travel by bus in Peru?
You can take an hour flight to many destinations across Peru, so why choose to take a bus instead?
Bus travel is much cheaper. While booking domestic flights in Peru can cost you between 60 and USD $150, a bus ticket will cost a third as much.
There is always the option to pay more for a luxury bus with leather seats that recline into beds. These are known in Spanish as a bus cama (bed bus), and can be booked for travel all across Peru.
The landscape: whether you're traveling to northern Peru, the high jungle or central Peru, you will witness the country's truly extraordinary landscape and the realities of its people.
What should you take on a bus ride?
Most bus trips include basic meals, but if you don't like eating white rice, meat chunks, and saltine crackers, bring your own food.
Most buses will also have nonstop movies (in most cases not worth watching). We recommend that you bring earplugs or headphones.
A neck pillow and layers is always a good idea.
Things to consider before traveling by bus in Peru
If you don't know Spanish, finding your way to bus stations and communicating with employees who may not know English can be a challenge. This might make the difference between choosing to travel by bus, or choosing to fly.
Traveling by bus in Peru can be dangerous. Drivers are notorious for working long shifts and for speeding through their routes. A trip from Lima to the Amazon will range from 20 to 30 hours, depending on where you are going
That is why we recommend not opting for the cheapest bus option. Choose reputable companies. More on this below.
Take buses that don't stop along the way. It's important to know that robberies and other crimes can occur on buses, especially when buses stop for passengers along the way.
How to find a bus out of Lima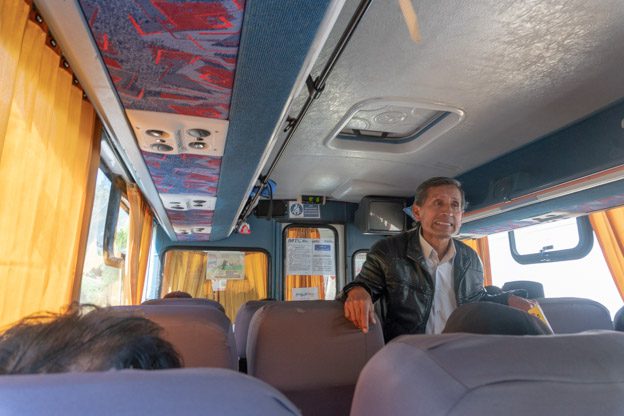 If you're going north of Lima
Terminal Norte, also known as Gran Terminal Terrestre, services most cities that are north of Lima. It's located in the Independencia district of Lima, a taxi ride away from the Jorge Chavez International Airport.
The terminals and bus companies located further south in the neighborhood of La Victoria, by contrast, require an hour-long trip from the airport.
If you're going to the jungles
There are a dozen companies that have routes to Tarapoto and Pucallpa, and they're all located within a few blocks of each-other: near the cross-streets of 28 de Julio and Manco Capac, a few blocks away from Lima's national stadium. To get to Pucallpa, Transmar is a good option, and the trip should take you 18-20 hours. To get to Tarapoto, Movil tours is recommended as well, and it should take you between 24 hours and 30 hours.
If you're going to south and central Peru
To get to these parts of the country, check out the various bus stations located in the vicinity of the national stadium.
What bus services should you take?
When traveling by bus, choose your company wisely, and don't always opt for the cheapest bus option. Most of the long routes in Peru include going up and down very high mountains. If you choose the cheapest buses, you risk ending up with only one driver for an 8+-hour long trip during the night! Moreover, the cheaper it is, the less comfortable you are going to be during the trip.
The safest bets for bus companies in Peru are:Cruz del Sur (considered a tourist favorite, but it is also the most expensive), Movil Tours, Oltursa, Tepsa and Cromotex. Another options is Redbus.com.
Also, leaving your luggage in the cargo hold is totally safe, but don't leave any valuables such a computer or a camera.
Cover photo:
Now that you're here:
We're asking you, our reader, to make a contribution in support of our digital guide in order to keep informing, updating and inspiring people to visit Peru. Why now? In our near 20-year journey as the leading English-language source on travel in Peru, we've had our fair share of ups and downs-but nothing quite like the challenges brought forth in the first quarter of 2020.
By adapting to the changing face of the tourism and travel industry (on both local and international levels), we have no doubt we will come out stronger-especially with the support of our community. Because you will travel again, and we will be ready to show you the best of Peru.
Your financial support means we can keep sharing the best of Peru through high-quality stories, videos and insights provided by our dedicated team of contributors and editors based in Peru. And of course, We are here to answer your questions and help whenever you need us.
As well, it makes possible our commitment to support local and small businesses that make your visit an unforgettable one. Your support will help the people working in these industries get back on their feet once the world allows us to make our dream of enjoying everything Peru has to offer a reality again-from its mouthwatering gastronomy, thriving Amazon and archaeological wonders such as Machu Picchu.
Together, we will find a way through this. As a member of our community, your contribution, however big or small, is valuable.
Support Traveling & Living in Peru from as little as $1 - and it only takes a minute. Thank you!