Peru is the King of soups.There is an urban myth that there are around 2000 kinds of soups in Peru. Let's check out some of the stars of this category.
There are different soups from the coast, the Andes and from the jungle. Each region has its favorites, according to the ingredients at hand. From chupe de camarones to caldo de gallina to inchicapi all the soups are tasty treats.
Soups are the ultimate comfort food all over the world but in Peru, it's a bit more than that.
Soups in Peru are an integral part of the culture, eaten not only for lunch or dinner but also for breakfast. Peruvian soups are hearty and full of nutrition. Some soups are only eaten on Mondays, others preferably at 6 am to cure the hangover, others only cooked on special occasions.
Let's look at some of the all-time favorite Peruvian soups that everyone should try at least once.
Parihuela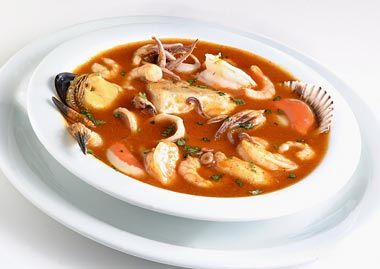 Parihuela is a soup based on a fish and seafood stock. Along with all the fish, scallops, shrimp and mussels in the soup, the red soup also has tomatoes, cilantro and the ever-present garlic and onion of Peruvian cuisine. This soup is full of phosphorus from the fish and will wake up anyone!
Aguadito de Pollo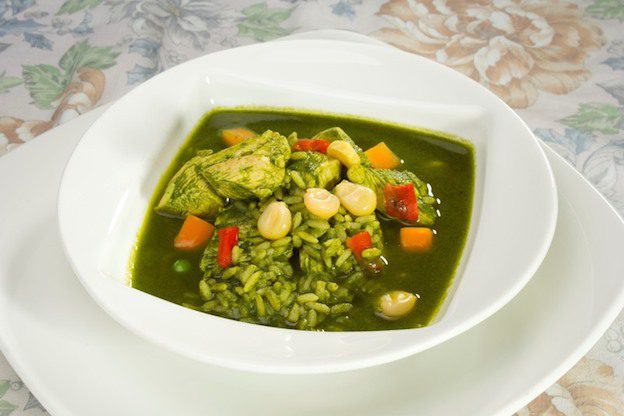 Green and with a bed of rice at the bottom of the bowl, aguadito de pollo is a classic breakfast soup at weddings and birthday parties that last all night. As soon as the sun comes up, the aguadito is served for everyone to be able to make it home. The main ingredient is the chicken in stock, lots of cilantro, aji amarillo and vegetables like choclo, peas or pieces of red pepper. Cooked rice is added at the end to make it more hearty.
Sancochado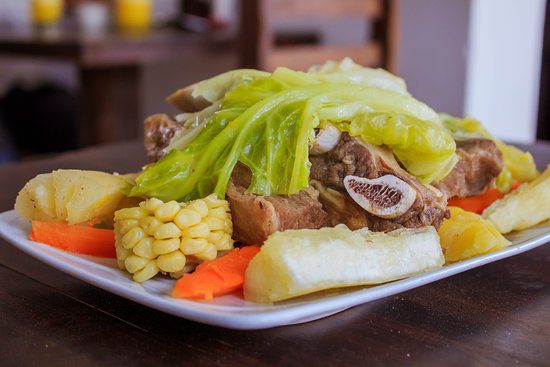 Sancochado is a bit different to what you would expect from a soup. It is cooked like a soup, with a base stock of vegetables and meat without the fat. But once it's served, the vegetables, meat, and stock are served separately. On one plate you have the cooked vegetables like cabbage, carrots, potatoes, leeks, parsnip, and yucca along with a nice chunk of meat. On the side, you have a bowl with the stock. Sancochado is served with crema de aji and is a favorite on cold days.
Sopa a la Minuta
This hearty soup is a fusion from the first Italians that came to Peru and brought along a version of a tomato soup with noodles and parmesan cheese. The now loved by everyone Sopa a la Minuta is a quick and easy soup to make at home for any kind of weather. With a base of ground beef or finely cut steak and tomatoes, the soup is finished off with angel hair pasta, a couple beaten eggs and evaporated milk. Kids love this soup!
Shambar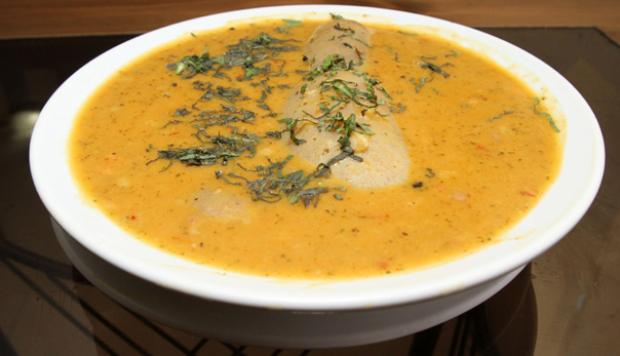 Shambar is the local soup of excellence in the northern city of Trujillo. It is the "Monday" soup meaning that is mostly or only prepared on Mondays. When visiting Trujillo, and the north, trying Shambar is a must! Just make sure there is a Monday in your itinerary. This powerful soup is made from a mix of wheat and different pulses, pork skin and ham, topped off with hierbabuena. The flavor is quite special and different from a lot of other soups. You will need a siesta after this one!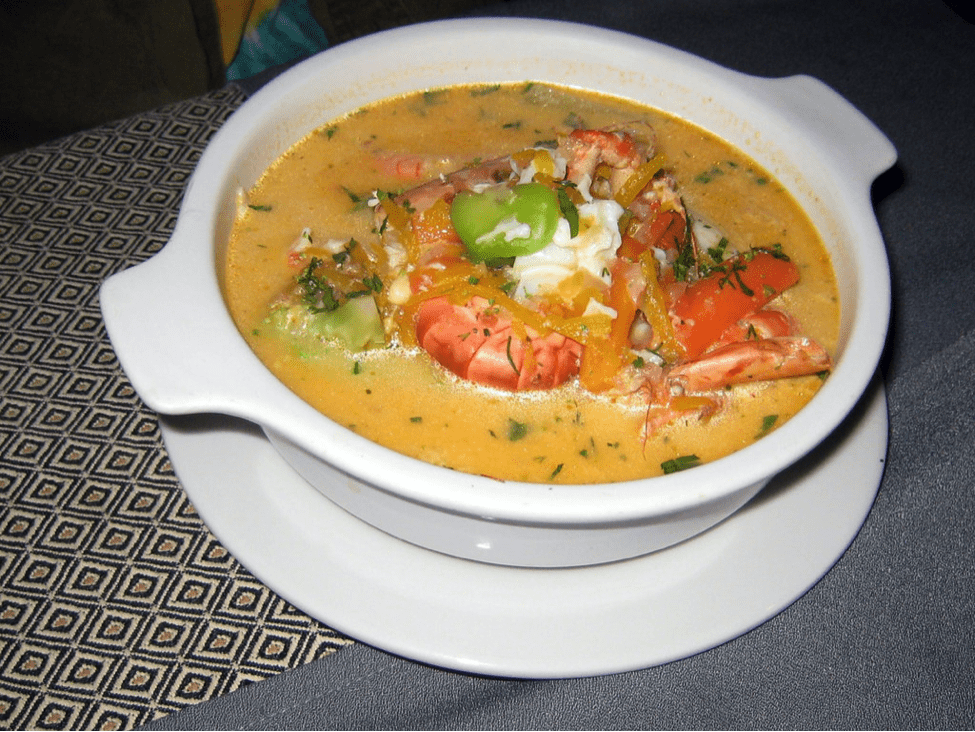 Chupe de Camarones
Chupe de camarones could easily be considered the Peruvian Soup most notoriously recognized around the world. Chupe de Camarones originated in Arequipa, a mountain city where the river prawns are abundant and delicious. Everyone loves chupe camarones, and no visit to Arequipa is complete without a steaming bowl of this concoction.
Caldo de Gallina
Caldo de Gallina is served all over the country and is a homey favorite. A classic hangover dish, caldo de gallina packs a punch in the chicken stock. Along with a hearty piece of chicken you get potatoes and noodles to slurp. Caldo de Gallina is usually finished off with a hard-boiled egg, a drizzle of lime juice and some rocoto for the extra kick.
Adobo de Cerdo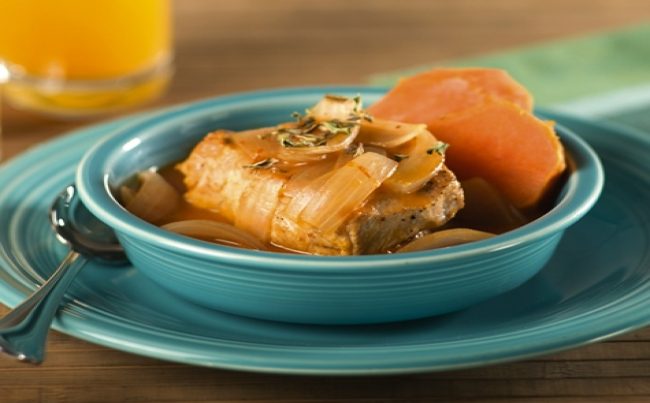 People that travel to Cusco often, know that one of the first things you have to do is eat Adobo de Cerdo. Especially if it's early in the morning. This soup is usually served in the same restaurant where they serve Chicharron, which is deep fried pork (in its own grease btw, it's amazing). Adobo is one of those soups that just disappears from the plate and leaves you wanting more.
Caldo de Cabeza
The original caldo de cabeza is made from lamb. Basically, the head of the lamb made into stock. This is a classic soup from the regional markets and is given to children who need the energy to grow stronger. The stock with the head is cooked for two hours before the rice and potatoes are added. When served, the client can pick to have pieces of tongue, eye, ears or hooves inside the soup. Definitely an acquired taste for many.
Sopa de Olluco
Olluco is a kind of Andean tuber. Yellow, starchy and with a very particular flavor, olluco (also called olluquito) is cut into strips and cooked into a soup with either chicken or beef stock. A very typical soup in the Sierra that is commonly cooked in family homes.
Inchicapi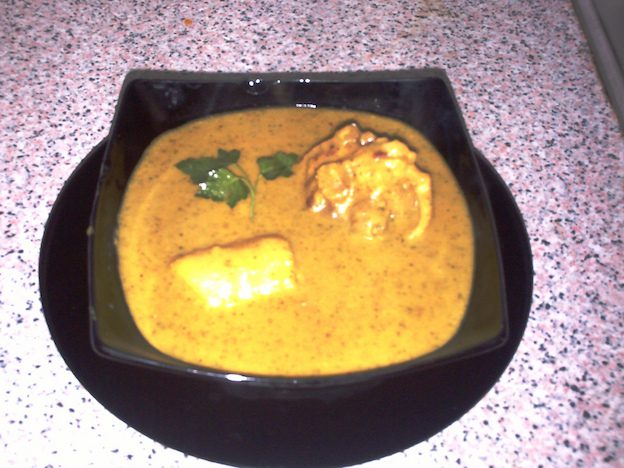 Inchicapi is a creamy chicken stock soup with peanuts and cilantro. Typically from the Peruvian jungle, inchicapi is hearty and peanuty and lovely to eat at any time of day.
What other Peruvian soups are your favorites? Tell us in the comments!
Comments
comments