Though it is not at risk of extinction, this is a rare species due to habitat loss and pollution. Like all members of the Hyla family, they have suckers on the fingers. This frog has very colorful green and brownish legs, and they measure about six centimeters long.
Natural History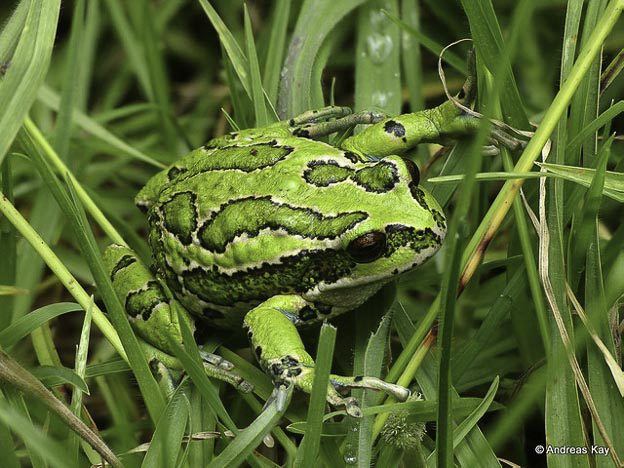 They live in warm and humid areas within the Andes. They begin their egg stage in the water, where they will remain until they become terrestrial adults. As the tadpoles grow, the gills disappear, the posterior and anterior legs develop and the tail contracts. Over time, the tadpole becomes a frog. The female of the Andean frog has a dorsal bag where the eggs are incubated until birth, which occurs in the advanced tadpole stage. During embryonic incubation, females become very large. They can incubate up to 250 embryos. At birth, tadpoles are just two centimeters long and are released into the water. Three weeks later, their hind legs will be developed, and they reach the size of an adult after a year of metamorphosis.
Current status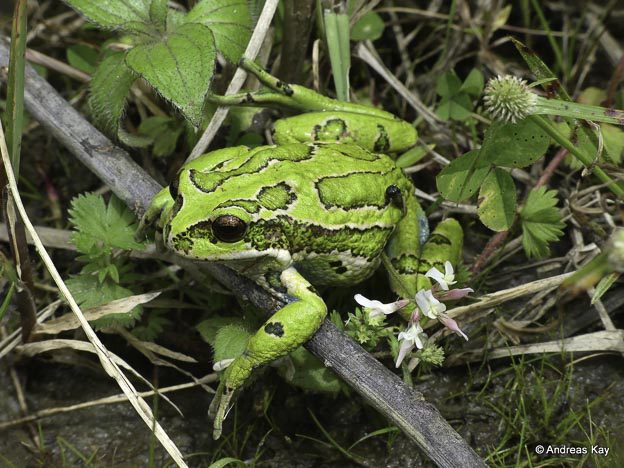 Although not abundant, these frog populations are not threatened with extinction. However, other Andean frogs are considered in a vulnerable situation: the Mantaro frog (Batrachophrynus barchydactylus) and the Junin frog (Batrachophrynus macrostomus), are two similar species that are at risk, both of which are protected in the Junin National Reserve. In general, the frogs of the Andes are considered in a rare situation due to the constant alteration of their living space and the contamination of the waters where they live.
Distribution and range
You can find these frogs in the Andean region, from Colombia to Chile and Argentina, through Peru.
Cover photo: Flickr
Source: Guia de Identificaciond e Especies de la Fora y la Fauna del Peru
Now that you're here:
We're asking you, our reader, to make a contribution in support of our digital guide in order to keep informing, updating and inspiring people to visit Peru. Why now? In our near 20-year journey as the leading English-language source on travel in Peru, we've had our fair share of ups and downs-but nothing quite like the challenges brought forth in the first quarter of 2020.
By adapting to the changing face of the tourism and travel industry (on both local and international levels), we have no doubt we will come out stronger-especially with the support of our community. Because you will travel again, and we will be ready to show you the best of Peru.
Your financial support means we can keep sharing the best of Peru through high-quality stories, videos and insights provided by our dedicated team of contributors and editors based in Peru. And of course, We are here to answer your questions and help whenever you need us.
As well, it makes possible our commitment to support local and small businesses that make your visit an unforgettable one. Your support will help the people working in these industries get back on their feet once the world allows us to make our dream of enjoying everything Peru has to offer a reality again-from its mouthwatering gastronomy, thriving Amazon and archaeological wonders such as Machu Picchu.
Together, we will find a way through this. As a member of our community, your contribution, however big or small, is valuable.
Support Traveling & Living in Peru from as little as $1 - and it only takes a minute. Thank you!