Though the Toucan is most known as a creature of the jungles, this unique and colorful species inhabits high Andean landscapes. Have you spotted one lately?
Morphological characteristics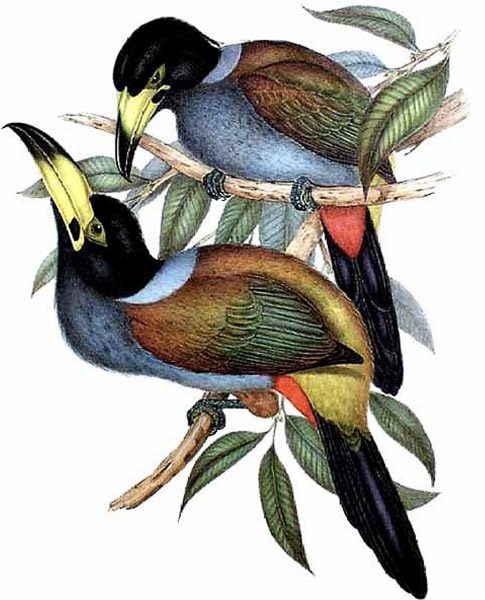 Toucans are distinguished by the disproportionate size of their wide beak, as it often exceeds half the size of their body. It's hollow and serrated edges allow it to easily hold the fruits of which it feeds. Its wings are short and rounded. Its long tail folds back, supporting it while it sleeps. The Hooded Mountain Toucan's has four long fingers, two of which are pointed forward and two point backward. The male and female are similar in color and size. The tall toucan is endowed with plumage of blue and brown tones, very different from that of its colorful hatchlings. The full grown bird's colors harmonize perfectly with the bleak landscape of the paramo forests.
Natural History
It is an extremely shy and silent species. It flys high and slowly while making many weaving patterns through the air. They are exclusively arboreal species and are found only in the high altitude forests of the Andean slopes. They form small flocks composed of a dozen individuals. They like to take freshwater baths, for which they use the small puddles that form in the forks of trees. They feed on small fruits and berries that they swallow whole. This makes toucans excellent dispersers of the plant seeds that it consumes. By swallowing the seeds whole and then removing them in different places they favor the growth of new plants. They also feed on the eggs of other birds and insects, such as spiders, large antes and, occasionally, small reptiles. They nest in tree watermakers, usually in nested nests of woodpeckers. The female lays 2-4 eggs which both parents incubate.
Current status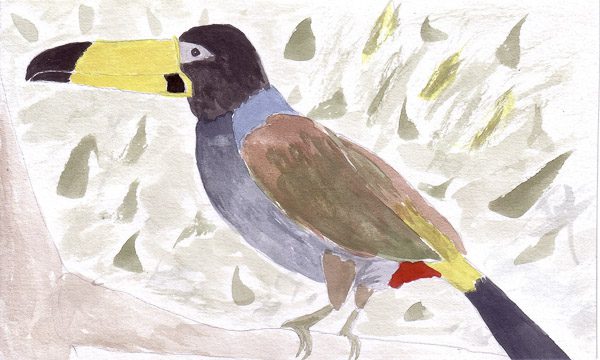 There are 41 different species of toucans in the world. Of these, nineteen have been registered in Peru. The tall toucan is a very rare species with solitary habits. However, due to the inaccessibility of the forests where they live, their populations are safe.
Range of Distribution
The tall tucan finds refuge in the humid mountain forests of the high Andeans It is distributed along the Andes mountain range from southern Colombia to southern Peru, at elevations ranging between 2,000 meters and 3,400 meters.
Source: Guia de Identificacion de Especies de la Flora y la Fauna del Peru
Cover photo: Wikimedia
Now that you're here:
We're asking you, our reader, to make a contribution in support of our digital guide in order to keep informing, updating and inspiring people to visit Peru. Why now? In our near 20-year journey as the leading English-language source on travel in Peru, we've had our fair share of ups and downs-but nothing quite like the challenges brought forth in the first quarter of 2020.
By adapting to the changing face of the tourism and travel industry (on both local and international levels), we have no doubt we will come out stronger-especially with the support of our community. Because you will travel again, and we will be ready to show you the best of Peru.
Your financial support means we can keep sharing the best of Peru through high-quality stories, videos and insights provided by our dedicated team of contributors and editors based in Peru. And of course, We are here to answer your questions and help whenever you need us.
As well, it makes possible our commitment to support local and small businesses that make your visit an unforgettable one. Your support will help the people working in these industries get back on their feet once the world allows us to make our dream of enjoying everything Peru has to offer a reality again-from its mouthwatering gastronomy, thriving Amazon and archaeological wonders such as Machu Picchu.
Together, we will find a way through this. As a member of our community, your contribution, however big or small, is valuable.
Support Traveling & Living in Peru from as little as $1 - and it only takes a minute. Thank you!