Sometimes you hear about an outrageous plan and your first thought is, 'cool!!' and then, 'seriously???' Like when someone tells you they're taking their 1973 Cadillac oldtimer, called the "Patrialancha," to a chilly 4,818 meters and then down to the steaming heat of a country music festival, as happened to me recently.
Will the oldtimer in question, a 1973 El Dorado Cadillac, be up to the 395-kilometer trip from Lima to Oxapampa? At Travel and Living in Peru, we were intrigued, we wanted to hear all about it, firsthand, from the mind behind the plan and the wheel: Scotsman Owen Miller.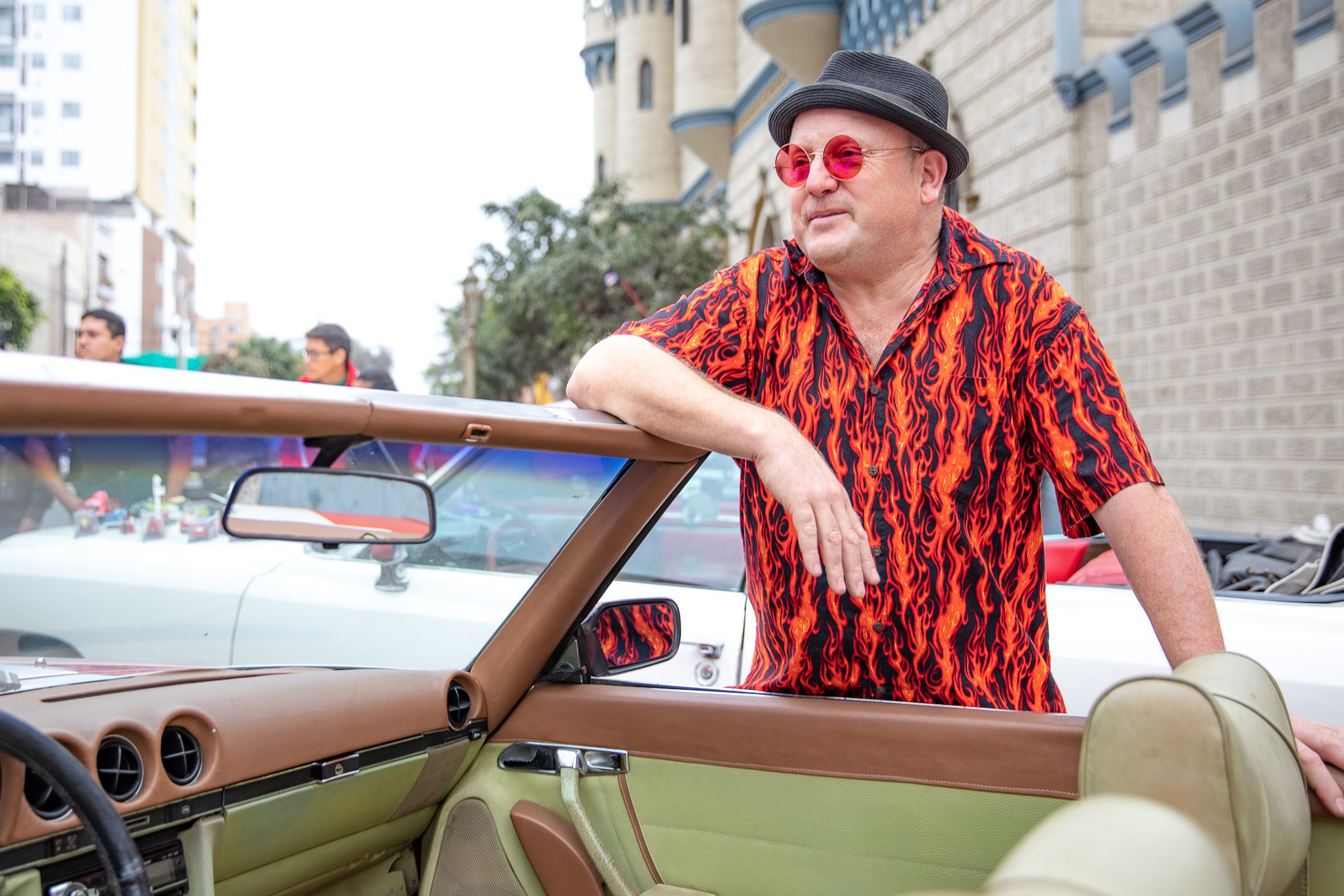 Owen being Owen, turned a default interview into a spectacle—cruising the streets of Lima and stopping off at a classic car show as we chatted.
The Interview Turned Smooth Cruise
I hear a honking horn and see a car pull up—actually a huge, white car, and I mean huge (5.7 meters long, 2 meters wide, and weighing in at well over 2 tons)—with allover red leather seats and a broad-grinning Owen behind the wheel.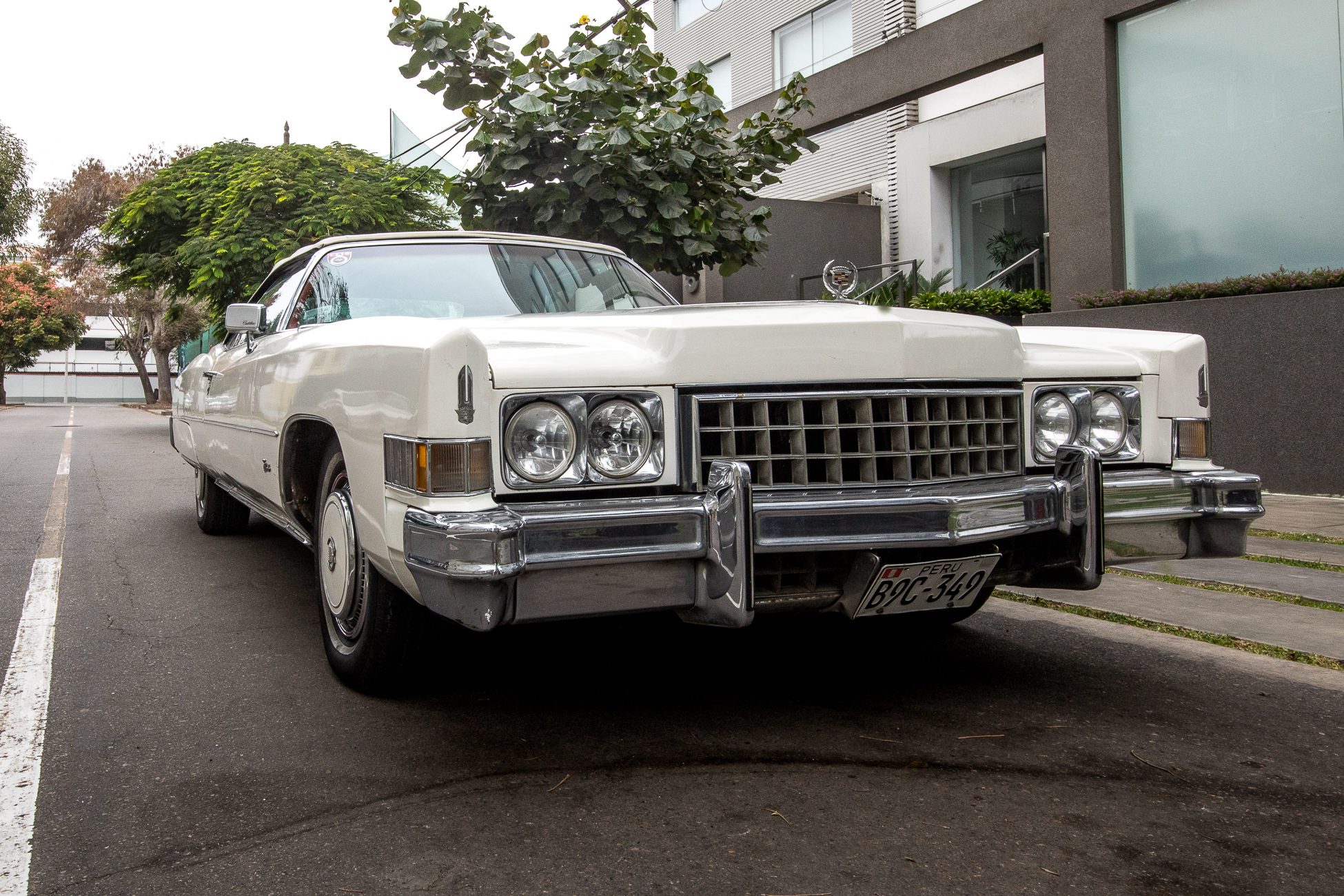 "Jump in, sit back and enjoy!" Owen says. By the end of the block, I understand why Cadillacs are referred to as 'Luxury Boats'. Such a smoooooooooooth drive, with potholes and speed bumps entirely forgotten. Indeed, it feels like a boat in the hands of a relaxed captain—nothing to worry about. Just take in the scenery and enjoy the music.
In regard to the music, I was expecting to go retro with seventies rock on an 8 track. Not Owen! He is a devoted music lover in genres ranging from Haydn's Trumpet Concerto to Rancheros, Lila Down, and onto classic country. With a fully loaded USB and a remote control, our "cruising" turned into a country music appreciation workshop.
The Patrialancha: A Real Eye-Catcher
As a passenger, it is fun to notice how many heads turn as we pass by. And this is before the car has been given its patriotic makeover.
Owen, who went viral with his Patriamovil Mercedes four years ago, decided to up the ante and capitalize on Peru's historic participation at the World Cup after 36 years. The logical next step, of course, was to wrap his Caddy in the iconic Peruvian national flag.
The makeover follows the lines of the car, with red vinyl on the four quarter panels and the Peruvian Coat of Arms proudly displayed on the doors, hood, and trunk.

The Debut
The Patrialancha will make its official debut in Miraflores on the morning of the 7th of June with a naming ceremony, before setting off on its maiden voyage to Oxapampa.
What a voyage that will be—taking 'the boat' over the high peaks of the Andes! Travel and Living in Peru will be along for the ride as Crew #2. Crew #1 are the mechanics and videographers in a Chevrolet Caprice. Between filming and enjoying the drive, the trip will be broken up into two stages, with an overnight stop in Tarma on Thursday night. We'll return on Monday.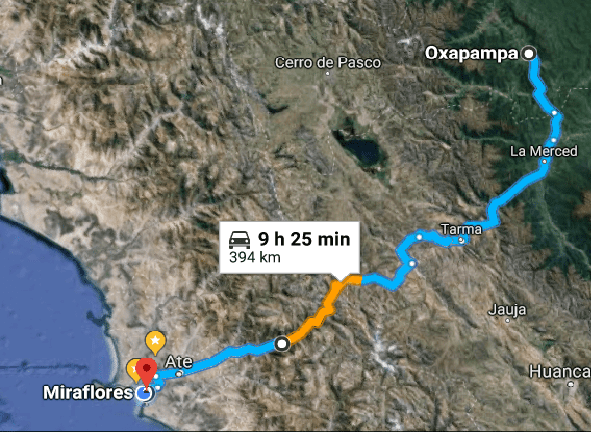 The drive from Miraflores to Oxapampa, according to Google Maps, takes an estimated 10 hours. Last summer, I drove the literally breathtaking Ticlio Pass, which reaches almost 5,000 meters, in a car built in 2012. Let's be kind and not disclose the brand, but let's just say the car was far from happy at that altitude with alarms and all sorts of scary looking warning lights going off on my dashboard.
Always up for a challenge, Owen has decided to test some 45-year-old Detroit iron. He is not worried (he's actually terrified!), but also well prepared. This is how the conversation went.
Owen: It's an 8.2-liter motor, strong, and has lots of torque. The car has about, like, 70,000 km on the clock, which is nothing for a car like this.
Me: Okay, but what about the altitude?
Owen: Its going to be even more of a gas guzzler than usual (average gas mileage in town is 10 km to the gallon) and the timing will need to be advanced to make up for the lack of oxygen at 4,818 meters above sea level.
Me (in my head): There are many worse case scenarios. but with mechanics and Travel and Living in Peru as support, what could possibly go wrong? (Don't answer that!)
Surprising Facts
One of the nice things about cruising is one has time to chit-chat and delve a bit deeper. Here's what I unearthed about Owen:
At the tender age of 17, it took Owen three attempts to obtain his driver's license. The first two times, he failed the test in his Scottish hometown. Avoiding long waiting lists, he decided to go to England where he has relatives, to a town he had never even driven in, and passed the test smoothly.
Everyone knows that a road trip is not complete without an abundantly-filled car snack bag. Asking Owen about his snack 'vices'… it turns out some water, fruit, and chewing gum will do. The car is likely to consume more than Owen on this trip, that's for sure!
As for his first time driving on the "wrong" side of the road

—

the right-hand side, as it is in most places outside the UK, he says: "That was in Greece four years after I got my drivers license. No, I did not have any problem driving. The real issue was as a pedestrian in Greece, crossing the road and looking the wrong way for traffic."
His first car? Owen first owned a car at the age of 31. He bought it in … PERU!!! That was a red Mustang of 1966. Owen has been adding vintage style to the streets of Lima ever since.
What is on the Patrialancha playlist for the upcoming trip? The theme song has to be Long White Cadillac, and Owen has assured me we will have an eclectic mix of some of the best music out there on the journey.
Watch out for the Top 5 Patrialancha Road Trip Mix in our next Travel and Living in Peru report. Until then, I'll be in a decked out Cadillac crossing the awesome heights of the Andes. Wish us luck!
All photos in this post were taken and shared by the author, Cissy van der Meer.