My experience of hiking the Inca Trail changed my life, and my relationship with our porters had a lot to do with this
When most people think about the experience of hiking the Inca Trail, they recall grand mountains, elegant ancient structures, and diverse flora and fauna. But are we forgetting something? Besides our guides, we certainly couldn't accomplish this life-changing hike by ourselves. We couldn't have mad hikes like this into a reality without our porters.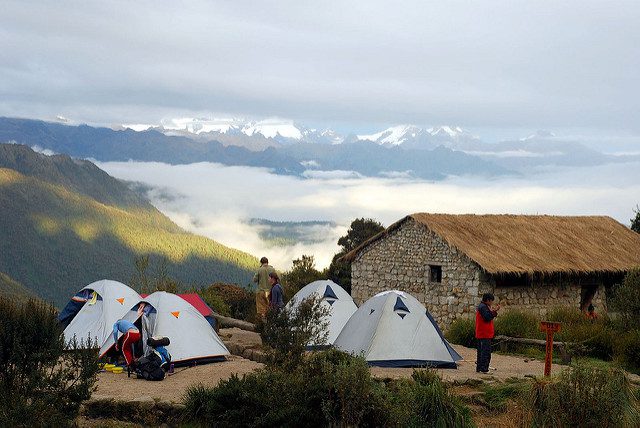 For me, this hike was nearly religious in nature. By the time I completed it, I felt as if I were on top of the world. Looking out over Machu Picchu while mists ascended into the heavens was awe inspiring to say the least. Every time I stopped to gander at the wilderness or breathe the fresh mountain air, I took some time to silently observe the porters.
Unspoken dedication radiates from their gait, and a timeless adherence to the classic methods of delivering our things over the height of the mountains was oddly beautiful. A lot of the weathered steps may have been anciently placed, but what's truly stood the test of time is the way that our porters continue to maintain the ways of a culture that would otherwise become a thing of the past. During my hike on the Inca Trail, it felt as if I were peeling back the layers of time, and watching chasquis, or messengers, carry goods, gifts, or quipu's to their destination.
Being a porter is not an easy task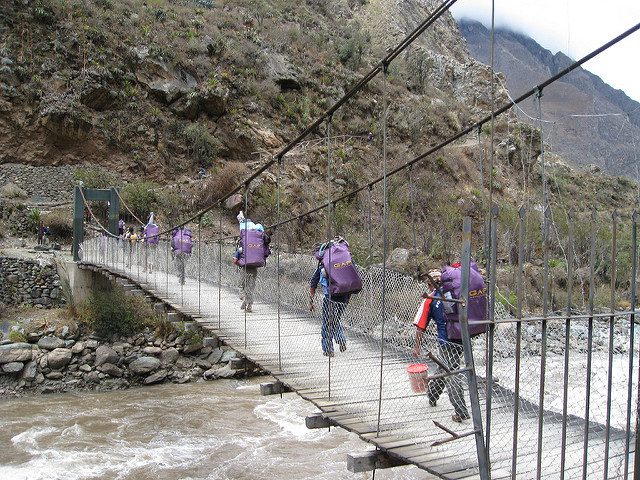 These men are surprisingly small and spry for the 50+ pounds of gear they carry on a daily basis, leaving us tourists with nothing more to carry than small daypacks. Most of these men speak Quechua, an ancient language inherited from the Incas, which adds another layer to the nostalgia while hiking the historical trail. Their skin is weathered after years of enduring mountain winds and sun. Many hold confident gazes and with a never-ending smiles wherever they walk.
Being a porter isn't the only thing they excel at. While not working on the trail, these stoic men also farm, and raise livestock on the side. We can only imagine how difficult it must be to spend many days away from home, which means that they must leave their families behind in order to make a low wage out on the trail. It is true that some porters that work for higher-paying tourist companies make a better living than their neighbors in the countryside who make a living just by farming.
But be advised, most porters make incredibly low sum for the amount of work they do. The easiest and least visible way to cut costs is with the porters, which makes them more reliant on tips from tourists. Government regulations have aimed to better their treatment, but there are still those lobbying for increased wages.
Most porters you ask will speak positively about their work, despite the fact that they receive very low wages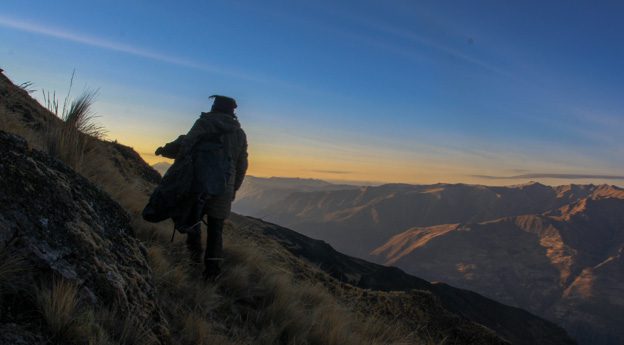 If you ask a porter what they think of tourism, they typically respond positively. After all, tourism is the number one import in Peru. They understand that the places we come from aren't as special as these Andean landscapes. Many porters seem to be grateful for tourism. Without it, they wouldn't have a job.
I'm still friends with an enthusiastic Rosel, who used to be a porter but who now makes a better living as a guide for groups. I hope to go back and visit one day, and possibly retake the journey that I still have such vivid memories of.
YOU MIGHT ALSO LIKE
ARE WORKING CONDITIONS FOR PORTERS ON THE INCA TRAIL THE NEXT THAILAND ELEPHANT CASE?
6 THINGS YOU SHOULD KNOW BEFORE TREKKING THE INCA TRAIL
Now that you're here:
We're asking you, our reader, to make a contribution in support of our digital guide in order to keep informing, updating and inspiring people to visit Peru. Why now? In our near 20-year journey as the leading English-language source on travel in Peru, we've had our fair share of ups and downs-but nothing quite like the challenges brought forth in the first quarter of 2020.
By adapting to the changing face of the tourism and travel industry (on both local and international levels), we have no doubt we will come out stronger-especially with the support of our community. Because you will travel again, and we will be ready to show you the best of Peru.
Your financial support means we can keep sharing the best of Peru through high-quality stories, videos and insights provided by our dedicated team of contributors and editors based in Peru. And of course, We are here to answer your questions and help whenever you need us.
As well, it makes possible our commitment to support local and small businesses that make your visit an unforgettable one. Your support will help the people working in these industries get back on their feet once the world allows us to make our dream of enjoying everything Peru has to offer a reality again-from its mouthwatering gastronomy, thriving Amazon and archaeological wonders such as Machu Picchu.
Together, we will find a way through this. As a member of our community, your contribution, however big or small, is valuable.
Support Traveling & Living in Peru from as little as $1 - and it only takes a minute. Thank you!