Dezeen, one of the most highly regarded voices in design, has named a woven pavilion in Pachacamac as the architecture project of the year.
In Peru's desert, near the Pachacamac ruins some 30 miles south of the capital city of Lima, stands an exquisite structure. In many ways its basic design and construction could easily belong to long ago cultures that once occupied this arid land. But this woven pavilion has just won the 2019 architecture project of the year and small building award from Dezeen.
The Room for Archaeologists and Kids (as it is titled) stands over three meters tall and measures 37 meters by 16.3 meters in total. A white polyester cloth weaves in and out of wooden struts (crafted from tornillo, a wood sourced from Peru's rainforest) to create a something like a roof over four walkways that border a central courtyard. The walls are made of cut and woven caña, while the floors are adobe brick.
As its name suggests, the structure provides a shaded space for archaeologists needing to examine findings from recent digs in the nearby archaeological sites; similarly, the open and airy design allows visitors and children from nearby schools to observe experts at work.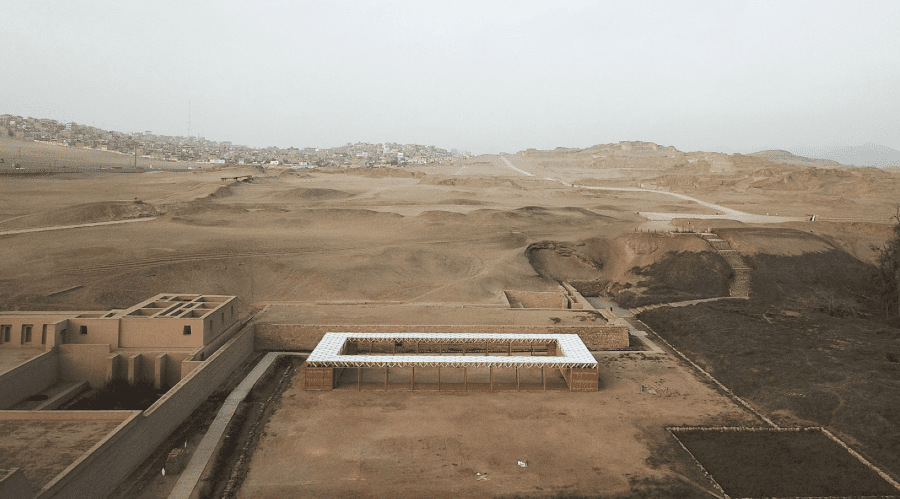 "The project forces us as architects to think about the notion of making and building," says Lyndon Neri, a prominent Chinese architect and participating judge in this year's edition of the Dezeen awards. "The idea of a shelter is very simple in its nature, but it pushes us to think that perhaps architecture does not need to be complicated."
Together with the director of the Museum of Pachacamac, Denise Pozzi-EscoStudio, students of the Studio Tom Emerson at ETH Zurich and Taller 5 at the Pontifical Catholic University of Peru (PUCP) collaborated to conceive the award-winning structure. Its construction was completed in June 2018 after just three weeks.
Architects Guillaume Othenin-Girard and Vincent Juillerat led the international team comprised of 45 students. Othenin-Girard, of Studio Tom Emerson, told Dezeen:
"The aim of this particular project was to make an architecture that is inclusive in terms of the different actors that participate in it, such as the neighbourhood communities, the archaeologists and the students, with this very straightforward methodology of design build."
The announcement was made on October 30, during the award ceremony held in London.
Dezeen is considered one of the most influential architecture and design websites, and has been dishing out such awards for the past two years. A panel of international judges award projects in the category of architecture, interiors and design, with preference towards small studios and up and coming designers.
Source: Dezeen (1), (2)
Now that you're here:
We're asking you, our reader, to make a contribution in support of our digital guide in order to keep informing, updating and inspiring people to visit Peru. Why now? In our near 20-year journey as the leading English-language source on travel in Peru, we've had our fair share of ups and downs-but nothing quite like the challenges brought forth in the first quarter of 2020.
By adapting to the changing face of the tourism and travel industry (on both local and international levels), we have no doubt we will come out stronger-especially with the support of our community. Because you will travel again, and we will be ready to show you the best of Peru.
Your financial support means we can keep sharing the best of Peru through high-quality stories, videos and insights provided by our dedicated team of contributors and editors based in Peru. And of course, We are here to answer your questions and help whenever you need us.
As well, it makes possible our commitment to support local and small businesses that make your visit an unforgettable one. Your support will help the people working in these industries get back on their feet once the world allows us to make our dream of enjoying everything Peru has to offer a reality again-from its mouthwatering gastronomy, thriving Amazon and archaeological wonders such as Machu Picchu.
Together, we will find a way through this. As a member of our community, your contribution, however big or small, is valuable.
Support Traveling & Living in Peru from as little as $1 - and it only takes a minute. Thank you!